This week I returned from my first solo cruise experience with Norwegian Cruise Line, aboard the Norwegian Encore. This was my second time sailing on one of Norwegian Cruise Lines' Breakaway Plus Class ships, and I really enjoyed this quick 4-night sailing! 
In February of this year I had the privilege of sailing on the Norwegian Bliss, the sister ship to the Norwegian Encore. These two ships were built just one year apart, with the Bliss making its debut to the Norwegian Cruise Line fleet in 2018 and the Norwegian Encore hitting the high seas in 2019. 
Come along with me as I go through some of the things I personally liked and disliked about the Norwegian Encore ship. 
#1 - Liked: Modern Design and Aesthetic
Image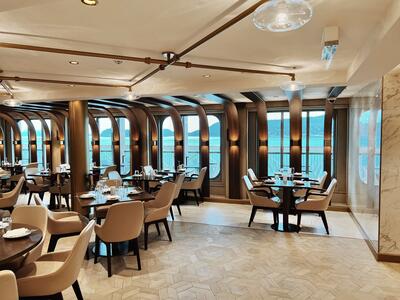 The Norwegian Encore is the newest Norwegian Cruise Line vessel that I have personally sailed on so far, and I was interested to see how its design might compare to some of the other older Norwegian ships I've traveled on previously. 
I was pleased to find that this ship had some different design choices than that of its predecessor, the Norwegian Bliss. Something that I noticed was the introduction of more light woods and cream colors throughout the ship's interior design. This meant the ship looked a little more modern, light, and open. I appreciated this, and I can see where the Norwegian design team progressed from their older ships to the brand new Prima class, the Norwegian Prima and Norwegian Viva. 
Some spaces onboard such as the Local Bar & Grill are classic venues on Norwegian Cruise Line ships, and I was happy to see their presence onboard, but with a modern twist. Instead of the dark woods and deep color tones, the Norwegian Encore seemed to bring in more light and airy colors and design elements into its venues. This was also reflected in the complimentary main dining venues, Taste and Savor. 
#2 - Disliked: No Spice H2O
Image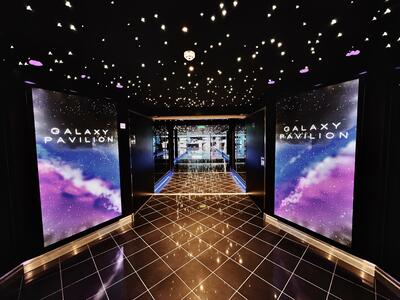 Something I was interested to see was that there is no Spice H2O onboard the Norwegian Encore. 
Spice H2O is a venue that is often adults only (sometimes passengers under 18 years of age are allowed in during certain times of day). This space has been present on every Norwegian ship I have sailed with before this one, and I was surprised by its absence. 
When looking at the ship's deck map I realized that in the spot that the Spice H2O is normally located was instead the Galaxy Pavilion. 
The Galaxy Pavilion is a VR arcade area, described as "step inside the Galaxy Pavilion and explore a virtual reality world unlike anything you've ever seen. Immersive VR experiences and thrilling simulator rides are just the beginning. Use your wits to solve the puzzles of an escape room featuring holograms and enchanted artifacts. Then come back and experience the excitement all over again", by Norwegian Cruise Lines. 
The Galaxy Pavilion is an additional expense experience onboard the Norwegian Encore ship. Guests can pay $8 USD per game or experience. 
The addition of the Galaxy Pavilion is a great feature for families, young adults, and teenagers looking for something fun and unique to do on a sea day or an afternoon onboard. However, I wish it did not come at the expense of the Spice H2O venue, as this space provides a great place for adults to relax, enjoy a dip in a hot tub, and take in beautiful ocean views in a quiet location. 
#3 - Liked: Studio Stateroom Cabins
Image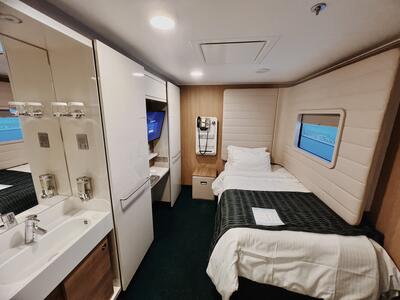 This sailing with Norwegian Encore was the first time that I was able to test out and experience Norwegian Cruise Line's Studio staterooms. 
These small staterooms are designed for just one passenger, and offer a cozy and serene home at sea for guests traveling alone, or who simply desire their own space onboard. 
These rooms are actually more sizable than I imagined. 99 square feet of space does not sound like a lot, however I found it to be perfectly adequate for my solo cruise experience. We have a whole review in which I go in depth in what this Studio Stateroom by Norwegian looks like, and our readers can discover more here about these rooms! 
All in all, I loved my studio stateroom! I thought it was the perfect space for a solo traveller, and I would definitely consider booking a studio stateroom again in the future. 
#4 - Disliked: Less Hot Tubs Onboard than Norwegian Bliss
Image
Because there was no Spice H2O onboard the Norwegian Encore it meant that there was less hot tubs onboard than its sister ship, the Norwegian Bliss. 
The Norwegian Bliss has seven public hot tubs, while the Norwegian Encore has just four public hot tubs. While this is still a fair amount, it means less guests have the opportunity to use them as there are fewer onboard.
This is not a big complaint, rather it is something I noticed when comparing the Norwegian Encore and Norwegian Bliss. 
#5 - Liked: Interesting and Unique Itineraries
Image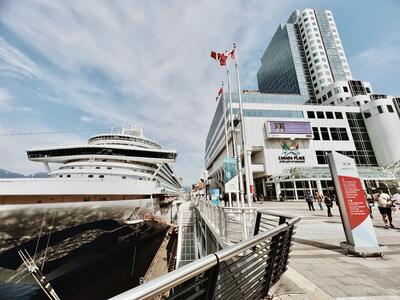 Something I greatly appreciate about the Norwegian Encore is the interesting and wide range of itineraries this ship travels on throughout the year. 
The Norwegian Encore visits Alaska, Bermuda, The Caribbean, Northern Europe, the Panama Canal, and operates Transatlantic sailings. 
The Norwegian Encore is one of the biggest ships in terms of size and guest capacity. Due to its size, this means the ship has many fun venues and locations to explore onboard. If guests enjoy their sailing with Norwegian Encore, they have the opportunity to sail with this ship again and again while exploring many areas around the world! 
If guests love this ship they can have several types of travel experiences as they have the option to sail different and interesting destinations. 
For my sailing I sailed on a quick repositioning cruise of sorts. I sailed on a 4-night itinerary from Los Angelas California to Vancouver British Columbia in April 2023. This itinerary had two sea days and one overnight docking in Vancouver. 
#6 - Disliked: More Motion in the Ocean
Image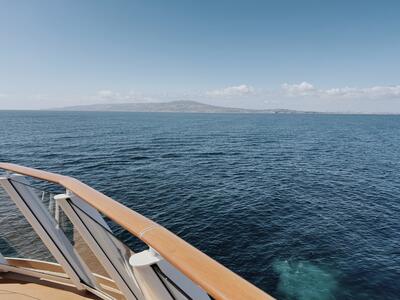 I have never cruised along the west coast of the United States before, and I was surprised to discover that I felt a lot more rocking and swaying of the ship on this itinerary that I have previously experienced on other ships in the Mediterranean and the Caribbean. 
I feel thankful that I am someone who does not experience sea sickness or motion sickness of any kind. However, I was surprised how much I really felt the motion of the waves on this trip. I never got sick, but I can imagine that if I was someone who tends to get motion sick then this might have been a trip in which I needed motion sickness medication. 
This ship tended to do a lot of up and down motion, rather than side to side rocking. This is not a big deal and should not be a hinderance in sailing this region, it is just something to note if you are a prospective cruise guest looking to sail along the west coast of the United States. 
#7 - Liked: Buffet Food and Venue
Image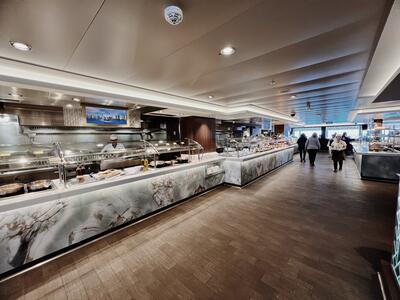 I have consistently been impressed with the buffets onboard Norwegian Cruise Line's newer ships. These spaces have a good layout, lots of seating, and a great selection of food for guests to enjoy. There is always something for everyone at the Norwegian Cruise Line buffets, and the buffet onboard the Norwegian Encore was a great example of this. 
One of my favorite food selections onboard both the Norwegian Encore and the Norwegian Bliss has been the Indian cuisine at the buffet. If you are someone who enjoys Indian food, I absolutely recommend trying it out. Even if you are someone who has never tried Indian food before, I recommend making your cruise with Norwegian the place you try it out. I personally believe that the Indian food I have had on Norwegian Encore and Norwegian Bliss is some of the best I've ever had! 
I appreciated the modern touches and updates that were made to the Garden Cafe (the main buffet onboard) onboard the Norwegian Encore. These slight modern design updates helped to elevate the space and make it feel more upscale for a cruise ship buffet. 
#8 - Liked: Observation Lounge
Image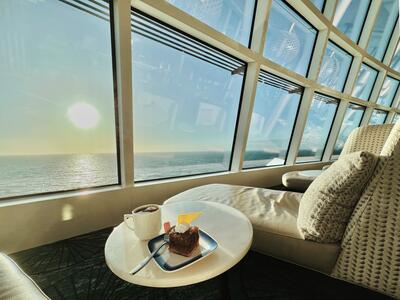 One of my favorite spaces onboard the Norwegian Encore was the Observation Lounge. This large space at the front of the ship is located on Deck 15 and offers beautiful panoramic, wrap around views for guests to take in while sipping on a cup of tea, coffee, or a cocktail. 
I spent a good amount of time inside this venue on my trip with Norwegian Encore. In fact I wrote this article in the Observation Lounge! This space offered a great place for guests to either play card games with their fellow passengers, get some work done on their laptops, or simply enjoy a good book as they watch the ocean waves roll by. 
This space is also a great location to grab either a small and quick breakfast early in the morning, or a small snack during the afternoon. Guests can find tea and coffee at all hours of the day at this location as well. 
There are plenty of lounge chairs in this space, and I am sure guests will find their favorite relaxation spot onboard the Norwegian Encore in the Observation Lounge. 
A tip I learned throughout my sailing for this space, is that the lounge chairs towards the front of the ship, the ones with the best views, tend to fill up quickly during sunset times. If you wish to snag one of these chairs make sure to arrive to the Observation Lounge a little before sunset. 
#9 - Liked: Waterfront
Image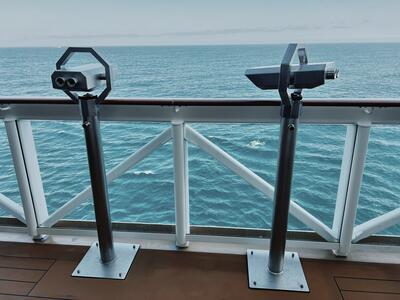 I've stated it before in previous articles about Norwegian Cruise Line, but I love the Waterfront space onboard Norwegian ships. 
The Waterfront is a wraparound outdoor deck space that guests can stroll or find a comfy lounge chair, take in the beautiful sunrise of sunset, while breathing in the ocean air. 
Guests can find the Waterfront on Deck 8 of the Norwegian Encore. This is also where many of the ship's specialty restaurants can be found. A great dining feature that Norwegian Cruise Line offers, is the ability for guests to eat outside on the Waterfront at their specialty restaurants. These spaces are beautiful and offer a truly unique cruise-only dining experience. 
Guests can also find fun binoculars on the Waterfront, where they can take in the sights as the Norwegian Encore sails into port. Keep a lookout for whales when sailing the West Coast of the United States! 
#10 - Liked: Friendly and Kind Crew Members
The Norwegian Breakaway Plus class of ships have some of the most friendly crew members that I have encountered on large scale cruise ships so far. 
This was my first time traveling for a full week all by myself, ever! I'll be honest, I was a little nervous. However, from the moment I boarded the Norwegian Encore I felt right at home. Every crew member I interacted with onboard was incredibly kind and helpful. 
Each of the staff members seemed genuinely interested if I was having a good trip and if they could help in any way. I had a great conversation with several crew members throughout my cruise, and was impressed with the professionalism and dedication that all of the staff showed throughout the voyage. 
The crew members work very hard, make sure to give them a smile as it can go a long way! 
#11 - Choir of Man Show
Image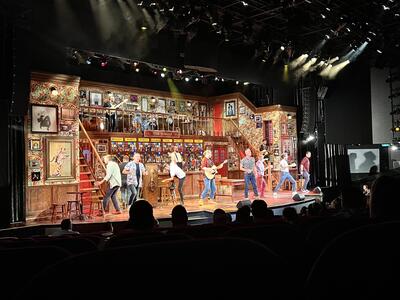 The Choir of Man is a lively and wonderful show onboard the Norwegian Encore that I highly recommend all guests check out! This show was by far one of my favorites that I have ever seen on a cruise. 
Norwegian Cruise Line describes this show as, "pull up a chair at The Choir of Man and raise your glass to high energy dancing and hit songs that flow as freely as the beer. You'll feel right at home in The Jungle, the rockin' English pub where the talented cast performs everything from classic rock hits to pub tunes to sing-along favorites. Leave your worries behind and toast to a memorable night at our fleet's top rated show, live in the Norwegian Encore theater!" 
I attended the late night showing of the performance and was truly impressed! I think everyone who sails on the Norwegian Encore should consider this show a must see! 
Guests will be enthralled with the fun and lively atmosphere this show creates in the theater. At the beginning of the show and throughout, the cast even hands out beer to some of the spectators, as well as invites various guests on stage. If you want the chance to enjoy a complimentary beer or to be invited on stage, I recommend sitting close to the front of the theater and stage. 
I know that almost everyone will enjoy this show! I loved this show so much that if there was another showing later on in the cruise I would have seen it a second time. 
Conclusion
Image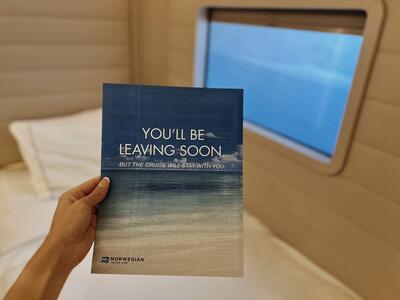 Overall I had a wonderful solo adventure with the Norwegian Encore! It was a great experience to sail on my second Norwegian Breakaway Plus class of ship, and explore all this vessel has to offer its guests. 
The beauty of cruising is that it offers something for everyone, no matter what kind of traveller you are. Some of the things I enjoyed or disliked may be different than another individuals, and that's okay! Cruising is a unique and incredible form of travel that offers endless possibilities for passengers to create a vacation truly unique to them! 
We will be covering more about the Norwegian Encore in future articles, as well as exploring what its like to travel solo on a cruise ship. Keep a lookout for future articles, and until then here's to many more smooth sailings!