When I boarded my first MSC cruise, I had absolutely no idea what to expect. Most reviews I had read of the cruise line were subpar at best, and although I usually don't put too much faith into reviews, I couldn't help but be a little apprehensive.
MSC Cruises, a Swiss-based cruise line, is controversial amongst many cruise fans. Long established in the European market, the cruise line has recently been gaining popularity among North American cruisers, promising low prices, trendy ships, and world-class destinations.
Despite its growth, MSC has been subject to negativity, with many cruisers complaining about the food, service, and programming onboard its ships.
While weighing the positives and negatives of the cruise line, curiosity got the best of me and I booked a 7-night cruise on the fleet's biggest ship, MSC World Europa.
Image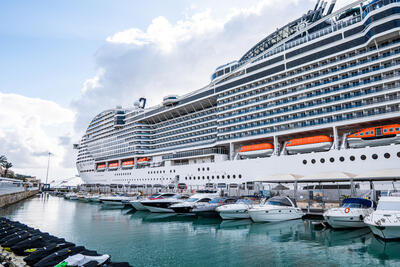 As the 6th largest cruise ship in the world, I had high expectations for my week onboard, hoping the ship's vast amenities, activities, and dining options would make for a wonderful vacation experience.
Related: What is the biggest MSC cruise ship?
And, for the most part, it did. From the abundance of Italian food to stylish design and high-quality entertainment, my experience on the MSC World Europa was excellent—it completely wiped away any concerns I initially had about sailing with MSC.
That being said, I had a few complaints, some minor and some major, about my MSC experience, including the lack of free water and stingy internet rules.
Let's jump in as I discuss the 12 things I loved and hated about my first MSC cruise.
Loved: Ship design and ocean views
Image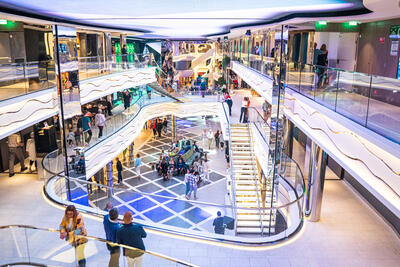 The MSC World Europa was the most beautiful ship I've sailed on thus far. Not only was the ship's design perfectly elegant, but it offered more ocean views than I've come to expect on big ships.
The World Galleria, the ship's indoor thoroughfare, was nothing short of gorgeous. Three decks high, the galleria was dazzling with lights, sculptures, and an LED ceiling that portrayed moving artwork.
Outside was the World Promenade, an open-air walkway with a restaurant, cafe, retail stores, bar, and ice cream shop. At the end of the promenade was The Lanai, an outdoor hangout space with unbeatable views of the ship's aft.
Image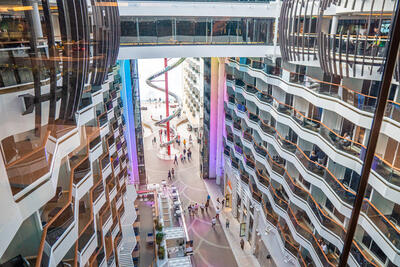 I enjoyed how many bars and lounges around the ship were completely closed off with doors, as this made each venue feel more separate and intimate. Some bars even had an outdoor seating area that was almost never crowded, and these were the best places to enjoy a sunset during sailaway.
Hated: Printing out embarkation ticket
Image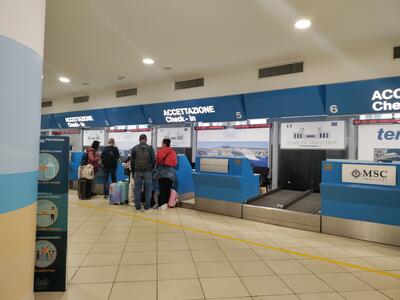 When preparing for my first MSC cruise, I was surprised to find out that check-in documents must be printed out for embarkation day.
Most cruise lines have gone digital for check-in, meaning you can show your cruise ticket on your phone or the cruise line's app. For my MSC cruise, on the contrary, I had to print out my ticket ahead of time to show to port officials at the cruise terminal.
Related: MSC Cruises Guide
Most people my age don't even own a printer, so having to print the documents caused unnecessary stress before the cruise. I didn't want the tickets to get crumpled during travel, so I waited until I got to Europe to print them out.
Fortunately my hotel reception in Rome was able to print my tickets, so while it wasn't as difficult as I thought it would be, it did seem like an antiquated practice.
Loved: Speakeasy bar
Image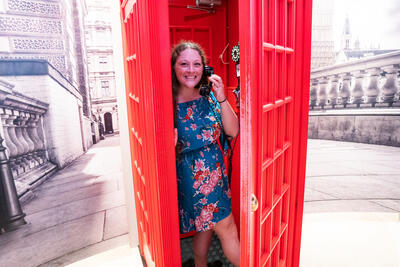 An invite-only secret speakeasy on a cruise ship? Yes, please!
I've yet to have had a cooler, more unique experience on a cruise ship than MSC World Europa's speakeasy bar. In fact, I didn't even know this bar existed when I boarded the ship.
Three days into our cruise, after befriending a bartender at the ship's Elixir Bar, he handed me a small ticket with a QR code, and explained it would bring us to the ship's speakeasy bar. We were instructed to scan the QR code the following morning to call the bar and make a reservation.
Image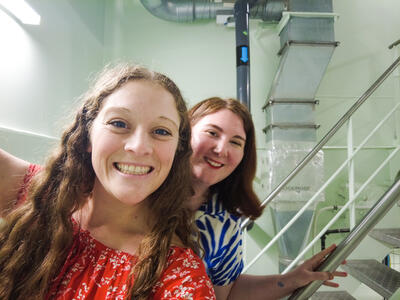 At 7PM the following day, we met at the ship's telephone booth in the World Galleria, where we entered a crew-only hallway behind the booth. After navigating a maze of hallways and staircases—all in crew areas—we arrived at the bar, the 1920s era speakeasy only accessible by invite.
Image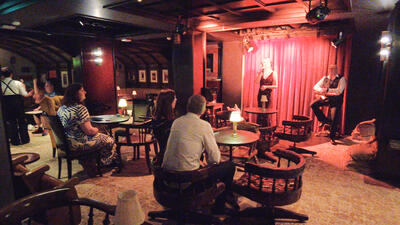 What followed in the next four hours were lively performances by two bands, plenty of dancing, innovative drinks, and even a round of complimentary shots. The atmosphere brought us straight to the 1920s with old-fashioned decor and jazz tunes, and it was, by far, my favorite evening onboard.
Hated: Lack of free water
Image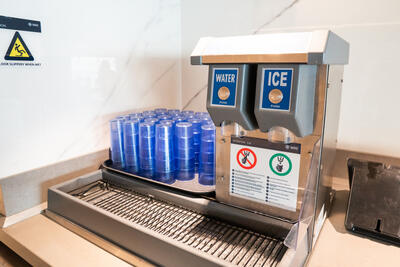 If there's one thing I absolutely hated about my MSC World Europa cruise, it was the lack of free water. I'm fairly certain I spent half the cruise dehydrated!
In North America I'm used to constantly drinking water throughout the day and having it available at any restaurant or bar. Whenever I visit southern Europe, however, this is almost never the case.
Every time I visit Italy, I brace myself to constantly spend several euros for a bottle of water whenever I dine at a restaurant even though the tap water is potable. Unfortunately, paying for water seems to be the case on MSC ships as well, at least in the Mediterranean.
Related: What's included on an MSC cruise?
Almost immediately after boarding the MSC World Europa, I realized that unlike other cruise lines, free water was hard to come by. The only place to find water machines were in the buffet—most bars, restaurants, and casual grab and go venues had no free water available.
Image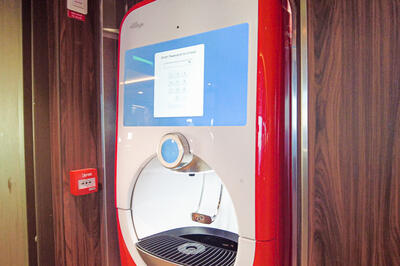 Instead, you would have to pay for a bottle of water or constantly make trips to the buffet whenever feeling parched. This felt like a complete waste of plastic, which seems contradictory to the cruise line's goals on environmental conservation. And while the Coca Cola Freestyle machines could dispense free water, they were only accessible to those with drink packages.
Even the Pizza & Burgers venue, which offered complimentary pizza, burgers, chicken nuggets, fries, and other salty snacks, had no complimentary water available. I was honestly flabbergasted!
I lost track of the amount of times I went to the crowded buffet for a glass of water. We even began to collect our empty water bottles from the dining room at dinner (water bottles at dinner were free), head to the buffet's water station, and keep a stash of refilled bottles in our room!
Luckily, I have a drink package on my next MSC cruise, so I won't have to worry about the lack of water, although I'll still feel guilty for wasting so many plastic bottles.
Loved: Pasta and pizza
Image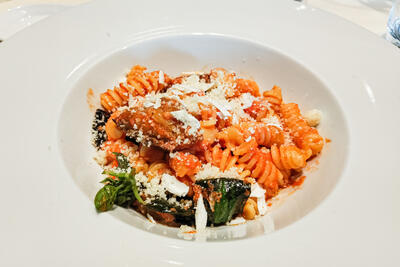 As someone who grew up in a family with Italian heritage, I was basically raised on pasta, pizza, and bread. For me, the food (read: endless carbohydrates) on MSC was a dream!
My first night onboard, I was surprised to see spaghetti alla nerano (pasta with sautéed zucchini) on the main dining menu, a dish you'd be hard pressed to find on an American cruise line.
Later on in the sailing I enjoyed a plate of pasta alla norma, my favorite Sicilian dish with tomato sauce, sautéed eggplant, salted ricotta, and fusilli noodles. Both of these dishes were delightful, and the quality was significantly better than the complimentary Italian food I've had on other lines.
Related: Top 20 MSC Cruises questions answered
Image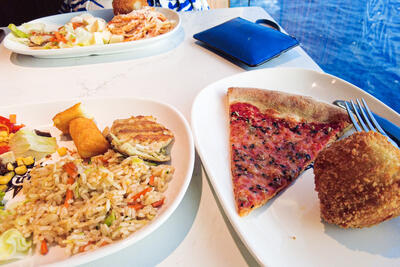 The best food, though, was the pizza. I found the pizza on MSC to be nothing short of delicious, whether a classic marinara slice or even the breakfast pizza!
On an American cruise line, the ship's pizza venue has to match the quality of a chain like Papa Johns. On a European cruise line, however, there are higher stakes—MSC must match the quality of authentic Italian pizza, and I thought they did this pretty well.
I ate more pizza in one week than I have in months, and I have no regrets.
Hated: Crowded buffet
Image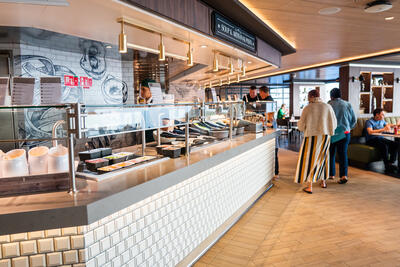 Although I have no complaints with the food in MSC's buffet—a surprise after hearing so many negative reviews—I didn't enjoy the buffet's crowds.
There were two main buffets on the MSC World Europa, but they were almost always crowded at peak hours. While buffets on cruise ships are often crowded, I experienced far more crowds in MSC's buffet than I have on other ships.
The crowds made me less likely to eat at the buffet compared to other dining venues, and I was grateful that there were several other complimentary venues to choose from on the MSC World Europa. I've heard other MSC ships only have two complimentary options, the buffet and main dining room, and this seems like a nightmare from a crowd perspective.
Unfortunately, even though I would rather have avoided the buffet, it was one of the only places to find free water, so I found myself there more often than I would have liked.
Loved: Lower drink prices and specialty dining cover charges
Image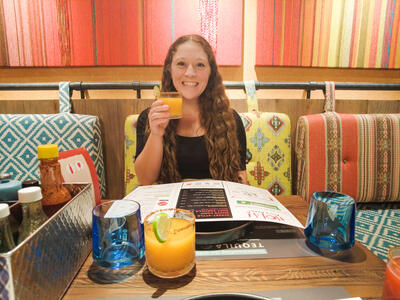 As a whole, I found alcoholic drink prices on MSC to be relatively affordable when compared to other cruise lines.
I did not purchase a drink package for my sailing, so I initially figured I would only be able to enjoy a few drinks throughout the week. Most cruise lines charge around $14 for a single cocktail, which can quickly add up after a few days.
As soon as I got onboard, though, I discovered that the cost of drinks on an MSC cruise is much cheaper than other cruise lines. Most cocktails were only €9 each ($9.70 USD), with a few specialty cocktails priced between €12 and €15.
Related: Overview of MSC Cruises Drink Packages and Prices
Image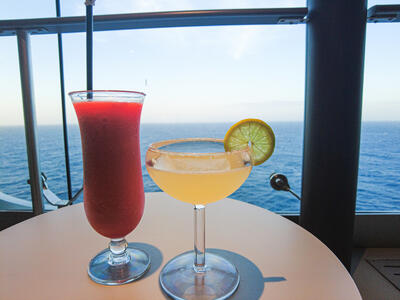 With most drinks under $10 USD, I didn't feel like I was breaking the budget by ordering a few cocktails each evening, and I ended up enjoying more cocktails than I usually do on a cruise.
My go-to spot onboard was HOLA! Tacos & Cantina, where there seemed to always be a buy one, get one free deal on margaritas. At €9 for two, each margarita was less than $5 USD, an absolute steal on a cruise ship drink!
In addition to lower prices on drinks were lower cover charges at specialty restaurants. I'm used to paying between $50-60 for dinner at specialty restaurants on a cruise ship, so I often refrain from the specialty dining venues in favor of complimentary venues.
Image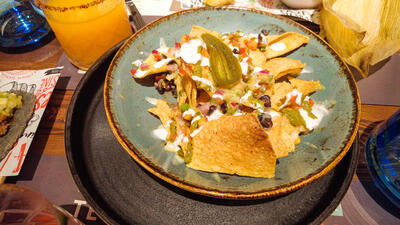 Upon boarding the MSC World Europa, I was shocked to find relatively low prices on specialty dining. I booked teppanyaki for only €30 and all-you-can-eat Mexican for just €18.
Having lower prices meant I was able to experience more food and drink around the ship, and I think this greatly enhanced my time onboard.
Hated: Internet on one device only
Image
I always book an internet package when I cruise, and always the "1 Device" package. On most cruise lines, a one device internet package allows you to use the internet on multiple devices throughout the sailing as long as you are only logged on to one device at any given time.
This means you can use the internet on your phone and laptop, for example, but must log out of the internet on one device before switching to another.
Related: What you need to know about MSC Cruises wifi and internet onboard
One thing I disliked about MSC was that the one device internet package actually meant one device. Once you logged on to the internet on one device, whether your phone or computer, you could not switch between devices for the rest of the sailing.
While technically this is what a one device package should mean, it felt restricted compared to the more relaxed rules on other cruise lines.
Because I need access to both my computer and phone while cruising, it was a pain to only have internet on one of them, and I didn't feel like shelling out over $100 for internet on a second device.
Loved: Friendly service
Image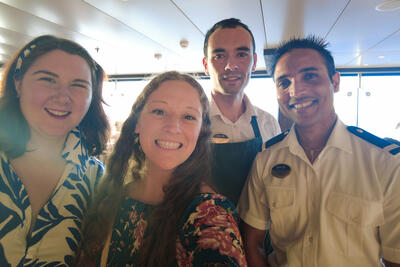 One of the complaints I heard over and over again when researching my MSC cruise was that the service onboard is sub-par. This was absolutely not the case at all during my sailing, and I ended the cruise having made friends with several crew members.
I did not experience any unfriendly moments with crew members on MSC. Whenever I had a question, the crew was more than happy to answer, and I frequently found myself in long conversations with crew members about their lives and home countries.
Related: 13 of the best tips and tricks for an MSC cruise
One area where I did see a difference was in the main dining room, as there was less conversation with the waiters compared to on an American cruise line. This is simply a difference in European versus American service, and I didn't mind omitting the small talk.
While I'll have to wait and see if the rumors of bad service hold true on my upcoming MSC Seaside sailing this summer, I would be shocked if this were the case after my lovely service experience on the MSC World Europa.
Hated: Weird rule on discounts
Image
One thing that irked me during my MSC cruise was the lack of flexibility with pre-cruise purchases.
My cruise was the first part of a two week vacation around Europe, so I purchased the 20 piece laundry package ahead of time for $50 USD. While not cheap, it was my only option for getting laundry done before the second part of my vacation, so I bit the bullet and booked it online before the cruise.
Related: Guide to laundry on a cruise ship
On other cruise lines, I would expect prices online to be cheaper than what I would find on the ship. So when I got onboard and saw a "Laundry Special" paper in my stateroom, I was shocked to see a 40 piece laundry package being offered for the same price as the 20 piece package I booked online.
Needless to say, I felt as if I got a bad deal, and when I asked about changing to 40 pieces at Guest Services, I was told it wasn't an option in their computer system. Ultimately, I still got my laundry done, but I had to pick and choose between pieces and wasn't able to wash all of my clothes.
Loved: Entertainment
Image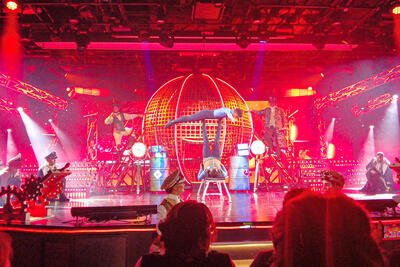 Before my first MSC cruise I heard that the cruise line's entertainment was not great, but I was completely blown away by the entertainment onboard.
My favorite show I saw was based on the story of Amelia Earhart, and it combined stunts and acrobatics that (literally) left me on the edge of my seat. From an e-bike stunt wheel to roller skating and aerialists, it was one of the most incredible shows I've seen at sea yet.
Outside of the headliner show, I watched a song and dance production, live music at the pub, and even a crew member talent show, all of which were of fantastic quality.
Image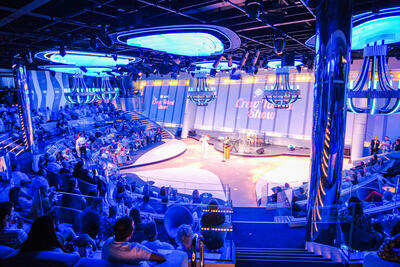 One band would even walk around the ship as they played tunes in the hallways, restaurants, and bars. They looked like they were having a lot of fun and certainly brought their positive energy with them into every performance.
I came into my MSC World Europa cruise with low expectations on entertainment, so I was pleasantly surprised at how much I enjoyed the ship's entertainment offerings.
Loved: Destination elevators
Image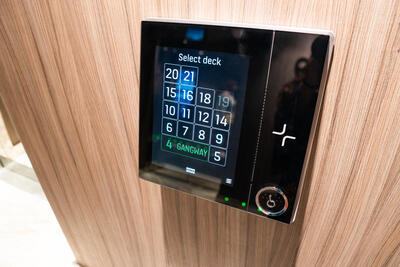 I had never sailed on a cruise ship with destination elevators before my MSC cruise, and boy was I missing out.
Using a destination elevator is different from using a normal elevator, although the process is simple. Once in the elevator lobby, you press the deck number you intend to go to on a screen next to the elevator.
The screen will assign you to an elevator number, signifying which elevator will bring you to your destination. This means elevators can work more efficiently; if 10 guests want to go to deck 18, for example, they can all go into one elevator instead of having six elevators stop at the same floor.
Image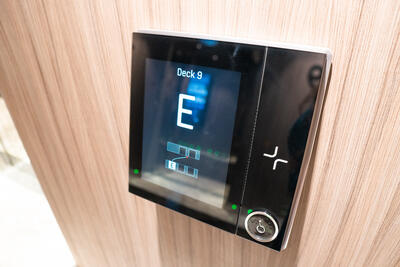 Despite being on a ship with over 6,000 guests, I hardly ever had to wait for an elevator, and the system was incredibly efficient. The only "downside" of the destination elevators was that I was less likely to take the stairs, which is usually one of my "workouts" while cruising!
Conclusion
Image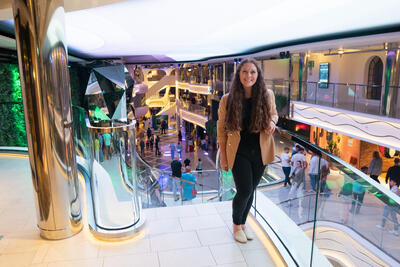 Overall, my time on the MSC World Europa led to a great vacation experience, and even though there were a few things I didn't love, I wouldn't hesitate to sail with MSC again.
If my experience on my first MSC cruise taught me anything, it's to never put too much faith in online reviews. People love to complain, and if I would have taken the myths of bad service and entertainment as reality, I never would have booked the cruise and made the memories I did on my recent sailing.
While no cruise ship or cruise line is perfect, the MSC World Europa is definitely a top-notch vessel worth considering.