This year, Disney Cruise Line has hit a big milestone: celebrating their 25th Anniversary! This anniversary at sea is an exciting accomplishment for the family-friendly cruise line. To celebrate, Disney Cruise Line has provided some exciting and unique offerings to its guests who chose to sail with them.
Throughout 2023 is the only time that guests sailing with Disney Cruise Line will be able to experience the fun events, entertainment, and offerings provided for this special anniversary. 
I recently returned from a 25th Anniversary sailing onboard Disney Fantasy in August, I am excited to give a glimpse into what this unique cruise experience was like!
Decorations ashore and onboard
Image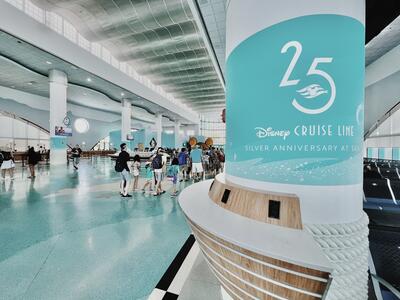 One of the first things all guests will notice upon entering the Disney cruise terminal in Port Canaveral, Florida are the decorations. 
Disney has chosen a pretty blue color for their decorations, which include large banners and photo opportunities for guests to snap that commemorate their cruise vacation, and can be found nearly everywhere guests look.
Image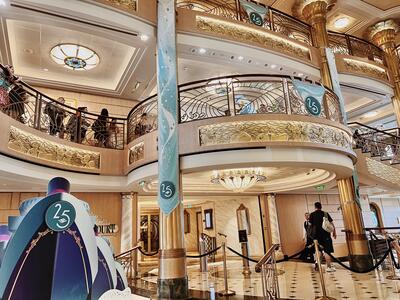 While the decor can be found in various locations around the ship, the most prominent place to see most of these decorations is the Atrium of the ship. Moreover, you can even find Disney characters decked out in special anniversary outfits!
Drinks and adult-only offerings
Image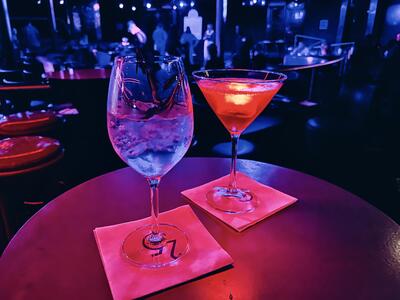 As I made my way throughout the ship, I really began to appreciate the special little details at the bars and lounges. 
For adult guests looking to experience something fun and different for the 25th Anniversary, they can order a special "Jubilee by the Sea" cocktail, which is made with ingredients including tequila, Maraschino Liqueur, fresh lime juice, Demerara syrup, and Brew silver glitter. It's served in a martini glass with a blue sugar rim and costs $12.50. 
Additionally, guests can choose to order this drink in exclusive souvenir glasses at the bar near the atrium. 
Image
Something I did think was rather interesting was that a couple of times when I tried to order this drink, I was told that they were out of several of the ingredients and could not make it! 
Because of this, if you are someone who is interested in trying this exclusive cocktail, I highly recommend ordering it very early on in a cruise, perhaps on embarkation day.
Image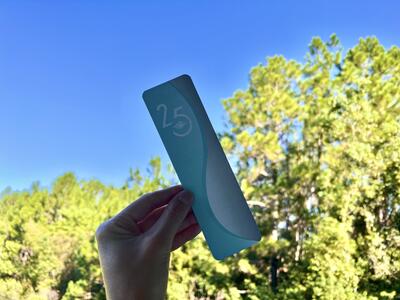 In some of the bars and lounges, Disney had placed little 25th Anniversary bookmark for guests to take as a souvenir for free. On the bookmark, you'll find the recipe for the "Jubilee By The Sea," so guests can try their hand at making this drink for themselves back at home. 
Image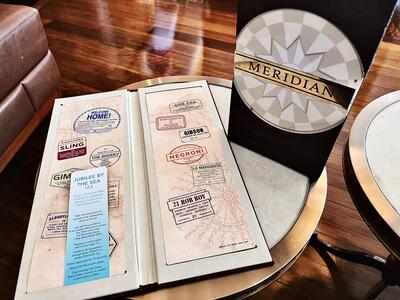 To find these fun and complimentary souvenirs, check inside the menus located at any of the bars and lounges onboard!
Guests will also be able to find some yummy desserts with exclusive 25th Anniversary designs at the Quiet Cove Cafe onboard. These treats at the adult-exclusive Quiet Cove Cafe are complimentary to all guests, which is a great perk!
Entertainment
and extra fireworks
Image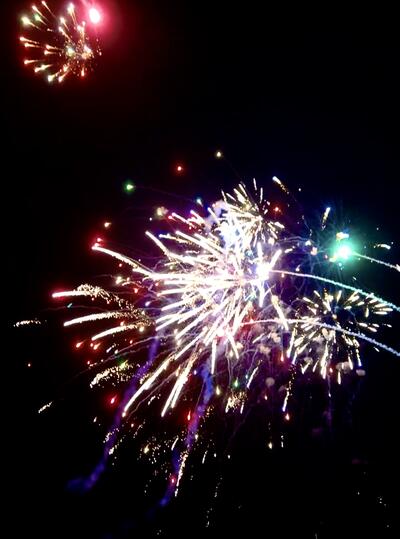 Perhaps one of the biggest incentives to get guests to sail onboard a 25th Anniversary sailing is the exclusive entertainment. 
During these sailings, there's a lot of entertainment that can not be found on any normal Disney Cruise Line voyage, including an additional fireworks at sea show! 
Image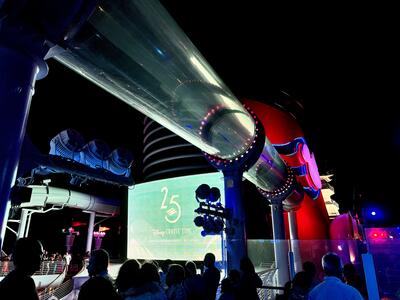 If you have sailed with Disney Cruise Line before, or have researched their cruises, you may know that they're the only cruise line that includes fireworks at sea. Usually, there's just one night of a cruise where guests can see this impressive show; however, on a 25th Anniversary sailing guests can see two firework shows during their cruise! 
The special fireworks show is called "Shimmering Seas Light the Sky." On my recent sailing onboard Disney Fantasy, this one-of-a-kind show was conducted during the first full day, which happened to be a sea day. 
The firework shows can all be seen from the main pool deck, and I recommend getting up there early, as many guests start picking out their spot to watch the show early! Personally, I thought the 25th Anniversary firework show was awesome! It featured new and original music to provide a fun atmosphere for guests to celebrate. 
Image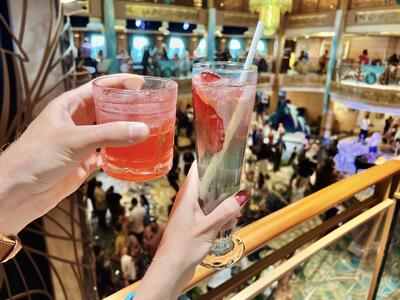 (Example of some of the complimentary alcoholic drinks given out at the Shimmering Seas Soiree) 
Another exclusive event that you should not miss is the Shimmering Seas Soiree. This event takes place in the atrium of the ship and is usually on the same night as the Shimmering Seas firework show. 
During this soiree, you will find Disney character appearances, music, confetti, and free drinks for adults! We went to this event not sure what to expect and were very impressed. It was a great way to kick off our cruise vacation since it was on the first full day. 
Image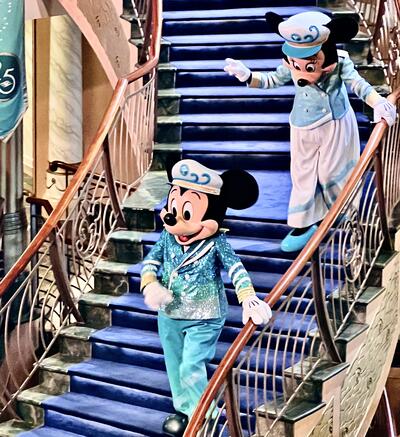 Guests can find the location and time of these special events both in the Disney Cruise Line app, which is free to all guests, as well as the printed activity schedule that passengers can pick up at Guest Services near the ship's atrium. 
Unique activities
Image
In addition to the special entertainment during 25th Anniversary sailings, guests will also have the opportunity to participate in some unique activities throughout their cruise vacation. 
Some of these activities include 25th Anniversary Trivia and 25th Anniversary Crafts. We attended both of these events during our Disney Fantasy sailing and thought that they were fun and unique. 
The 25th Anniversary Trivia was all about the history of Disney Cruise Line, and the guests that won the trivia game received a special complimentary prize! This particular trivia event was adults-only and took place in one of the lounges onboard.
Image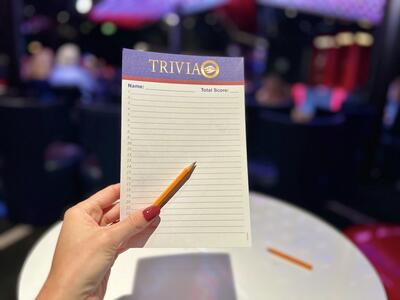 The 25th Anniversary Crafts activity was also an adults-only activity, where you could make a special sign for your stateroom's door. However, there were other craft activities throughout the cruise that were designated for kids and families.  
Many passengers choose to decorate their stateroom doors, and this was a fun activity in which Disney Cruise Line provided all the craft materials and supplies to make a fun door decoration!
Special souvenirs and memorabilia
Image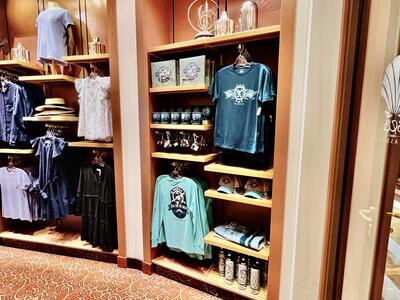 Something that seems to be very popular among fans and frequent cruisers is the exclusive merchandise and souvenirs sold onboard. 
Prior to our Disney Fantasy sailing, I had seen photos and videos online about some of the exclusive 25th Anniversary merchandise that's sold onboard this year. Some of these items include bags, shirts, and Disney ear headbands. 
On my sailing, however, the ship was sold out of all the exclusive 25th Anniversary merchandise for the entire duration of the cruise!
Image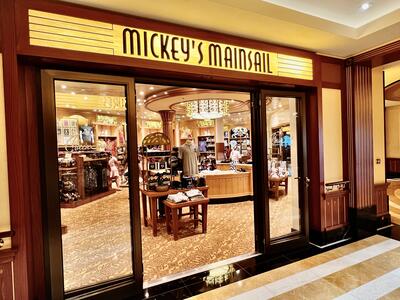 A good tip that was told to me by one of the helpful crew members was that they often restock merchandise items each night, so if something is sold out one day, make sure to check back the following day to see if an item has been restocked. 
However, items do sell out very fast onboard! If there is an item you have your eyes on, I recommend picking it up as soon as possible. 
While much of the 25th Anniversary merchandise was sold out for our cruise, there was still plenty of ship exclusive souvenirs and merchandise available. If guests are looking for something with their ship's name on it (i.e., Disney Fantasy or Disney Magic), they will have plenty of options! 
Image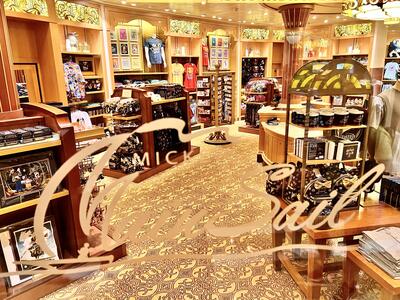 Something important to note is that the onboard shops will be closed whenever the ship is in port. This means that on embarkation day the shops will not open until later, usually around 6:00pm or so. 
Additionally, this means that guests will not have access to the shops during disembarkation day. Again, if there is something guests wish to pick up during their cruise, I recommend making the purchase as soon as possible. 
Image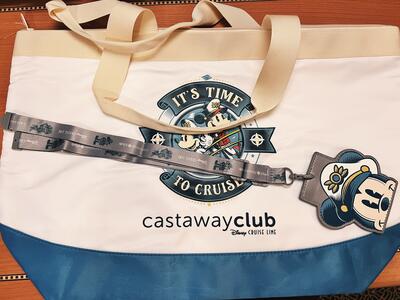 Guests who have sailed with Disney Cruise Line before will get some extra perks when they sail during the 25th Anniversary! 
All Castaway Club Members of every tier will receive a newly designed lanyard to store their stateroom keycards and a tote bag perfect for the beach. These complimentary gifts will be placed in guests' staterooms upon arrival. 
Image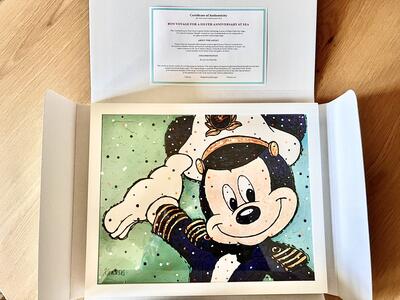 The exclusive Mickey artwork (pictured below) is just for the 25th Anniversary and is only gifted to Castaway Club guests on these unique sailings. The artwork was left in our stateroom by our cabin steward the same night of the Shimmering Seas firework show and soiree. 
Exclusive decor on Castaway Cay
Image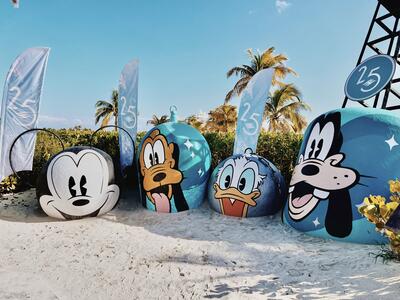 If you're visiting Disney's private island in The Bahamas, Castaway Cay, you'll find fun 25th Anniversary decor ashore, too.
As you make your way around the island, you'll find Disney character buoys with some new 25th Anniversary colors and flags, as well as some fun photo spot opportunities for the whole family! 
Conclusion
Image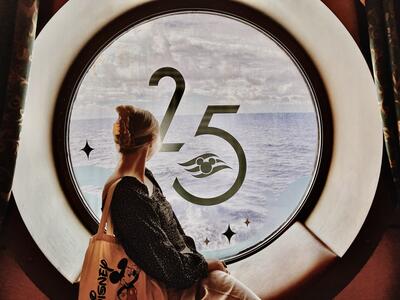 Overall, Disney Cruise Line has provided some great offerings to guests choosing to sail this year for their 25th Anniversary celebration! 
Personally, my two favorite things about the 25th Anniversary were the exclusive firework show and Shimmering Seas Soiree. These two events alone make the 25th Anniversary sailings special and exciting.
Image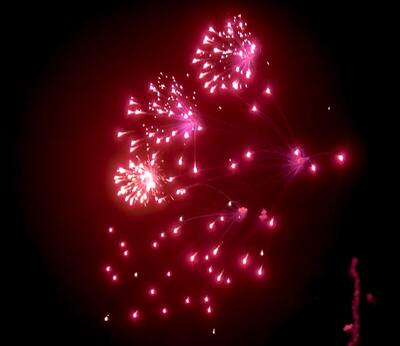 If you are someone who really enjoys Disney's firework shows, then I recommend considering one of these unique sailings. 
All Disney Cruise Line voyages have so much to explore, do, experience, and see, and these 25th Anniversary cruises offer just a little touch of added magic for those guests sailing in 2023.