You got an email for a $300 cruise fare, so why is it that it's well over $100 more when you go to finalize the booking?
It's because cruise lines rarely, if ever, include these extra amounts, called port fees, in their initial advertisements. What sounds better-- $300 for a 4-night cruise or $425 for a 4-night cruise?
In this article, we're going to break down everything you need to know about port fees, so you aren't surprised (and/or) disappointed when you go to book your next cruise!
What are port fees?
Image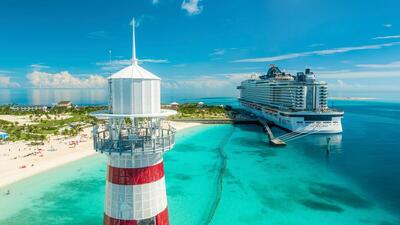 Port fees are fees charged by the ports of call to the cruise line (ships don't get to dock for free!). In turn, they pass these fees on to the passengers. 
It doesn't matter if you're staying in an interior room or two-bedroom suite, everyone will pay the exact same amount to the cruise line to cover these fees. Unfortunately, there's no way to get around paying them, either. Unlike gratuities that can be adjusted at guest services, all port fees are paid in full by the time of final payment.
Usually, the port fees are a summation of a few different fees, including the pilot fee, per-passenger fee (head tax), and docking fee. 
The pilot fee covers the associated costs of the local harbor pilot that's brought onboard to help guide the ship into port, while the head tax is charged to offset the cost of passengers using the local infrastructure; the docking fee is simply the charge that local authorities bill the cruise line for the right to dock in their port and help to pay for the services required for said visit. 
Image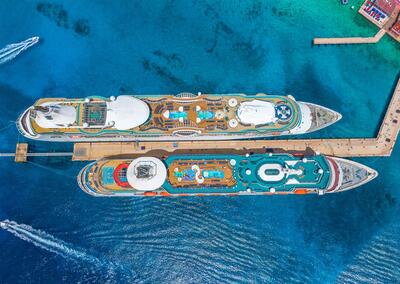 Above, however, is not an exclusive list; port fees may include more things. Carnival Cruise Line's website states, "Taxes, Fees & Port Expenses may include U.S. Customs fees, head taxes, Panama Canal tolls, dockage fees, wharfage fees, inspection fees, pilotage, air taxes, hotel or VAT taxes incurred as part of a land tour, immigration and naturalization fees, and Internal Revenue Service fees, as well as fees for navigation, berthing, stevedoring, baggage handling/storage and security services."
Other than the flat-rate head tax, most fees are charged based on a fluctuating scale determined by gross tonnage and total number of passengers.  
Take the CDC inspection fees for 2023. According to the information posted online, cruise ships between 60,001 and 120,000 gross tons will be charged $11,960 per inspection, while "super mega ships" (those over 140,000 gross tons) will be charged $23,920.
How are port fees different from cruise ship tips?
Image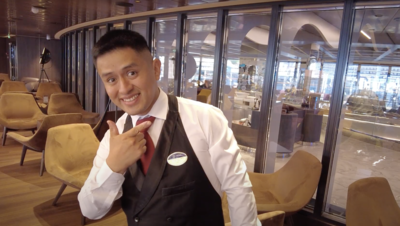 For most mainstream cruise lines, port fees and cruise ship gratuities can be considered "hidden" fees, meaning that they most likely will not be included in the advertised rate on the cruise line's website. This extra charge can be anywhere from $16-$25 per person, per day. The total cost depends on what line you are sailing with, as well as what stateroom category you selected. 
The summation of the tips paid by all passengers are divided amongst the crew members that work to make your vacation memorable. These include your stateroom attendant, dining and culinary services staff, the guest services team, and more. 
Read more: Tipping on a cruise ship: Guide and what to do
Do all ports charge the same amount?
Image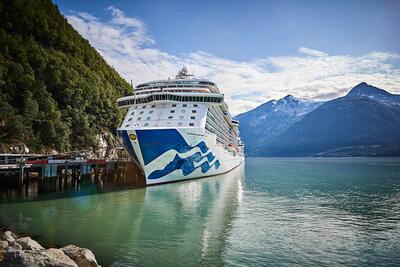 Nope. In fact, some charge significantly more than others!
Let's take a look at these two Carnival cruises departing in July 2023. 
Image

The 7-night Alaskan cruise that sails round trip from Seattle, Washington charges a whooping $266.70 per guest in port fees. 
In comparison, the 7-night Western Caribbean cruise from Galveston has port fees that are over $100 less, only $109.20 per guest for the entire week!
Even though the base fare for the Alaskan cruise is cheaper, you'll be paying $27.50 more than the Caribbean cruise before adding other taxes and gratuities. 
This is typical for Alaskan sailings, and you can expect to pay anywhere from $190 to $300 extra in port fees alone! The average, however, is usually close to $250. 
Expect the port fees to vary based on where the ship departs from and where it visit. A 7-night Caribbean cruise visiting the exact same three ports might have different port fees if one sails from Tampa and the other from Galveston. 
Do port fees ever get refunded?
Image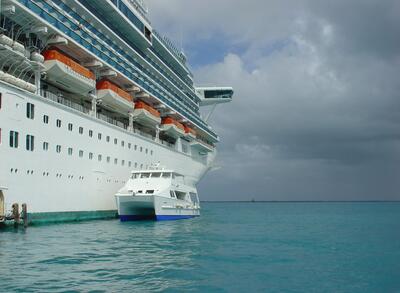 Since port fees are dependent on the ship docking at said port, if, for some unfortunate reason, the ship has to skip the port due to rough seas or civil unrest in the area, you'll most likely get a credit added to your onboard account that's equal to your share of the specific port fees. 
If only one port gets cancelled, you will not receive a refund of all the port fees that you paid! 
Using the same Carnival Cruise Line Western Caribbean itinerary as above, if the captain decided that it was best for the passengers' safety to skip Grand Cayman due to inclement weather, they would only get onboard credit for the Grand Cayman port fees, not Montego Bay, Cozumel, and Grand Cayman. 
If I'm sailing solo, will I be charged the port fees for two since room rates are based on double occupancy? 
Image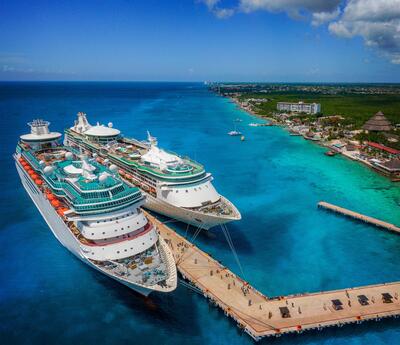 No, if you're sailing alone, you will only be charged the port fees and any other associated taxes of one person. 
While it's true that your actual fare will be close to what it would for cost two people to sail, you will not be responsible for any secondary port fees, taxes, or gratuities! 
Image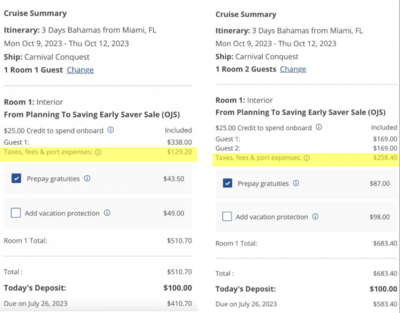 As you can see, a solo traveler sailing on a 3-night Bahamas cruise aboard Carnival Conquest would only have to pay $129.20 in taxes, fees, and port expenses. If there were two guests sailing, yes, the per-person rate would go down, but the same in port fees would be charged to both travelers, totaling $258.40. 
Do any cruise lines include port fees in their base fares?
Image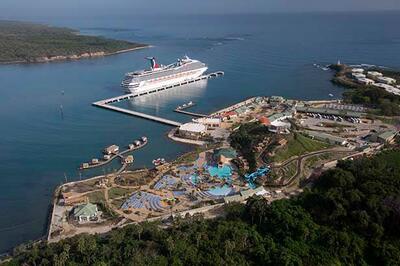 Before you place the initial deposit on your cruise, you are made aware of the total cost of your vacation, including all taxes, gratuities, and port fees. The port fees, however, can be added into the total at varying stages, such as when you first see the cruise fare or when you reach the page indicating the total cost. 
Very few mainstream cruise lines include port fees in their base fare, with the only two being Disney Cruise Line and Virgin Voyages. Most lines charge the fees separately but make them clear upfront, usually in small print. 
Image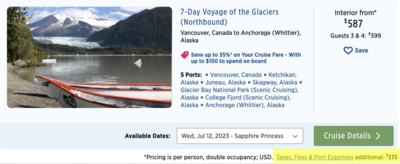 Princess Cruises, for example, lets interested people see how much the taxes, fees, and port expenses will cost before continuing booking. The above example would cost each person an additional $235. Some basic math indicates that, at minimum, every passenger in this reservation will be charged $822. 
Image

Similarly, Royal Caribbean does not include the port fees in the per person rate, either. Potential passengers are made aware of the additional costs before they continue on in the booking process. For this Voyager of the Seas sailing in August 2024, the fare (based on double occupancy) including port fees is $960.38. 
The bottom line
Image
As annoying as the extra cost may be, port fees are just a part of cruising. 
Whenever you see a rate that's almost "too good to be true," remember that the cruise line most likely hasn't included the port fees in the advertised rate. When budgeting for your cruise vacation, make sure that you include roughly an extra $150 per person for port fees, more if sailing in Alaska! 
Of course, there are other things that you will need to budget for, too. These include cruise add-ons such as drink and internet packages, shore excursions, specialty dining, and more. That $300 base fare could easily end up being close to $1,200 per person or more!