Making mistakes on a cruise is often inevitable, and each mistake can cost passengers time, money, and regret later on. Even as someone who cruises frequently, I find myself making mistakes on every sailing, and my most recent cruise was no exception.
As I boarded MSC Seaside from Port Canaveral earlier this summer, I felt confident about my upcoming week on the ship. It was my second sailing with MSC Cruises, and after making a few mistakes on my first MSC cruise earlier in the year, I thought I knew better than to make the same mistakes again.
As life would have it, though, no one is perfect, and there were a few things I did right and wrong on my MSC cruise. From waiting in too many lines to choosing the wrong way to spend a day in port, here are 5 mistakes I made and 4 things I did right on my MSC Seaside cruise.
Wrong: Trying to disembark without settling my account balance
Image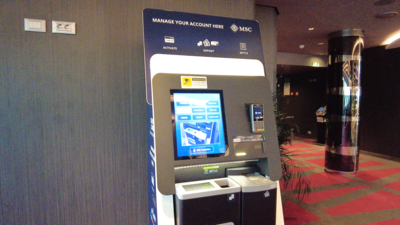 When you board an MSC cruise, you have two options for making payments onboard.
The first is to connect your onboard account to a credit card. Any payments you make onboard will be added up and charged to that card at the end of the cruise. By selecting this option, you can, essentially, make unlimited charges to your account.
The second option is to add a set balance to your cruise ship account. When using this option, you will visit one of the kiosks onboard to "top up" your MSC card with a specific amount of money, such as $200. If you're hoping to better control your spending onboard, or you would like to add money to a child's card, this can be a nice option.
Related: 13 of the best tips and tricks for an MSC cruise
If selecting the latter, there's one catch: you'll need to settle your account balance before leaving the ship on disembarkation day. For instance, if you did not spend all $100 you added and you still have $45 on the account, you must visit one of the kiosks to return the money to your card.
Unfortunately, as my sister and I were getting ready to disembark MSC Seaside, she received an error message stating she did not settle her account balance. Even though she only had $0.26 left on her card, she was required to visit a kiosk before trying to disembark again.
Fortunately, she was able to skip the disembarkation line after doing so, but it was still an unnecessary hassle and an easy mistake to avoid.
Right: Taking advantage of MSC's status matching program
Image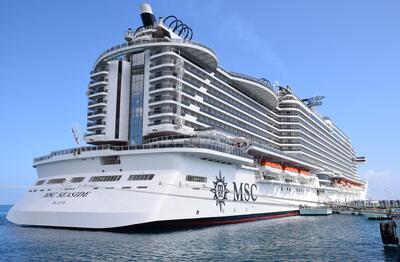 MSC Cruises has a generous status matching program that allows passengers to match their status with one cruise line to an equivalent status with MSC.
Prior to my cruise, I made sure to match my Royal Caribbean Crown & Anchor Society Status to MSC's Voyagers Club loyalty program, and it turned out to be the right decision.
Related: What you need to know about MSC's loyalty program
Right off the bat, I was given a 5% discount on my cruise fare upon booking, saving me money on what had already been one of the cheapest cruises I could find. Plus, once onboard I was able to take advantage of perks like a complimentary hour in the ship's thermal suite, which included hot tubs and saunas.
For those looking to match their status with another cruise line to MSC, it's important to do so well in advance of your cruise date. It can take several days for the status match to be processed.
Wrong: Not giving a second theater show a try
Image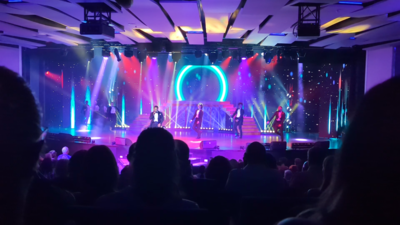 I wouldn't call myself a Broadway connoisseur by any means, but I like to think I can tell the difference between stellar and subpar entertainment on cruise ships.
Unfortunately, the first production show I watched on MSC Seaside leaned more toward the subpar range of the spectrum, with uninteresting set design and dancing far too out-of-sync. After this first experience, I basically avoided theater shows at all costs during the rest of my sailing.
Later in the week, however, I wished I had given MSC Seaside's entertainment another try. Several people I spoke to said the show I watched had been the outlier. They mentioned the other performances were of far better quality.
In fact, I heard some guests had attended the ship's Elvis impersonator performance twice because it was so impressive. By the time I realized I should have given the entertainment another try, my cruise was already almost over.
Wrong: Riding the water slides on a sea day
Image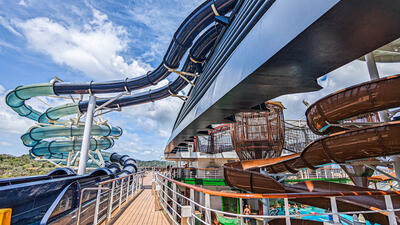 Like many MSC ships, MSC Seaside has thrilling water slides onboard—some of which even jet off the edge of the ship.
With four water slides of epic proportions onboard, it's no surprise that lines can form at any point during the cruise, but especially on sea days.
Determined to try every water slide on the ship, I headed to the pool deck on my first sea day. Unsurprisingly, I encountered long lines, but I figured it was worth it to wait anyway.
Yet if I had to do it over again, I would have waited to try the water slides until my next port day. Unlike on a sea day, port days see far fewer lines for onboard activities, including waterslides. When our ship was docked in Cozumel, for example, it would have been possible to ride the slides several times in a row without a wait.
Related: 17 mistakes you shouldn't make on a cruise ship sea day
Right: Booking a meal at Kaito Teppanyaki
Image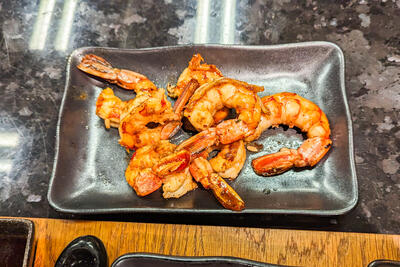 When it comes to specialty dining on cruise ships, some passengers enjoy the elevated dining experience whereas others gawk at spending extra on food not included in your cruise fare.
For the most part, I prefer eating at complimentary dining venues while cruising. After all, there is nearly endless food included in my cruise fare, from pizza to cookies, curries, and molten chocolate cake.
Related: What's included on an MSC cruise?
During my MSC Seaside cruise, though, I was cruising with a larger group, and we wanted to celebrate our vacation in a more special way than just another meal in the main dining room. Thus, we booked a dinner at Kaito Teppanyaki, MSC Seaside's hibachi restaurant.
It was one of the best decisions we made during the entire cruise. While around $40-$50 per person, the ambiance, performance, multi-course meal, and, of course, laughs shared with family were well worth every penny spent.
Wrong: Not booking a beach day in Cozumel
Image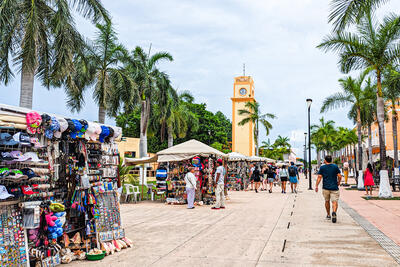 Cozumel is one of the busiest cruise ports in the Caribbean, yet there are not many beaches within walking distance from the cruise port. More research is needed if you're interested in a beach day, as you'll need to book a tour, day pass, or taxi to a beach from the port.
As the last of four ports on my weeklong cruise, I figured I would be sick of the beach by the time I arrived in Cozumel. As opposed to planning a beach day, I decided to walk off the pier and explore Cozumel's downtown instead.
Related: Best things to do in Cozumel, Mexico cruise port
Even though walking around the colorful streets of Cozumel and indulging in a plate of chile relleno was fun, I quickly realized there would not be enough to do downtown to fill all the hours of my port day.
Image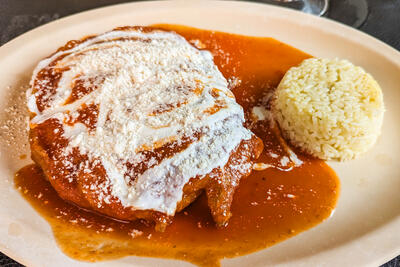 I found myself wishing I had planned something else to do in Cozumel, such as a snorkeling tour or day pass at a resort, to make the most of my time ashore. As it turned out, I was not sick of the beach by the end of my cruise, and I undoubtedly would have enjoyed another day of sunbathing.
Right: Changing my dinner time
Image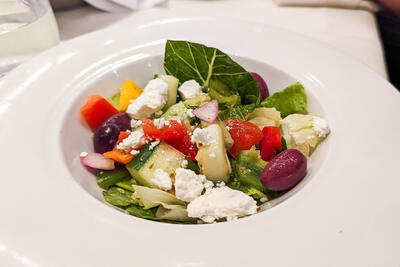 When booking the cheapest booking option on MSC, the Bella Experience, you do not have the choice of selecting an exact dinner time in the main dining room. As an alternative, you are able to select a dining preference, and I selected the early seating from 5:15 to 7:15 PM upon booking my cruise.
Once I boarded MSC Seaside, however, I noticed my family and I were assigned to a 9 PM dinner time! As someone with parents who often eat dinner by 4 PM, this was clearly not going to work.
Fortunately, I was able to visit the main dining room on embarkation day and change my dinner time to 7:15 PM—a much more reasonable time to eat.
Wrong: Disembarking at the peak time
Image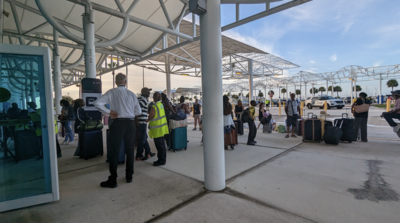 Disembarkation day on a cruise ship is always a bit hectic as thousands of passengers prepare to leave the ship at the same time. Public spaces quickly become packed with suitcases and grumpy passengers, and there's nothing enjoyable about waiting to leave the ship on disembarkation morning.
On the morning of disembarkation during my MSC Seaside cruise, I made the mistake of waiting too long to disembark. Seeing as though I was staying in Florida for a few extra days, I didn't need to rush to the airport to catch a flight. I took my time packing up my room, eating breakfast, and grabbing a coffee before getting off the ship.
Related: 10 reasons to get off your cruise ship as early as possible on disembarkation day
Apparently, everyone else onboard had the same idea I did, though, and as I tried to disembark around 8:30 AM I got caught in a massively long line. Wrapping around all areas of the atrium and theater, it took around forty minutes to get into the cruise terminal.
I wish I had disembarked earlier in the morning to avoid waiting in line for so long, especially since I was carrying all my luggage off the ship with me.
Right: Booking an inside cabin
Image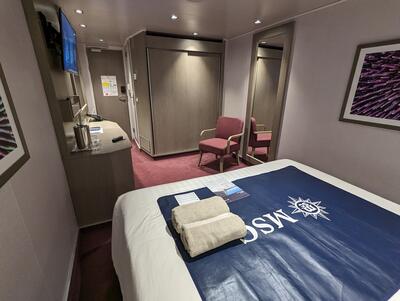 Inside cabins are unquestionably controversial, and staying in a windowless room is certainly not something most passengers dream about.
Although I would have loved to book a balcony or Yacht Club cabin (I can dream, right?) for my MSC Seaside cruise, my wallet thought otherwise. I booked the cheapest cabin I could find: a tiny cabin with no window, balcony, or porthole looking outside.
Upon entering my cabin, I was pleased to see it appeared modern and comfortable. While nothing luxurious, it provided everything I would need for my seven nights onboard.
I quickly realized how happy I was to have booked the cheapest room available. Because I was cruising with my family, I hardly spent any time in my cabin at all. In most cases, I visited my room only to sleep, shower, and change, and I preferred spending my free time with my family elsewhere on the ship.
I was glad I did not splurge on a higher-category cabin, as the purpose of my cruise on MSC Seaside was to make memories with my family instead of sitting alone in my cabin.
Related: 10 reasons you should book an interior room on your next cruise