Looking for a swash-buckling experience at sea? If you have looked into sailing with Disney Cruise Line, it is likely that you have heard of the famous Pirate Night. 
Disney Cruise Line is completely unique in the cruise line industry in the way that they host pirate-themed nights onboard many of their ships. In the Caribbean and in the Mediterranean, guests can experience these exclusive parties that truly bring the adventures of the high seas onboard. 
While sailing onboard Disney Fantasy, I was able to see what Pirate Night was all about! I was most curious to see exactly what this event entailed and what it had to offer for Disney Cruise Line guests of all ages, from families with little ones to adult couples. 
Here's a guide to what Pirate Night is like onboard Disney Cruise Line ships, yo ho a pirate's life for me! 
Read more: I am going on my first Disney Cruise: Here's what I think I should do
Pack your pirate attire
Image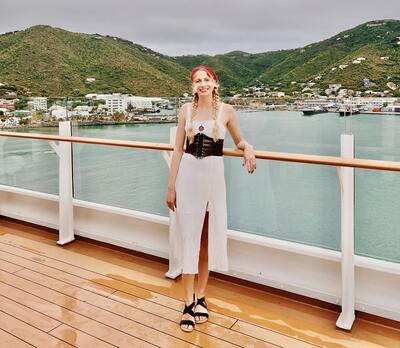 The first time I experienced Pirate Night was when I was a child onboard Disney Magic ship while sailing in the Mediterranean. This sailing onboard the Disney Fantasy was my first time getting to see Pirate Night while cruising in the Caribbean and as an adult!
Guests of all ages are encouraged to bring their best pirate attire and costumes. We noticed that the level of dressing up varied greatly amongst the passengers. Some guests had gone all out and were dressed from head to toe in pirate gear, while other passengers wore very little themed pirate clothing. 
Image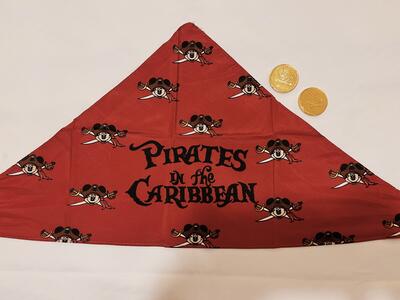 Whatever your level of comfortability, guests can dress up in as much or as little pirate-themed attire as they would like for the themed evening.
Something that is very fun is that Disney Cruise Line gifts complimentary pirate handkerchiefs to all guests. They'll be left inside of staterooms the evening of Pirate Night. We saw many guests wearing these red handkerchiefs as bandanas and thought it was a fun touch to get everyone onboard excited for Pirate Night! 
Read more: What it's really like in a $417-a-night, 169-square-foot stateroom on a Disney Cruise
The events start at 5 o'clock sharp
Image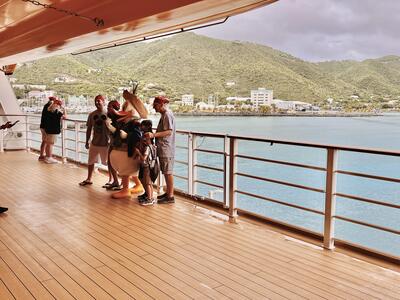 We discovered that the pirate-themed festivities began promptly at 5:00pm on the designated day of Pirate Night. 
One of the most notable things that changes the ship into the perfect place for swash-buckling pirates is the music. Beginning at 5:00pm, the classic Disney tunes that can usually can be heard throughout the ship change to lively sea shanties and pirate tunes. 
Image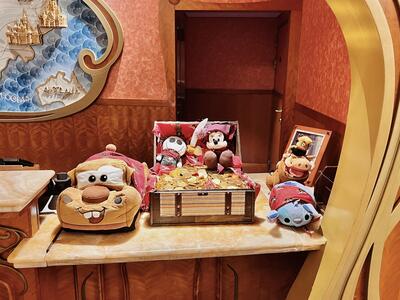 We noticed this change right away, and it was just the beginning of Pirate Night! We also noticed that everyone around the ship began showing up in their themed clothes, and there was a certain level of excitement in the air that was different from other nights onboard the ship. 
During our weeklong Caribbean sailing onboard Disney Fantasy, Pirate Night took place on the day we visited Tortola, British Virgin Islands. This day happened to be the 4th day of our 7-day cruise, or about halfway through our cruise sailing. 
Activities during Pirate Night on Disney Cruise
Image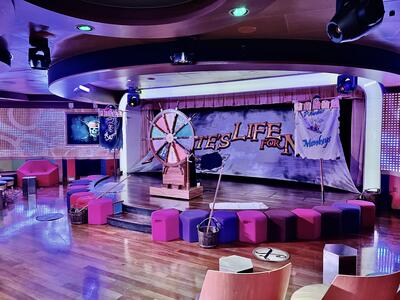 When researching for Pirate Night, I knew about the obvious offerings such as the firework show and the evening outdoor stage show. However, I did not know that there would also be several pirate-themed activities throughout the evening leading up to the fireworks show as well. 
Many of these pirate-themed activities are quite engaging and are available to passengers of all ages. 
Some of these activities included Pirate Trivia, a family game show called "A Pirates Life For Me," as well as a pirate-themed craft activity in which guests can craft their own pirate parrot. 
Image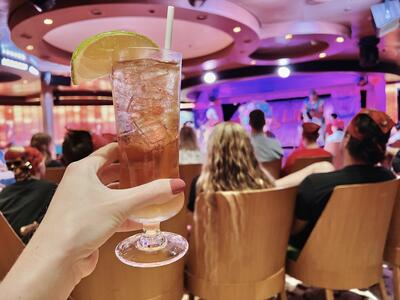 I had the opportunity to participate (and almost win) in Pirate Trivia, as well as watch the game show "A Pirate's Life For Me." These two activities occurred back-to-back and took place in the family lounge onboard in the D Lounge. 
These two activities occurred twice during the course of the evening, ensuring that all guests had the chance to participate, no matter their assigned dinner dining time.
These pirate-themed activities were quite fun, and I definitely recommend attending both with the whole family! Both these activities lasted about 30 minutes. 
Themed character meet and greets
Image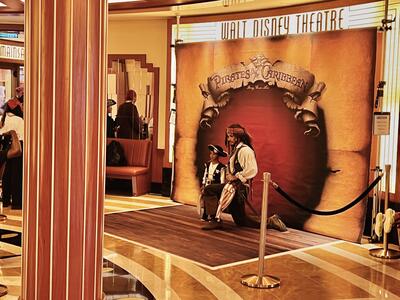 During Pirate Night, it is not just the guests who don their best pirate gear; all the onboard Disney characters and crew members do as well! 
Throughout Pirate Night, guests will have the opportunity to see classic characters such as Mickey, Minnie, Donald, Daisy, Goofy, and more in special pirate-themed outfits. 
Image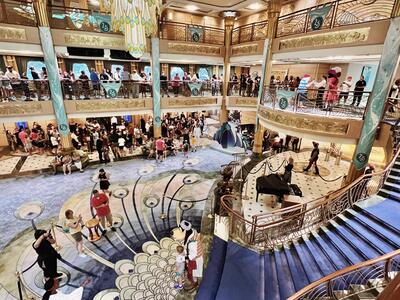 I recommend taking a look at the Disney Navigator app for the schedule of when and where the characters will make their appearances. Most of the characters can be found in the main atrium throughout the evening; however, guests can also see some of the characters out on the balconies near the atrium as well. 
In addition to classic Disney characters, guests also have the opportunity to meet or catch a glimpse of rare Disney characters such as Captain Jack Sparrow, Chip and Dale, and Stitch, as well as Captain Hook and Mr. Smee. All of these characters will also be dressed in their own special pirate-themed outfits. 
Typically, characters will be out and about in 15-minute increments. 
Food And themed pirate dining
Image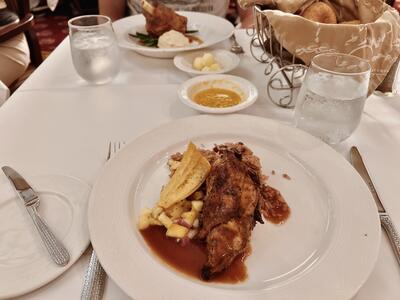 Aside from activities and dressing up, Pirate Night also consists of themed food and dining for all guests onboard. There's a unique menu that is exclusive to this one night during the cruise sailing. 
It is interesting because I have heard that many guests find the Pirate Night menu to be the worst onboard. Because of this, I have heard that some passengers choose to skip dining in the main dining rooms on Pirate Night and instead opt to dine at the buffet or choose to have dinner at the adult-exclusive Palo or Remy restaurants onboard the Disney Fantasy. 
Image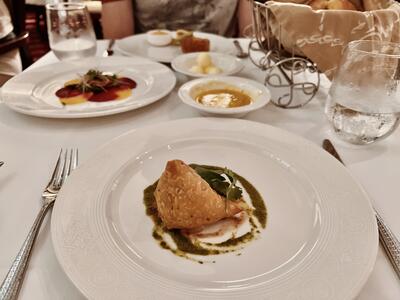 While I thought the food to be relatively tasty, I do have to admit that the menu options for Pirate Night did not seem to be special in any way besides their themed names. 
In addition to the themed menu, all of the crew members are also dressed in special pirate-themed attire, adding to the fun of the evening. I did find the dining atmosphere during this night to be one of the most fun onboard. 
Image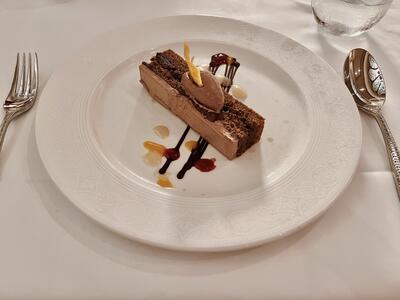 In recent years Disney Cruise Line has taken to having guests use their phones to view the menu in the main dining rooms. However, if you are someone who appreciates looking at a physical menu, I recommend asking your wait staff and they will be happy to give you a physical menu each night of the sailing. 
During Pirate Night, the physical menu is different and pirate-themed. Keep an eye out for this detail and make sure to kindly ask your wait staff for a physical menu if you would rather not use your cell phone in the dining rooms. 
Pirate party and performance
Image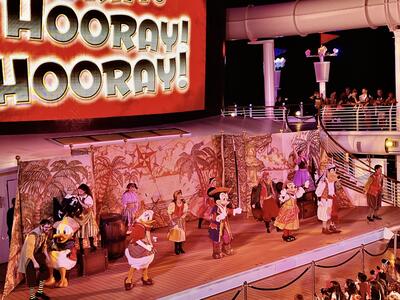 Pirate Night consists of two great entertainment performances! The first of these entertainment shows is called "Mickey's Pirates in the Caribbean." You will get to watch music, acting, character appearances, interactive elements, and so much more! 
My biggest piece of advice for this show is to get to the top deck early, at least 15 minutes before the start of the show. 
Image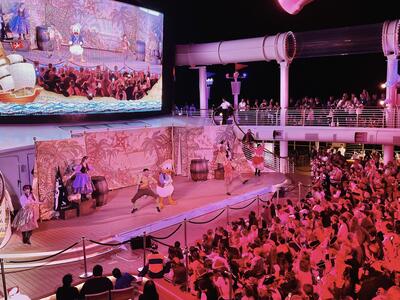 "Mickey's Pirates in the Caribbean" show takes place outside on the main pool deck, and there are plenty of spots to catch this show; however, this performance is extremely popular, and the pool deck and surrounding areas get very crowded leading up to the show. 
In total, the show lasts about 25 minutes and usually takes place after dinner time around 7:30pm. Of course, the time may be different onboard every ship. 
Fireworks At sea
Image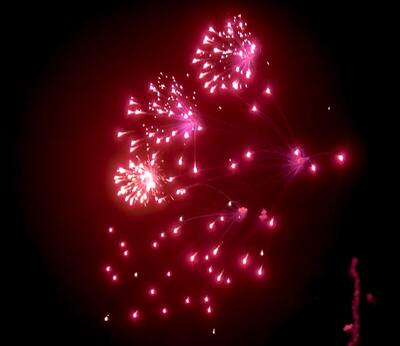 The second of the pirate-themed performances is perhaps the most impressive: the fireworks at sea show! The formal name of this show is the "Buccaneer Blast."
In addition to the obvious fireworks, there are also pirate characters, including an appearance and performance by none other than Captain Jack Sparrow! Make sure to keep your eye on the ship's funnel to spot Jack Sparrow making a daring fall onto the stage. 
Image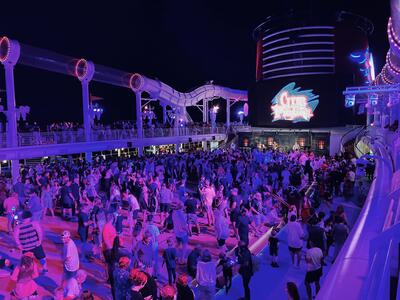 The fireworks show usually begins later at night, typically around 10:00pm, and also takes place on the main pool deck. You can expect it to last about 45 minutes or so in total. 
After the fireworks, guests will be able to dance the night away at Club Pirate because the main pool deck turns into an outdoor dance club for the entire family to bust a move or two! 
This event is a lot of fun and can often get quite crowded, so expect to be around a lot of other guests when attending the pirate events onboard. 
Other things to know about Pirate Night onboard Disney Cruise Line
Image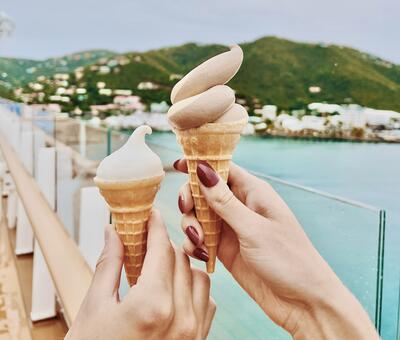 Pirate Night is arguably one of the most exciting things about a voyage with Disney Cruise Line when cruising the Caribbean and Mediterranean. Because of this, it means that many Disney Cruise Line guests put quite a bit of time and effort into planning their Pirate Night onboard. 
I recommend picking out what outfit you would like to wear for Pirate Night ahead of time and packing accordingly. 
Image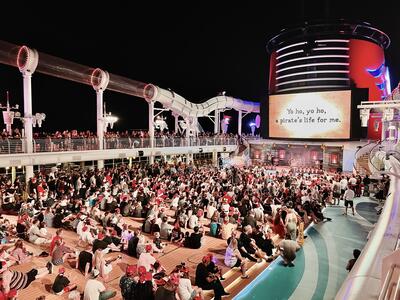 Once onboard the ship, the Disney Cruise Line Navigator app will be your best friend, as it has a detailed schedule of all the events and their times and locations throughout the day for Pirate Night. 
Being able to experience Pirate Night onboard Disney Fantasy was one of the highlights of our cruise! 
This themed night is so much fun, and it was a great experience seeing how involved other guests get in the excitement of the evening!
Read more: Disney Cruise Line celebrates 25th anniversary with magical offerings: Here's what it looks like