Disney Cruise Line is known as being one of the most expensive mainstream cruise lines in the industry. I recently returned from a sailing onboard the Disney Fantasy where I was able to test out if I think the extra price tag is worth it. 
The interior staterooms are often the most affordable stateroom cabin onboard any cruise ship, and while this was true onboard the Disney Fantasy, this room also had some great features and amenities for its guests. 
Image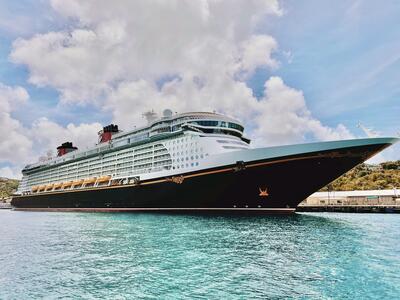 Our standard inside stateroom onboard the Disney Fantasy ship cost us $2,722, which included all of the port fees, taxes, fees for the cruise, as well as the base cruise fare and so much more onboard the ship. The one thing that it did not include, however, were the gratuities. This added an extra $203, or $101.50 per person. 
Here is exactly what's included when sailing onboard the Disney Fantasy in the most affordable room available. 
Room layout and tour
Image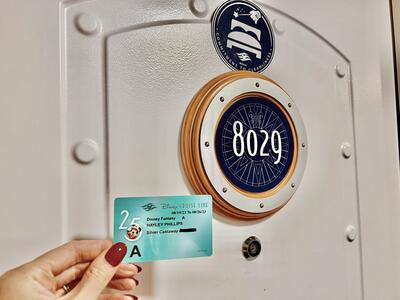 On this sailing with the Disney Fantasy we stayed in one of the standard interior staterooms on Deck 9. 
This room was very comfortable and cozy, and it was larger than I had initially expected. The standard interior staterooms come complete with everything travelers should need during their cruise. Whether it be a couple traveling together or a family of three or even four, these interior staterooms are designed with families in mind and are able to accommodate a wide variety of travelers. 
Image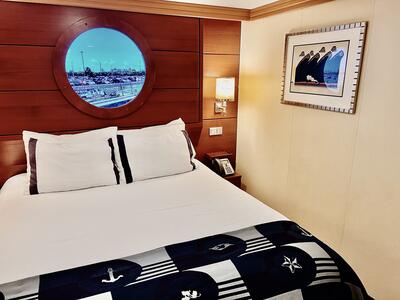 The standard interior staterooms onboard Disney Fantasy are a little different than most inside staterooms on other cruise ships in a multitude of ways. One of these differences is that the bed is a standard queen sized bed and does not split into two twins. 
Frequently on other cruise lines, the bed can be split into two separate beds or made into one singular bed in order to accommodate couples traveling together. 
Image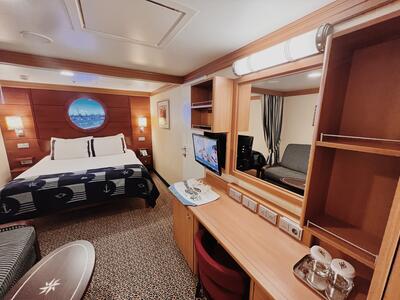 We actually enjoyed the fact that the bed onboard the Disney Fantasy could not be split into two, as sometimes these split beds on other cruise lines have an uncomfortable seam in the middle of it. 
Image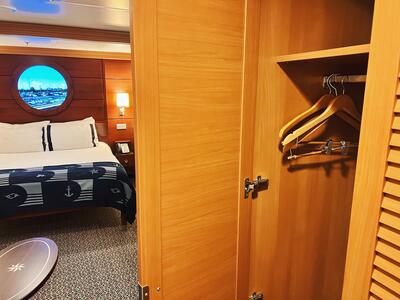 To accommodate families traveling together, there is a sizable couch in the room that can be converted into a pull out bed for one or two additional guests. This means it would be a great stateroom for a family of four with two adults and two children. 
Additionally, there's a large curtain in the middle of the room, which is a great feature that makes it easy for guests to separate the room into multiple sections to increase privacy. 
Image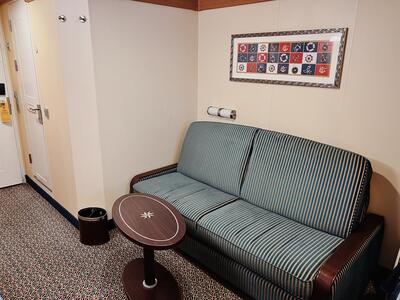 When it comes to storage, there was more than enough for two adults traveling together. There are two small closets next to each other, with plenty of room for clothes, shoes, and accessories. When it comes to storing luggage and bags, guests will find plenty of space under the bed. 
Additionally, a large desk area with a chair, shelves, and drawers can be found across the room from the couch. I recommend checking the pullout drawer at the top of the desk, where inside guests can find two complimentary post cards to take home, as well as a morning room service menu!
Image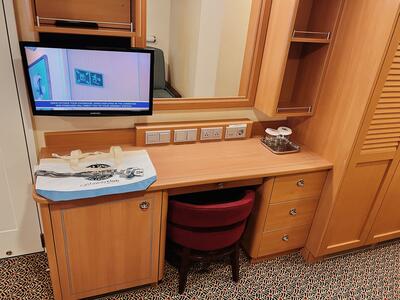 Inside of the stateroom's bathroom, guests will find a unique feature: a tub shower. Most cruise line bathrooms have only a standup shower, but every stateroom onboard the Disney Fantasy ship, including the most affordable room category, has a tub shower. 
This feature can come in handy for helping young children clean up after a long day at the beach or pool. Plus, it is also just larger than most cruise ship showers! 
Image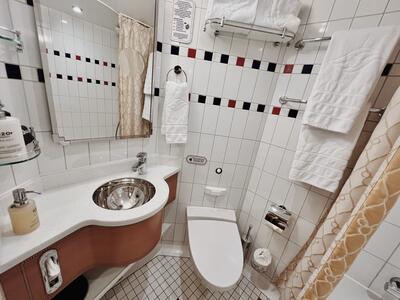 I was pleasantly surprised to discover several other great little features in the inside bathroom. 
For example, I appreciated the fact that the Disney Fantasy provides dark colored wash clothes for ladies to remove their makeup. Guests also will have an unlimited supply of H2O bath products to use, which are the same bath products that the Walt Disney Company uses at their theme parks. 
Image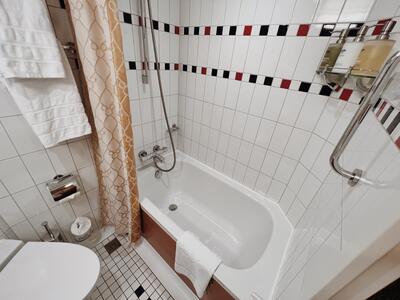 Perhaps my favorite part of the interior stateroom was the magical porthole "window!" This exclusive detail can only be found in the inside staterooms. This porthole streams a live video feed of the outside of the ship, giving even inside stateroom passengers a view of the outside while in their stateroom. 
Image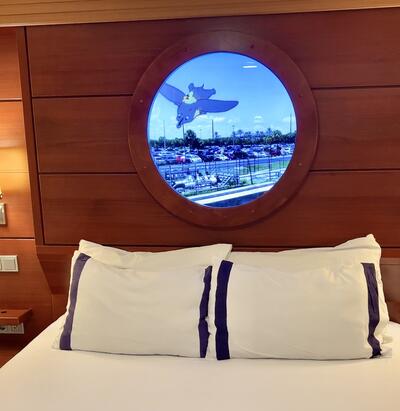 It would not be Disney if they didn't add a magical touch, though, would it? Those in interior rooms onboard the ship will appreciate the Disney characters that pop up on the screen to say hello and make an appearance. These visits happen about 15 minutes or so and are different every time. 
Make sure to keep a lookout for this little bit of Disney magic if you are someone staying in an inside stateroom onboard Disney Fantasy! 
Image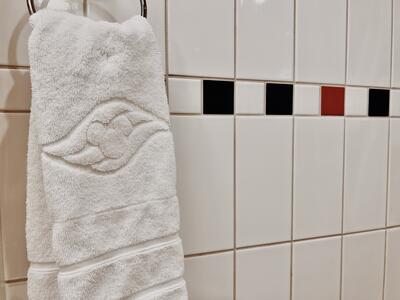 I can honestly say that this inside stateroom has been my favorite inside stateroom I have ever stayed in on a cruise ship so far! From the small details to the big features, I appreciate the thought and consideration that went into this room to make it feel classically Disney and truly timeless. 
While the Disney Fantasy ship is older at almost 11-years-old, these interior staterooms still seem in great condition and are well-maintained. 
Read more: I tried the cheapest Disney Cruise line cabin I could find and here's how it went
Food and dining
Image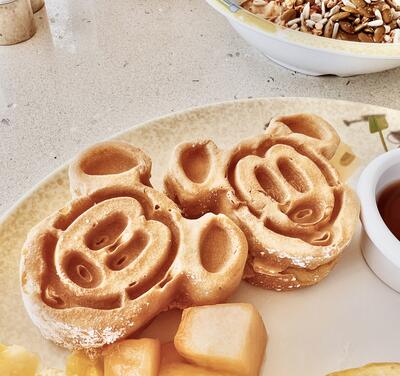 All of the main dining options onboard Disney Fantasy are included in the cost of the cruise, even for those staying in the most affordable interior staterooms. 
Included in the cost of your cruise fare are all of the main dining rotational restaurants, buffets, and room service. A great feature is that room service is actually available 24 hours a day and is completely complimentary! Any room service gratuity is up to the discretion of the individual guest. 
Image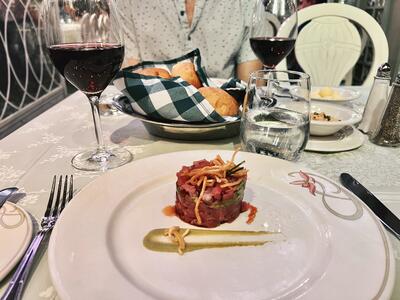 Onboard, guests will find three main dining rooms: the Royal Court, Enchanted Garden, and Animator's Palette. All three are quite different and have their own theming. 
Image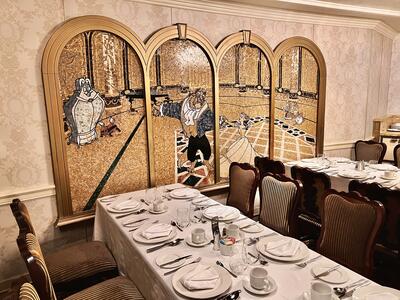 Disney Cruise Line conducts a rotational dining system for dinner time onboard for all guests. 
This means that guests will have the same service staff throughout their sailing, who will follow them to their assigned dining room each night for dinner. Guests can also choose to enjoy breakfast in the Royal Court dining room for no additional cost. 
Image
The main buffet has a large amount of food options for all guests and serves breakfast, lunch, and dinner each day of the cruise. If you're looking for a quick snack, you'll find some great options at the food areas near the main pool deck. Oftentimes, these snack areas serve food when the buffet is closed. 
For example, if you come back onboard the ship after an afternoon of exploring and find that the lunch buffet is closed, consider checking out these food areas near the pool deck to hold you over until dinner!
Image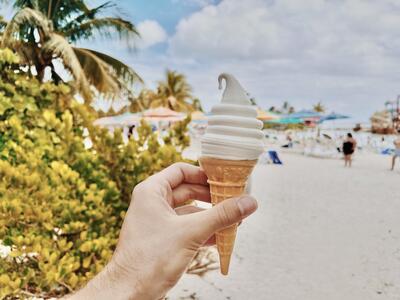 Additionally, do not forget about the all-you-can-eat complimentary soft serve ice cream and soda that can be found near the main pool deck, too. Most other mainstream cruise lines, such as Royal Caribbean and Carnival, do not include soda in your base fare, meaning that you either have to purchase a drink package or pay for each drink á la carte. 
Entertainment
Image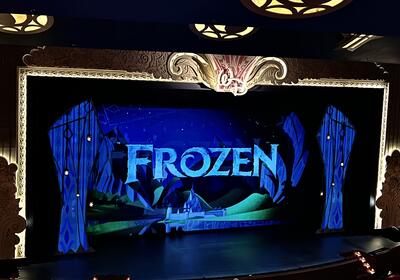 Along with food and a cozy room to stay in, included in the cost of a cruise onboard Disney Fantasy is some great entertainment! 
Disney is, first and foremost, an entertainment company. This means that Disney Cruise Line does not skimp when it comes to entertainment, and all forms of entertainment are complimentary to all guests, meaning that you don't have to worry about paying Broadway prices to watch one of their Broadway-style musicals, such as Frozen or Aladdin, in the theater. 
During my sailing, there were three main theater shows: Aladdin, Frozen, and Disney Believe. All three of these shows were very well done and featured some truly impressive actors, singers, and dancers. 
Image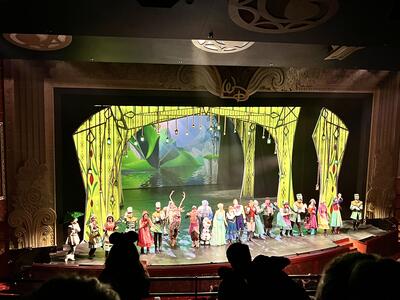 Additionally, there were some great variety entertainment options, as well. During our particular sailing, there was a ventriloquist, juggler, and magician onboard. All three of these variety acts were awesome, and we really enjoyed all of them. Our personal favorite was the ventriloquist, who was also a comedian, and had us laughing until our sides hurt! 
Image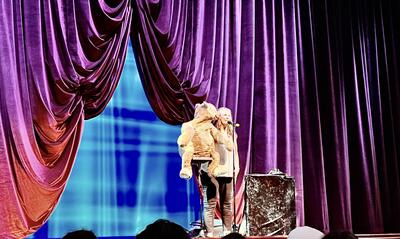 All guests are welcome to enjoy all of the entertainment onboard, no matter their stateroom category. Passengers can find the time and location of all the entertainment options in the Disney Cruise Line app. Alternatively, you can pick up a physical copy of the ship's schedule at Guest Services. 
Special events
Image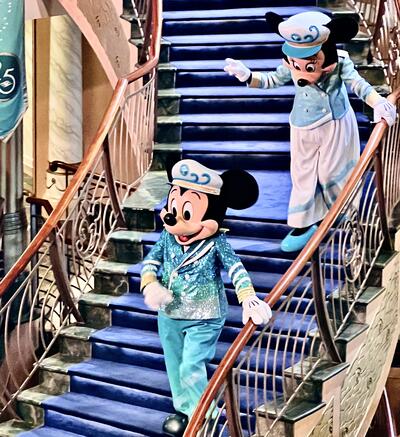 When it comes to throwing a party for the whole family and all travelers, Disney Cruise Line might be one of the best in the cruise industry! 
Onboard our particular cruise sailing, we were able to take part in and enjoy several special events and themed nights. This included the famous Pirate Night and the Shimmering Seas Soiree to celebrate the 25th Anniversary of Disney Cruise Line. 
Image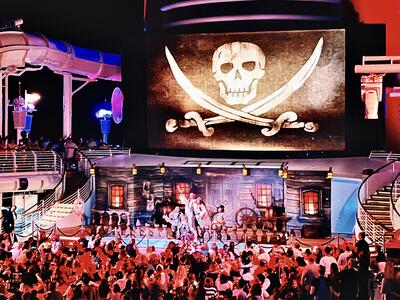 These themed nights and parties are complimentary to all guests and include things such as firework shows and performances. Additionally, the soirees let guests meet or catch glimpses of Disney characters, as well as enjoy complimentary cocktails, if they are being distributed. 
If you want to save more money, consider bringing a limited amount of alcohol onboard with you. According to their website, "Disney Cruise Line Guests 21 years and older may bring a maximum of 2 bottles of unopened wine or champagne (no larger than 750 ml) or 6 beers (no larger than 12 ounces) on board at the beginning of the voyage and at each port of call. These beverages must be packed in carry-on (not checked) bags or luggage."
I highly recommend attending all of the special events onboard, as they are some of the most fun experiences provided by Disney Cruise Line. 
Image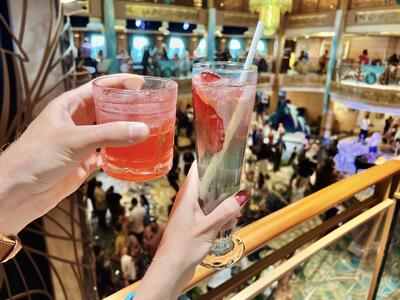 Up on the pool deck, you will find the AquaDuck water slide. This water slide wraps all the way around the top deck of the ship and is a family friendly slide with a bit of Disney thrill, of course. It is free for all guests, too. 
Image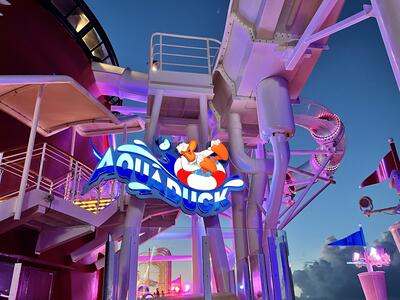 The AquaDuck often gets a long line, but I recommend trying out this slide for yourself while the ship is docked in port when most guests are out exploring and there are less people onboard. 
Awesome service
Image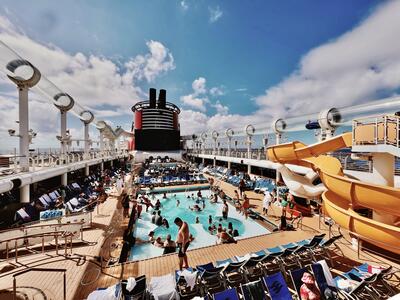 When speaking to other guests and passengers onboard, we often asked them what their favorite part of sailing with Disney Cruise Line is, and they often commented on the level of service. 
Disney Cruise Line crew members often go above and beyond to provide an excellent vacation to their guests, and this level of service seems to have guests coming back again and again. 
Disney Cruise Line's unique rotational dining system means that passengers get to know their dining room servers quite well, as they have the same dining staff for the duration of their cruise. It also means that guests develop a sense of friendship with the crew members more so than with sailing with other cruise lines, especially if you choose a flexible dining option, rather than traditional dining time. 
Image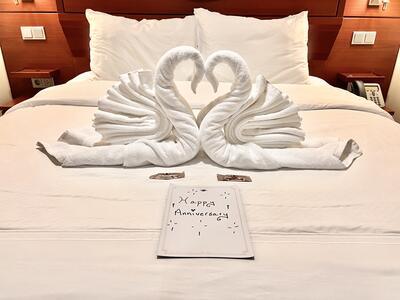 Additionally, the stateroom hosts and hostesses provide an added bit of magic to each stateroom every night of the cruise. They, for example, create some truly awesome towel creations for guests to discover in their cabins! 
Image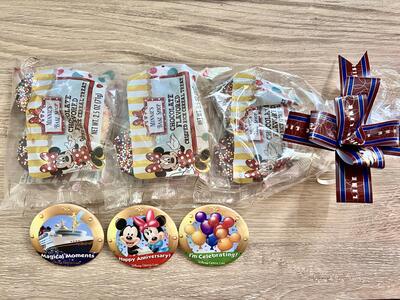 I spoke to several Guest Service crew members over the course of our cruise, and each time they were very friendly and helpful. In fact, the Guest Service crew members went above and beyond several times. We were even gifted us with some fun and complimentary Celebration Buttons as a souvenir to remember our trip! 
Great itineraries and private destinations
Image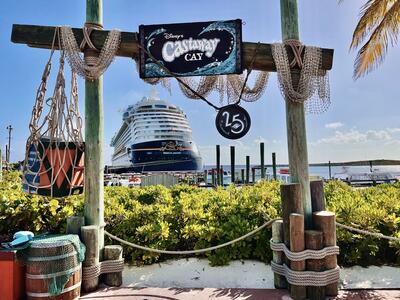 Included in the cruise fare is, of course, transportation to new and exciting places! After all, that is what cruising is all about: traveling, seeing the world, and experiencing new things! 
During our Disney Fantasy cruise, our itinerary visited St. Thomas, U.S. Virgin Islands; Tortola, British Virgin Islands; and Disney's Castaway Cay, their private island located in The Bahamas.  
Image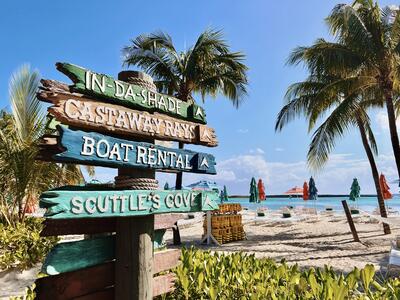 We had a great experience visiting all three of these locations! It was our first time visiting Disney's private island, and we enjoyed seeing and experiencing many of the complimentary amenities and activities that they offer, such as their 5K, at the end of which we got a complimentary prize! We also followed a snorkel trail where we got to see some magical things under the sea. 
Image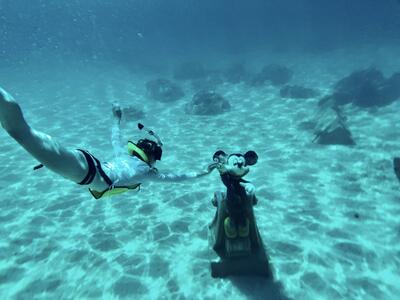 Make note that it does cost extra to rent snorkel gear at Castaway Cay; however, guests can bring their own snorkel gear to save some money! We purchased snorkel gear off Amazon prior to our cruise for about the same price as it is to rent the gear just one time! 
Image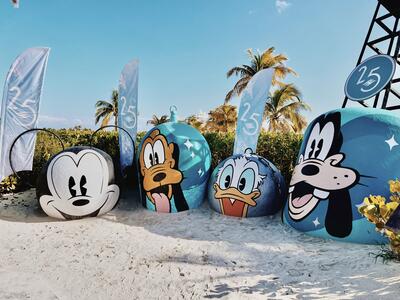 Disney's Castaway Cay also includes complimentary food options for guests to enjoy as well, so they do not have to worry about returning to the ship in the middle of the day.
At Cookie's Barbecue, guests can enjoy a large assortment of lunch offerings. An important note is that the lunch services ends at 2pm on the island, so make sure to visit the food locations before this time to enjoy lunch on Castaway Cay. 
Overall thoughts
Image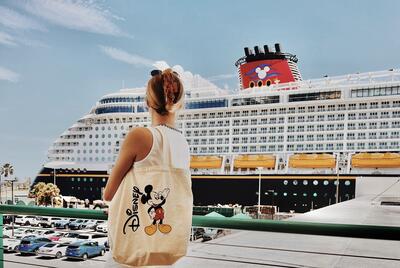 Overall, we thought the interior stateroom was more than adequate for our cruise onboard Disney Fantasy. 
We felt this cabin offered plenty of room for travelers, space for storage, and was a cozy home at sea for a week long sailing with Disney Cruise Line. 
Image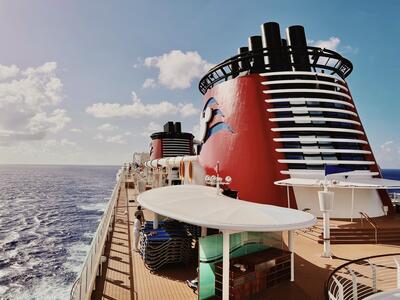 While the base fare for any Disney cruise is not the cheapest option, it does come with a lot more than other mainstream cruise lines. Because of this, by the conclusion of our cruise, we felt the price seemed more justified than we had originally thought. 
Picking a cruise line is all about what is a priority to the individual traveler. Disney Cruise Line may cost more than other cruise lines, but for some guests it is worth the extra cost!
Read more: Disney Treasure: Everything we know so far about Disney Cruise Line's newest ship