I just returned from a 10-night cruise onboard Norwegian Star, one of the cruise line's oldest ships, and I stayed in an inside cabin guarantee that cost $1,700.
Image
Norwegian Star first sailed in September 2001 as part of the Dawn-class, making her more than 20 years old. The ship was recently refurbished in 2018 where the cruise line upgraded staterooms to include more modern amenities.
Image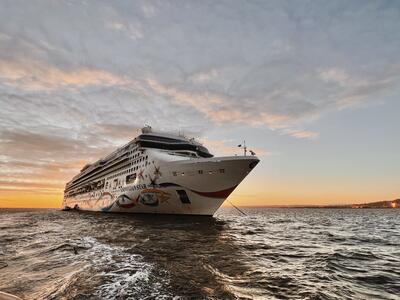 Although the cabin was extremely compact, we had everything we needed onboard for a comfortable stay.
Image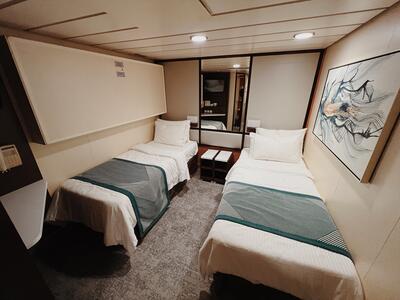 With a very port-intensive itinerary, we didn't plan to spend much time in our cabin anyway. On our 10-night sailing, we had 9 planned port visits with only one sea day.
Image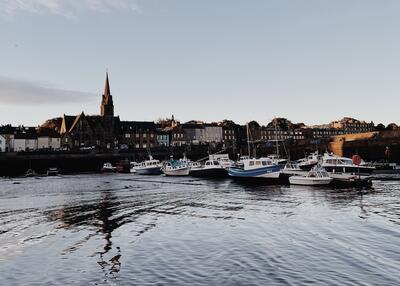 As one of the oldest ships in Norwegian Cruise Line's fleet, Norwegian Star is a no-frills type of cruise ship. 
Image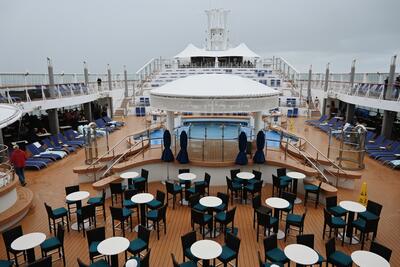 Measuring only 91,000 gross tons, you can find plenty of deck space to relax, numerous bars and lounges, theatre shows, and six complimentary dining restaurants.
Image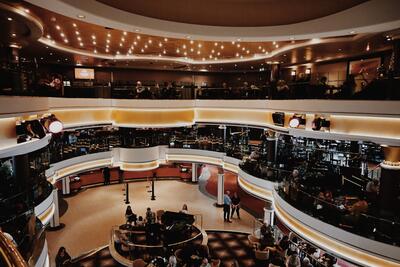 This was my longest cruise with Norwegian Cruise Line, as I have only sailed with the cruise line twice before. I previously sailed more than a decade ago on Pride of America before boarding Norwegian Sun last spring for a quick 2-night sailing.
Image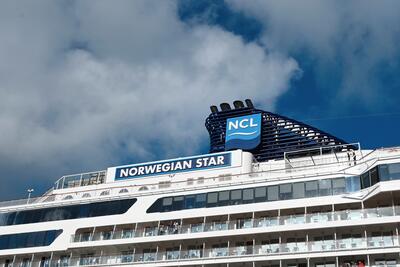 Because I would need to travel to Europe for this cruise, I wanted to keep costs down. Booking an inside cabin guarantee was the cheapest cabin available onboard.
Image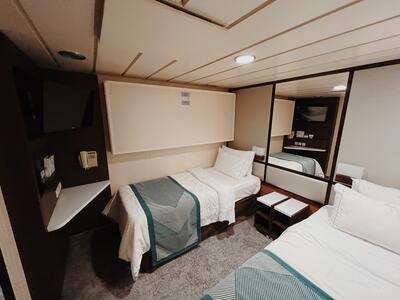 For only $850 per person, the cost of this cabin also included prepaid gratuities, taxes, and fees. Of course, this also includes food, transportation, and entertainment onboard. 
Image
Our inside cabin was assigned a few weeks before sailing. We'd be sailing in cabin 8667, which was located at the very back of the ship. Since we booked a guarantee stateroom, we couldn't choose the location of our cabin.
Image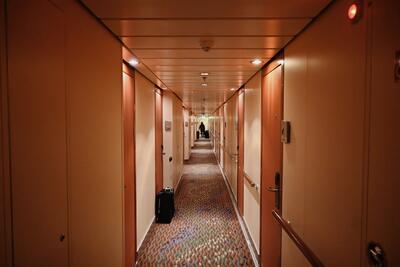 With our location in the aft, we had to walk pretty far to reach the elevators or stairs; however, Deck 8 was very centrally located onboard to the atrium and restaurants.
Image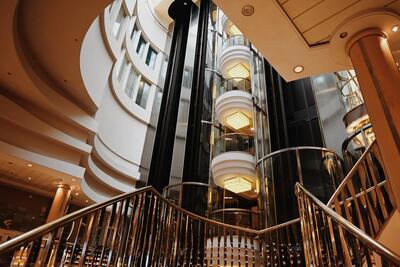 The cabin was only 142-square-feet, which is smaller than inside cabins on most modern cruise ships. For example, cabins onboard Norwegian's newest Prima-class ships are anywhere from 160-255 square feet.
Image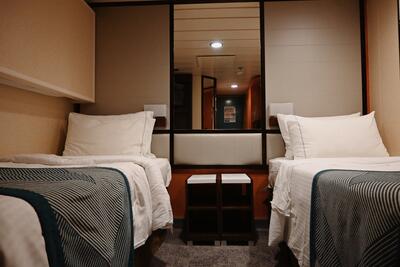 When we first arrived to our cabin, I was initially disappointed in two things: the exposed bunk bed and the lack of additional seating.
Image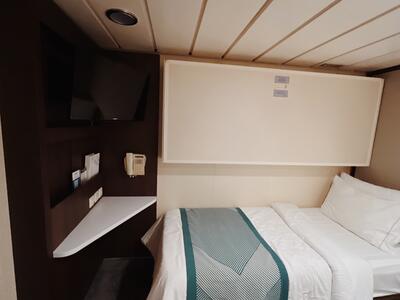 Our cabin was so small that we could only sit on our beds while in the stateroom. Without a loveseat or couch, this was a bit of a nuisance during the cruise. After walking around in the rainy UK, we didn't always want to sit on our clean beds.
Image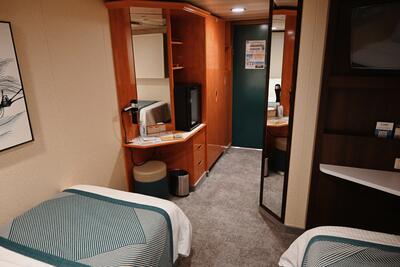 Additionally, I was bummed to see there was an unused bunk bed hanging from the side of the wall above my bed. We only had two people staying in the cabin, so the unused bunk bed took up space. In such a small cabin, this made the space feel more cramped.
Image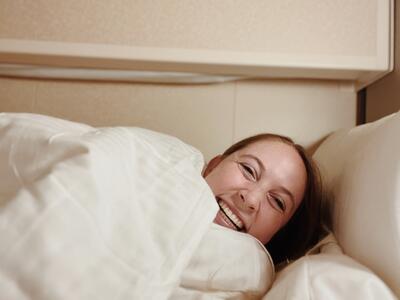 Although the cabin lacked additional seating, we appreciated how much space was allocated for the bathroom.
Image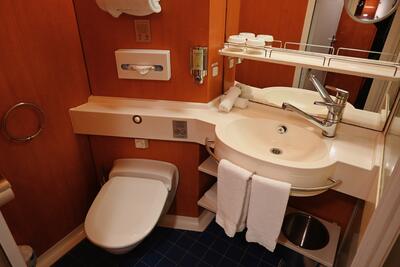 The bathroom featured a large walk-in shower with a glass door. Having this much space in a shower was ahead of its time, as most older ships feature tiny capsule showers with clingy shower curtains.
Image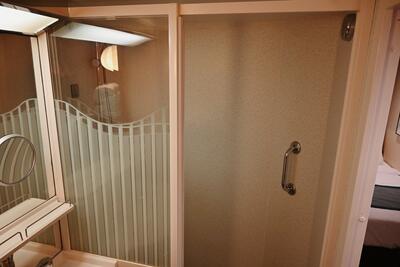 In fact, this was probably one of the best showers I've had on a cruise ship, especially one that's more than 20 years old!
Image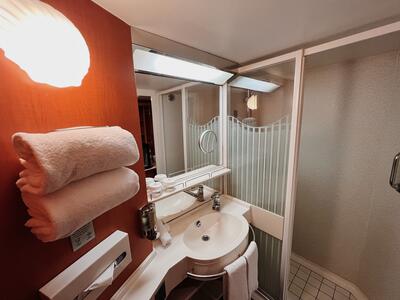 I was also impressed to find two complimentary cosmetic products in the shower: shampoo and body wash. On Royal Caribbean, for example, you only receive a catch-all product for shampoo and body wash.
Image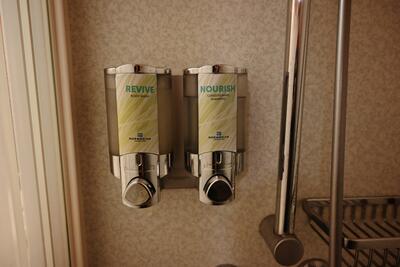 The bathroom had enough storage for us to both keep our cosmetics properly stored. I utilized my handing cosmetic bag on the back of the door while Hayley stored hers under the sink on the shelving.
Image
We had more space for storage than needed, although those traveling with more than two people will probably appreciate all of this space.
Image
Unfortunately, our toilet started having issues halfway through the cruise. We noticed the toilet was flushing very slowly, sometimes taking a couple minutes to eventually flush. As you can imagine, our anxiety increased as the toilet's reliability decreased.
Image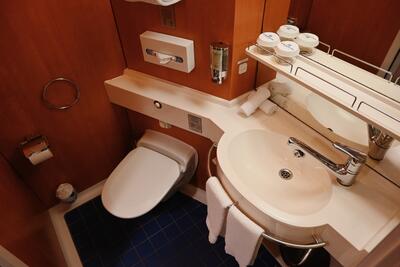 Even with the toilet acting up, the cabin bathroom was one of the best aspects of our stateroom! Although we didn't have seating in our cabin, I appreciated how much space was allocated
Image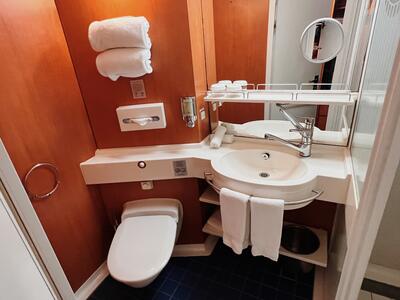 The worst part of our cabin was its location. We were located directly above the Bliss Lounge, which is a versatile lounge space that transforms into a nightclub each evening. We could hear the music playing until midnight each evening.
Image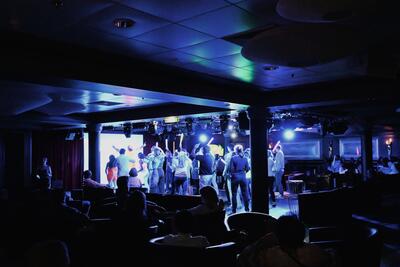 Luckily we had earplugs and white noise to help us sleep, but others might be more sensitive to the noise. The music was so loud we never felt the need to even go to the Bliss Lounge in the evening; we could hear everything right from our cabin!
Image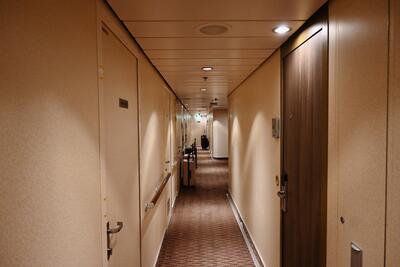 We were also located next to a Crew Only door. In all my years of cruising, I've learned this is not where you want your stateroom to be located. During the day, we could hear the crew members working on maintenance issues by the sounds of drilling, banging, and clanking noises.
Image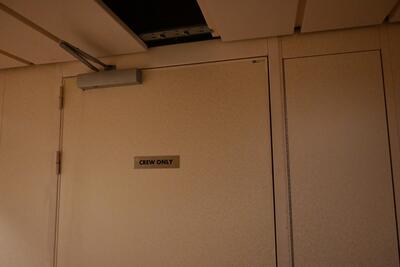 The walls of the cabin were also extremely thin; we could hear almost everything in the cabin next to us. Everything from coughing to snoring, chatting, and even alarm sounds transpired across the cabin walls.
Image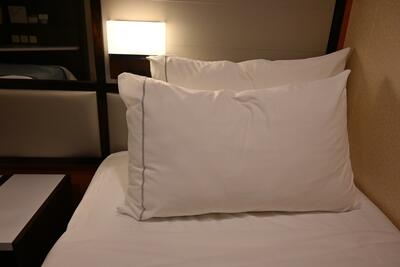 Since I was traveling with my friend Hayley, we chose to separate the bed into a twin configuration. This helped make the space feel more open.
Image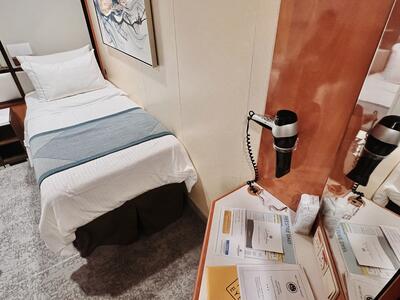 Throughout the cruise, I slept very well in my tiny twin bed. Although I'm nearly 6'0 tall, the bed was comfortable each night, especially for afternoon naps in the pitch-black cabin.
Image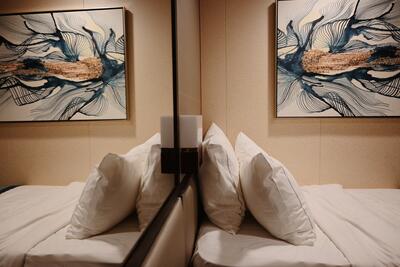 My only complaint was the deflated pillow that found itself on my bed throughout the cruise. The pillow was so flat that it camouflaged with the bed itself!
Image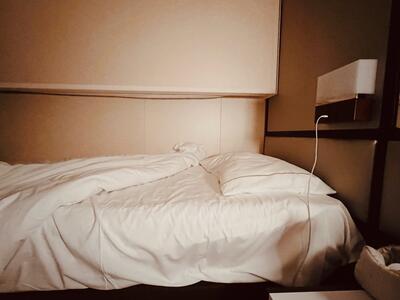 By each bed we had two individual nightstands for us to use. These were the perfect size and included two drawers for storage.
Image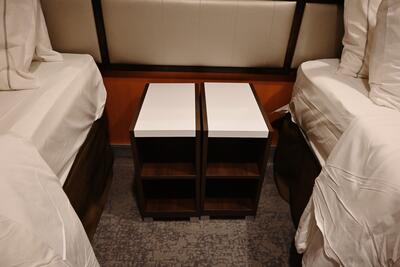 Each bed also had its own light that featured a USB charging port. This was one of the best features of the room, as it allowed us to keep our phones charging near our bedside.
Image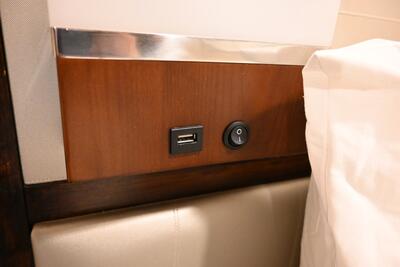 The cabin also featured additional USB ports on one of the small countertops, another pleasant surprise. This counter space had a European outlet plug as well, which was perfect for my European USB adapter that I always cruise with.
Image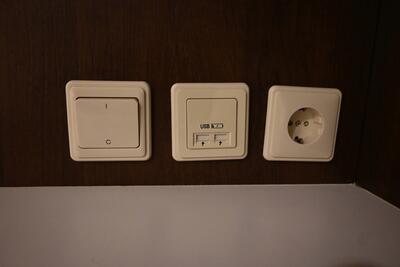 Above the small countertop was a TV in the stateroom. Since we were so busy during our sailing, we did not even turn this on.
Image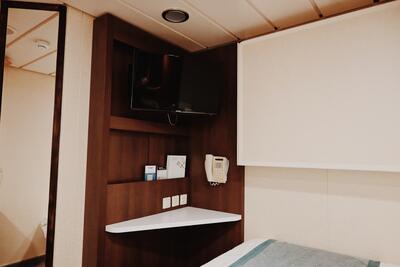 Our cabin featured two small counters, although there was not a main vanity in the stateroom. Because of this, we kept a lot of our belongings on the floor. With all of our shopping and packing - combined with a lack of counter space - we struggled to keep everything organized.
Image
Additional outlets were found on the second countertop, which was connected to the cabin's closet space. Because we booked this cruise with Norwegian's military discount, we received a very thoughtful packet from the cruise line.
Image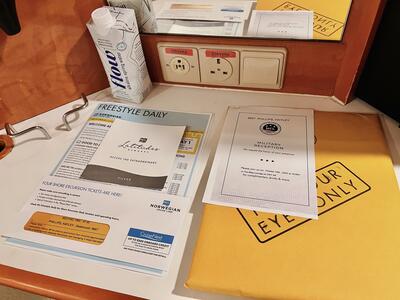 Our cozy cabin had plenty of closet space with drawers, shelving, and hangers to unpack our suitcases. Since the weather was cold, we traveled with a lot of bulky clothes, which took up more space than anticipated.
Image
Because Hayley had a higher status with Norwegian's Latitude loyalty club, she received a free bottle of water. The small cooler had large bottles of water for purchase, although $5 for a bottle of water seemed too much. These bottles felt like a money grab from the cruise line, so I drank from the cabin sink without issue.
Image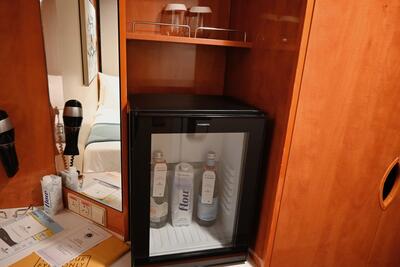 Between the closet and door was an additional area for storage, which also included the stateroom's safe. This is where we opted to store our cold-weather gear, including coats, scarves, and hats.
Image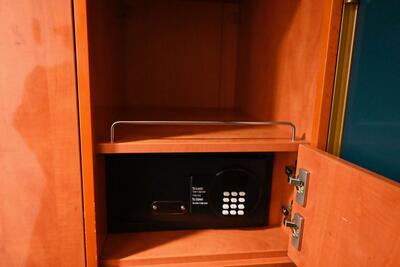 Despite a few of the cabin's flaws - mostly its undesirable location - the cozy space became our home away from home.
Image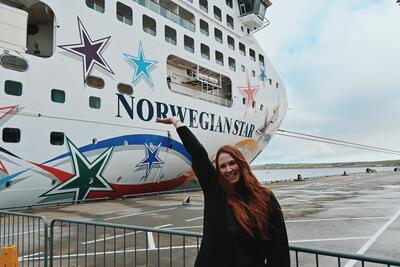 I wouldn't hesitate to book another inside cabin while sailing with Norwegian Cruise Line, but I would probably pay extra to choose my cabin's location in the future.