While cruising is a great choice for travelers of all ages, some cruise lines cater more to adults than others. Depending on your budget and travel style, you will find these cruise lines offer an elevated experience for adults. Picture world-class cuisine, top-notch entertainment and excellent, personalized customer service. 
A little research can go a long way when choosing which cruise line is best for you and your travel group.
This is not to say that adults can't sail on family-friendly cruise lines and have a wonderful experience. Certain itineraries can often attract more adult travelers, like repositioning and transoceanic cruises.
Image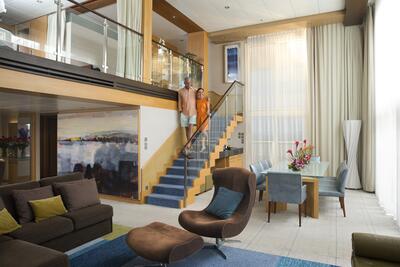 You'll also want to avoid sailings over spring break and holidays, since these are popular cruises for cruisers sailing with kids. Longer sailings and smaller ships will be more popular with adult cruisers rather than families. 
If sharing your cruise vacation with excited toddlers doesn't appeal to you, you'll want to book with one of these cruise lines below.
Celebrity Cruises
Image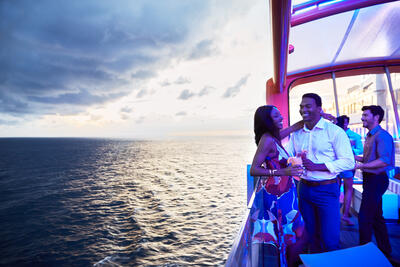 You can expect an upscale experience onboard Celebrity cruise ships, which inherently attracts more adults than families looking to sail with children. Celebrity appeals to a wide range of travelers, but specifically attracts adults and couples in their mid-30s to late-50s. 
Celebrity's fleet of ships are designed to be innovative, sleek and edgy. The cruise line aims to offer a high-level of customer service for its passengers with one crew member per every two passengers. This creates a very personalized experience for cruisers. 
Activities onboard are also geared towards adults, such as wine tastings and glass blowing classes. If heading to the spa is more your speed, you'll find a wide array of luxury services offered onboard Celebrity's ships.
Entertainment is also geared towards an adult audience. You'll also find plenty of opportunities to dance the night away to live music throughout the ship. 
Viking Ocean Cruise
Image
Viking Ocean Cruises is an adult-only cruise line, only allowing travelers who are 18+ in age. In 2015, Viking Cruises expanded its fleet of small river cruise ships to large ocean liners. It's already received acclaim for the high-quality cruise experience it offers onboard.
Viking Ocean Cruises offers an inclusive, engaging experience onboard its ships while visiting interesting destinations around the world. Because Viking's ships are smaller than other ships at sea, you can visit ports that are less common and more exotic. 
Viking's cruise ships can only accommodate 930 passengers onboard its 8 different ships, creating an intimate shipboard community. The cruise line appeals to active adults who love history and prefer to engage in cultural experiences in each port. 
If you choose to book your next cruise on Viking, you will be treated to complimentary WiFi during your sailing, along with one included shore excursion in each port. Each cabin has a veranda, allowing you to take in the sights of the sea from the comfort of your room! 
Virgin Voyages
Image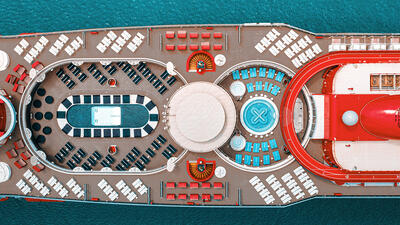 Another company that's new to the adult-cruising scene is Virgin Voyages. The first ship of Richard Branson's new cruise line is the Scarlet Lady, which sails from Miami, Florida. The company has 4 more ships on order, meaning you'll be seeing and hearing more of this cruise line in the near future.
You won't see any kids running around these ships, as Virgin only allows guests 18+ on sailings. This creates the ultimate vacation experience for adults looking for a fun, unique and trendy cruise experience. The entertainment is all curated for an adult-only audience, whether that's a late night comedy show or an epic dance party. 
Virgin has branded itself as offering a 'relaxed luxury' cruise experience, revamping how you think of cruising. Adults will love the unlimited WiFi onboard, along with unique features like a tattoo parlor and drag queen brunches. The cruise line has ditched cruising traditions with no buffet or main dining room, instead offering more than 20 restaurants for cruisers to enjoy. 
Holland America
Image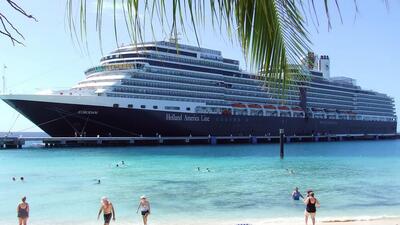 In the spirit of tradition, adult cruisers looking for a slower-paced vacation will want to consider sailing onboard one of Holland America's ships. This cruise line caters mainly to retirees and older adults, creating a refined and enriching vacation. Holland America's ships can accommodate around 2,500 passengers, which creates an intimate experience and allows passengers to mingle with other cruisers. 
Activities onboard focus on learning, engagement and enrichment. Passengers can take a cooking class, listen to BBC Earth in Concert or indulge at the spa. Shore excursions are adult-oriented to focus on the history and culture of the destinations. 
Because retirees have more time to travel than other cruisers, Holland America offers longer itineraries to more unique locations, like South America and Antarctica. 
Princess Cruise
Image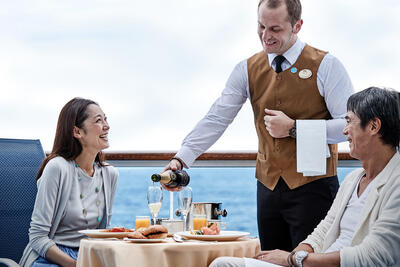 Another cruise line focused on tradition is Princess Cruises, which provides an elegant experience for cruises between the agents of 30 and 65. Sailing on a Princess cruise ship means you'll find luxury around every corner. These ships are also very accomodating to adults who require wheelchairs, as there are plenty of accessible cabins.
Princess offers a variety of sailings that incorporate interesting destinations and longer itineraries. You won't see many families or kids on these longer sailings, as Princess caters to older cruisers who appreciate a more upscale and elegant vacation. Most cruisers onboard are repeat Princess passengers, which creates an adult-oriented atmosphere.
Onboard activities focus on enrichment seminars; you'll also find painting lessons and cooking classes onboard. Live entertainment can be found in multiple lounges and bars. Princess ships also feature The Sanctuary, which is an adult-only sundeck that allows cruisers to relax in a quiet, upscale area. You can book an outdoor massage, take part in sunset yoga, or take a dip in the adult-only retreat pool. 
Royal Caribbean
Image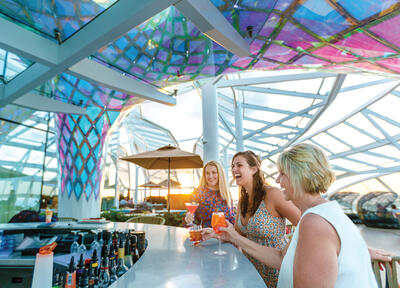 Although Royal Caribbean is a family-friendly cruise line, you'll find plenty of itineraries and ships that cater to an older audience. All of Royal Caribbean's ships have The Solarium, which is an adult-only retreat area featuring a serene pool, along with hot tubs and lounge chairs. You'll also find a bar and cafe within the Solarium, offering snacks and refreshments throughout the day. 
You can also head to the spa for further relaxation by indulging in a facial or massage in this no-kids-allowed area. Royal Caribbean ships also feature plenty of specialty dining options, which typically are not filled with many children. End the night dancing away at a nightclub or taking a spin at the casino!
To avoid kid-heavy sailings, try sailing on a longer itinerary during the off-season. Spring break, holidays and summer sailings will appeal to families since these accommodate school schedules. Consider sailing on a smaller ship as well, since these don't have as many attractions and onboard thrills that kids love. 
Norwegian Cruise Line
Image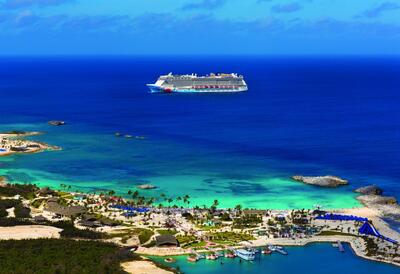 Another mid-tier cruise that appeals to many adults, particularly younger adults and solo travelers, is Norwegian Cruise Line. You won't find cruising tradition onboard Norwegian ships, as they've integrated a freestyle approach to cruising and dining onboard.  
Norwegian was also the first cruise line to offer solo cabins for solo cruisers. The company has been a pioneer for its solo cruising accommodations, unlike other lines that have yet to provide an affordable solution for solo adult cruisers. 
Adults will also love the dining options onboard, with plenty of eateries and restaurants available for foodies. Norwegian ships are also packed with bars, lounges and a buzzing casino. Norwegian Cruise Line is best known for its high-quality entertainment onboard, including full-length Broadway musicals. 
Norwegian is also known for offering some of the most luxury accommodations at sea, which appeals to affluent cruisers that might not prefer the smaller, more luxury cruise lines. If you're looking to have thousands of square feet with up to 4 bedrooms, consider booking a Garden Villa onboard Norweigen's ships.
Azamara Club Cruise
Image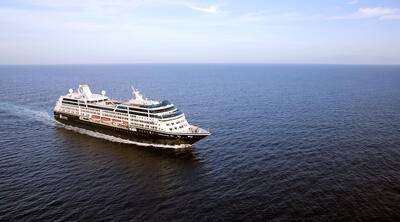 Moving into luxury cruise lines, Azamara Club Cruises is a great option for adult cruisers looking to have a high-end cruise experience. The Azamara experience parallels what you would find at a high-end boutique hotel. The cabins are upscale with concierge services available. The ships are also smaller to ensure an intimate, luxurious experience for cruisers 
While Azamara Club Cruises are not technically adult-only, their website states that families with children under 18 should avoid sailing. This is because the Azamara experience is catered towards adults and offers no activities for kids or babysitting services. 
Travelers looking for an immersive cruise will love the Azamara itineraries. These sailings offer longer port stays to encourage cruisers to have in-depth exploration at each destination.  Azamara cruises also sail to far-flung locations like Zanzibar, Cape Town, Argentina and Myanmar. 
SilverSea Cruises
Image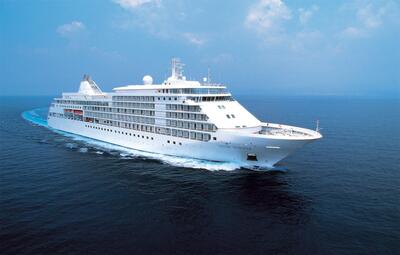 Another luxury cruise line to consider for an adult-oriented atmosphere is SilverSea cruises. Again, you can expect to pay top-dollar to have an ultra-luxurious cruise experience.
SilverSea ships only carry between 200 and 600 passengers, which ensures passengers have plenty of space onboard. Spacious suites are also available for cruisers who don't want to feel cramped in a tiny cabin.
SilverSea cruises are all-inclusive, meaning alcohol, WiFi and laundry services onboard. Each passenger is assigned a butler to cater to your every need. Crew members will know your name before even boarding the ship! Each crew member is focused on you having the perfect vacation and wants to ensure every experience lives up to expectation. 
These itineraries will certainly help you check off destinations on your bucket list, as the company sails to more than 900 destinations. SilverSea sails to once-in-a-lifetime locations on all 7 continents, including Antarctica, the Galapagos Islands, Greenland and Far East Russia.