My sister (a Millennial) and I (a Gen Zer) recently sailed on Carnival Cruise Line's newest ship, Carnival Celebration. We have not cruised on Carnival very often, but we were excited to see what Carnival Celebration would be like for us as young cruisers in our 20s.
We were definitely not disappointed, as there were many things to do during our seven-day sailing to Mexico and Honduras. From high-tech shows to lounging by the pool and dancing the night away, we had a lot of fun on the brand-new Carnival Celebration.
Image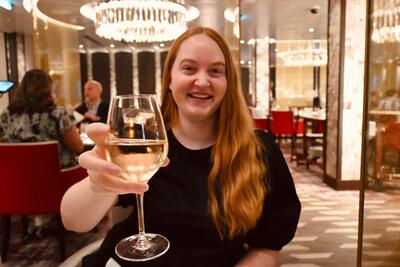 Below are some more aspects of Carnival Celebration that I think other Millennials and Gen Zers will enjoy.
Diverse Food and Drink Options
Knowing that Millennials and Gen Zers travel more than any other generation, I think these groups will love sailing on a ship like Carnival Celebration. 
With almost 30 places to eat and drink, you will never go hungry or thirsty!
Image
One of our favorite parts of Carnival Celebration was the travel-themed areas onboard. 
Image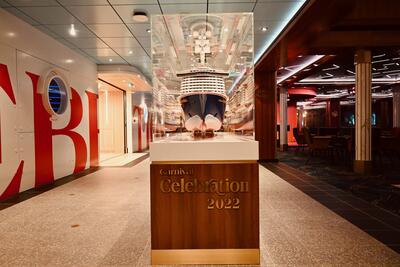 Two of our favorite bars included Latitudes (where you can try nearly 17 different drinks from all over the world - I recommend the Sakura) and The Golden Jubilee (where you can indulge in a drink while observing Carnival Cruise Line's history). The RedFrog Tiki Bar on the pool deck and the chemistry-themed Alchemy Bar were also good places to grab a cocktail.
Image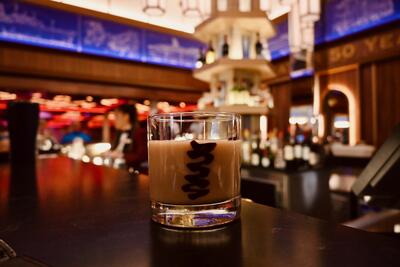 Image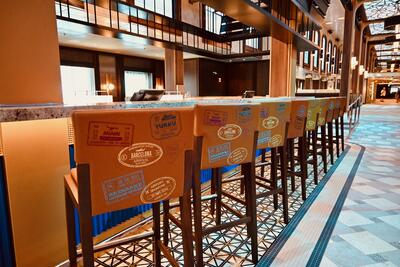 If you are a foodie, you will love trying all the places onboard. There really is something for everyone because you can try authentic food from all over the world.
Image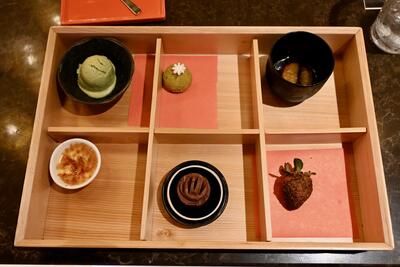 The best part? Many of these dining venues seemed to be specialty dining options but were actually included in our cruise fare. Both Cucina del Capitano (Italian) and Chibang! (Mexican and Chinese) had quality food offerings, a warm ambiance, and excellent service. 
Image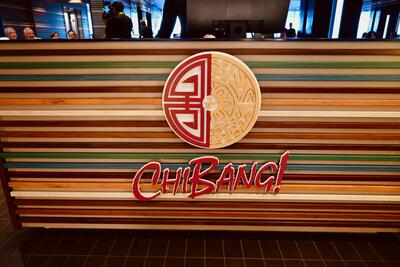 Image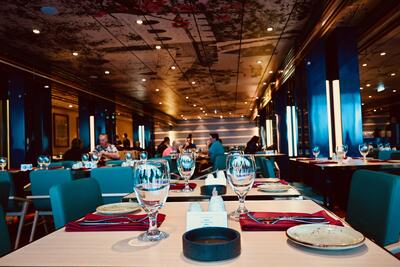 My personal favorite restaurant was Big Chicken, where fried chicken sandwiches and chicken strips are served all day. It was just as good as Chick-fil-A in my opinion! 
Image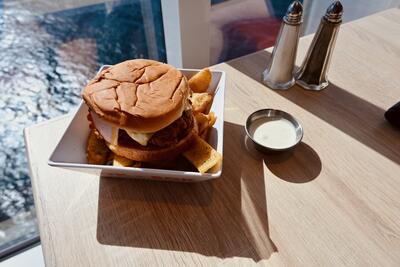 Emeril's Bistro 1397 was another stand-out for me. While this New Orleans inspired restaurant was not included, the prices were reasonable for breakfast because everything was $6. I still dream about the bananas foster crepe! 
Image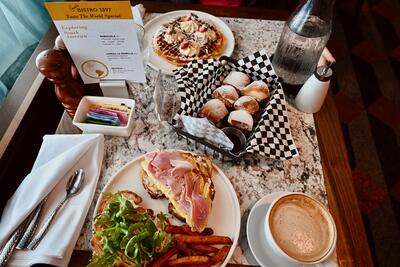 Street Eats is a fun concept Carnival Celebration offers on the Lido deck. Here you will find food-truck-style options, like loaded fries and pork dumplings, that are switched up throughout the week.
While there are many new places to try on Carnival Celebration, we also enjoyed going to the traditional options, like BlueIguana Cantina and Guy's Burger Joint, that can be found on older Carnival ships. My sister and I were excited to go to the classic pizza and sandwich stations (located in Biscayne 820 on deck eight), just like the ones we had on Carnival Ecstasy.
Image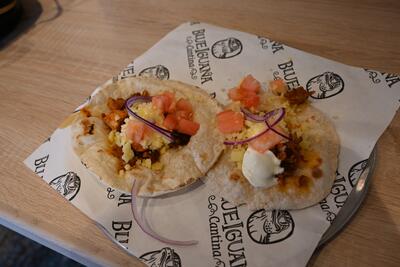 Image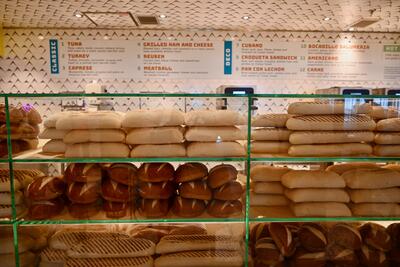 Technology
Millennials and Gen Zers grew up with technology, so it's safe to assume that these generations expect to have information quickly and easily available to them. This is no issue on Carnival Celebration.
Image
For those that want to stay in touch with family and friends, you won't have to worry about the Wi-Fi connection. Since my sister and I both work remote jobs, we both purchased the Wi-Fi package. We had no issues with the connection onboard, even when attending Zoom meetings and streaming YouTube videos.
The Carnival Hub App was helpful and easy to navigate. The app is similar to other restaurant apps because you are able to make reservations for dinner directly on the app instead of having to call the restaurant or wait in a long line. Via the app, you can also view the food menus, hours of different venues, activity calendar and more.
We greatly appreciated the vast number of outlets and USB plugins and in our stateroom. This was one of the first things I noticed upon entering our stateroom for the first time. There were even USB plugins by our beds, which made charging our phones convenient. This was a huge improvement from our last experience on the Carnival Ecstasy when there was only one outlet!
Image
Entertainment and Activities
Since young adults tend to be more active than older adults, Millennials and Gen Zers expect to partake in activities, clubs, and events on their vacations. 
Young adults will certainly not be bored on Carnival Celebration because there are so many fun things to do every day. Carnival Cruise Line is known for its party atmosphere and lively entertainment after all!
Image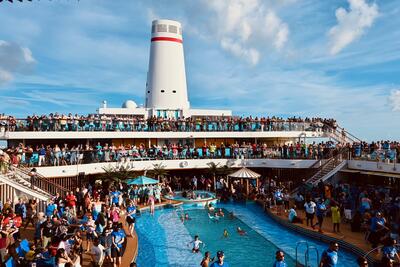 My sister and I love to attend the shows onboard, whether it's comedy in The Punchliner Comedy Club or dancing and singing. 
Image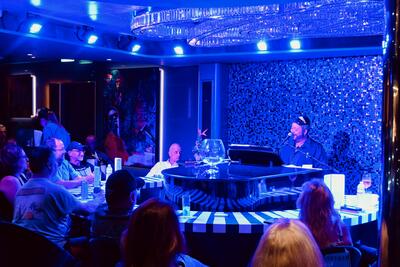 Carnival Celebration has some truly amazing live performances. My sister and I thought the three-story Celebration Central had some of the best shows we have ever seen on a cruise ship.
Image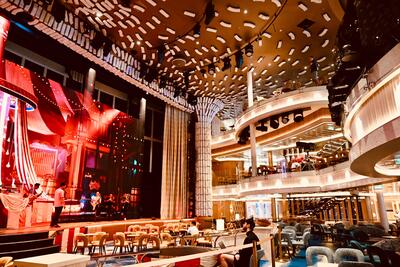 At Center Stage, you can see shows like Magnificent Circus (with flying acrobats and vibrant costumes) and We Are One (which highlights cultures around the world). Center Stage dazzles audiences with moving LED screens, lasers, and other special effects. These must-see performances can be enjoyed by all age groups. I appreciated how they incorporated both modern and traditional music so everyone could recognize at least one song during each performance.
Image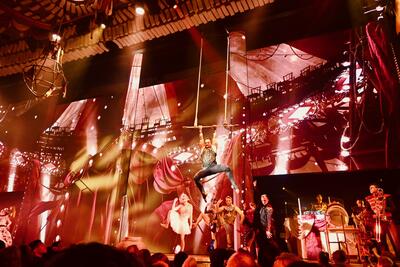 Image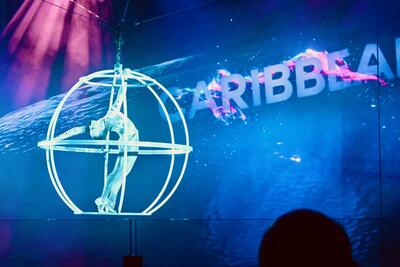 Perhaps the most Millennial or Gen Z aspect of Carnival Celebration is the number of selfie areas onboard. You can tell Carnival Celebration designed special areas to encourage people to take photos in front of it, such as the "Chill & Tropical" neon sign and the "Greetings from Miami" display. There are other beautiful spaces around the ship that would be perfect for your social media feed.
Image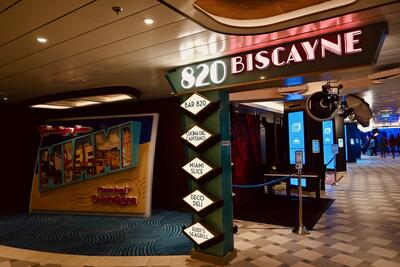 Another thing I liked about Carnival Celebration was its modern trivia options. Some cruise lines cater more to the old folks, so their trivia options are for their generation. Not on Carnival! There were trivia options like Spongebob, Friends and music from the 90s, 2000s, etc. I was actually able to participate in these games!
Honorable Mention: The Ultimate Playground
For those cruisers (young and old) that enjoy an adrenaline rush, I would recommend a visit to The Ultimate Playground. Here you'll find waterslides, mini golf and BOLT, the first roller coaster at sea. 
Image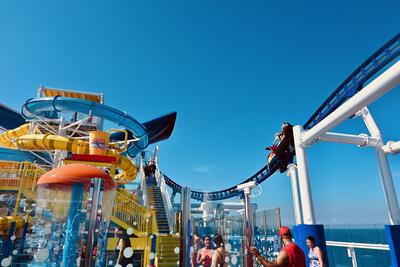 Yes, waterslides may not be that exciting for adults, but the ones on Carnival Celebration are a must-try. There are three waterslides to choose from. One has the floor drop from under you, another you use a mat to go head first, and the other is a traditional, twisting slide with feet first. All three were super fun - and you actually go pretty fast.
Image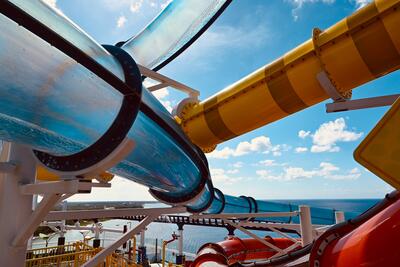 BOLT was a unique experience that I would recommend to everyone, not just millennials and Gen Zers. I love a good rollercoaster, and this one truly felt like one even though you're on a cruise ship. You can even adjust the speed to go extra fast (around 40 mph) as you glide along the back of the ship. This was $15 per person, but so worth it if you like rollercoasters!
Image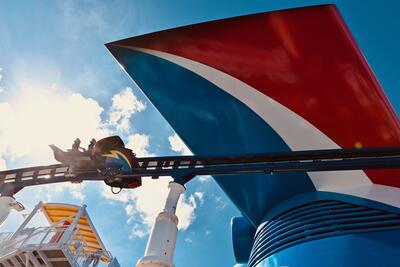 Image