In early 2023, my whole family went on our first cruises with Celebrity. I went on a 4-day Key West and Bahamas cruise with my sister Allie onboard Celebrity Silhouette whereas my mom and dad went on an 11-day Panama Canal and Southern Caribbean cruise onboard Celebrity Edge.
Our family loves to cruise, as we have been doing it since I was just a baby. Long before my sister and I were born, my parents frequently cruised as well. For the majority of these cruises, they sailed with Royal Caribbean; therefore, this was the cruise line we sailed on growing up.
Image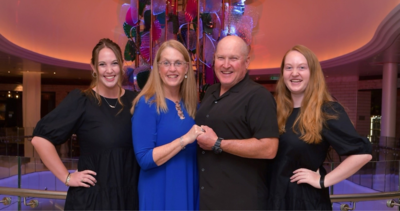 After discovering a cheap spring break cruise for my sister and I and an irresistible, bucket-list cruise to the Panama Canal for my mom and dad, we were all excited and ready to experience a new cruise line.
Royal Caribbean is known for attracting families, while Celebrity Cruises caters to adults. Going on a more adult-centric cruise line was inevitably going to be different for my baby boomer parents and my millennial sister and I.
Celebrity Silhouette and Celebrity Edge are two very different ships, Silhouette being in the Solstice class and Edge in the Edge class. While both ships can hold around 2,900 passengers, Celebrity Silhouette (built in 2011 and renovated in 2020) and Celebrity Edge (built in 2018) have a completely different feel to them.
Image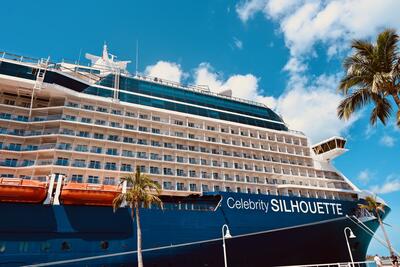 In this blog, I will be comparing my sister and I's experience with my mom and dad's onboard our respective Celebrity Cruise ships.
Itinerary
While my sister and I were not picky about where our ship sailed (we just wanted to go on a cruise over spring break!), my mom and dad picked Celebrity Cruises specifically because of the amazing itinerary.
Image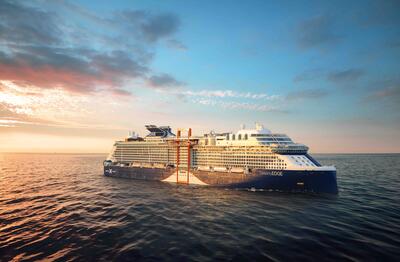 Celebrity is known for offering incredible itineraries, which is where it differentiates from Royal Caribbean. Our family has been intrigued by some of these bucket-list itineraries that aren't always offered with Royal Caribbean. For example, Royal Caribbean's oldest ships normally do the Panama Canal while Celebrity Cruises placed one of its newest cruise ships for this itinerary.
The Panama Canal and Aruba were two places my mom and dad had been wanting to visit for a long time. The other ports of call were Colombia, Curacao, and Bonaire. They booked this itinerary as soon as they saw it online and even snagged a pretty good deal. They also used old cruise credits they accumulated.
Image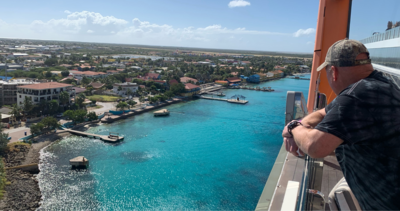 The ABC islands (Aruba, Bonaire, and Curacao) were bright and cheerful with colorful buildings and crystal-clear waters. My parents didn't do any excursions on these islands, as they opted to walk around the explore the local stores, churches, beaches and cafes.
Image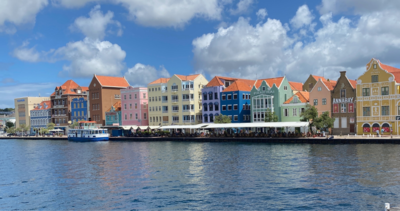 As for Cartagena, they did do a 4-hour bus tour called the "Best of Cartagena" that included stops in the old town, Castillo San Felipe de Barajas, and some shopping. My mom gets worried about safety in certain countries, so she felt an excursion here would be the best option.
The highlight of their cruise was going through three locks in the Panama Canal. Since mom and dad did not have a balcony cabin, they decided to grab a spot outside of the Eden Café to watch the ship go through the locks. Dad was so excited that he woke up at 5:30 a.m. to get the best spot! Being near the Eden Café was also ideal because they could enjoy breakfast and coffee refills as they watched the ship maneuver the locks.
Image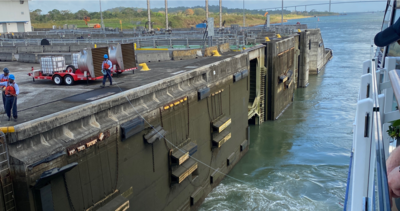 After passengers who had excursions got off the ship in Colon, the ship headed back through the same locks. This time, my parents enjoyed the trip from the Sunset Bar. 
There was an option to take a Panama Canal excursion for a more in-depth tour, but they opted to stay onboard with air conditioning and access to comfortable facilities on the ship.
Image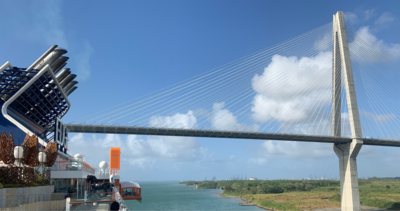 My sister and I certainly did not visit unique ports like our parents did, but we still had fun visiting Key West and Nassau, Bahamas. At Key West, we decided to walk to the Southernmost Point of the Continental U.S.A monument, somewhere neither of us had been. In Nassau, we stayed on Celebrity Silhouette to explore more of the ship because we have visited Nassau many times before.
Image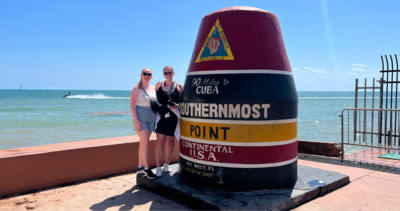 Cabins
For both of our first cruises on Celebrity, we stayed in an interior stateroom. This was partly because of the price but also because we booked our cruises fairly last minute.
Because my parents booked their cruise just a month before, they weren't able to get their preferred balcony. Instead, they booked an inside cabin and carefully selected a mid-ship stateroom, which was an additional cost. My parents are willing to splurge on higher-end cabins compared to my sister and me. We simply wanted a spring break getaway and to save money, so we booked an inside cabin guarantee.
My sister and I were impressed with our cabin, as it felt much larger than we anticipated. The first thing I noticed about our cabin was the full couch; this was a nice place to sit and offered a lot of space to relax. The bathroom was also spacious, especially the shower. I feel that most cruise cabins have small showers, but this one seemed bigger than most. There was plenty of storage space, including the closet and drawers under the TV.
Image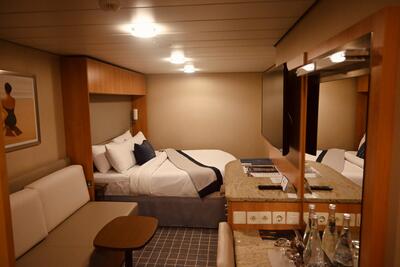 The location of our cabin wasn't ideal because it was at the very front of the ship near a "Crew Only" area. This was a somewhat noisy area because we heard some clanging every morning. Luckily earplugs did the trick for me. That's what we get for booking a guaranteed inside cabin!
Image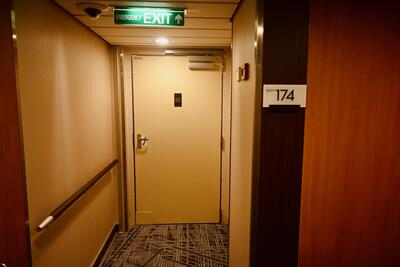 My parents were also incredibly pleased with their interior stateroom. Their cabin was located in the middle of the ship so they felt no movement. They also heard virtually no noise at night, probably because everyone was in bed by 10 p.m.!
Image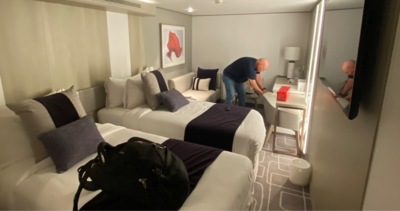 Something that my mom and dad appreciated about their sailing was that they could drop off their carry-on luggage as soon as they boarded on the first day so they could explore the ship without having to lug around everything.
My mom and dad paid extra to choose the location of their cabin and it paid off, as we had a very noisy cabin and they did not.
Both of our cabins had a large vanity, two plush robes in the closet, and a mini refrigerator. Funny enough, our cabins were both on the ninth floor!
Dining
A big part of cruising is food. Personally, this is one of my favorite parts of cruising. It is especially fun to try new places onboard new cruise lines.
Image
Both of our Celebrity ships had numerous complimentary and specialty restaurants. Both ships had an Oceanview Café buffet, Mast Grill near the pool deck, Café al Bacio for snacks, and Spa Café in the solarium, among others.
My sister and I ate in the Celebrity Silhouette main dining room, Grand Cuvee, for three nights. Overall, we enjoyed our experience, the high-quality food served, and our wonderful waiters.
Image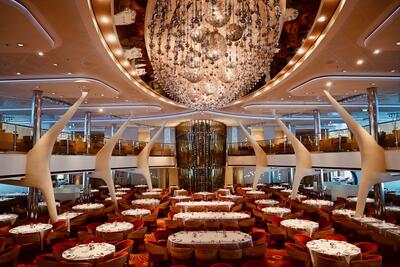 I appreciated how the menus had new dishes every night as well as a few options that were the same from night to night. This way, I knew I could enjoy something in the main dining room every dinner. Another fun thing I noticed about Celebrity is the different kinds of butter (like sundried tomato and ranch) they served with the bread basket. Just a little thing, but I liked trying the new butters every night!
Image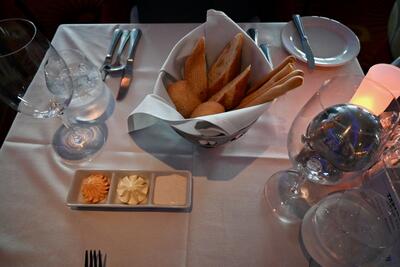 One night during our sailing, we tried Le Petite Chef for the first time. The menu was limited, as there were only two options for the appetizer, salad, entrée and dessert. This makes sense because the menu went along with a show that was projected onto our plates. It was a fun night!
Image
Onboard Celebrity Edge, there were more dining options. One big difference was the number of main dining rooms. My mom and dad had a choice between four options, Tuscan (Italian), Normandie (French), Cosmopolitan (American), and Cyprus (Greek), and they tried all of them during their 11-day sailing.
Which dining room was the best? Well, while they did enjoy the food in each venue (mom loved the ox tail and escargot while dad loved the classic NY strip steak), they visited Cosmopolitan the most. On two mornings, they also enjoyed a sit-down breakfast here.
Image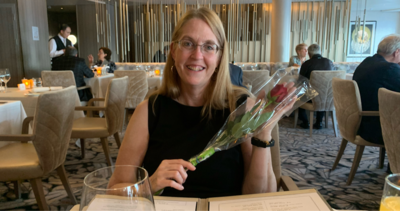 My parents noted that they missed having a standard time to eat every night and not having the same waiters. (They did not have a set dinner time like Allie and I had.) There were several nights where they couldn't get an early reservation using the app, but after getting in line and asking for a table for two, they were accommodated each time. They found the app to be stressful, especially on embarkation day when they tried to schedule an early dinner every night in the complimentary dining rooms.
More notably, mom and dad prefer to dine earlier because they do not want to be eating dinner too late. This is something that Allie and I didn't necessarily care about, so a rotating dinner wouldn't have been an issue for us.
Image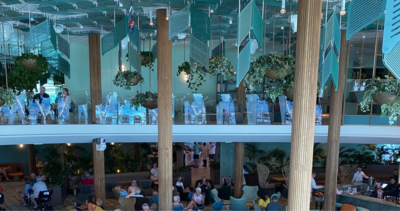 At first, my dad was hesitant about the different menus and offerings. He isn't as open-minded about trying new foods and, over time, has learned what he likes and dislikes on Royal Caribbean. But, by the end of the cruise, he was really pleased with Celebrity's food and agreed it was higher quality than Royal Caribbean.
Image
During both of our sailings, we noticed how close the tables were, especially for tables of two. We all felt like we were practically sitting with the people dining next to us! While Allie and I did not have friendly neighbors, my mom and dad met interesting people every night in the various dining rooms and enjoyed lively conversations.
In fact, mom and dad met many wonderful people on their Celebrity sailing! They were worried that others might be more snooty on Celebrity than on Royal Caribbean, but this wasn't the case at all. On the other hand, Allie and I didn't really get a chance to meet other cruisers because our sailing was so short.
Mom and dad tried the Rooftop Garden Café one night; this was the only specialty restaurant that they visited while on Celebrity Edge. The menu consisted of BBQ favorites like ribs, beef fillet, brisket and cornbread. The warm skillet cookie for dessert was absolutely scrumptious! This was a beautiful place to eat while they sailed away from Bonaire.
Image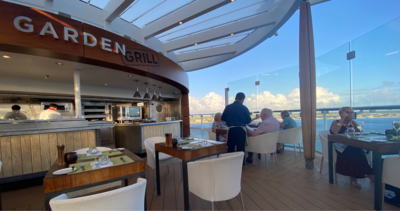 Entertainment
On both ships, there truly was a wide variety of things to do, both during the day and at night. Guests could participate in trivia, games, seminars, exercises and more. On the flip side, you could choose to relax, listen to live music, or go for a swim. That's the beauty of cruising; you can decide how you want to spend your day.
Image
I was a little worried that the entertainment on Celebrity Silhouette would be geared toward older adults and us millennials (and younger) would be an afterthought. My parents warned us that we might be the youngest people onboard our Celebrity sailing. They felt like they were on the young side for their cruise and warned us that we
might get bored during our cruise. So, we had some expectations that the vibe onboard would be vastly different than previous Royal Caribbean and Carnival Cruise spring break sailings.
Boy were they wrong! Because our sailing was short and during spring break, there were a lot more families onboard. Therefore, the entertainment really catered to everyone's tastes.
Where the entertainment really shined on Celebrity Silhouette was its theatre productions. I very much enjoyed the shows every night, ranging from singing and dancing to acrobats and comedy. Some of the shows even featured music from the 2010s which I loved!
Image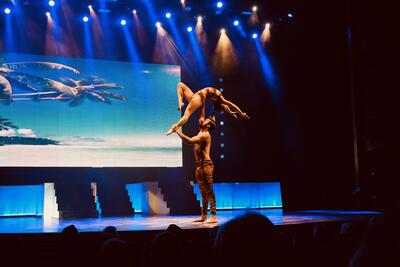 On Celebrity Edge, my parents had to get to the theatre shows at least 20 minutes before the show started to get decent seats. We did not have this problem on Celebrity Silhouette; there were always seats to be found. This may be because of the demographics of our cruises, as my parents' sailing had mainly adults in their 60s and older onboard while my cruise had people of all ages. As a matter of fact, my parents said they had two medical emergencies during their sailing!
The live music on both ships was very entertaining. Whether at the Martini Bar or the various lounges, there was always a band with a singer or a DJ bumping some tunes. The live music onboard the Edge was described by my parents as "softer cocktail" music that was easy to listen and dance to. The music in the main theatre featured many 60s, 70s, and 80s performances.
Image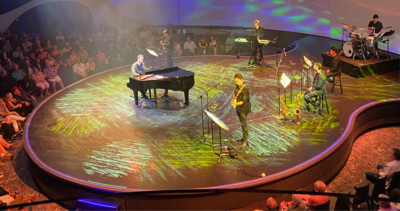 Both of our sailings also had headphone disco, which is always a hit, and music trivia. At our trivia, my sister and I left after not knowing the first three songs (we were too young). On the other hand, mom and dad ended up winning at one of the game shows and got a prize at the end of their sailing!
My mom thought the Edge's cruise director, Giuseppe, was the best and most memorable director she has ever sailed with. Only in his 20s and the youngest cruise director in the fleet, he was filled with energy as he shared stories and jokes of his beloved mother and grandmother at every evening main theatre performance.
Image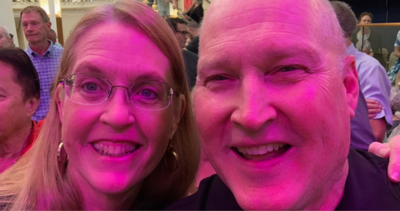 Ship features
Celebrity Silhouette and Celebrity Edge are similar in size, but they each have unique spaces to explore. Not to mention, Celebrity Edge is one of the cruise line's newest and most innovative ships to date.
Allie and I enjoyed a really cool spot onboard Celebrity Silhouette called The Lawn Club. This space is exclusive to Solstice class ships. At The Lawn Club, there's a ½ acre of real grass with large lawn chairs and cozy alcove seating areas. There was also a big-screen TV and plenty of space to spread out, whether sitting on the grass or running around and playing like some kids did. There were even some birds walking around on the grass!
Image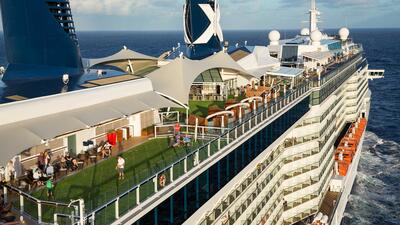 Celebrity Edge has some neat spaces as well. The Magic Carpet, exclusive to Edge-class ships and first built on the Edge, is a platform that hangs over the side of the ship. There is a bar inside, and my parents enjoyed a few drinks here some evenings. What's cool about The Magic Carpet is that it can be lowered and used as a tender when the ship is docked in port.
Image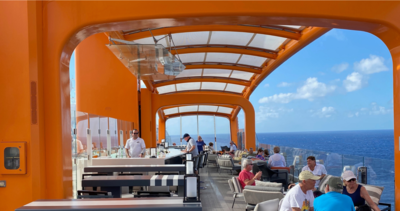 A feature that my parents used and were so impressed by was the unique design of the walking path. It winded behind the Rooftop Garden Grill, past the Magic Carpet, looking down on the pool deck, and around the secluded hot tub areas, changing elevation between deck 14 and deck 15. They were never interrupted during their walks and the variety of surroundings and scenery made their daily exercise so interesting.
Image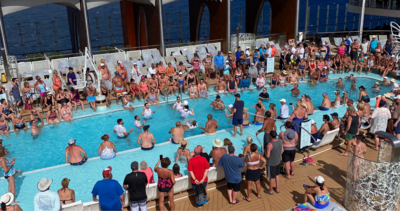 On both ships, there was the beautiful Sunset Bar. This bar is located at the very back of the ship and offers stunning views of the ocean. My sister and I frequently visited this spot for happy hour before dinner. What's better than sipping on a cocktail and watching the scenic views as you sail off to your next destination?
Image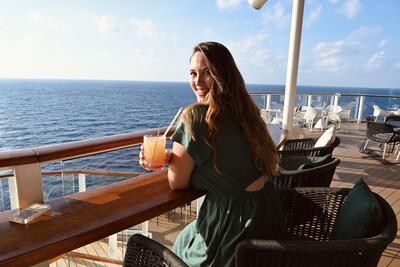 Stray observations
On our first cruises with Celebrity, we took advantage of being a part of the Captain's Club rewards program.
Since my whole family has Diamond Plus status on Royal Caribbean, we were automatically Elite members on Celebrity Cruises. For our family, Celebrity is even more enticing than other cruise lines because of this status reciprocity program between them and Royal Caribbean.
Here you can see the reciprocity between the two programs:
Image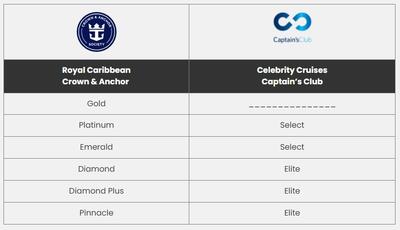 Image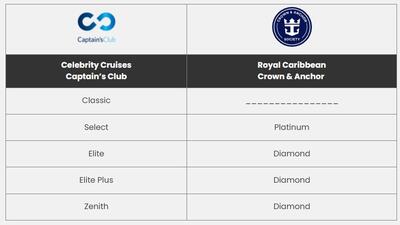 Since we are Elite members, we got to enjoy the following benefits:
Happy hour every day from 5-7 p.m. at most bars
Discount on Wi-Fi
Complimentary access to the Persian Garden thermal spa (on a port day)
A free scoop of gelato
Complimentary bag of laundry
Access to a private lounge (during disembarkation and breakfast every morning)
and more!
Image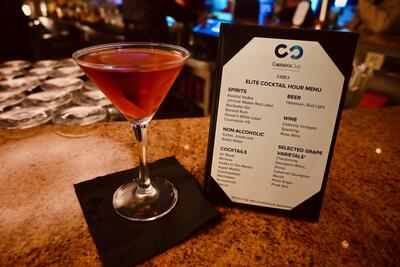 The happy hour does exclude embarkation day, which we all found to be disappointing and odd. In addition, there was a specific list of qualifying happy hour drinks we could order. We found that while some bartenders were very strict with this list, others were more accommodating with our drink requests, which we appreciated.
Image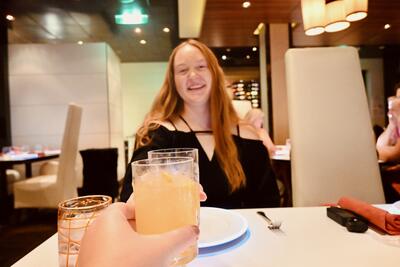 Below are a few more takeaways from our first cruises on Celebrity:
We all loved the fact that the casinos are smoke-free. Being able to gamble on a machine or two in a smoke-free environment was so refreshing.
We enjoyed the icy facecloths we would get offered after walking around the hot ports and coming back to the ship.
In the Solarium, all the chairs had towels. This was so handy because then we didn't have to worry about checking out a towel every time we wanted to swim or go in the hot tub.
Also in the Solarium, we never had a problem finding chairs. The staff on duty did not allow chair hogs to save seats for too long.
A new "Celebrity Today" would be in our stateroom every night so we can look ahead at tomorrow's events.
The Wi-Fi was expensive and iffy on both ships. While my dad said their Wi-Fi was horrible and unreliable, I would say our Wi-Fi was good at some points and bad at others. 
We were all shocked that we weren't asked to get photographed as much as we are used to on Royal Caribbean.
Image
Final thoughts
All in all, we collectively agreed that we would happily sail with Celebrity Cruises again. We all had a wonderful time on our respective sailings!
The added benefits of being a part of the Captain's Club loyalty program made our time on Celebrity that much better. Whether a baby boomer or a millennial, we loved the many small touches Celebrity had to elevate our cruising experience.
We all would love to try different ships in the Celebrity fleet to see how our experiences would differ. In our experience, the longer sailing attracted older passengers (baby boomers and older) and the shorter sailing attracted younger passengers (millennials and gen X), so it will be interesting to see if this trend is consistent on our next Celebrity sailing. Let's hope this happens soon!