Nobody wants to go on a disappointing vacation. It is a time that you are supposed to relax, have fun, and escape from your day-to-day life. Not to mention the fact that you are spending your hard-earned money on the experience!
Cruises are popular vacations for many reasons, including the convenience and ability to visit different destinations in a single trip. If, however, you do not manage your expectations and take steps to help ensure a smoother vacation, you may find yourself swearing off cruising for awhile. 
Here are 10 reasons why people leave their cruise ship vacation disappointed and how you can make sure it does not happen to you!
Not choosing the right cruise line
Image
Making sure that you do not have a disappointing cruise experience begins with the planning process! While there are steps you can take once you have placed the deposit to make sure that you have a great vacation, it begins with the selecting the right cruise line. 
Each of the different cruise lines targets a certain demographic and aims to offer a unique experience that compels guests to sail with them time and time again, so it is important to speak with your travel party to determine what your expectations for your cruise vacation are. 
A multigenerational family may not appreciate the laidback atmosphere of a Celebrity or Princess cruise. Likewise, a couple may enjoy the adults-only party scene of a Virgin Voyages cruise instead of a family-focused Norwegian or Carnival cruise. 
When evaluating the different cruise lines and determining which is right for you, you will have to think about your travel style. Are you, for instance, traveling on a budget or looking to splurge? And what onboard amenities are the most important for you? This could mean choosing a cruise line that is known for their dining versus activities!
Read more: The best first time cruises for anyone
Picking the wrong cruise ship
Image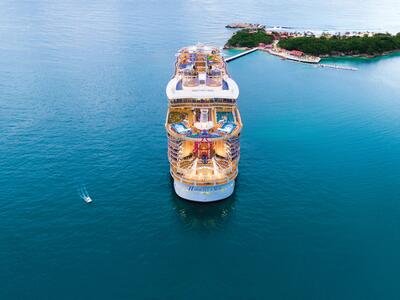 Just like it is important to choose the right cruise line, the ship that you sail on matters, too. Smaller ships offer a more intimate cruising experience, while today's mega ships feature activities meant to appeal to a wide variety of interests-- think rollercoasters, surfing and skydiving simulators, ice skating rinks, go-karts, and more. 
If you are looking for a ship with a large youth program and onboard thrills to keep your children and/or teens occupied, sailing on a smaller ship will not meet your needs. Those, however, looking for destination-focused itineraries that visit more unique port of calls will want to select a cruise on a smaller ship. 
Something to note is that smaller ships tend to be older. Thankfully, cruise lines put a lot of time and money into keeping their ships up-to-date. If having newer amenities is important to you, you should research whether the specific cruise ship you are looking at has been revitalized or not.  
Not knowing what was included in their cruise fare
Image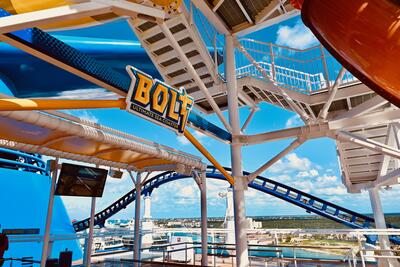 Your cruise fare will include unlimited food, entertainment, accommodations, select beverages, and transportation between each port of call. There are extras onboard that cost extra, so you should appropriately budget for them! 
These include alcoholic and select non-alcoholic beverages, spa treatments, specialty dining, shore excursions, and some onboard activities. On Carnival Cruise Line's Excel Class ships, for instance, the BOLT rollercoaster costs $15 per ride. Similarly, Norwegian Cruise Line charges guests to ride their go-karts, and Royal Caribbean charges for their escape rooms and lessons on the FlowRider surf simulator.
Prior to booking any cruise make sure that you research what is and is not included, so you are not disappointed when you get onboard!
Read more: Are cruises all inclusive?
Stateroom choice and location matters
Image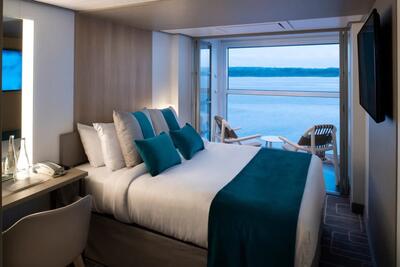 When you are booking your cruise, you will find that you have different stateroom options, ranging from the cheapest interior rooms to luxurious suites. 
For some, an interior cabin may make the most sense, as they will be able to allocate funds to other vacation expenses. There, of course, is no access to natural light, and they tend to be the smallest options onboard. Others may want to splurge on a personal verandah, so they can step outside and soak up all of the picture-perfect ocean views. 
If you are traveling with a family, you may want more space than what you will get with one cabin. While this may mean booking two inside cabins instead of one balcony, having the extra space (and two bathrooms) will make your cruise so much better!
Aside from the actual stateroom you choose, the location of the cabin will make a difference, too. Those by an elevator bank will be subjected to more noise than if they were located down the hallway. Similarly, cabins located near popular late-night venues may not be ideal for families with young children or those who like to retire early. 
Read more: Confused About Cruise Rooms? Here's How to Choose a Cruise Cabin
Doing everything on their own instead of using a travel agent
Image
Whether you are booking your first cruise or tenth cruise, you will always benefit from utilizing a travel agent. Not only do they have a great understanding of the cruising industry, but they will save you time, as they can handle all of your booking arrangements, even pre-cruise flights and hotels! 
They will listen to your preferences and advise you, based on their expert advice, on the best vacation plans! Plus, they can recommend shore excursions, specialty restaurants, and more. You will not have to worry about doing all of the research yourself. 
Read more: 5 Reasons to Book With a Travel Agent for Your Next Cruise
Unaware of pool deck chair hogs
Image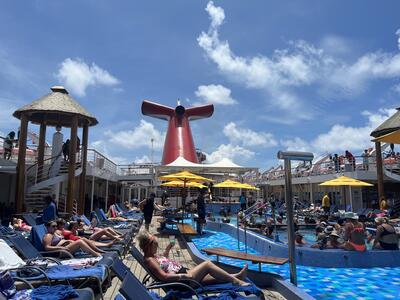 On a beautiful sea day, it is not surprising that the lido deck is one of the most popular places onboard. Some guests feel the need to reserve their chairs first-thing in the morning by dropping off their belongings with no intention to return until later in the day. It can be a shock for first-time cruisers who stroll up to the pool around 11:00am! 
Thankfully, many cruise lines have acknowledged this problem and have begun initiating policies to stop it from occurring. If you are someone who leaves their towels to try and reserve chairs for awhile, do not be shocked if you return to find them gone. There will be a note saying where you can retrieve all of the items that you left behind. 
The best way to beat the chair hogs is to spend the morning or later afternoon on the pool deck. Plus, you will find that the pool(s) and hot tubs will be less crowded than in the middle of the afternoon. 
Not expecting crowds
Image
With thousands of people on one ship, there are moments where your cruise will feel crowded! Whether you find a long line at the buffet, jam-packed elevators, or a lack of pool chairs, the key is to remain patient, as everyone else is trying to enjoy their vacation just like you. 
There are, of course, steps you can take to mitigate how often you will interact with large groups of people, such as dining outside of peak hours, taking the stairs as much as possible, visiting the pool deck in the morning or late afternoon, and venturing outside of the area adjacent to the cruise terminal in port. 
Early, late, and flexible dining options
Image
Most mainstream cruise lines have three dining options for dinner: an early seating, late seating, and flexible option that allows you to show up whenever you are ready to eat or make reservations in advance. You will be able to make your selection when you book your cruise. 
If you choose the early or late seating, you will be seated at the same table every evening of the cruise with the same wait staff. This allows you to build relationships with the crew members! With flexible dining, you are seated wherever there is an opening, and if you do not make reservations in advance, there can sometimes be a long wait!
These dining times only apply to the main dining room's dinner service. If you want to go to the buffet for dinner, you are free to do so anytime during their dinner hours. Likewise, you will not have to select a time for breakfast in the main dining room; it is first-come, first-served. 
Read more: Your really dumb cruise ship dining questions answered
Forgot to make reservations for add-ons
Image
Once you have placed the deposit for your cruise, you will gain access to the cruise line's online planning portal. Here, you will be able to book cruise add-ons, such as spa treatments, shore excursions, drink packages, and specialty dining experiences.
The closer you get to your departure date, the fewer options you will have. Sometimes, some experiences can sell out months in advance! On my upcoming Mexican Riviera cruise in June 2023, for instance, some shore excursions have already sold out, and it is still well over one month from departure. 
If you have your heart set on any cruise add-ons, make sure you make reservations as early as possible. If you wait until you board, you may find that it is not available. 
Read more: The 13 best cruise tips the pros use all the time
Not familiar with ship lingo
Image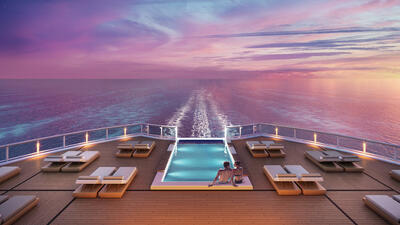 When on your cruise, you will hear the words "port," "starboard," "bow," "stern," "forward," and "aft," quite a bit. Understanding what these terms mean will help you navigate the ship like a pro and prevent you from getting lost and frustrated. 
Port and starboard are directional terms used to indicate the left and right side of the ship relative to the bow, so regardless of which why you are facing, they never change. Moreover, the bow is the ship's forward most part, while the stern is the rear of the ship that is opposite from the bow, and forward and aft refer to location, with forward being the front of the ship and the aft the rear. 
One of the most important, if not the most important, term is "ship time." On some itineraries, you may find yourself crossing through timezones. When this happens, the ship will keep the time of the departure port, even if the local time is an hour ahead or behind. If you go by the local time, you could easily miss your ship even if you thought you had plenty of time to get back! That would be the biggest disappointment of the trip. 
Read more: Should I go on a cruise? 11 reasons to give it a try