With over seven cruise lines and 100 ships sailing across the world, picking the right cruise as a first-time cruiser can seem overwhelming. 
You will first need to decide what cruise line is the right fit for you and your travel party. Once you at least narrow that down, you can start to look at what ports of call you would like to visit and on what ship. 
In order to evaluate the different cruise lines and determine which is right for you, you will have to think about your travel style and weigh your likes and dislikes. Are you on a budget, or are you looking to splurge on a once-in-a-lifetime vacation? Do you want to sail on a cruise that has activities for all ages, or do you want a child-free experience? These are the types of things you will have to consider!
Below, we have broken down the best cruises for first-time cruisers based on travel preferences.
The best overall cruise line for first-time cruisers:
Royal Caribbean
Image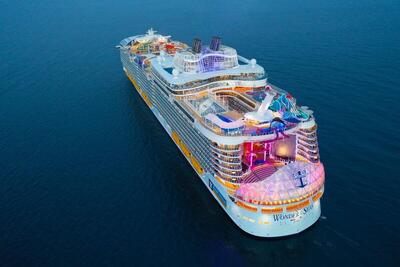 Having held the title of largest cruise ship in the world since 2006, Royal Caribbean International is known for having some of the most innovative ships at sea that are filled to the brim with thrilling activities. They will be breaking their own record when Icon of the Seas launches in January 2024. 
They also have some of the best entertainment at sea, including ice skating shows, Broadway-style musicals, and high diving acrobatic spectaculars. 
With over 25 ships in their fleet that sail to 15 different destinations across the globe, there is surely the right cruise ship and itinerary for any first-time cruiser! You can opt for a quick 3-night weekend getaway to their private island Perfect Day at CocoCay or pack a suitcase (or two) for their first-ever Ultimate World Cruise that will last a whooping 274 nights and visit all 7 continents! 
While you might known of the cruise line for their mega Oasis Class ships, they have other fan-favorites that are more modestly sized. One benefit to these ships is that they often have more unique itineraries! 
Regardless of what ship you choose, you will have numerous dining venues onboard, including both complimentary and specialty (for-fee) options. 
Similarly, every ship is decked out with at least a rock wall, casino, jogging track, spa, arcade, and onboard theatre. Their newer ships have more activities -- like skydiving and surfing simulators, zip line, and bumper cars -- to keep guests of all ages entertained!
Plus, Royal Caribbean caters to travel parties of all budgets. You can stay in anything from an inside cabin to a multi-story suite that comes equipped with a personal slide, hot tub, and butler!
The best cruise line for budget-conscious travelers:
MSC Cruises
Image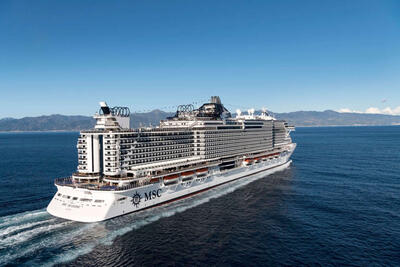 Sorry, Carnival, we're giving this award to MSC Cruises-- for good reason, though, as you can snag a 7-night Caribbean cruise for as low as $299 per person (before taxes, port fees, and gratuities) onboard one of their newest ships: MSC Seashore. Plus, at only $38 and $49 per day, they have some of the cheapest drink packages at sea. 
MSC Cruises currently has 20 ships in their fleet that sail to places all over the world like the Bahamas and Caribbean, Europe, Egypt, Saudi Arabia, South Africa, and Qatar. In other words, you will be able to find the perfect cruise no matter where you want to go! 
Don't feel fooled-- even though MSC Cruises offers some of the lowest fares at sea, their ships are some of the most technologically advanced in the world. They, for instance, were the first cruise line in the world to introduce a humanoid robot bartender. 
Additionally, their newer ships have activities that are on par with other mainstream cruise lines, like zip lines, onboard waterparks, and virtual reality arcades. Note that some activities do have an additional charge.
Carnival Cruise Line
Image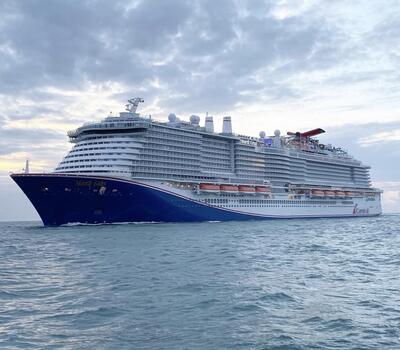 We'd be lying if we did not say that Carnival is another great option for budget travelers, especially since they sail from ports all over the United States. If you are able to sail from somewhere within driving distance, you do not have to worry about shelling out the additional money for airfare and a pre-cruise hotel. 
Plus, they have some of the cheapest cruise add-ons. This is important if you plan on purchasing drink packages, specialty dining experiences, and Wi-Fi! 
Their newer ships are more costly and can be compared to some of Norwegian and Royal Caribbean ships' pricing. A 6-night cruise onboard Mardi Gras starts at $459 per person before taxes, port fees, and gratuities. On sailings during the peak season, you can be looking at over $1,100 per person for a balcony stateroom. And similar to MSC Cruises, some of their newest onboard attractions (i.e., BOLT) come with an additional charge. 
If you keep an open mind in terms of destination, ship, and sail date, you can certainly find a cheap Carnival cruise! 4-day cruises to Baja Mexico from Los Angeles start as low as $174 per person before taxes, port fees, and gratuities.
Read more: What to know before booking a cheap cruise
The best cruise line for those looking for an adults-only vacation:
Virgin Voyages
Image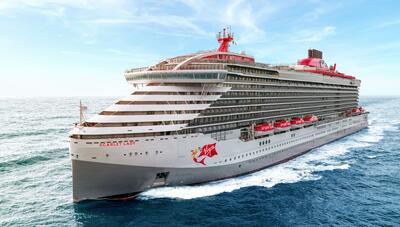 Virgin Voyages is a relatively new adults-only cruise line that is currently only comprised of two ships: Scarlet Lady and Valiant Lady. Their fleet, however, is planned to double by the end of 2023.
You will not find any mega "thrills" like onboard other cruise lines; however, there's one-of-a-kind entertainment that you have never seen before -- think drag shows, interactive late-night cabaret shows, circus-like performances, and some of the craziest dance parties onboard a cruise. Plus, Virgin Voyages was the first cruise line to ever feature a tattoo parlor and record store at sea!
Being an adults-only cruise line is not the only way Virgin Voyages stands out; the cruise line has done away with the traditional concept of cruise ship dining. There's no main buffet, main dining rooms, or set dining times. All 20 restaurants onboard are included, and passengers can walk in anytime to be seated, like a normal land-based restaurant. 
Since they only have two ships at sea, you won't be find any Virgin itineraries to some popular cruise destinations like Alaska or the Mexican Riviera. Through February 2025, they have sailings to the Caribbean, Europe, and South Pacific. 
The best cruise line for those seeking a party vibe:
Carnival Cruise Line
Image
3- to 5-night Bahamas cruises onboard Carnival Cruise Line tend to have a party-like atmosphere; the cruise line claims to have "the most fun ships at sea." Prepared to start dancing and singing the second you embark on the ship! 
23 ships operate in Carnival's fleet, and 17 sail on 3-5 night itineraries that depart from the United States at one point between now and April 2025. 
The atmosphere is both highly energetic and relaxed at the same time. Everyone's just there for a good time; you do not even have to worry about dressing up for dinner if you don't want to! 
If hanging out on the sun deck all day isn't your vibe, there will be other activities to keep you entertained -- think trivia, comedy shows, live music, gambling in the casino, and karaoke. 
Of course, their weeklong cruises tend to be more family-friendly (perhaps some of the best ships at sea for families, too!), especially those onboard their new Excel Class ships. These modern and stylish vessels are unlike any other ships in Carnival's fleet and offer a variety of different amenities and activities to appeal to a wide variety of cruisers, not just those looking to drink and party.
Read more: What it's like on a weekend Carnival cruise
The best cruise line for world explorers:
Celebrity Cruises
Image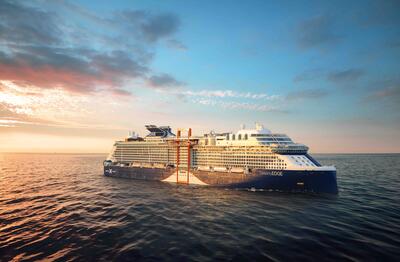 Celebrity Cruises is an upscale cruise line that is known for their destination-focused itineraries and over 250 different ports of call. They also offer numerous bucket list sailings to different places and events, including the Antarctic Ocean,  Cherry Blossom Festival in Japan, Dubrovnik Summer Festival, and Cannes Yachting Festival, and is actually the only mainstream cruise line to regularly sail to the Galapagos Islands!
There are 15 Celebrity ships sailing across the globe, including the 3 expedition vessels that cruise to the Galapagos Islands.
Imagine exploring different nooks and crannies of the world and then returning to modern, stylish, and comfortable accommodations each evening. The best part is that you will only have to unpack your suitcase once! 
Since it is more of an upscale cruise line, you will not find any waterparks, ropes courses, or rock climbing walls onboard. Thus, Celebrity Cruises is marketed more towards an adult audience; they do, however, have youth programming on their ships.  
Read more: Celebrity Cruises to take guests around the world in 2024-2025 with new itineraries
Holland America Line
Image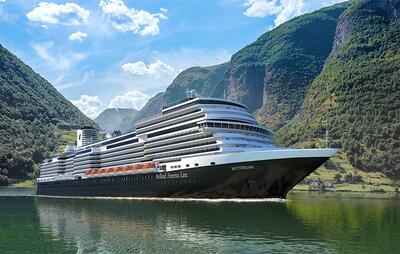 Holland America Line is great if you want to plan a destination-focused cruise to Alaska, as they've been cruising to Alaska for 75 years-- longer than any other cruise line!!
If sailing through Alaska is not enough for you, they offer award-winning Yukon and Denali cruise tours that allow you to extend your vacation with a scenic train ride and up to 3 nights at the McKinley Chalet Resort, which sits at the gates of the Denali National Park. Additionally, they offer more cruises to Glacier Bay than any other cruise line!
Unique to Holland America Line is Alaska Up Close™, which enriches cruisers' Alaska experience through exclusive onboard programming and activities, as well as award-winning shore excursions, including privileged access to Glacier Bay National Park. 
Read more: What is the best cruise line for Alaskan sailings?
The best cruise line for families:
Disney Cruise Line
Image
Disney Cruise Line is the best options for families with young children or those who are just obsessed with all things Disney! 
From the moment you step onboard, you will be immersed in the classic Disney magic, from hidden Mickeys, to character meet and greets, immersive dining experiences, and Disney theatre productions! They even have their own private island, Castaway Cay, that is decked out with all things Disney. 
Plus, they have one of the best youth programs at sea with four different age groups:
It's a Small World Nursery (6 months to 3 years old)
Disney's Oceaneer Lab and Club (ages 3-12)
Edge (ages 11-14)
Vibe (ages 14-17)
Parents can rest easy knowing their children are being well taken care of (and possibly having even more fun than them) while enjoying a drink or adults-only dinner. 
Depending on the sailing, Disney may offer teens-only Port Adventures in various ports of call, as well as exclusive activities on Castaway Cay. 
There are only five Disney ships currently operating, and you can expect pricing to be higher than other mainstream cruise lines because of the demand and higher quality of service (it is Disney after all!). That being said, they make great use of their ships and sail to many different destinations, including the Bahamas and Caribbean, Alaska, Canada, Europe, Mexico, and starting in October 2023, Australia and New Zealand!
The best cruise line for solo travelers:
Norwegian Cruise Line
Image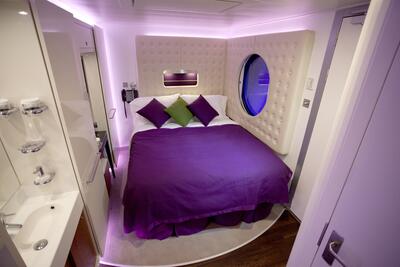 If you are a solo traveler looking to avoid dreaded double occupancy fares, look no further than Norwegian Cruise Line. 
While their ships are equipped with more solo cabins than most other cruise lines, they also have a dedicated lounge for single travelers, making it easy to mingle with others sailing alone, as only guests staying in studio rooms can access this venue! If you prefer, you can keep to yourself and use the lounge to sip on a hot cup of coffee and avoid the crowded pool deck. 
Their newest ship, Norwegian Prima, has a total of 73 solo cabins, which Norwegian calls studios, onboard! Their Breakaway Class ships have at least 55 studios (Note that Norwegian Joy does not have any), but with over 120 studios, Norwegian Epic has the most in their fleet. Solo travelers wishing to sail to Hawaii can even do so in one of Pride of America's four studios! 
You can actually sail to many places across the world as a single traveler thanks to Norwegian's wide variety of itineraries -- think the Bahamas and Caribbean, Hawaii, Europe, Bermuda, Alaska, and even through the Panama Canal! 
While all rooms are technically inside staterooms, some may offer views of the interior walkways. 
Every cabin is equipped with same basic amenities as all other standard cabins, albeit in far less square footage. You will have a private ensuite bathroom, television, storage, and comfortable bed. 
Read more: Norwegian Cruise Line Tips & Tricks