Booking a suite is a nice splurge that brings several extra perks. Bigger cabins, access to select venues, free drinks, and wi-fi are some of the major benefits cruises get to enjoy in these upgraded cabins. 
The suite experience varies by cruise line, and we tried both Royal Caribbean and Celebrity Cruises to see how they compare. 
Both provided a great cruise experience, but there were some differences between the two. Was it worth it, and which was better ?
Here is what it's like to sail in a suite on the two different cruise lines. 
Overview of suite class 
Image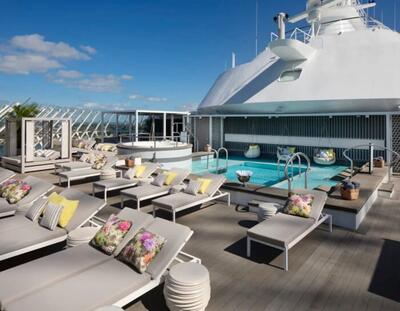 Royal Caribbean has become known for its Oasis class ships, which are the largest cruise liners in the world. It comes as no surprise that these ships include world-class suites with tons of benefits. I have been lucky enough to try a couple of suites, with the most recent being on Wonder of the Seas, the newest and largest Royal Caribbean in the fleet. The cruise line provides a wide range of dining and beverage venues and the latest in fun and activities. 
Celebrity Cruises is a smaller cruise line that tends to have fewer families and a slightly older demographic than many of the Royal Caribbean ships. Their newest class of ships, the Edge series, has pushed the envelope in terms of innovation and design, providing guests with a unique type of cruising experience. Their reimagined spaces and focus on innovation, make them stand out from the crowd. I recently sailed on the Celebrity Edge, the first ship of the series.  
The suite perks vary between the two cruise lines, offering slightly different benefits and experiences, from pre-cruise to disembarkation.  
Pre-cruise  
Image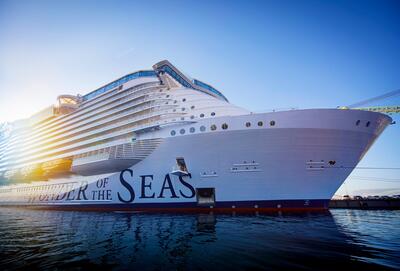 Even before you set foot on the gangway to board your cruise, there are a few nice benefits that you enjoy as a suite guest. Your designated concierge, a cruise line staff member, will reach out a couple of days before your cruise to introduce themselves.   
One of the best perks at this stage is the ability to book restaurants in advance. This is a big plus for me, and I loved this benefit when I purchased the unlimited dining package with Royal Caribbean. I booked all of my dinners and lunches beforehand, so the day of boarding was very relaxing as I did not have to worry about making any plans. 
For our Celebrity cruise, they took the pre-cruise arrival even further, having us fill out a brief survey about our preferences, including cabin temperature, type of wine we wanted in our stateroom, number of hangers, and a few other minor details. 
Winner: Celebrity Cruises for more personalized service
Embarkation/ priority boarding 
Image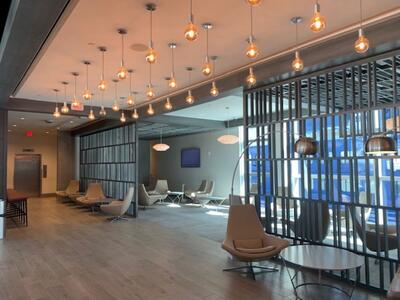 With priority embarkation, both cruise lines make boarding a little faster. In general, I am pretty impressed with the organization and speed at which cruise lines board their guests, but for suite guests, there are separate lines at the port, as well as a private lounge area, and more flexible boarding times.  
For Royal Caribbean, this entailed a separate area with some chilled drinks and cookies. In Fort Lauderdale, the Celebrity suite lounge looks brand spanking new, with modern décor and furnishings. We were offered some sandwiches, pastries, and drinks while we waited. 
The Celebrity suite concierge was also in the lounge area, introducing herself, answering questions, and providing information on the first-day lunch. 
Winner: Celebrity Cruises for a few extra nice touches 
Suite staterooms 
Image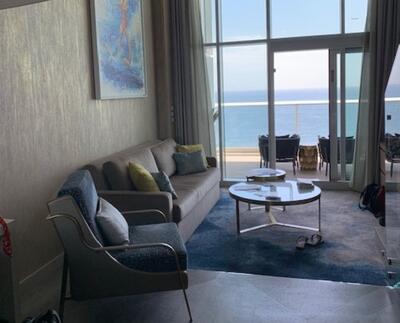 One of the best reasons to book a suite is the added cabin space, including a larger balcony. However, cabin layouts and sizes differ among suites, making it a little hard to compare. We stayed in a Grand Suite with Royal Caribbean and a Sky Suite on Celebrity, which are somewhat similar.
The Sky Suite on Celebrity was a perfect size for two, at around 320 square feet. The finishings are top notch, and the bathroom, in particular, is well-designed with a separate water closet. It has one large sink with two faucets and a large shower with a tub. The balcony is a good size with two chairs. The room included upgraded bedding and bathroom products, robes, slippers, an umbrella, and binoculars, but no coffee maker. 
The Grand Suite varies in size but runs around 370 square feet, with more deck space. Included with our cabin were bathrobes, upgraded bedding, and luxury bathroom products.  We also had an in-room Lavazza espresso coffee machine. The balcony was larger with loungers, which was nice for relaxing. 
Winner: Tie, the Celebrity room was a little nicer in decor and layout, but the Royal Caribbean suite was larger. 
Suite Lounge 
Image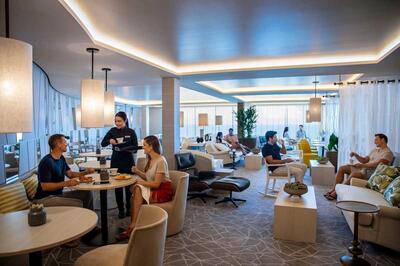 Both cruise lines have private lounges, which are dedicated venues for guests to relax, and have some drinks and snacks. There are concierges on hand to help with things such as booking dinner reservations and any other questions guests may have. 
On Royal Caribbean ships, the lounges (called the Suite Lounge) are attached to the private dining area, with expansive open views and a large wall of windows. I love the layout of this space, and met lots of guests before and after meals as people lingered and had cocktails. There were snacks during the day, including the very popular pre-dinner appetizers. 
The Edge has an entirely different layout. The suite lounge (the Retreat Lounge) is located on deck 15, separate from the suite dining venue Luminae, which is on deck 12. It has quite a bit of indoor seating, as well as a covered patio, and stairs that lead to the sundeck.  Guests are welcome to help themselves to hot and cold drinks, and bar service is available. There is afternoon tea and evening appetizers making it impossible for you to go hungry at any time of day. Additionally, there was always someone to help you in the lounge, whereas on the Wonder, there were times when there was no concierge staff.
Winner: Royal Caribbean for layout and large bar
Suite dining 
Image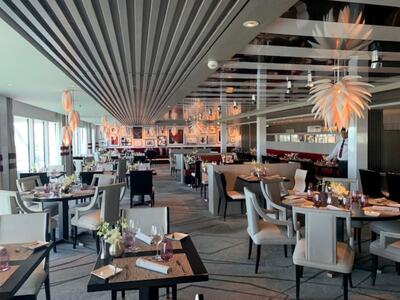 Both cruise lines offer suite guests a dedicated dining venue that serves breakfast, lunch, and dinner. I particularly enjoyed breakfast in both, a relaxing start to any day.
Celebrity's suite dining option, Luminae is elegant with its red and white décor and is a good size. We never had an issue getting in, and they don't take reservations. The food was very good, and the service was excellent. My only complaint is that I wished it opened earlier than 8 am as I am an early riser. 
Coastal Kitchen, Royal Caribbean's dining venue, was similar in quality and service. For dinner, it is best to reserve, to ensure you get in. I liked the layout and size of the space; it's full of sunshine.  
Winner: tie, as they are pretty similar 
Private deck area
Image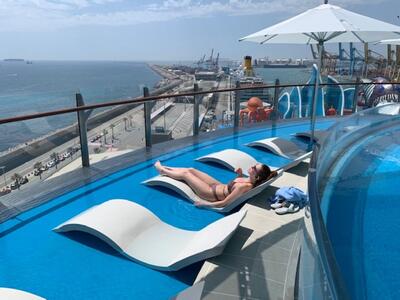 The dedicated outdoor deck area is a great benefit,  especially on sea days when things get more crowded. 
The outside suite areas on Royal Caribbean have evolved, and on Wonder of the Seas, it is an expansive area with a hot tub, pool, and plenty of loungers. It also has a large bar. It is wide open, and we could always find a place to hang out. You do not get complimentary drinks in this area, which is annoying.
The suite deck on Edge has two levels, with a small space by the lounge, leading up to a larger area on Deck 16. It is pretty spacious, with lots of little areas, many shaded, with both comfy couches, chairs and loungers. It was pretty crowded on some of the sea days. 
One of the best things about Celebrity is that your drink package is good everywhere, including the suite deck. They also serve lunch – with a small selection of sandwiches, burgers, or salads. 
Winner: Royal Caribbean for space 
Drink Package 
Image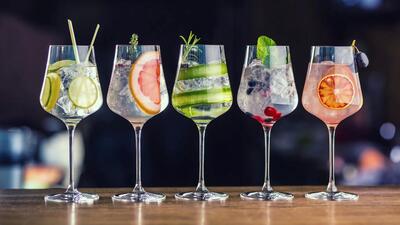 This is probably one of the most significant differences between a suite on Royal Caribbean and Celebrity, the drink package. This is a highly prized benefit, especially with skyrocketing increases in the price of these popular packages.
On Royal Caribbean ships, suite guests can access the suite lounge throughout the day, where they can get bottled water and other drinks like coffee. On our last cruise, we enjoyed select beer and wine between 11am -11pm and free cocktails and spirits between 5-8pm. This did not apply to the suite deck outdoor area, unfortunately. 
On Celebrity, the premium drink package is included for suite guests, and can be used anywhere on the ship. Beer, wine, specialty coffee, spirits and cocktails are available wherever you happen to be. It does, however, not apply to bottles of wine.
Winner: Celebrity Cruises, hands down 
Concierge / Butler Service 
Image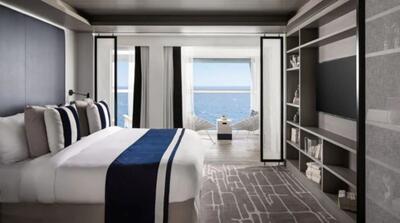 Another nice perk for suite class is a concierge, who makes life a little easier, and means you spend less time in line. 
I have found on both Royal Caribbean and Celebrity, that the concierge staff were friendly, helpful and professional. On the Oasis ships, there are typically 2 concierges who are on hand during specific time frames. While on the Celebrity Edge, we had 3 concierges who seemed to have greater coverage and they were incredibly proactive. They could often be seen visiting the deck area, making sure guests were happy and being served, and there was also someone in the suite lounge to help during the day. 
In addition, Celebrity assigns a butler to your room. Our incredibly responsive butler seemed to be everywhere, outside our stateroom or up in the suite lounger preparing for afternoon tea. He advised me that he is responsible for 12 cabins, a fairly good ratio, in addition to our cabin attendant. 
Winner: Celebrity Cruises for extra service
Number of suites 
Image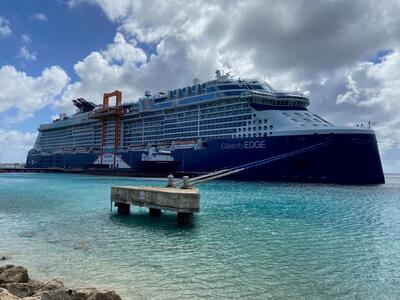 I was a little puzzled by how busy the suite deck area was on the Celebrity Edge, and on sea days, even more so. I did a little digging and found out that the ship has roughly the same number of suites as the Wonder of the Seas, the largest cruise ship sailing in the world. 
Of the 2,867 cabins on Wonder of the Seas, 175 are suites. On the other hand, the Celebrity Edge has 146 Sky suites, in addition 30+ higher level suites out of 1,467 total staterooms. 
With a much high proportion of suites (which were fully sold out on my cruise), it makes sense that it was busy on the sun deck. I did not notice this issue with the Luminae, the suite only dining area, which always had tables available. 
Other benefits
Image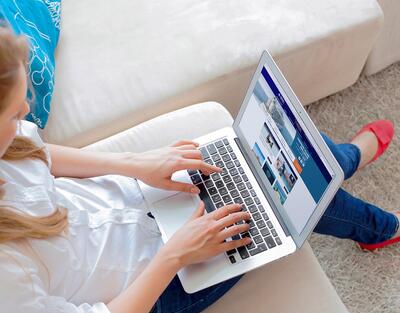 In addition to dedicated venues and staff, there are some other great perks that cruisers in suites enjoy: 
•    On both cruise lines, each cabin guest enjoys complimentary premium wi-fi throughout their cruise 
•    Priority tender (where required) 
•    Priority disembarkation and flexible departure time  
•    Priority seating at shows  
•    Complimentary room service 
Note that neither cruise line include gratuities. If you are sailing with Royal Caribbean, you will have to pay $18.50 per person, per day, while Celebrity charges substantially more, or $23.00 per person, per day. 
Winner: Royal Caribbean because of cheaper gratuities 
Other factors 
Image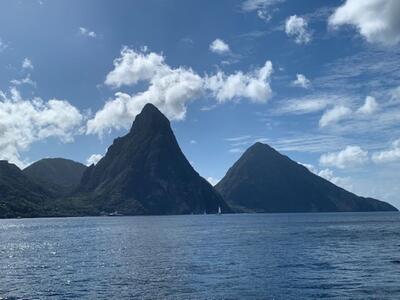 Price is an important factor, even when booking a suite. It is hard for me to compare previous bookings as the itineraries, amount of days and time of year varied. I did spend some time looking at future bookings for similar suites and itineraries on both cruise lines, but many dates were sold out. In general, Celebrity seems to run a little higher in price. 
The 11 day Panama Canal itinerary was the reason we tried Celebrity, as we wanted to visit the southern islands and canal. Royal Caribbean's Oasis class ships have fairly standard sailings, whereas the Celebrity cruises seem to be a little more varied, including voyages to destinations such as Asia, and Europe. In fact, all of the Celebrity Edge series will be in Europe for the summer of 2023. Celebrity also offers several longer cruises, such as 10 and 11 days, whereas many of the Oasis class ships offer 7 (sometimes 8 days). 
Royal Caribbean continues to push the envelope with the amenities onboard, which appeal to cruisers of all ages, and families. The Edge series ships do not have epic slides or waterparks, arcades or sports courts. The two lines appeal to different types of cruisers, which could be a reason to pick one over the other. 
Winner: it depends on what's important to you
The Verdict 
Image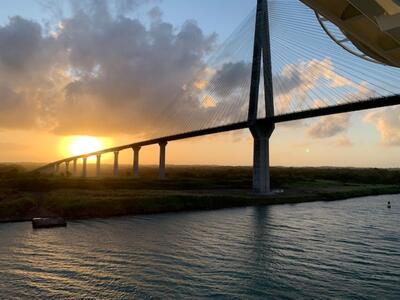 Either way, suite class is a fantastic option for those wanting to splurge. The staff on both Royal Caribbean and Celebrity are professional and friendly. The differences between the two suite experiences are not massive, and both cruise lines do a great job pampering their guests and providing exclusive perks. 
Celebrity seems to have slightly more resources dedicated to suite guests, whereas the Royal Caribbean suites seem a little larger, and the suite deck was less crowded. The cruise lines also have different demographics. Celebrity seems more geared toward adults, whereas Royal Caribbean is known for being a family cruise line with world class slides, waterparks, arcades, and lots of fun activities. Celebrity does offer kids camps, but many of their outdoor spaces are more adult focused.  
Oddly enough, some of the deciding factors are not the suite perks specifically but external factors such as itineraries and the ships' amenities. Celebrity's Edge class of ships seem to offer more variety in destinations and length of cruise. Oasis class ships offer a massive arrange of dining and entertainment options, with plenty to do all day long even if you don't get off the ship. Either way, it is a great cruise vacation.