I had so much fun on my first-ever Carnival cruise that I am already looking forward to my next sailing onboard Carnival Vista. 
Since this was my first time on a new-to-me cruise line, it was certainly a learning experience. There are some things I wish I had done a little bit differently to make my vacation even better, but I am glad I can use this experience for future Carnival sailings. 
Saving money is not always better. Had I been willing to splurge on a few things, like a shore excursion in Amber Cove, dinner at Bonsai Teppanyaki, and water delivery to my stateroom on embarkation day, I think I would have had a better time. Of course, not all my lessons were about spending more money! 
Here are 11 things I wish I had done differently on my first Carnival cruise. 
I would have either ordered water to my stateroom in advance or brought a water bottle
Image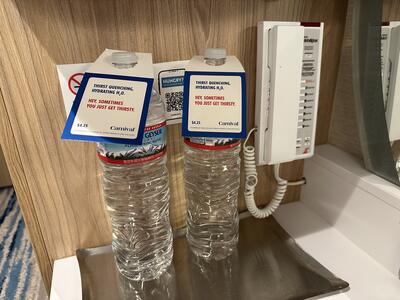 Since I primarily cruise with Royal Caribbean, my status means that I get two bottles of water delivered to my stateroom on embarkation day. 
Typically, this is enough to take my medication or have a little bit of water in the middle of the night if I get thirsty. If I eventually run out, I know to just bring water back with me when I retire for the evening. 
In each room, Carnival provides two 50.72fl oz bottles of water that cost $4.25 each. I ended up caving and buying them because I wanted to keep cold water in my mini-fridge to take my medication with. I was also extremely hot and thirsty when I was finally able to access my room and really needed something to drink!
Instead, I would have rather ordered a 12-pack of 16.9 fl oz bottles for $9.95. The smaller size would have meant that they would have been portable, and I could have taken them ashore with me or drank directly from the bottle instead of having to dirty a glass every time I wanted some water. 
Next time, I will skip Guys's Burger Joint on embarkation day
Image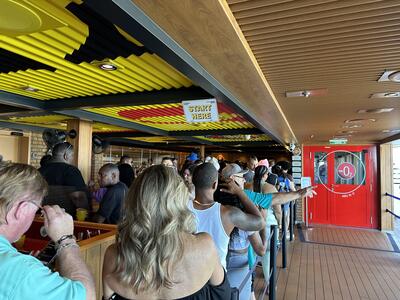 I had heard so many people talk about Guy's Burger Joint, so I was excited that I finally had the chance to try it! While exploring the ship on embarkation day, I stumbled upon the dining venue and decided to wait in line. 
It took me over an hour to make my way through the queue, order, and finally sit down to eat. While cruise ship buffets are known for being busy on the first day, I have never had to wait that long to eat. When I go on my next Carnival cruise, I know that I need to explore all of my dining options on embarkation day before deciding. 
Read more: I took my first Carnival cruise on its newest ship. Here are my honest thoughts
I didn't bring a USB charger
Image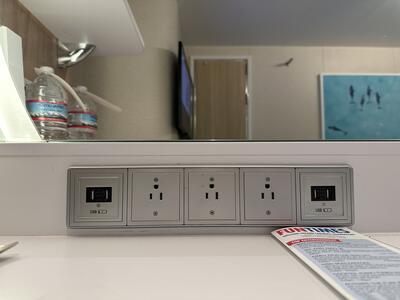 There were two USB ports next to the bed in my inside cabin. I, however, only brought USB-C chargers, meaning that I was unable to charge my phone beside the bed. 
There were also more USB ports than standard American plugs on the vanity. If you are planning on traveling with multiple people in one room, think three or four, you'll want to make sure that you have USB chargers. Otherwise, you might be stuck rotating who is able to charge what device!
There was no European outlet in my stateroom onboard Carnival Celebration, which kind of surprised me. I had actually brought an adapter in case I needed it! 
I wish that I had ridden BOLT on the first or second day
Image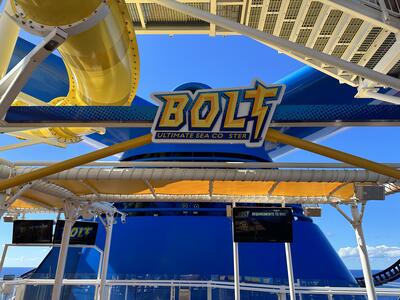 I saved my BOLT ride for the very last day. That morning, I made my reservation for around 1:00pm, giving myself plenty of time to digest my sea day brunch. When I showed up, I discovered that the ride had actually been closed since 9:00am due to high winds. 
Thankfully, the ride opened up around 3:00pm, so I was able to try this one-of-a-kind experience at sea. 
If this is a must-do for you, I recommend crossing it off of your list as soon as possible. You do not want to be in a situation like I was; I was so anxious that I would not be able to ride one of the only roller coasters at sea. 
Skip certain onboard activities that cost extra, as they are not all worth it
Image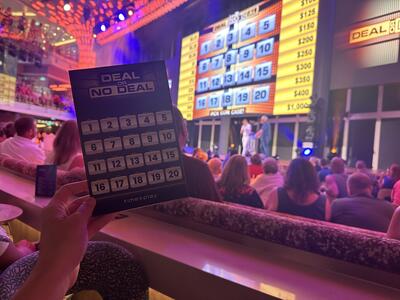 Like all lines, Carnival has some activities that cost extra. I was excited to learn that I could play Deal or No Deal; however, a single card cost $25. I ended up kind of breaking even, as I won a free $25 bingo credit that I was able to use the following day.
I thought playing Deal or No Deal was fun. Next time, though, I will opt just to watch the live audience member play for $1,000 for free; I thought that I had to buy a card to watch. 
Image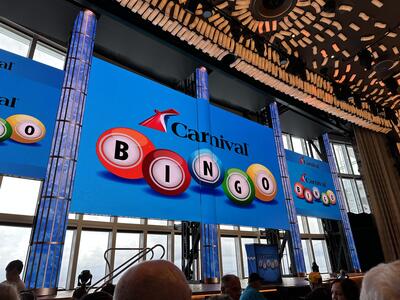 And while bingo was fun, it is something I never pay extra for. I was shocked to see the prices of some of the packages, with the most expensive costing $58. I had to purchase a  dauber for $2, too, so my experience was not totally "free." 
Plus, people were getting rather annoyed by the last round, which required the winner to fill an entire card. This made the game less enjoyable, as everyone was shouting complaints.  
One positive is that both events were held in the Center Stage, and it was neat to see how they utilized technology for both with the large television screens. 
I regret not purchasing a shore excursion in Amber Cove
Image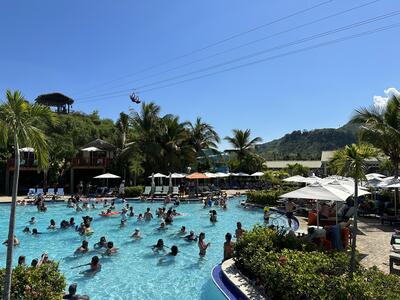 My favorite ports on cruises to the Caribbean and Bahamas are private destinations, like Perfect Day at CocoCay and Castaway Cay. I love being able to do absolutely nothing all day on a beautiful beach without feeling like I have to spend extra money. 
Amber Cove is privately owned by Carnival Corporation; however, it is not beachy. Instead, the only complimentary activity is a large pool and splash zone for children. If I wanted to go to the beach, I would have had to purchase an excursion through Carnival or a day pass and pay for my own transportation. 
Since Amber Cove felt like other cruise ports in the area adjacent to the pier, I want to venture into Puerto Plata the next time I return. I'd love to experience the local culture instead of hanging out in the pool and buying lunch ashore or staying onboard. I spoke to two women onboard who booked a tour through Viator and had an amazing time! 
Speaking of shore excursions, I didn't really plan my time in port ahead of time
Image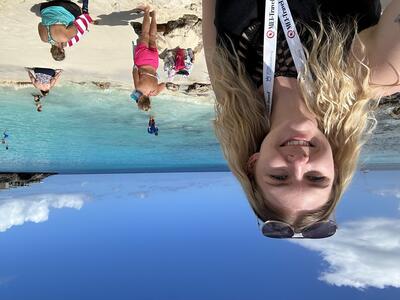 The only port I had a loose plan for was St. Maarten, as I had always wanted to visit Maho Beach. I had visited the island six times before, but I never made it that far. My family always took the water taxi over to Great Bay Beach since it was more convenient. 
I ended up heading there around 10am, not realizing the majority of the planes were scheduled to land later in the afternoon. While I got to see one plane land, I wasn't willing to stick around the crowded (and hot) beach for hours. I wish I had planned my day differently and headed there after lunch, rather than before. 
Additionally, I didn't do anything noteworthy in San Juan. I've only been there once before while sailing on Harmony of the Seas, and we took a short bus tour that was offered by a local and explored Castillo San Felipe del Morro. 
Image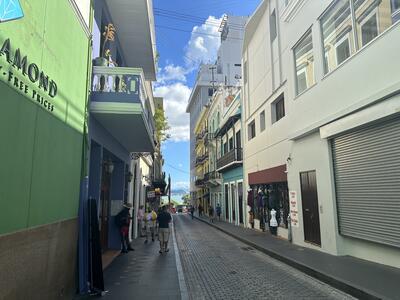 Since I had already explored Old San Juan before, this would have made a fantastic beach day. Or, if I had planned it right, I might've even been able to take a short tour to El Yunque National Forest. 
My point is that it always pays to do research ahead of time, even if you have been to the ports of call before. 
Read more: 11 common cruise shore excursion mistakes to avoid
On my next Carnival cruise, I will make sure that I get to the lido deck at least twenty minutes before the sailaway party
Image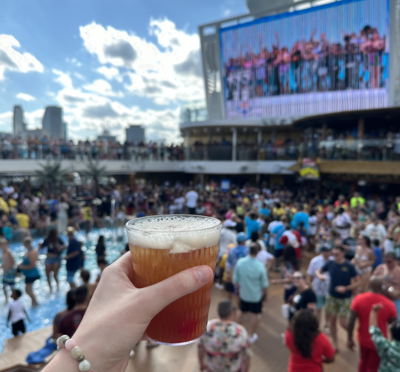 One thing I was anxiously awaiting to experience was my first-ever Carnival sailaway party. While onboard Carnival Celebration, I headed up to the lido deck just ten minutes shy of 4:00pm, when everything was scheduled to begin. 
It was just as hectic as I imagined. I was greeted by a thirty-minute wait at RedFog Tiki Bar, as well as struggling to find a single open space. 
I ended up wedging myself in a small space on the staircase leading up to Deck 17. There was room to hang out on the lido deck, but I did not want to be part of all the action. I am a better observer than participant and enjoyed having a railing to lean on. 
I would have packed more casual clothing
Image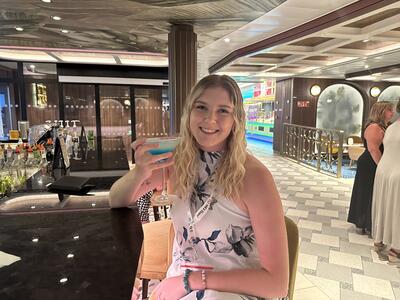 While I knew that the overall vibe of Carnival was more casual, I really did not expect it to be that much more casual. I only brought one dress with me, but I made up for it with dressier shirts. 
On the second night, I saw a girl show up to dinner in UGG slippers and realized that I really could be wearing whatever I wanted to. On vacation, I do enjoy doing my makeup and wearing cute outfits in the evenings; however, I appreciate the fact that I never felt like I had to do it. 
While there was a good bunch of people who really dressed up for elegant night, there were also people wearing t-shirts and jeans. No dress code is enforced! 
I enjoyed the comedy shows, but I wish I had seen a playlist production at some point
Image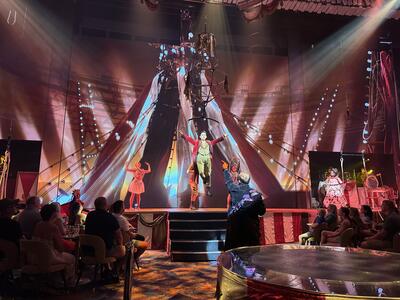 Comedy shows are one of my favorite forms of entertainment, and I loved how Carnival had 18+ shows every single night. I think I overdid it, though. Rather than seeing a variety of different things, I really only focused on the Punchliner shows. 
I heard a bunch of people talking about how talented the Playlist production singers were, so I wish I had made time to go see one of those shows.
I regret not trying any specialty dining options
Image
As good as the complimentary food was, I wish I had splurged on a specialty dining meal, so I could compare those dining experiences to other cruise lines. The hibachi at Bonsai Teppanyaki was only $38, and everyone who went raved about it, especially the dessert bento box. 
Other options included the steakhouse, Rudi's Seagrill, Emeril's Bistro 1397, Bonsai Sushi, and Seafood Shack. No restaurant had a cover charge over $50, which was a nice break after always seeing the expensive options onboard Royal Caribbean ships. I have paid over $60 for teppanyaki before! 
I did decide to try the breakfast at Emeril's Bistro 1397 one morning, and for $7.08 (including gratuity) it was worth the extra cost! My bananas foster crepes were delicious. I can only imagine how great the dinner options were.