A Disney Cruise can be expensive, especially in comparison to other cruise lines. But for families, it can be a wonderful experience, and the connection to storytelling and characters is unmatched. It is often worth the cost, and there are some ways to save some money on your vacation.
Many first-time cruisers want to know how much does a Disney Cruise cost, only to realize the price is higher than they thought.
The good news is that the advertised price is not always the final price you can expect to pay, as there are a few "tricks of the trade" to consider when finding the perfect cruise for you.
If you are considering a Disney Cruise, you may be looking for some ideas to reduce the price of your cruise. Here are some options.
Read more: How much is a Disney Cruise?
Find Less Expensive Times To Sail
Image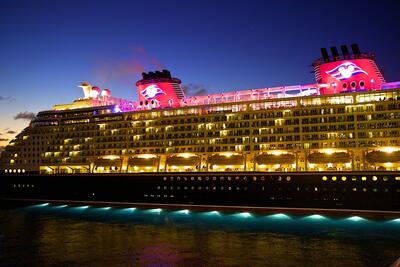 As you search for your Disney Cruise, you'll probably find that there are a wide variety of prices - sometimes for the same itinerary on different dates. If you have some flexibility with your vacation time, you'll be able to get a lower price by avoiding school vacations and holidays.
Read more: What is the cheapest month to take a Disney cruise?
Another way to save some money is to book a shorter itinerary. Even a three-day cruise can be so much fun and you'll still have plenty of time to explore the ship.
Avoid Special Events
Image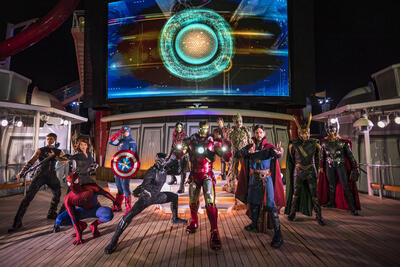 Disney Cruise Line offers various special events, like Pixar Day at Sea, and Halloween on the High Seas.
While these events are fun, those cruises often are more expensive than other sailings. You can save money on your Disney Cruise by choosing a standard cruise. There will be lots of activities to keep you busy, even on a regular sailing, so don't worry about missing out.
Book Guarantee or Interior Cabins
Image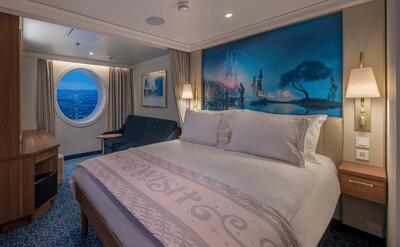 The Disney Cruise Line allows you to choose your specific cabin when booking your trip. Verandah staterooms are generally more expensive, so you can save some money by choosing an ocean view (no verandah) or interior room. If you don't think you will be spending too much time in your stateroom, this can be a great way to save money.
In addition, sometimes when booking, you'll see a GTY stateroom. You can save some money by booking these rooms. You'll be guaranteed a minimum specific category of room, but won't be able to choose the exact room, deck, or location. In some cases, you may even get a room in a better category.
I've booked GTY staterooms in the past and have never been disappointed. I generally don't care too much about the location, and it is an easy way to save a little money. While you can be assigned a stateroom at any point before boarding, I've generally gotten my room assignment well in advance.
Read more: 12 ways to save money on a Disney Cruise
Consider Different Ways to Get to the Port
Image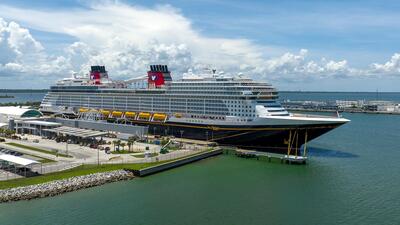 While Disney may offer port transportation (from the airport and the theme parks to and from the port), it's not your only option.
Because Disney charges per person, and not per group, if you are traveling with your family, you may save money by renting a car or taking private transportation or a ride share. It's definitely worth researching all options and costs before committing to a specific transportation option.
Take Advantage of Included Activities
Image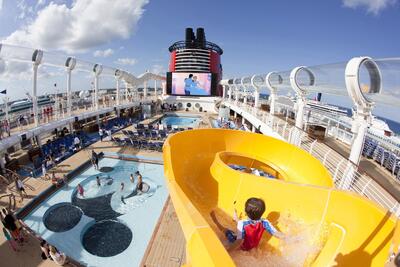 One of the biggest financial benefits of cruising is its somewhat all-inclusive nature. While alcohol isn't included, you won't pay for standard meals, most entertainment, character interactions, and beach chairs/umbrellas at Castaway Cay.
To save money, develop a budget and stick to it once you are onboard. Take advantage of the activities that are included in your Disney Cruise fare, and avoid anything that is an upcharge.
On a shorter cruise, it's very easy to fill your time with things that don't cost extra. Just be sure to download the Disney Cruise Line Navigator app so that you know the schedule of everything going on each day.
Purchase Water, Beer, and/or Wine Packages
Image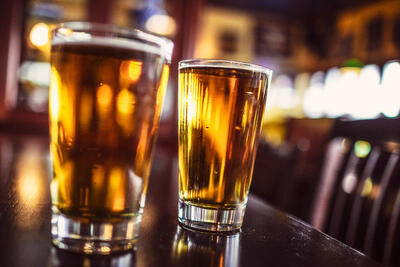 Soft drinks, juice, and standard tea and coffee are offered for free on a Disney Cruise.
If you think you'll want to have bottled water, beer, and/or wine, there are package deals available, often on the first day of sailing. These can help you save money from the cost of purchasing everything individually, but make sure you are actually going to drink everything before buying a package.
If you like mixed drinks, there is generally a drink of the day that is a little less expensive than the other cocktails.
Read more: A Guide to Alcoholic Beverages on Disney Cruise Line
Maximize Onboard Credit Opportunities
Image
I always recommend booking a Disney Cruise through a travel agent, who can help you find the best deals.
Disney Cruise Line pays the travel agent, so there's no additional cost for you. In addition, travel agents often offer onboard credit, which you can use for purchases on the ship.
Read more: Disney Cruise Line discounts you could use to save money
Compare Insurance Options
Image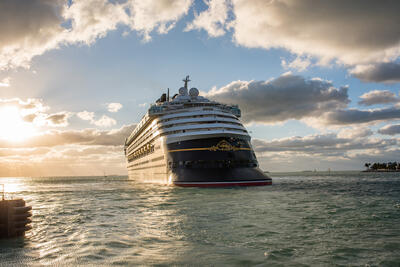 Travel insurance has become increasingly important for cruises. It's very easy to add Disney's insurance option to your booking. However, it's recommended that you research additional options.
Disney's insurance will only cover what you've booked through them, and may not include flights and other portions of your vacation. Shop around to make sure you get the best deal.