Virgin Voyages is one of the many cruise lines that offers a private destination for their guests.
I recently returned from my very first sailing onboard Virgin Voyages' Scarlet Lady. Our itinerary featured two stops: Key West and Bimini, Bahamas. With our stop in Bimini, we quickly realized that the highlight was Virgin's exclusive, adults-only beach club.
While not a private island, Virgin has created a perfect private oasis: The Beach Club at Bimini, Bahamas. Located on the northern end of the island, this private beach club is an all-inclusive, retreat-like beach club for the exclusive use of Virgin Voyages cruisers, also known as sailors. 
What is the Beach Club at Bimini
Image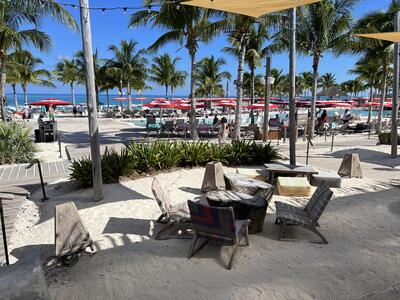 Located on North Bimini Island, The Beach Club at Bimini not only provides beach front access to turquoise blue waters, but it is also home to resort-style pools, food service, water sports, and more for Virgin Voyages' sailors. 
The beach club is private and included in your cruise fare, meaning it will cost you nothing extra to enjoy a day here during your Virgin Voyages sailing. When there isn't a Virgin ship in port, other cruise ships may offer a day pass to enjoy the beach club, as well.
How to get to the beach club
Image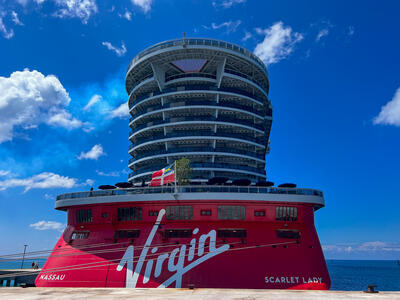 Virgin Voyages offers transportation to and from the Beach Club starting at the cruise pier. 
This complimentary open-air tram takes you from the pier, with a quick stop at Fisherman's Village Marina for those that are interested in exploring the island on their own, and then onto the Beach Club. The tram ride took approximately 10 minutes, including the stop, and left about every 15 minutes or so each way.
What is included
Image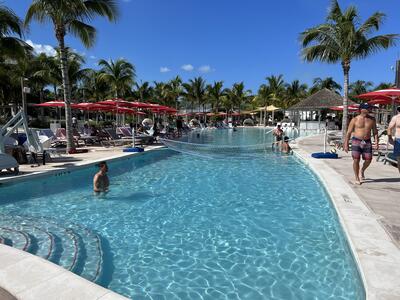 Sailors may be surprised to learn that many of the offerings at the Beach Club are included. Upon first entering the beach club, you will find yourself in The Main House, which is an open-air covered lounge area, complete with a bar. Here you will find the bathrooms and changing rooms, a map of the club, and beautiful views.
After passing through the Main House, you will see plenty of different types of complimentary seating available to you near the pools, including umbrella-shaded loungers, in-pool loungers, couches, hammocks, hanging chairs and more.
Past those, you will see the two side-by-side pools. The first is a lagoon-style pool with a DJ booth and plenty of in water seating, and the second is a sports pool complete with a volleyball net and even more places to sit. 
Image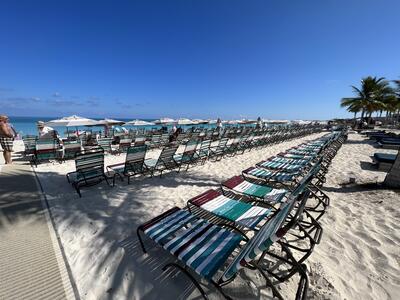 If you keep going past the pool, you will find the beach area. Here, there are rows upon rows of complimentary loungers and umbrellas for those that want to spend their day close to the beach with their toes in the white sand.
You can grab complimentary towels as you exit the ship or when you arrive onsite at the beach club. Of course, you will also find many bars between the Main House and the beach for those that want to enjoy some drinks during their day.
What costs extra
Image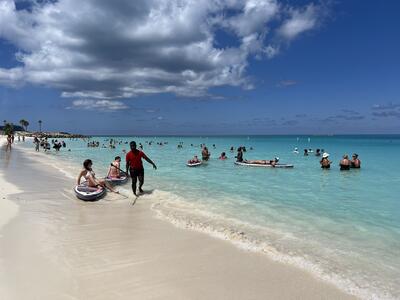 If you want to upgrade your time at the beach club, you;ll find cabanas scattered around, which are available for rent within your Virgin App prior to sailing. These were sold out for my sailing before getting onboard, so if you are interested you may want to consider booking these early. These start around $500 per cabana!
For the Sailors that are interested in a shore excursion, Virgin Voyages offers plenty of those to choose from. With options like stand-up paddleboard yoga, jet skiing, snorkeling, kayaking and more, there are options to keep every Sailor happy. 
Read more: 10 tips for getting the best cruise shore excursion values
The food options
Image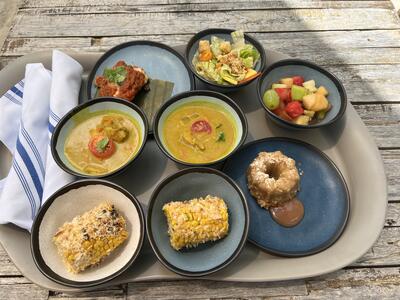 For lunch, Virgin Voyages treats their island fare differently than other cruise lines. Not only will you not find any self-serve buffets, but you also will not find burgers and hot dogs at this beach cookout. Instead, will find upscale items consistent with their onboard dining options.
We had a choice of Lechon Asado, West Indian Pumpkin Curry, Banana Leaf Steamed Red Snapper and Caribbean Chicken & Coconut Curry for our main dishes, all included. These were all served as small plates, and you were welcome to order as much as you wanted.
They also had a selection of salads, including Bahamian Mango & Macadamia Nut Salad, Watermelon & Jicama Salad, and a Tropical Fruit Salad. The side options were Crispy Cassava and Grilled Corn on the Cob, with a Rum Cake for dessert.
Image
There were plenty of bars for sailors to use their bar tabs at, with servers also walking around taking drink orders. They featured a great selection of standard bar liquors and beers, as well as a unique mix of canned cocktails. Closer to the beach, you could find fresh coconut water available, with a "A dose of Vitamin Sea" stamped into the side.
The activities
Image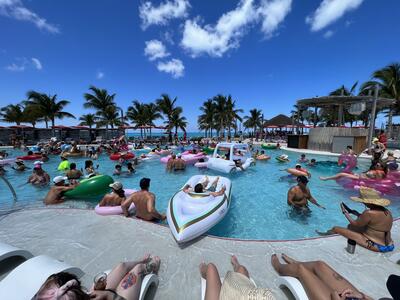 Virgin Voyages is known for their entertainment, and the beach club is an extension of that. 
Around 1PM, the lagoon-style pool kicked off the afternoon party with a DJ. The entertainment staff also began their choreographed dancing, with some even donning mermaid tails on the edge of the pool. 
Shortly thereafter began the infamous pool float party. This is where Virgin throws around 50-something pool floats into the pool for sailors to lounge on and enjoy. They also threw in inflatable beach balls and broke out their bubble guns to keep the atmosphere alive.
After the pool float party, those that wanted more action could head down to the beach to participate in "We Run This Beach," which is their signature adult-camp-style competition.
The suite area
Image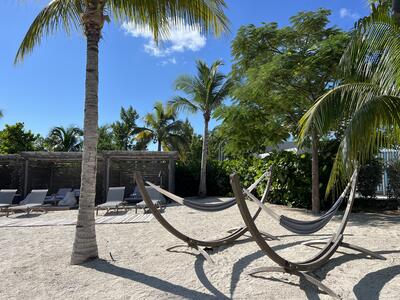 For those staying in a suite onboard, they will also have a private area at the Beach Club known as the RockStar Retreat. 
This area is at the far end of the beach club and features a dedicated lounge area, bathrooms, seating, bar and food service pavilion. Down on the beach, they will also have a dedicated area of seating and cabanas to enjoy for those in suites who want a more laidback day.
Overall thoughts
Image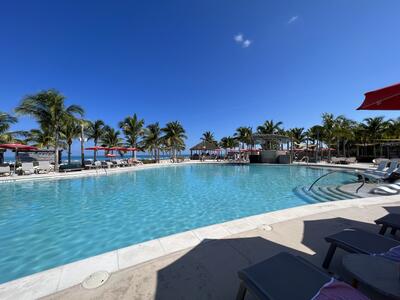 Immediately upon entering the Beach Club, I knew that we were in for a great day. Aside from the beautiful beach and facilities, Virgin Voyages ensures that their Sailors enjoy an extension of their ship while at this private oasis, with the food, drinks and entertainment inline with what you can expect onboard. 
With the mix of activities for everyone, there is no doubt that every sailor can have their version of a perfect day at the Beach Club.