Packing for any vacation is challenging and time-consuming, but it's especially important to make sure that you pack everything you need when you go on a cruise. 
You'll have fewer options to shop for essentials, and the on-board shops aren't open when the ship is in port. So while you won't want to overpack, you still will want to make sure you have everything that you may need. 
When sailing on a Disney Cruise, there are some additional items that you'll want to pack. Most of these things are optional, but you won't necessarily know about them unless you've already been on a Disney Cruise or have read about them. Here are some of the essentials you may consider packing when sailing with Disney Cruise Line. 
Pirate Clothing 
Image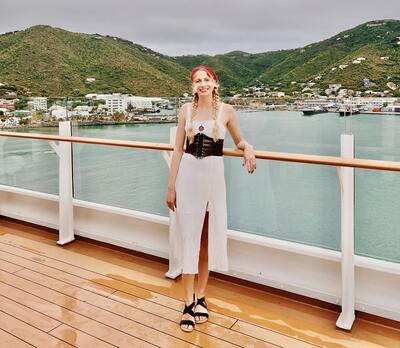 Most of the Disney Cruise Line sailings on all five Disney ships offer a pirate night. Pirate Night is a big deal on board DCL and is one of the most popular activities. 
While it isn't mandatory at all that you participate in or dress up for Pirate Night, many guests do choose to take advantage of this fun theme. Keep in mind that you can still attend Pirate Night activities in whatever attire you are wearing. 
If you want to dress up, however, pack some attire. You'll see a huge variety of different pirate outfits - from just a bandana to a full ensemble. Everyone, from kids to adults, joins in on the pirate fun, so it's not exclusively for children. 
The on-board Bibbidi Bobbid Boutique transforms into the Pirates League on Pirate Night, so even if you don't pack a costume, you'll still have the opportunity to have your child dress up, albeit at a higher price (and based on availability). 
Pirate Night Light Up Toys/Glow Sticks
Image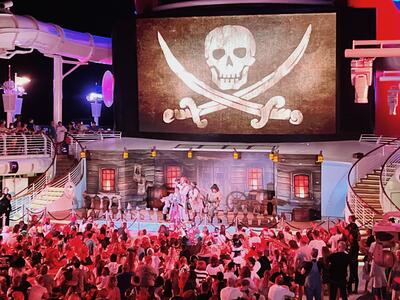 Most guests head up to the pool deck to watch the Pirate Night show and fireworks. 
Some younger kids bring along light-up toys and glow sticks. While you can purchase these on board the ships, you'll save money by bringing along your own from home. 
1920s Apparel (the Disney Wish) 
Image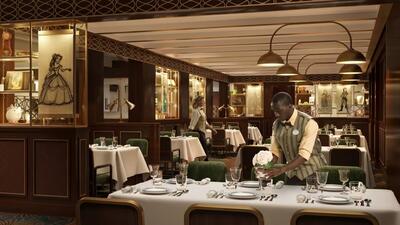 This is a relatively new tradition and isn't anything that you'll see printed on official Disney Cruise Line documentation. However, with the introduction of the new restaurant concept 1923 on Disney Wish, which was named after the year the Walt Disney Company was founded, many guests have taken it upon themselves to create a new tradition. 
Disney Wish passengers will have at least one of their rotational dining meals at 1923. On that night, you'll see some (but not all) guests dressed in a 1920s theme. This can include everything from complete outfits to a scarf or headband. 
It's not required, and because not every guest dines at 1923 on the same night, it's a small minority of cruise guests who choose to dress up. 
Magnetic Hooks 
Image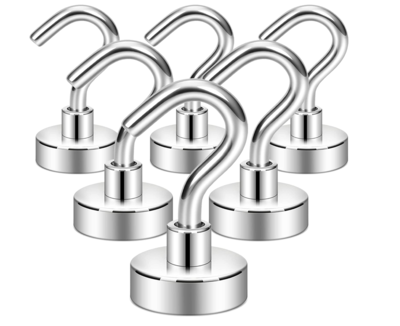 Like some other cruise lines, Disney Cruise Line's staterooms have magnetic walls and doors. 
If you run out of room to hang things, it can be a great idea to pack some magnetic hooks. These can be easily attached and detached from the magnetic walls and help you to keep your cabin more organized during your time onboard. 
Read more: 20 best things to bring on a cruise that cost less than $10
Magnets for Stateroom Door 
Image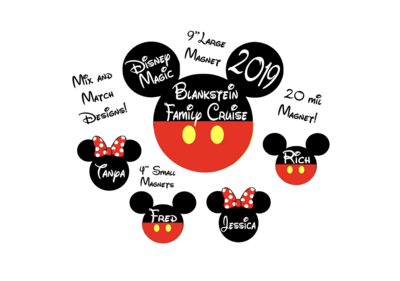 Many guests sailing with Disney Cruise Line take full advantage of the magnetic stateroom doors by decorating the exterior. Stateroom door decor helps you not only personalize your door but also helps you easily identify it among the sea of similar-looking doors. 
Magnets can be purchased online in advance of your trip or can even be homemade. While the ships' stores do typically sell some magnets, they are not personalized, and there aren't many options. 
If you bring along magnets, I recommend putting them in your cruise day bag. That way, you can immediately decorate your door when you arrive. 
Fish Extender/Gifts 
Image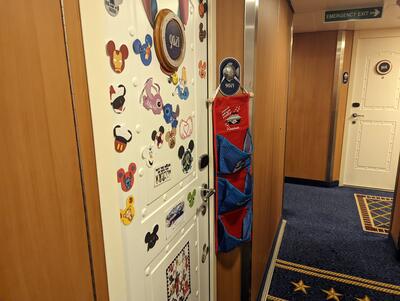 Fish extenders are an (unofficial) swap gifting opportunity exclusive to Disney Cruise Line. The tradition is named for the fish that's located outside of each stateroom and is used to hold communications and letters from the ship. While some staterooms now have other sea creatures, like a starfish and seahorse, the name fish extender has remained. 
Now, guests sign up to swap gifts with other cruisers on their sailing. When you arrive on the ship, you can place a fish extender (typically a hanging item with pockets) outside your door, and participating guests will fill them up with little gifts for your stateroom. 
Participating in a fish extender exchange is optional, and sign-up will need to be done well in advance of your sailing. Only guests who sign up will receive gifts, and you'll need to give gifts to receive them. 
If you want to participate in a fish extender exchange, purchase the fish extender in advance. There are many great customized options online, or you can make your own. Then, you'll need to make or purchase gifts for everyone on the list. 
Packing Cubes (for the Disney Wish)
Image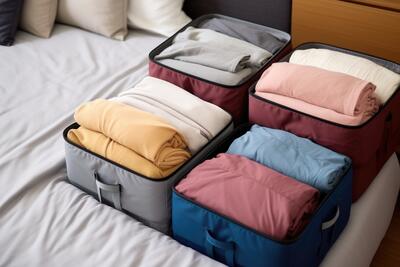 Travel experts regularly recommend using packing cubes to make packing easier, but on the Disney Wish, they are almost essential. 
This particular ship has open shelves for clothing. I have found that it's best to use packing cubes (preferably the ones with mesh on the top so you can see through) to store clothing on these shelves.
Read more: Cruise packing list: What to bring on a cruise
Autograph Book and Large Pen 
Image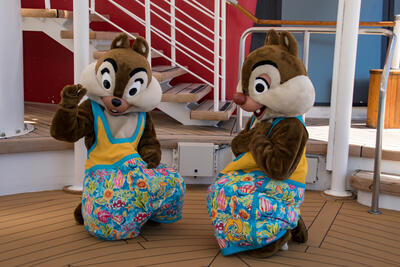 When sailing on Disney Cruise Line, you'll have many opportunities to see some of your favorite Disney characters. Even if you aren't on one of the specialty sailings (like Pixar Day at Sea or Marvel Day at Sea), there will still be many different character interaction opportunities. 
If you want to get autographs from the characters, pack an autograph book and a wide pen, which is easier for costumed characters to handle and use. That way, you can get started collecting autographs as soon as you arrive. If you have more than one child, it's always a good idea to have one set for each child.