Before you are ready to place the deposit on your Carnival cruise, you will have to choose what cabin category you'd like to stay in for the duration of your voyage. 
While the majority of the fun will be located outside of your stateroom, you still want a comfortable "home away from home" that you can return to each evening and rest for the next day's adventure.
Onboard every Carnival ship, you will find interior, ocean view, and balcony rooms, as well as suites for those looking to splurge and receive a couple extra perks. Each category has their own set of pros and cons, meaning that you'll have to weigh your options to determine what works best for you and your travel party. 
Here is everything you need to know about cabins onboard Carnival Cruise Line. 
Interior cabins
Image
The most basic accommodation option you'll find on any cruise line are interior rooms, and Carnival is not an exception. These cabins are great options for those on a tighter budget or who want to stretch their vacation budget as far as possible. Spending less on your room means that you'll have more to spend on cruise add-ons, such as drink packages, shore excursions, specialty dining, and more. 
Interior cabins on Carnival Cruise Line are some of the smallest rooms onboard and lack natural light since they do not have any windows. 
Currently, the oldest ship in Carnival's fleet is Carnival Paradise. Onboard, you'll find more interior rooms than those with balconies. In fact, there are only 98 standard balcony cabins on this vessel. 
Image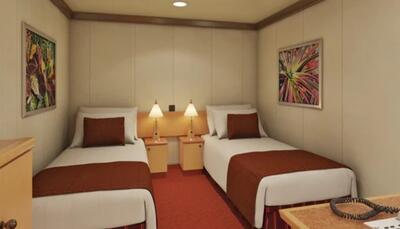 Configurations vary, with the cheapest interior rooms often being those called "Interior Upper/Lower." Rather than having one large bed, the room is configured with a single twin bed and either a pullman or soda bed. You may even find some interior rooms that have small porthole windows! These are cheaper options than paying for an ocean view room with a larger picture window. 
In comparison, Carnival's newest Excel Class ships tend to have around over 700 interior cabins onboard. There are more options than older ships, too. On Mardi Gras, for instance, you can opt for a standard interior stateroom or Premium, Family Harbor, Cloud 9 Spa, or Havana interior room. 
The latter three come with additional perks that you might want for your cruise vacation, such as access to the exclusive Family Harbor lounge or Havana pool. 
Image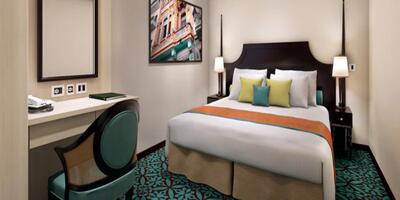 In general, interior cabins on Carnival range from about 155 to 185 square feet, making them more spacious than the inside rooms on some major competitors, like Norwegian Cruise Line! Onboard Norwegian Encore, for instance, an inside cabin measures just 135 square feet. 
Ocean view cabins
Image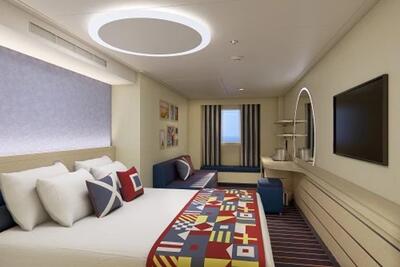 One step above inside cabins on Carnival Cruise Line are ocean view staterooms. These are similar to interior rooms in that they do not have any direct access to the outdoors; however, every room within this category does have a picture window that looks out at the ocean. If you are craving natural light but do not want to spend the money on a balcony, these are a great option. 
In general, there are fewer ocean view rooms on newer Carnival ships, as most of the exterior facing cabins have balconies. That, however, doesn't mean you're at a loss! Like with the number of different interior options on newer Carnival ships, you'll find that you have different types of ocean view rooms to choose from, too. 
Onboard Carnival Celebration, for instance, you'll find 130 standard ocean view rooms, as well as 41 Family Harbor and 4 Cloud 9 Spa ocean view cabins. In comparison, Carnival Paradise has 464 ocean view staterooms onboard. They're typically close to the same size as interior staterooms. 
Image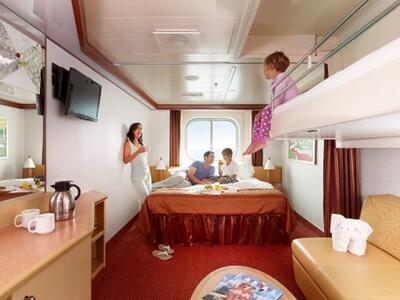 If you're traveling with a family of five, you might want to look into Carnival's Deluxe ocean view rooms onboard Dream and Vista Class ships. Not only are these rooms larger -- think over 200 square feet--, but they can also accommodate more guests than standard ocean view rooms. 
It's also important to note that on newer ships, ocean view rooms tend to be located on the lower decks. When sailing on a Fantasy Class vessel, though, they're more widely available! The highest deck they're located on onboard Carnival Jubilee is Deck 5. This is out of 18! 
Balcony cabins
Image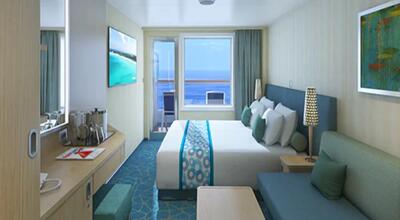 Balconies are some of the most desirable staterooms on any cruise ship. What's better than waking up and stepping outside onto your personal verandah with a cup of coffee in hand? Not much!  
Compared to older ships in the fleet, Carnival's new-builds have more balcony rooms available. On Carnival Paradise, only 16% of all cabins have balconies. This jumped to 46% on Carnival Panorama and 61% on Carnival Jubilee (Note that these calculations include suites, too). 
Starting with Dream Class ships, Carnival began putting cove balconies on each of their new ships. These are different than standard balcony cabins in that the balconies are built into the structure of the ship. This means that it is more enclosed, with a solid wall separating you from your neighbors. They're also located on the lower decks, sometimes as low as Deck 2!
Image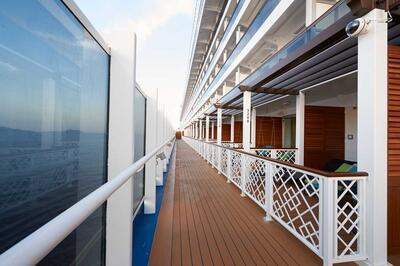 Similarly, you'll find Havana balconies, as well as Cloud 9 spa balconies, each of which come with their own set of fun perks. Note, though, that Havana balcony cabins do not directly overlook the ocean. Instead, your cabin opens up to a patio area that is next to a public walkway, meaning that other guests will pass by your stateroom. 
Select ships also have forward and aft-view balconies that come with more outdoor space and some unique views that port and starboard rooms cannot provide. 
On most ships, you'll find that the interior space of a balcony cabin measures around 185 square feet, while the balcony portion is around 35 square feet. 
Read more: Best rooms on a cruise ship: Deck, location, & category
Carnival Cruise Line suites
Image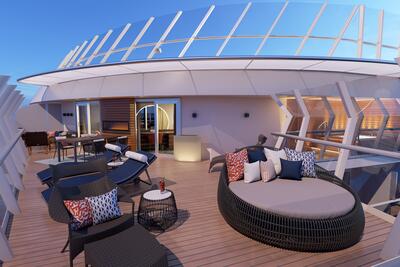 Those looking for the largest cabins on any Carnival ship will want to look at their suite options. While options vary based on ship class, all include some perks that are meant to give you an enhanced cruising experience. 
No matter what ship or suite you book, you'll get priority check-in, embarkation, and disembarkation, as well as priority dinner reservations and Main Dining Room time assignment; two complimentary large bottles of water; pillow-top mattress; and bathrobes for onboard use.  
Compared to some other suites on competing lines, this may not seem like much; however, you are guaranteed to have more cabin space than if you were to book a traditional stateroom. A Grand Suite onboard Carnival Panorama, for instance, features 345 square feet of interior space! That's about 250 square feet larger than standard balconies.
Image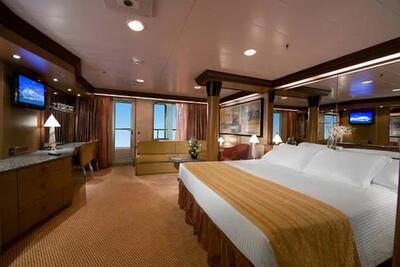 Suites are also able to accommodate more passengers and standard staterooms, so if you want your entire family in one room, they're a great option. Otherwise, you'll have to consider an ocean view room or two adjoining staterooms. 
On their new Excel ships, you'll gain access to Loft 19 if you book one of their 32 Excel Suites, where you'll find a private pool surrounded by plush sun lounges and cabanas. While anyone on the ship is able to purchase a pass to hangout within Loft 19, Excel Suite guests can do so for free. Plus, they get priority access to cabana reservations. 
Additionally, these ships are home to the largest suites in the fleet and come with additional perks, such as a dedicated concierge phone line; guaranteed specialty dining time, with the exception of Bonsai Teppanyaki and Chef's Table; complimentary Bottomless Bubbles soda package, room service, and laundry; sparkling wine and fresh fruit basket upon arrival; and upgraded bathroom amenities. 
Excel Suites include the Carnival Excel Presidential Suite, Carnival Excel Aft Suite, Carnival Excel Corner Suite, and Carnival Excel Suite. 
Read more: 10 things that wowed me about Carnival's suite cabin on Mardi Gras cruise ship