When looking to plan a cruise vacation, you are probably hoping to find a great deal on the initial cruise fare, as paying more than necessary to begin with may limit your onboard spending and restrict which cruise add-ons you are able to splurge on. Thankfully, with a little bit of research, you will find that there are several tips that will aid in your efforts to find the best cruise deals available. 
There is no denying that taking a cruise can be the trip of a lifetime for many! However, if you are able to be flexible during the planning process and not limit yourself to a certain ship, itinerary, and/or time of year, you will find deals that can save you money and fit your budget! 
Here are 14 ways to find the best cruise deals. 
Sail during the off season
Image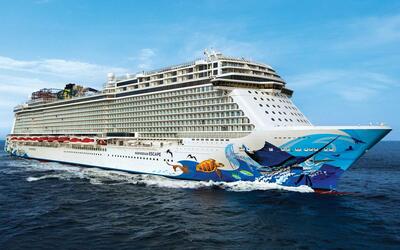 Cruise pricing during the peak of the travel season is going to be more expensive than if you were to take the same cruise during the shoulder or off season. While peak season differs based on destination, it is generally similar to school holidays -- think spring and summer break, holiday weekends, Thanksgiving, Christmas, and New Year's. 
If your schedule allows you to be flexible, you can find cheaper cruises outside of the peak season. Taking a Caribbean cruise the second week of January, for instance, is going to be much cheaper than if you were to take a cruise in the middle of July. 
Similarly, cruising during hurricane season is another way to save money on your next cruise vacation. Of course, the lower pricing is related to the risk of your sailing being impacted; however, most cruises during hurricane season set sail with no issue! 
Read more: 16 tips to not waste money on your first cruise
Book during wave season 
Image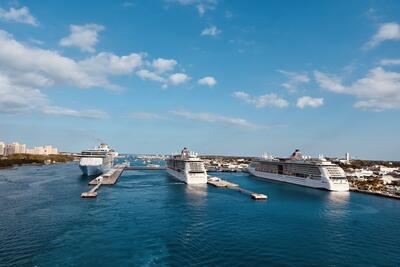 In the past, the cheapest months to book a cruise have been during what is known as "wave season," or the months of January, February, and March. During this time, you can find industry-wide sales that are often more than a decrease in the initial cruise fare.
You may, for instance, find a deal that offers onboard credit, prepaid gratuities, or even free cabin upgrades! While the rate themselves may not drop much, the additional benefits help you to get more value for your money.
Read more: What is the cheapest month to book a cruise?
Opt to book an inside cabin 
Image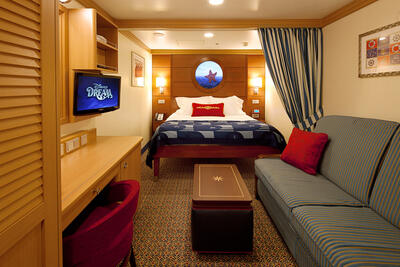 There is no denying that staying in a balcony cabin and waking up to your own personal verandah with a direct ocean view is pretty amazing. These staterooms, however, are more expensive than inside cabins-- sometimes, you can pay hundreds of dollars more per person, especially if you are cruising to somewhere like Alaska where sea days are filled with views of glaciers. 
Between the scheduled activities, ports of call, dining, and more, you will really only be in your cabin to rest and get ready. Saving money on your stateroom is worth it if you are able to go on a couple of shore excursions or perhaps even treat yourself to specialty dining experiences and/or a drink package!
Book a guarantee cabin
Image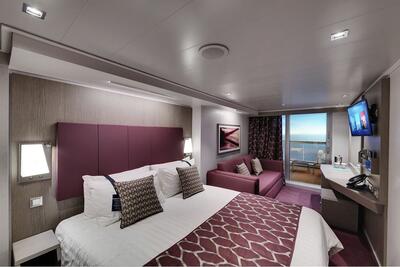 When you select a guarantee cabin, it means that you will save money on your cabin at the expense of letting the cruise line assign your cabin, meaning that you will not be able to choose your exact stateroom. 
Typically, you are not assigned your cabin until closer to your sail date. This allows for those willing to pay to select their cabin to have more choices, and most of the time, they select the ones in prime locations. Whatever is left over is what will be assigned to those who booked guarantee rates. 
If you have a specific cabin location that you want, whether it is by your favorite venue or close to others in your travel party, you will be better off paying the extra to choose your cabins. 
Find and use a good travel agent
Image
Working with a travel agent is a great way to not only find cheaper rates, but to also have an advocate who will assist you throughout the booking and planning process. 
If you are unsure about what cabin to select, they can offer suggestions based on your preferences (i.e., do you fear you will get motion sick?). They can also take care of booking any cruise add-ons, such as specialty restaurants, shore excursions, and more. 
When it comes to the cruise fare, they have access to rates that are not made available to the general public. Additionally, they can often offer perks like onboard credit or a free specialty dinner. 
You will not have to pay anything extra to utilize their services, either. The cruise line pays their commission. 
Read more: What to look for in a travel agent for a cruise
Take a cruise from a less popular embarkation port
Image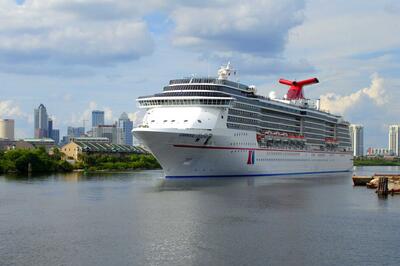 Sometimes, sailing from a less popular cruise port will save you money than if you were to cruise from Miami, Fort Lauderdale, Orlando, etc. These smaller ports cannot accommodate ships as large as some of today's mega ships, so cruise lines have to price these sailings differently. 
A cruise to Bermuda from Baltimore, for instance, is going to be cheaper than a Bermuda cruise from New York!
Another possible advantage to this is that you might be able to sail from a cruise port within driving distance, meaning that you will not have to worry about travel logistics, including flights and a pre-cruise hotel. 
Read more: Why you should plan a cruise within driving distance
Do not choose the newest ship
Image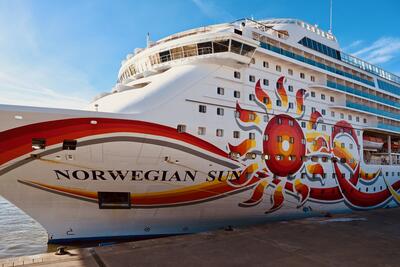 The rate for newer ships is going to be more than older ships, and if you decide to sail out of one of the less popular cruise ports, it will more often than not be on an older ship. While they may not have all the frills of newer ships, you will still have an amazing cruise vacation. Today, a lot of older ships have undergone extensive refurbishments, too!
Many prefer this style of cruising, as it often cultivates a more intimate environment, and the ships are able to visit more unique ports of call. 
Read more: Comparing the oldest ships from Norwegian, Royal Caribbean and Carnival
Book early
Image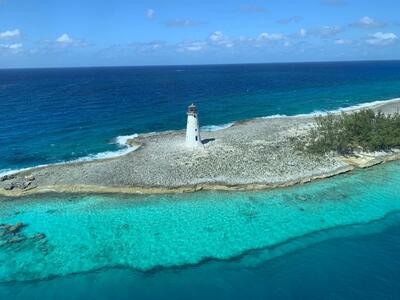 If you have the flexibility to plan far into the future, you are likely to find some great cruise deals. Many cruise lines will release their new itineraries around two years in advance. If you have your eye on a specific suite -- such as Royal Caribbean's Ultimate Family Suite or Disney Cruise Line's Wish Tower Suite -- you will want to be on the ball with booking as early as you can! 
Read more: The 13 best cruise tips the pros use all the time
Take a repositioning cruise
Image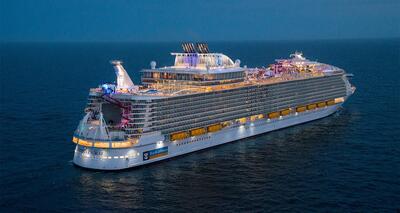 Cruises that end and begin in different cruise ports are cheaper than round-trip sailings. These cruises are meant to get the ship from one place to another to begin different itineraries. Spring transatlantic cruises, for instance, get cruise ships from the United States to Europe for their summer season. Repositioning cruises tend to have the lowest daily cost, too. 
What may, however, negate the total cost savings is the cost of airfare. Plus, it is more time consuming to fly across an ocean to get to/from your cruise than to sail from somewhere on the same coast, meaning that you may have to take more time off of work. 
To compare pricing, though, let's look at a transatlantic cruise onboard Norwegian Escape and see what the price difference is compared to a roundtrip sailing on the same ship! 
Image

A 16-night transatlantic cruise that departs on April 8, 2024 starts at $1,949 per person for an inside cabin and $2,779 for a balcony. Prior to adding port fees or gratuities, this breaks down to about $121 and $173 per day, respectively. 
A 10-night Mediterranean cruise departing from Venice, Italy on May 16, 2024 is currently priced at $1,729 per person for an interior stateroom and $2,549 per person for a balcony, or about $173 and $255 per day. 
Likewise, one-way cruises will often be cheaper, even if they are not a repositioning cruise. In the summer, for example, many cruise lines offer one-way sailings in Alaska from places like Whittier and Seward to Vancouver; these will usually be cheaper than round-trip cruises from Seattle. 
Cruise with more than two people in your stateroom
Image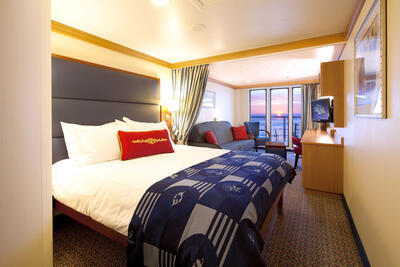 While most cruise staterooms are built to accommodate two guests, others have pullman and sofa beds to be able to fit three, four, and sometimes even five people! 
The cost per guest in each stateroom decreases after the first and second, meaning that the third and fourth guest will pay less. If they were to stay in a different stateroom, they would pay the same rate as the first two people. 
The caveat, though, is that your space will be more cramped, and you will only have one bathroom to share amongst everyone!
Last-minute cruise deals
Image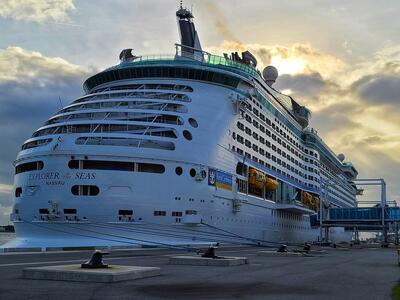 Last minute cruises can be a great find for those with the flexibility to make travel arrangements at the spur of the moment. You, however, should not rely on finding a cheap last minute deal for any particular sailing-- you never know when the cruise will be booked at full capacity. 
Likewise, if you have to pay for flights at the last minute, you may end up paying more altogether than you would if you had planned the trip in advance. There is a lot to think about when looking at cruises that depart within the foreseeable future, so you need to take all of that into consideration before jumping on a low fare. 
Read more: What to know before booking a cheap cruise
...but also be wary of last minute deals, especially during peak season 
Image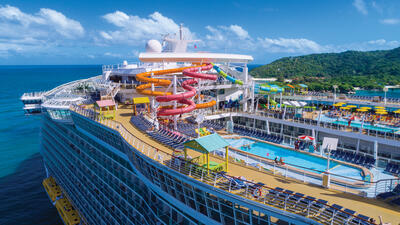 If you are holding out for a last minute spring break cruise deal, you may find yourself disappointed. When the time rolls around, certain cabins might be sold out, leaving you with whatever is left. Moreover, pricing may not drop at all! If the cruise sells out, it sells out. 
Look into any special rates that you might be eligible for
Image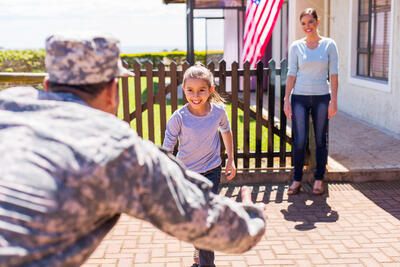 You may be eligible for for military, senior, and residency deals depending on the cruise line you are sailing with. Knowing this prior to booking is crucial, as you can take advantage of the lower rates! 
Carnival Cruise Line's website, for instance, states, "Everybody has the best vacation on a Carnival cruise… and that's extra-true for service members."
"We think it's so important to recognize the dedication of U.S. and Canadian military members and veterans, so we do it all cruise long! That's probably why Carnival sails more active and retired armed forces members than any other cruise line!"
We recommend researching your specific cruise line to check and see if you qualify for any discounts that can help lower the cost of your cruise vacation.  
Read more: Why do Florida residents receive cruise discounts?
Pick a weird length for a cruise
Image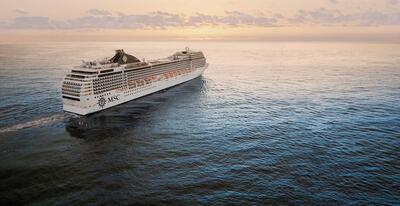 While 7-night cruises are some of the most popular, cruises of differing lengths can be cheaper, even if they are 8-nights!
7-nights is the perfect length for a family vacation, as it maximizes time spent together on the ship in between busy school and work schedules. That being said, 4-, 5-, 6-, and 8-night cruises are usually cheaper. 
You will often still have to take the same number of vacation days, which is one of the reasons they are priced less. If, for instance, a 5-night cruise begins on Monday, you will disembark that Saturday. Taking a 7-night cruise that sails from Saturday to Saturday gives you more time on the ship and requires the same amount of time off.