Norwegian Cruise Line was founded in 1966. Their first ship, Sunward, operated as a ferry between Southampton and Gibraltar and was a mere 8,666 tons. It was not until 1971 that they started operating cruise ships that lacked the ability to carry vehicles. 
Since their launch nearly sixty years ago, Norwegian Cruise Line has become a leading figure in the cruising industry. They, for instance, were the first cruise line to develop a private island, which is now known as Great Stirrup Cay in the Bahamas. 
Today, you will not find any 8,666 ton vessels operating for the cruise line. Instead, their ships range from 77,100 to 169,100 gross tons, offering passengers a variety of different experiences to choose from. The newer ships have onboard thrills that those sixty years ago would have never thought would be at sea, such as go-kart tracks, virtual reality arcades, water slides, and more. 
In comparison, older ships tend to have a more intimate feel and often visit destinations that are unable to accommodate the larger mega ships.
Whether you are a fan of the larger newer ships or older ones, you will be able to find one that is perfect for your next upcoming cruise with Norwegian's fleet of 19. 
Here is a list of Norwegian's ships by age from oldest to newest. 
Read more: Norwegian Cruise Line ships by size
What is the Norwegian Edge program?
Image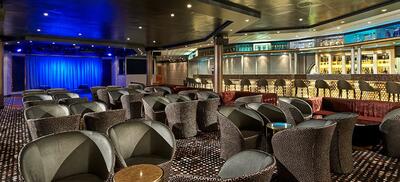 In 2015, Norwegian Cruise Line began refurbishing older ships, and in 2016, the officially announced the "Norwegian Edge" program. Over the course of the next two years, they spent $400 million on fleet wide refurbishments, making sure that all ships were in tip top shape. 
The first ship to be refreshed was Norwegian Epic in October 2015. She also got some brand-new venues, such as The Cavern Club.
The Norwegian Edge program means that no matter what ship you sail on, you will be able to experience sleek and modern amenities throughout the ship. 
Read more: Norwegian Cruise Line Tips & Tricks
Norwegian Spirit (1998) 
Image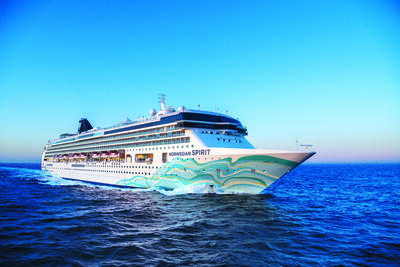 Norwegian Spirit is the cruise line's oldest operating vessel. She, however, did not originally enter service as a Norwegian ship. The ship was built for Star Cruises and sailed as SuperStar Leo from 1998 until 2004, which is when she was transferred to Norwegian Cruise Line. 
In January 2020, Norwegian Spirit underwent a $100 million renovation that took 43 days, receiving new hull art, six new restaurants, seven new bars and lounges, and revitalized public areas, as well as updated staterooms.
Norwegian Sky (1999)
Image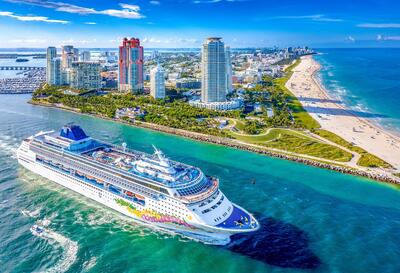 Norwegian Sky embarked on her maiden on August 6, 1999, sailing from the United Kingdom to Norway. 
In 2004, Norwegian Sky was refitted and sailed as Pride of Aloha for four years, as Pride of America was damaged by a storm during construction and was unable to be launched on time. She sailed as Pride of Aloha for four years. 
Norwegian Sun (2001)
Image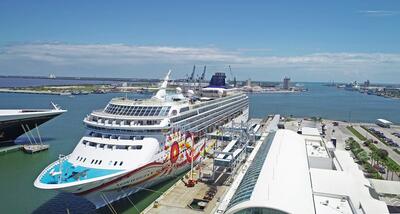 Norwegian Sun entered service in 2001. In 2018, she underwent major refurbishments as part of the Norwegian Edge initiative. Over the course of three weeks, she was refreshed from bow-to-sterns and even got three new dining venues: Los Lobos Cantina, Bliss Ultra Lounge, and Spinnaker Lounge. 
Read more: 10 Things I loved and hated about Norwegian Sun cruise ship
Norwegian Star (2001)
Image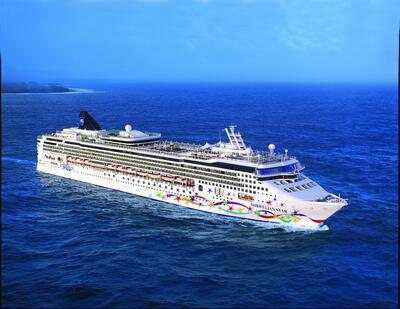 Two months after Norwegian Sun embarked on her maiden voyage, Norwegian Star entered service. She officially set sail on November 19, 2001. 
Fun fact: when she was initially built, there was no casino onboard! It was not until 2005 that she received a 10,000 square foot casino addition. 
Norwegian Dawn (2002)
Image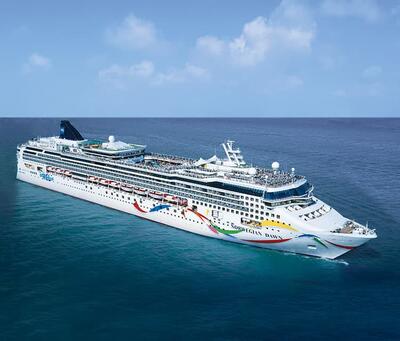 Norwegian Dawn, the second Dawn Class vessel following Norwegian Star, began sailing in December 2002. She was the first ship in the fleet to feature hull art, which is now a staple of the cruise line!
Both Dawn Class ships were originally ordered by the now defunct Star Cruises; however, they were transferred to Norwegian during construction. Norwegian Dawn's planned name was SuperStar Libra, while Norwegian Star's was SuperStar Scorpio. 
Pride of America (2005)
Image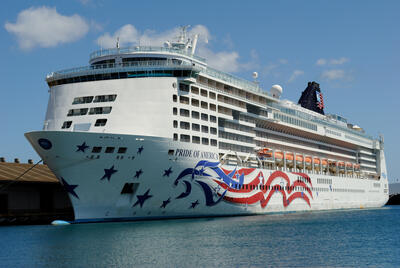 Like with a few other older Norwegian ships, Pride of America was not built for Norwegian Cruise Line. After American Classic Voyages filed for bankruptcy in 2001, construction on the ship was halted. Nearly one year later, Norwegian acquired the hull, which was around 40% complete. 
She was initially supposed to launch in 2004; however, the ship was damaged by a major storm at the Lloyd Werft shipyard. This is why Norwegian Sky operated out of Hawaii for a couple of years!
It would not be until June 2005 that Pride of America would begin sailing, just about four years after construction on the ship initially began.  
Today, she is the only cruise ship sailing the Hawaiian Islands year-round. 
Norwegian Jewel (2005)
Image
Norwegian Jewel, the first Jewel Class ship, entered service in December 2005. In 2018, she received refurbishments as part of the Norwegian Edge program. 
During her two-week renovation, a brand-new teens-only space called Entourage was added; the dining venues were updated; and she gained two new bars, as well as two Haven Deluxe Owner's Suites. Other public areas were refreshed, too, such as the Atrium, Main Pool, and Casino. 
Norwegian Jade (2006)
Image
One year after the launch of Norwegian Jewel, her first sister-ship, Norwegian Jade, began sailing. 
She, however, did not enter service at Norwegian Jade. She was initially named Pride of Hawaii and was the third in a series of United States flagged vessels operated by Norwegian specifically for the Hawaii cruise market. 
That being said, she was intended to be a sister ship to Pride of America. Norwegian later decided to make the ship larger, and therefore more expensive, and designate her as a Jewel Class ship. 
In 2008, Pride of Hawaii was pulled from Hawaii and refit as Norwegian Jade. 
Norwegian Pearl (2006)
Image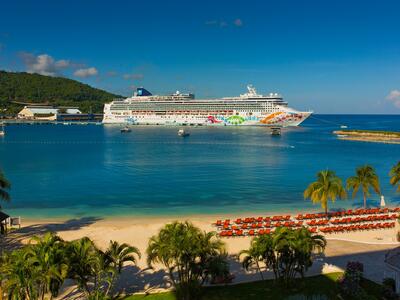 A third Jewel Class ship, Norwegian Pearl, embarked on her maiden voyage on December 2, 2006, sailing from Southampton to Miami, Florida. 
Over the course of her lifetime, she has been home to various themed cruises, including the KISS Kruise, Paramore's three-night "Parahoy!" cruise, Kesha's Weird and Wonderful Rainbow Ride, and  Chris Jericho's Rock 'N' Wrestling Rager at Sea. 
Norwegian Gem (2007)
Image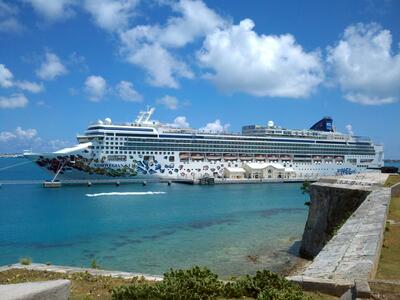 Norwegian Gem was the last new cruises ship for Norwegian Cruise Line for three years. She began sailing in December 2007. Additionally, she was the last Jewel Class ship ever built for Norwegian. 
Following Norwegian Epic, Norwegian Gem was the second ship to undergo the cruise line's Norwegian Edge initiative. During her dry dock, the interior of the ship was refurbished and modernized. She also got new pool furniture, as well as digital signage and way finding technology. 
Norwegian Epic (2010)
Image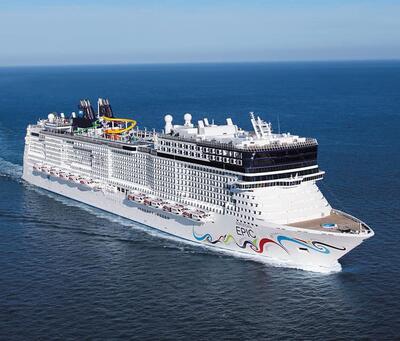 Norwegian Epic is one-of-a-kind, truly. She is the only ship in the cruise line's Epic Class. Plus, when she was finished in 2010, she was the third largest cruise ship in the world!
One interesting thing to be aware of before booking a cruise onboard Norwegian Epic is that her stateroom layouts are quite unique, as there is no "bathroom" per se. The shower is located in the stateroom, meaning that you will step directly into it from the cabin without having to enter a separate room. 
Likewise, the sink is also in the open and is located next to the desk. 
Norwegian Breakaway (2013)
Image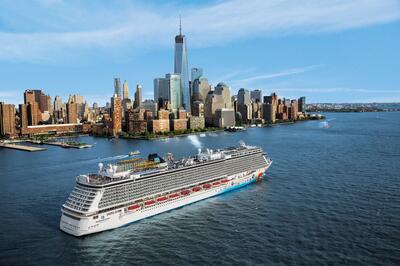 Norwegian Breakaway was the first of her class and made her debut in April 2013. As the hull art is based off of New York City, it is fitting that the ship's godmothers are The Rockettes. 
Today, many cruise ships across various mainstream lines feature water slides for guests to enjoy; however, this was not the case before 2013! When launched, Norwegian Breakaway was the first cruise ship in the world to feature a water park at sea. 
Norwegian Getaway (2014)
Image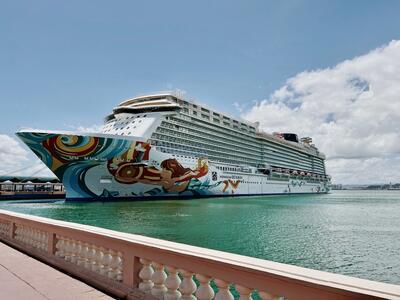 Norwegian Getaway is the second ship in the cruise line's Breakaway Class, and she entered service in February 2014. Other than their theme, both Norwegian Getaway and Breakaway are relatively similar. 
While Norwegian Breakaway was designed after New York, Norwegian Getaway's was based off of Miami. When she was built, she initially featured a restaurant called Flamingo Bar & Grill, which served Latin American inspired cuisine. It, however, has since been replaced with a specialty venue.
Norwegian Escape (2015)
Image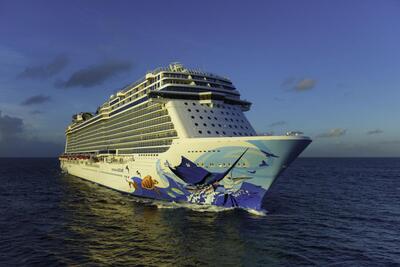 Technically, Norwegian Escape is part of the Breakaway Plus subclass of the Breakaway Class. In other words, she varies from her two younger sisters. 
Being part of a subclass essentially means that the ship is an enhanced version of the original ship. In this case, Norwegian Escape is a bit larger in that she measures about 20,000 more gross tons than Norwegian Breakaway.
She is Norwegian's oldest ship that has yet to receive any kind of major refurbishments. 
Norwegian Joy (2017)
Image
Norwegian Joy was originally built for an Asian market; however, the ship was pulled and re-deployed to the Americas after just two years. In order to prepare for this transition, Norwegian Cruise Line spent $50 million refurbishing her, as she was built with accommodations, dining options, and onboard features that were designed to cater to the Asian market. 
In 2019, she began sailing from Seattle to Alaska. After the season ended, she sailed to the Mexican Riviera from Los Angeles. 
When the ship launched, she was the first to feature a go-kart race track at sea!
Norwegian Bliss (2018)
Image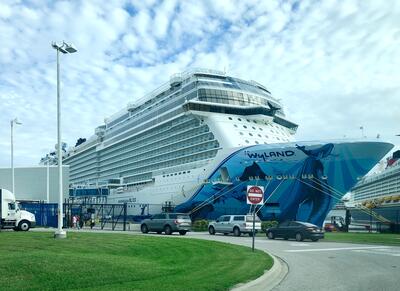 Norwegian Bliss set sail on her maiden voyage on June 2, 2018. That same year, she made history as the largest passenger ship to ever sail through the Panama Canal, as she was being repositioned from Seattle to New York. 
You will not be bored while onboard, that is for sure! You have your pick between go-kart racing tracks, bowling, laser tag, mini-golf, aqua park, and more. 
Read more: I stayed in a $1,700 stateroom on Norwegian Bliss — see what my room on this new cruise ship looked like
Norwegian Encore (2019)
Image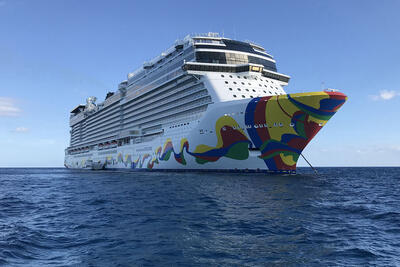 If you are hoping to sail on Norwegian's largest ship, look no further than Norwegian Encore! The ship measures just a little over 169,000 gross registered tons and is 1,094 feet long. She is also relatively new, too, as she has only been in service since November 2, 2019. 
This was the last Breakaway Plus subclass ship to be constructed, meaning that Norwegian is shifting gears towards their new Prima Class to deliver a new experience to guests. 
Read more: 10 Things I loved and hated about the Norwegian Encore ship
Norwegian Prima (2022)
Image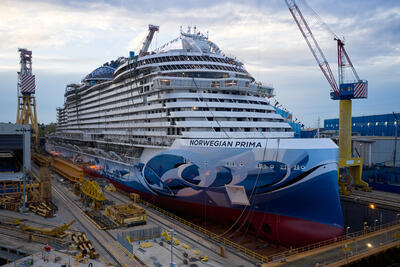 When Norwegian Prima set sail in 2022, it was the first new class of ship launched by Norwegian since the Breakaway Class in 2013. While the ship is smaller than Norwegian Encore, she is certainly unlike any other Norwegian ship. 
Want to ride the largest go-kart track at sea? It is onboard Norwegian Prima! What about play interactive mini-golf? That is here, too! There is also a 10-story dry slide onboard that set a world record, as it is the only free-fall dry slide to reach G-forces higher than an F1 race car-- it is not for the faint of heart!
Read more: Top 10 Cool Things about Norwegian Prima
Norwegian Viva (2023)
Image
When she launches in August 2023, Norwegian Viva will be the second Prima Class ship at sea. Her inaugural season is scheduled to commence in Europe; however, she will cross the Atlantic Ocean and begin sailing to the Caribbean later in the winter!
When completed, she will be 142,500 gross registered tons, 965 feet long, and have the ability to accommodate 3,219 passengers at double occupancy. 
Finally, there are four unnamed ships expected to enter service between 2025 and 2028, all of which are Prima Class ships. This means that by 2028, there will be six Prima Class vessels at sea throughout the world.