The third ship in Norwegian's Prima Class will set sail in April 2025. Dubbed "Norwegian Aqua," this brand-new vessel will be unlike other ships in her class.
At 1,056 feet long and 156,300 gross registered tons, she will be about 10% larger than Norwegian Prima and Norwegian Viva, which both come in around 965 feet long and 142,500 gross registered tons. 
Despite being larger than the two other Prima Class ships, Norwegian Aqua won't be the largest ship in Norwegian's fleet. This title is currently held by the 169,116 gross registered ton Norwegian Encore. 
Image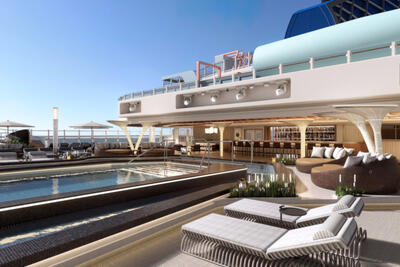 Norwegian Aqua is a true testament of fusing together what represents the future of our Brand as the first ship in the Prima Plus Class, and our commitment to pushing the boundaries in guest-first experiences that will make new waves at sea," said David J. Herrera, President of Norwegian Cruise Line.
"Named for both the beautiful shades of blue from the ocean and our connection to the sea, Norwegian Aqua will feature new, elevated and exhilarating offerings that once again showcase NCL as the innovator in the industry and as a key contributor to a new era of cruising."
What's new onboard Norwegian Aqua?
Image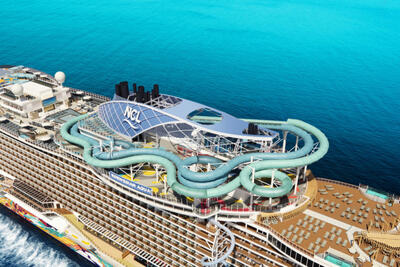 The Aqua Slidecoaster will be the world's first hybrid rollercoaster and waterslide and will take the place of the go-kart race track found on other Prima Class ships. 
The three-story attraction will twist around the ship's funnel on the top deck. The dual slides will have a magnetic life that will propel guests through two different courses. 
Another brand-new feature that will only be found on Norwegian Aqua is the Glow Court, a high-tech LED sports floor that's engineered for immersive play. At night, the space will transform into a nightclub. 
Read more: Norwegian Cruise Line ships by size
Image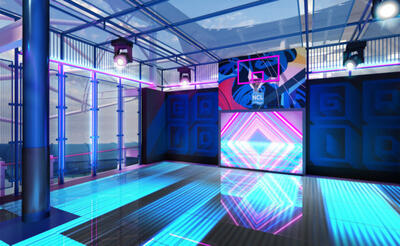 If you're seeking spacious accommodations, look no further than Norwegian Aqua's Three-Bedroom Duplex Haven Suites. 
The four two-story suites will feature separate living and dining areas; three bedrooms and bathrooms; and a large balcony. 
Image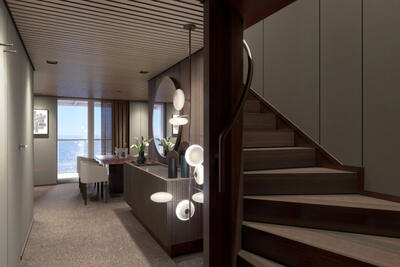 In addition to this brand-new suite, The Haven on Norwegian Aqua will be the largest Haven complex in their fleet, with 123 luxurious suites for guests to choose from. 
Those staying within The Haven will have access to an expansive sundeck with a serene infinity pool that overlooks the ship's stern, as well as an outdoor spa with a glass-walled sauna and cold room, two hot tubs, and a private lounge and bar.  
Passengers traveling alone will appreciate the expanded solo stateroom categories, which include solo inside, solo oceanview, and solo balcony options. 
Returning attractions
Image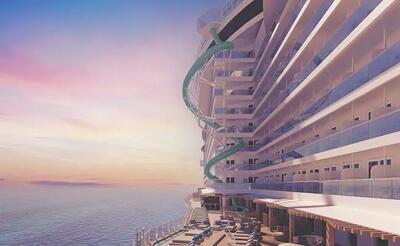 Of course, some fan favorites will be returning, such as The Drop, a 10-story free-fall slide that made its debut on Norwegian Prima, as well as the Stadium, an expanded game space that will offer complimentary activities. Note that the Drop will only feature a single slide, rather than a dueling pair. 
The Vibe Beach Club, an exclusive retreat for those 18+, will feature more lounge seating than on previous ships. Ocean Boulevard will be larger, too, and will be home to the glass bridge, Oceanwalk; Infinity Beach; and the open-air lounge, La Terrazza.
Splash Academy, Norwegian's youth club, will keep kids between the ages of 3 and 12 entertained, while teens between the ages of 13 and 17 will appreciate their own dedicated club at Entourage. 
Norwegian Cruise Line's first-ever major female hull artist
Image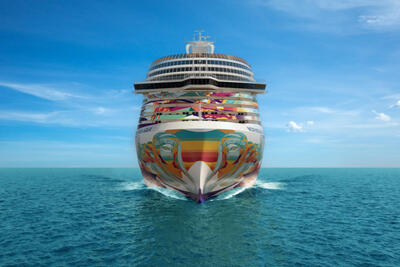 Allison Hueman, a world-renowned Filipino-American multidisciplinary artist known for her street art and global brand collaborations, is responsible for Norwegian Aqua's hull art design titled "Where the Sky Meets the Sea."
"I'm honored, not only to be the first major female hull artist for Norwegian Cruise Line, but to also know that my artwork will be roaming the seas touching different parts of the world," Hueman said. 
"It's incredibly special for me to partner with a brand that believes in the magical connection between art and exploration."
Read more: 9 Easy Norwegian Cruise Line Tips you should try (2024)
Where will Norwegian Aqua sail to?
Image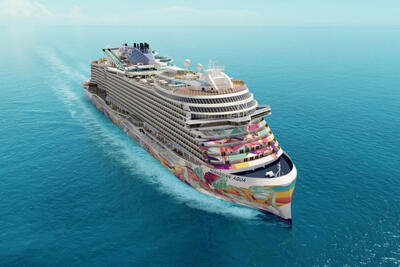 When she launches in April 2025, she'll conduct a series of 7-night Caribbean cruises from Port Canaveral (Orlando), Florida.  These cruises will visit Puerto Plata, Dominican Republic; St. Thomas; Tortola; and Great Stirrup Cay. 
Before that, though, guests may choose to sail on a 7-night transatlantic voyage from London (Southampton) to Boston that departs on March 28, 2025. There are two 4- and 5-night cruises to The Bahamas, as well.  
Between August and October 2025, she will sail from New York to Bermuda on 5- and 7-night voyages. 
Image
After those are completed, she will relocate to Miami, where she will make 5- and 7-night Eastern Caribbean sailings through April 2026. 
The second ship in Norwegian's Prima Class just launched
Image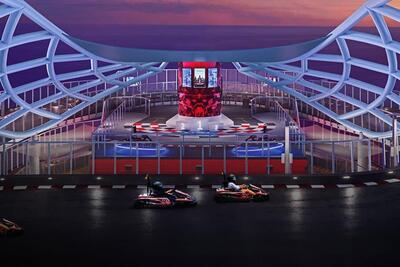 Norwegia Viva, the second installment in Norwegian's Prima Class, set sail on her maiden voyage in August 2023.  
She departed from Venice (Trieste), Italy on August 10 on a 9-night cruise through the Mediterranean visiting  Ibiza, Spain; Cannes, France; and Salerno, Italy before arriving in Lisbon, Portugal.
Onboard, you can find attractions including a go-kart race track measuring 1,400 feet and spanning three decks; Beetlejuice the Musical; and The Wave, the cruise line's first tidal wave waterslide. 
Read more: 58 Best Norwegian Cruise Line Tips, Tricks & Hacks (2023)