When you go to book a cruise, you will notice that the price is per person, rather than per night like standard hotels. 
This can lead to a bit of sticker shock. If the going rate for a balcony cabin is $1,000 per person, does that mean you will actually have to pay $4,000 for your family of four?
That price does not even include other miscellaneous things, like flights, pre-cruise hotels, shore excursions, and other cruise add-ons. 
Image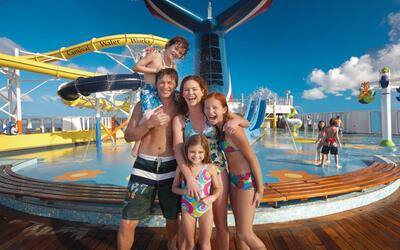 Some cruise lines offer "Kids Sail Free" deals throughout the year. While there's usually some sort of catch, such as blackout dates or itineraries, booking during one of these promotions can sometimes save you money! 
Rarely, though, are kids completely free on cruises. When a cruise line offers "Kids Sail Free," you will still have to pay the same taxes, port fees, and gratuities that the first and second guests in the cabin are subject to. 
Here's a rundown of how family cruise pricing works. 
Are kids free on cruises?
Image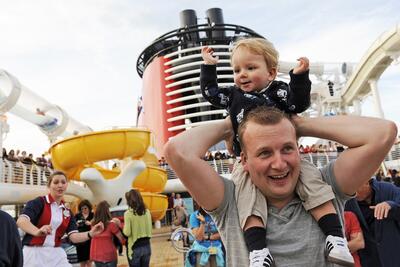 Typically, no. While the third and fourth passengers in a stateroom usually do not pay as much as the first and second, their fares are not free, even if they are under a certain age. 
When a cruise line does offer a "Kids Sail Free" promotion, it is not indefinite, either. Once the deal expires, there is no way of knowing when it will be offered again. The discounted fares tend to only apply to third and fourth passengers, meaning that if you are a single parent with two children, you will have to pay the full rate for one of them.
This also means that you cannot expect to book two staterooms. To take advantage of any "Kids Sail Free" deal, you will have to share one room (and bathroom) with your family. 
Image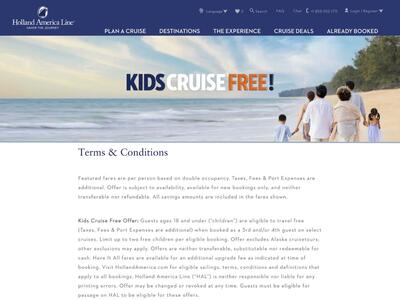 The age can also vary. A recent Holland America Line promotion read, "Guests ages 18 and under ("children") are eligible to travel free (Taxes, Fees & Port Expenses are additional) when booked as a 3rd and/or 4th guest on select cruises. Limit up to two free children per eligible booking."
In comparison, Royal Caribbean tends to limit their "Kids Sail Free" deal to guests 12 and under. This makes sense, as there are far more children sailing with Royal Caribbean than Holland America Line, so they would be giving out more free fares if they increased the age to 17 or 18. 
What's the difference between standard hotels, all-inclusive resorts, and cruises?
Image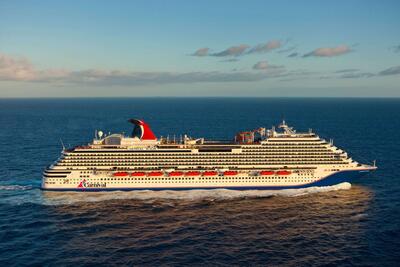 When you book a hotel, rarely is it the actual destination. Your meals, entertainment, and activities will take place elsewhere. This means that you will have to factor those costs into your vacation budget, as the nightly rate for the hotel will not include much else. 
All-inclusive resorts are larger than regular hotels. There are multiple bars and restaurants on-site, as well as different activities. There might be a kids' club, theater, water park, etc. Plus, all of your meals and drinks are included. 
Cruises fall in between hotels and all-inclusive resorts. Included in your base fare are select beverages, unlimited food at certain dining venues, entertainment, accommodations, and transportation between ports of call. There are things that you might want to pay extra for, like drink packages, internet, specialty restaurants, and shore excursions, that aren't included. 
Image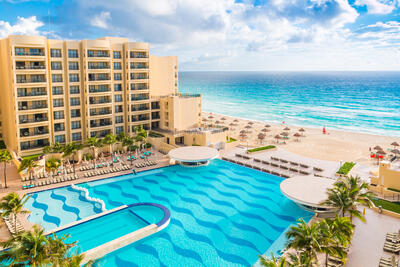 Unless you plan on doing a lot of extra spending, you can likely have your vacation paid for by the time your cruise rolls around, especially if you take advantage of pre-cruise sales through your line's online portal. After you place your deposit, you will be able to book add-ons. 
This is not the case with traditional vacations, as you will have to pay for the bulk of your meals and entertainment during the actual trip. 
Read more: Are cruises all inclusive?
How to save money on a family cruise
Image
As mentioned earlier, the cruise fare for third and fourth passengers in any stateroom tends to be lower than what the first and second guests pay. While some standard rooms can fit five guests, you should be prepared to book a suite if you have a larger family and want everyone in the same cabin. 
Even if there's not an ongoing "Kids Sail Free" promotion, booking a single cabin for your upcoming family cruise is one way to guarantee that you will pay less than if you were to book two adjoining rooms.  
A 7-night sailing onboard Carnival Magic in July 2024 is listed as starting at $1,199 per person for a balcony. If, however, I change the number of occupants to four, the latter two passengers only pay $319 and $419, making the total price come out to $3,725.64. 
Image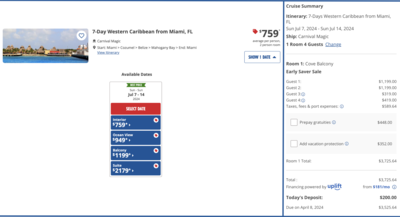 The cheapest times to book a cruise are either when future itineraries are first released or during the wave season months of January, February, and March. During wave season, you might find that your preferred cruise line is offering certain extras, like free upgrades, prepaid gratuities, or onboard credit. These perks can help to stretch your vacation budget even further. 
If possible, you should also consider sailing during the shoulder season. If you cruise over spring break or during the peak of the summer, you will pay more than you would taking the exact same cruise in February or October. 
Are there any onboard discounts for kids?
Image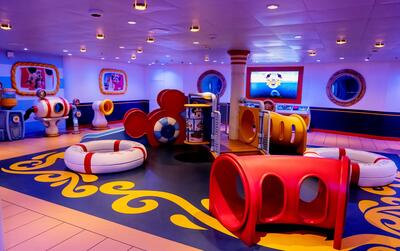 Thankfully, your base fare includes a lot. You will not have to worry about signing for dinner each night or paying for the breakfast buffet. Youth programming is included, too. While you enjoy some much-needed alone time, your kids will be well taken care of for no extra charge! 
Depending on the age, though, you may have to pay for infant babysitting. Some cruise lines, including Carnival, also charge for late-night services. 
To take advantage of their "Night Owls" program, you will have to be willing to pay a nominal fee. It, however, will ensure that guests between the ages of 6 months and 11 years will have fun with others their age until as late as 1:00am! 
Image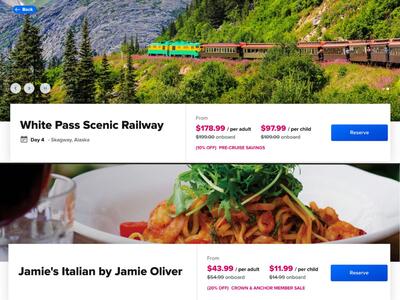 When it comes to cruise add-ons, you often will not have to pay as much as the advertised adult rate. Specialty dining, for instance, tends to be cheaper for children. 
When looking at the Cruise Planner for my Alaska cruise on Royal Caribbean's Quantum of the Seas, the standard adult rate for dinner at Jamie's Italian by Jamie Oliver is $54.99, while the onboard price for children is $14.99. 
Shore excursions are often less for kids, too. The onboard price for the White Pass Scenic Railway for adults is $199. The price for children is only $109. 
There's usually a minimum age requirement to sail
Image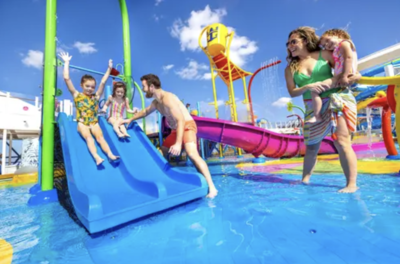 Depending on your itinerary, your child will either have to be six months or one year old to be able to sail. 
According to Disney Cruise Line's website, "The minimum age requirement for infants to sail varies depending on the type of cruise and when the reservation was booked."
"For most itineraries, the minimum age to sail is 6 months at time of embarkation. For the South Pacific, Transatlantic, Hawaii and Panama Canal repositioning cruises, the minimum age to sail is one year old at the time of embarkation."
Image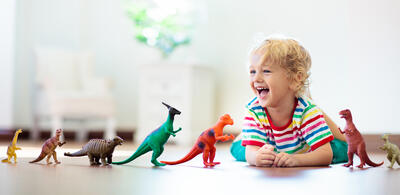 Royal Caribbean has a similar policy: "Infants sailing on a cruise must be at least 6 months old as of the first day of the cruise and/or CruiseTour. HOWEVER: For transatlantic, transpacific, Hawaii, select South American and other selected cruises and/or CruiseTours, the infant must be at least 12 months old as of the first day of the cruise/CruiseTour."
"For the purposes of this policy, any cruise that has 3 or more days consecutive at sea will require infants to be 12 months old on the first day of the cruise/CruiseTour."