Are you looking to take your family on a cruise this year? There are currently lots of promotions to help make a cruise vacation more affordable. 
A couple of the top cruise lines are currently offering Kids Sail Free sales as well as other deals to help save you money. 
While some cruise lines don't offer specific discounts for kids, they have other promotions that can help stretch your budget even further, with third and fourth guests sailing free. Complimentary wi-fi and extra onboard credit are always welcome benefits for any cruiser. 
To help you figure out what's best for your cruise vacation, we have broken down the best deals by cruise line and what makes them an excellent choice for your family. 
MSC Cruises Kids Sail Free deals
Image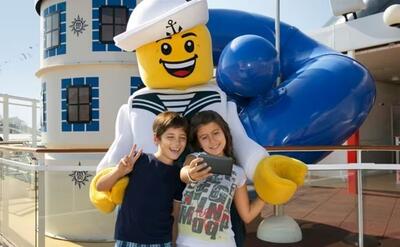 One of the best advantages of sailing with MSC Cruises is their Kids Sail Free program, which runs all year long. Price can be a make it or break it factor for many families, and this promotion helps make cruising more affordable regardless of when you cruise.
How does it work? Children under 18 travel for free as long as they are in the same cabin as their parents. Port taxes, registration costs, insurance, flights, and transfers are extra. MSC Yacht Club staterooms are excluded from this program, though. 
In addition, the European cruise line has a number of other promotions, such as free wi-fi, drinks and up to $200 of onboard credit, all of which can make a family cruise even more affordable.
Why choose MSC Cruises for a family cruise?
Image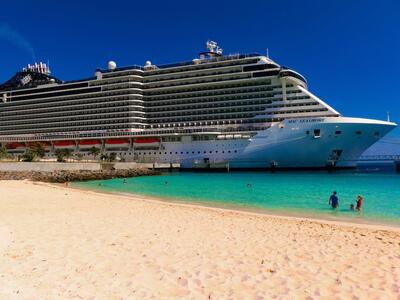 MSC Cruises is known for its signature European flair and sailing all over the world. However, some may be surprised to know that they are also a great option for a family cruise and have numerous sailings within North America. 
Onboard kids will love all the activities, including waterparks, slides, plenty of sports, and complimentary kids' clubs. An F1 simulator, bowling, VR Maze, video games, and 4D Cinema are some of the cool things to do, although an extra fee applies to some activities. 
Whether you have a picky toddler or a starving teenager, MSC has it covered with a wide range of buffets, main dining, and specialty options. Buffets have a dedicated Kids' Corner with a variety of foods, including pasta, daily specials, healthy choices, Mediterranean dining, international cruise, and desserts. There are even food selections for 6-12 months old. MSC caters to various diet requirements, including vegetarian and gluten-free.
Royal Caribbean Kids Sail Free deals 
Image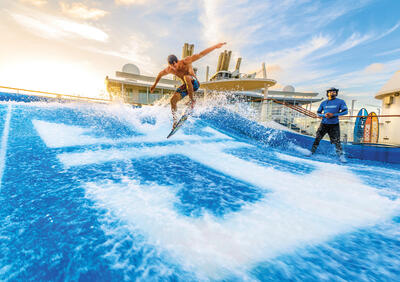 Royal Caribbean is well known for being a fantastic cruise line for families, offering numerous promotions throughout the year. Just in time for spring break, they are currently running a Kids Sail Free event.  
Unlike MSC, this only applies to kids 12 or younger, and they will still need to pay for taxes, port fees, and any extra onboard charges. There are some blackout dates, which unfortunately correspond to several school holiday breaks in the United States. 
Another option to get around those pesky blackout dates, is to look for a general cruise fare discount. Currently, Royal Caribbean has a 30% off every guest promotion. This applies to new bookings made between March 1 – April 2, 2023, on sailings departing on or after April 1, 2023. This can also be helpful if your kids are older than 12 and would not qualify for the kid's discount. 
Why choose Royal Caribbean for a family cruise?
Image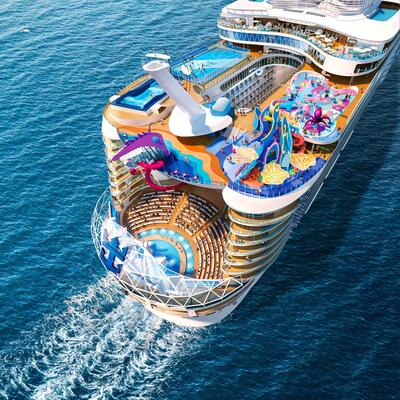 Royal Caribbean has some of the biggest ships in the world, making it the perfect option for families wanting a wide selection of amenities and affordability. Its Oasis class ships, in particular, have tons of thrills onboard with high-energy activities such as rock climbing, ziplining, ice skating, and plenty of sports. Waterparks and epic slides are part of the Royal experience, such as the Ultimate Abyss, the tallest slide at sea at 216 feet, spanning 10 decks. 
Younger kids can enjoy the complimentary kids' clubs, splash pads, or the fun-filled Boardwalk with a carousel. In the evening, they can watch movies, incredible diving shows at the aqua theatre, or renowned Broadway musicals and other live productions. 
The main dining room and buffet provide tons of choices and are great at accommodating differing palettes and dietary needs. Popular venues include Park Café and their famous roast beef sandwich, or pizza at Sorrento's. Always a good choice, hot dogs and hamburgers by the pool, topped off with self-service ice cream, definitely a teen favorite.
Holland America Kids Sail Free deals  
Image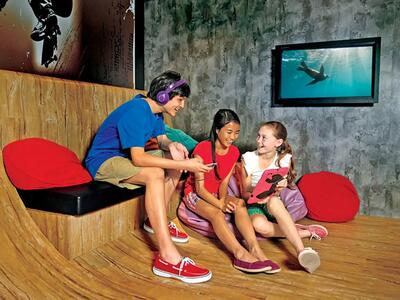 Holland America may not immediately spring to mind for family cruising, but the cruise line does offer some significant savings with their current Kids Cruise Free sale. Their current promotion applies to kids 18 and under on new bookings only. Taxes, fees, and port expenses are additional.
The cruise line invites families to sail to their extensive list of worldwide itineraries, including the Caribbean, Alaska, and Europe, to name a few. This deal applies to guests 18 and under on select 2023-24 voyages.
In addition, the cruise line is currently running a promotion of up to 30% off fares, a balcony upgrade, and $400 in onboard credit. 
Why choose Holland America for a family cruise?
Image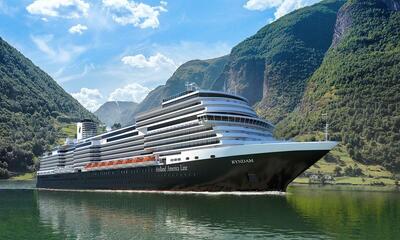 Originally a Dutch company, it is now part of the Carnival family and continues to grow with the launch of the MS Rotterdam in 2021. Holland America sails throughout the world from Antarctica to Asia, offering over 500 itineraries, ideal for families who want to travel to somewhere more exotic. They are known for their immersive experiences for those families who wish to learn more about where they are visiting through food, culture, and excursions. 
Holland America Line's youth activities program, Club HAL, offers an array of entertaining events for kids and teens ages 3-17, supervised by a full-time, professionally trained staff.  Onboard they can join other kids their age for arts and crafts, sports, video game competitions, scavenger hunts, challenging team games, and themed parties.
Holland America has dining options to suit everyone. Families can enjoy their world-class cuisine, but they also have kid-friendly dining at onboard restaurants; kids can enjoy mac and cheese, pizza, and more from our kids' menu or order half portions from the main menu to discover new dishes.
Norwegian Cruise Line Deals and promotions 
Image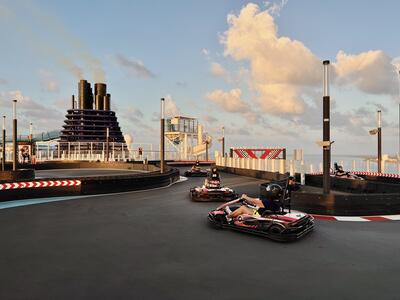 Norwegian Cruise Line has a dizzying array of promotions going on right now. While not technically Kids Sail Free programs, they provide serious discounts for additional guests sailing in a cabin. Savings that families will love.
The cruise line is currently offering a promotion for third and fourth guests to either sail free or pay $99 per guest, and no deposit depending upon the category and itinerary. This applies when the first two guests are paying full fare and varies and applies to select sailings. 
For smaller families, their Free 2ND Guest deal might be of assistance. Unfortunately, this does not apply to sailings of 3 nights or shorter. Other current promotions include unlimited drinks, free specialty dining, wi-fi, excursions, and airfare. Families looking for the best deal may want to seek out a good travel agent to figure out which promotion offers the most savings. 
Why choose Norwegian Cruise Line for a family cruise? 
Image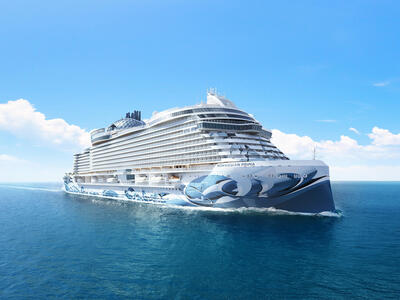 With its growing fleet and wide range of activities and amenities, Norwegian Cruise Line lends itself to easy-going, relaxed family vacations, with a nice blend of activities and entertainment.  Whether it's a race around a speedway, g force slides, the ultimate ropes course, or engaging fun kids' clubs and sports; there is tons of fun to be had. Families can partake in classic game shows like the Price is Right, or try the Galaxy Pavilion, a high-tech games venue that looks like something from the future.
One great feature for families is Norwegian's flexible dining philosophy; you show up when you want. This appeals to many guests who don't want to be tied to dining schedules. Coupled with casual dress codes, this cruise line is made for relaxing.
Norwegian offers a bevy of dining options, including a buffet, a main dining room, and plenty of specialty options from classic pub food, to Japanese, Mexican, and lots of other options such as dinner theatre. Kids 12 and under eat free from the complimentary kids' menu at all specialty restaurants.
Carnival Cruise Line Deals and promotions
Image
Carnival does not currently run child-specific discounts; however, they have a number of promotions throughout the year that makes cruising more affordable for families. They also have some excellent value cruise fares. 
Current deals include up to 40% off select itineraries, along with $50 in onboard credit for sailings through June 2023. Their "more=merrier" promotion deal features a savings of $125 per room and a $25 deposit when there are three or more guests in a cabin. 
Lastly, Carnival has an Early Saver Bonus, which offers up to 40% off cruise fares, 50% off deposits, up to $50 in onboard credit, and a free cabin upgrade.
Why choose Carnival Cruise Line for a family cruise? 
Image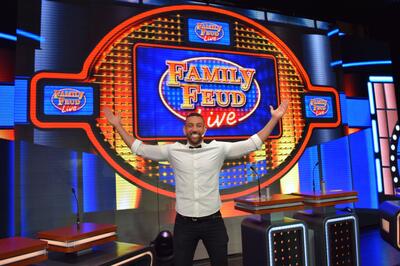 Carnival is best known for providing fun with affordability. They have a large fleet and tons of different ship options, and fantastic prices. Carnival lives up to its reputation for fun with numerous activities, including its BOLT rollercoaster, and plenty of sports activities. 
There are numerous onboard activities such as live productions, game show fun with Family Feud Live, a comedy club, dine-in movies, and deck parties. Cruisers won't go hungry with lots of dining choices, such as buffets to the main dining room. Their newest ship Carnival Celebration has 20+ dining options, something for everyone. They also have partnered with a number of high-profile celebrities to bring some unique venues. 
Favorites include Big Chicken, from the legendary basketball player, Shaquille O' Neal, Carnival's Chief Fun Officer. Also adding some tasty options, is well as known tv host Guy Fieri who has a couple of inclusive and specialty restaurants across the fleet. Kids and families also love 24 hour a day Pizza Delivery or enjoy the whimsical Green Eggs and Ham Breakfast.
Disney Cruise Line Deals and promotions
Image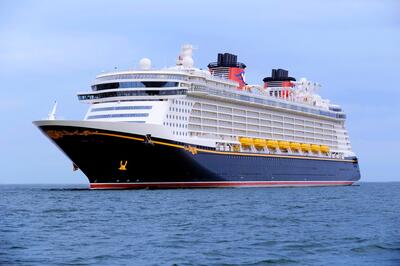 Disney Cruise Line is not well known for having sales on its cruise fares, which tend to be at a premium price. However, they currently have a few discounts running, including: 
•    Up to 35% off select sailings, including summer European and transatlantic cruises onboard the Disney Dream.
•    Sailings on the Disney Fantasy to the Caribbean and Bermuda 
•    Up to 30% off sailings on the Disney Wonder to Alaska in May of 2023. 
They also have some resident specific deals that include up to 35% off for Canadian and Florida residents on select itineraries on the Disney Dream, Wonder, and Fantasy. 
Disney previously had a promotion for Disney Plus subscribers whereby 3rd and 4th guests sailed free, but this is no longer available. This is something to keep an eye on in the future, as the entertainment corporation has offered some nice perks to those who subscribe to their streaming service. 
Why choose Disney Cruise Line for a family cruise? 
Image
Disney Cruise Line is somewhat of an obvious pick for families. Whether you want to hang out with a princess, venture to a world far away, partake in a Marvel adventure, or be a pirate for a night, there is oodles of fun. The cruise line has upped its game with the recent introduction of its newest ship, Disney Wish.
Onboard, even the littlest of guests will have plenty to do. Complimentary kids' clubs offer an immense variety of activities and give kids a chance to hang out and enjoy age-appropriate activities. Other fun activities include waterslides, character meet and greets, and live productions of Disney favorites like the Little Mermaid. Relax and watch Disney movies, including favorites such as Disney, Pixar, Marvel, Lucasfilm, and more.
They have a wide variety of dining options, including their rotational dining options, which allow guests to visit three different themed dining venues while onboard. Disney ships also feature a dinner theatre, quick service options, and buffets to satisfy even the pickiest eaters. Another bonus while sailing with Disney, soda is included in the price of the cruise fare.
Princess Cruises Deals and promotions 
Image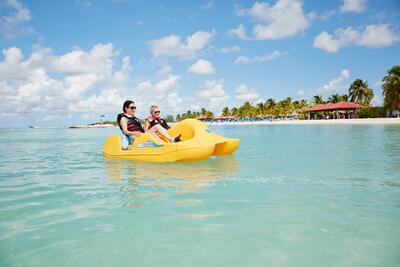 The cruise line made famous by the popular 1980s hit show, the Love Boat, is much more than a ship for couples and romance. Princess Cruises welcomes families wanting to explore their extensive international itineraries; they offer some exclusive programming. In particular, the complimentary kids club is well done. 
For cruisers hoping to get away soon, Princess Cruises currently offers up to 40% off cruise fares. This applies to numerous destinations worldwide, including the Caribbean, Europe, and Alaska. Even better news, only a $100 deposit is required (per person) when booking. 
This discount cannot be applied in conjunction with other promotions and is eligible for select categories and sailings. 
Why choose Princess Cruises for a family cruise? 
Image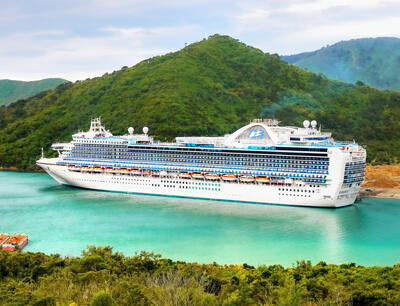 They offer specialized programming through their partnership with Discovery, and Animal Planet, with many unique programs and excursions. They even bring local animals onboard with their Puppies in the Piazza on Alaska cruises and Parrots in the Piazza in the Caribbean. Other activities include exploring the skies in an indoor planetarium with real-time views of planets, stars, and galaxies.
Princess offers its guests a lot of flexibility while enjoying its superb cuisine. Dine My Way is about personalizing your cruise dining experience, allowing guests to make unique dining reservations each day. 
They even have next-level food delivery, with OceanNow, its onboard technology that lets you order food and drinks for delivery wherever you are on the ship, making these easy for families.