One of the largest mainstream cruise lines in the world is Royal Caribbean, and they are known for their ships that are packed full of WOW factors and onboard thrills, from surfing and skydiving simulators to ice skating rinks, zip lines, rock walls, waterslides, and jaw-dropping Broadway-style musicals. 
Despite the cruise line's name, their fleet of 26 ships sail all over the world. You can take an exotic cruise to the Southern Caribbean, spend an action-packed week in Alaska, or take in all the culturally significant sights in Europe. If you'd rather enjoy everything their ships have to offer, consider a longer transatlantic or transpacific voyage that has multiple days at sea. In short, there's the perfect Royal Caribbean itinerary for everyone. 
If you are sailing on a Royal Caribbean ship soon, there are plenty of first time cruise tips that you will want to know. Each cruise line has their own unique tidbits of information that will be helpful to know before boarding your ship to maximize your limited time onboard. You do not want to miss out on any of the experiences because you were not prepared!
Here's a list of 26 tips and tricks for Royal Caribbean in 2023!
Planning Tips & Tricks
1. Download the app
Image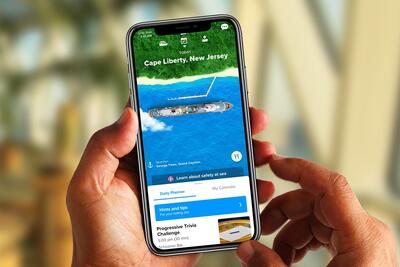 Royal Caribbean has started to rely heavily on its app for planning both pre-cruise and onboard experiences. You can check in using the app to make sure your embarkation day is a total breeze. The app also allows you to make reservations for shore excursions, shows, onboard experiences and activities, and specialty dining restaurants. 
Once onboard, you will find the daily schedule and cruise compass. The app also features a deck-by-deck map, restaurant menus, and plenty of resources that you will find useful each day, including the ability to keep track of your onboard spending account.
Plus, you can use the app to chat with other passengers onboard for free! They do not have to be in the same stateroom, either. To chat with anyone onboard, you can simply send them an invitation by inputting their full name. 
2. Book dining and beverage packages early
Image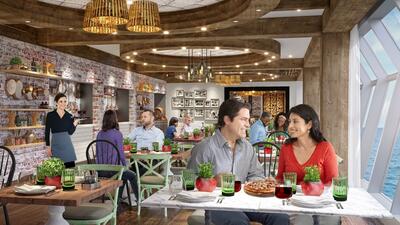 Royal Caribbean fans will tell you to book your dining and beverage packages early. Typically throughout the year, the cruise line will run sales that drop the price of the packages on the Cruise Planner. 
If you purchase a package and find that it lowers, you can always cancel your package and repurchase for the current price to ensure you have snagged the lowest available price. 
If you are able, try to book your dining and beverage packages before boarding. This ensures you lock in the lowest price, as you will find the prices to be higher once you step onboard.  
3. Know your loyalty benefits
Image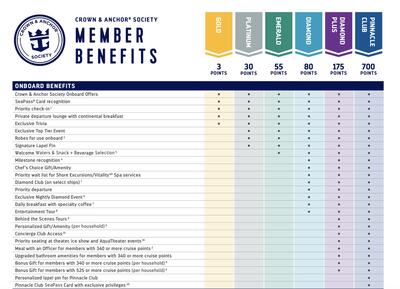 If you have cruised more than once with Royal Caribbean, you start earning points in their loyalty program. The more you cruise, the more points you'll accrue and the higher loyalty status you'll earn!
If you have Crown & Anchor status with Royal Caribbean, it is best to know the benefits that you will receive onboard and weigh your options when it comes to purchasing cruise add-ons, as higher tiers include dining and beverage benefits. 
Reaching the mid to top-tiers of the loyalty program will unlock exclusive onboard benefits. These include complimentary daily beverages valued up to $14, free internet days, onboard discounts, complimentary photos, and even buy one, get one (BOGO) specialty dining. 
4. Make reservations early
Image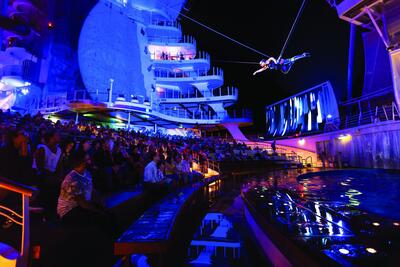 The sooner you can make reservations for your cruise, the better you will be. On some of the bigger ships, booking reservations early will be advantageous. You do not want to be stuck scrambling for a last-minute reservation or left disappointed that you were unable to see one of the shows or dine at one of the specialty restaurants that you were eyeing. 
This goes for shore excursions as well. You can cancel 48 hours before arriving at the port of call for free, so it is best to be safe and reserve your spot if you are thinking about a certain tour. You will find that if you wait to book yours at the last minute onboard, the most popular excursions are often sold out, especially the cabanas and waterpark at Royal Caribbean's Perfect Day at CocoCay. 
Note that sometimes you are unable to book activities and shows until boarding. Make time in your embarkation schedule to do this as early as possible. Even better, try to snag one of the earliest boarding times! 
5. If traveling far, arrive the night before your cruise.
Image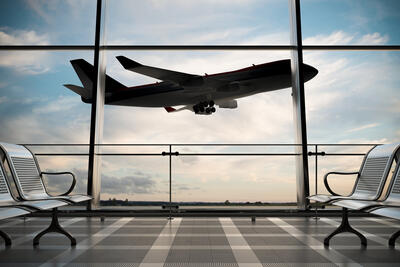 While this is not a trip exclusive to Royal Caribbean, it is a good practice for any cruise. If you do not live within driving distance of your cruise port and are planning on flying, you will want to make sure that you book your flight for at least the night before the ship is scheduled to depart.
It might mean that you'll have to take another day off of work or pay for one night at a hotel, but that is better than the alternative of missing the cruise. 
Read more: The costly cruising mistake newbies make planning their first cruise
6. Book early and reprice your cruise before final payment
Image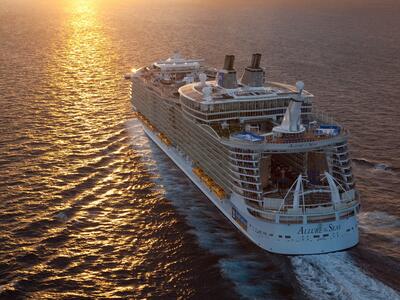 The best way to ensure that you get the lowest price for your cruise vacation is to book as early as possible and reprice often leading up to the final payment date. 
If you notice that the price has dropped, simply give Royal Caribbean a quick call. They will honor the lower pricing in either the form of an onboard credit (if you paid your sailing off in full before the final payment date) or on the total statement balance. 
Read more: 16 tips to not waste money on your first cruise
7. You can bring limited alcohol and soda onboard 
Image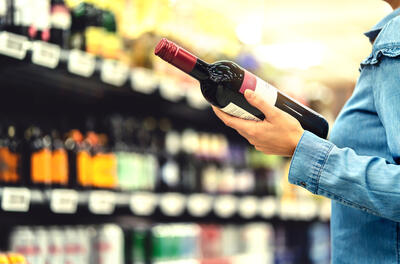 While you can't bring an entire mini-bar with you onboard, Royal Caribbean does allow guests to bring a limited amount of alcohol, soda, and water with them on embarkation day. 
Each passenger can bring one 750ml bottle of wine or champagne onboard with them, so long as they are of legal drinking age. Non-alcoholic beverages, may not exceed 12 standard (17 oz.) cans, bottles, or cartons per stateroom. 
We neither suggest nor recommend trying to sneak alcohol on a cruise, as the consequences can be dire. Royal Caribbean's website states, "Guests who violate any alcohol policies (...attempt to conceal alcoholic items at security and or luggage check points...), may be disembarked or not allowed to board, at their own expense, in accordance with our Guest Conduct Policy." 
While this most likely will not happen if you get caught, you will lose out on the money, time, and effort that you spent working to sneak alcohol onto the cruise. 
8. Before booking a drink package, make sure you debate whether it's a good value to you or not
Image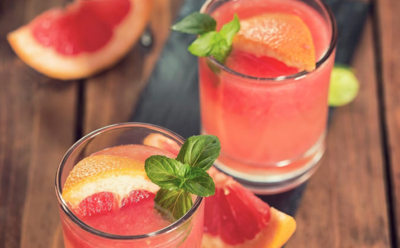 It is important to understand what's included with your base fare. As Royal Caribbean is not an all-inclusive line, you'll have a pretty limited amount of beverages to choose from, such as water, milk, tea, coffee (both regular and decaf), lemonade, iced tea, flavored waters, juices during breakfast, and hot chocolate. If you are craving tropical cocktails, a refreshing glass of soda, etc., a drink package might be worth the splurge. 
Royal Caribbean's Deluxe Beverage Package, the only alcoholic option, usually costs anywhere between $63 to $102 per person, per day, plus 18% for gratuities. It is just about all-inclusive, meaning that you can enjoy as many beverages as you want each day, even if all your drinks are made with top-shelf liquors.
For those under the legal drinking age or who do not frequently drink alcohol, there's the Royal Refreshment Package. This non-alcoholic package is more reasonably priced, ranging from $29 to $38 per person, per day. 
Finally, the Classic Soda Package costs around $12.99 to $15 per person, per day. By pre-planning, however, you can often score a much better deal on any of these packages. 
Image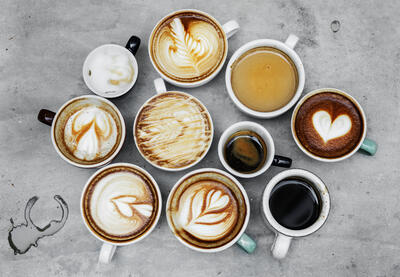 If you choose not to get a package, you will have to pay for each drink a la carte. Below are the prices that you can expect to pay if you'd rather order each drink individually:
Most cocktails are $13.00-$14.00, excluding the drink of the day. Each day, a new drink will be discounted, usually about 20%. 
The majority of liquors range from $9.99 to $13.99. New Amsterdam vodka, for instance, is $9.99, while Grey Goose is $13.99. 
Beer ranges from $7.49-$7.99. 
Hard ciders, like Angry Orchard and Strongbow, are $7.99. 
Trulys are $7.49 each. The available flavors may change, but we've frequently seen Lemonade and Wild Berry.
Glasses of wine vary greatly; however, most fall within the window of $8.00-$14.00 per glass.
Just like glasses of wine, expect there to be a wide range of pricing for bottles. Most cost between $29.00 and $58.00 each. 
Zero-proof cocktails are $7.00. 
Specialty coffees at Cafe Promenade and Cafe Latte-tudes are $4.00-$5.50. 
9. The advertised rate is less than what you're going to end up paying
Image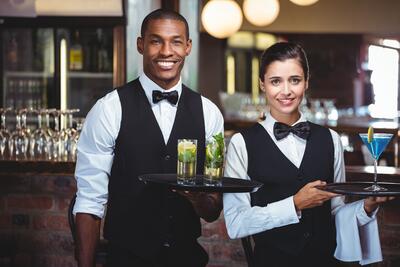 On Royal Caribbean's website, you may see a 7-night Caribbean cruise advertised for $450. While this may seem like a great deal, this price does not include port fees or gratuities. 
As of November 11, 2023, gratuities for all Royal Caribbean ships are $18.00 per person, per day for all guests staying in standard cabins (i.e., Junior Suites and below) and $20.50 per person, per day for all Suite guests. 
Read more: 10 do's and don'ts of cruise ship tipping
10. Make sure that you check in as soon as possible
Image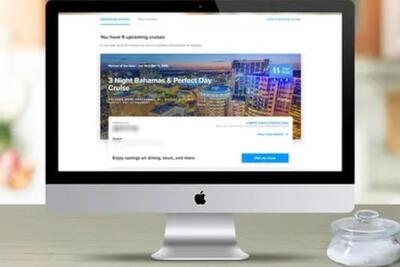 Do you want to be one of the first people onboard? If so, you'll want to check in for your cruise as soon as the online check-in opens. This will ensure that you will have the best choice of check-in times. 
If you wait, you may find that the only available times are later in the afternoon. It's best to get as much time onboard as you can! 
11. You can save a lot of money if your cruise during the off-season
Image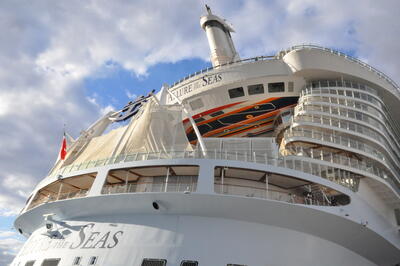 If you're looking to save money on your Royal Caribbean cruise, consider sailing during the off-season.  
Shoulder season cruises see less demand, so the cruise line is able to offer more competitive rates. You can save hundreds or even thousands of dollars by taking a Caribbean cruise in October rather than July. Similarly, May sees cheaper rates for Alaska than June and July.  
12. Read a Cruise Compass from a previous sailing
Image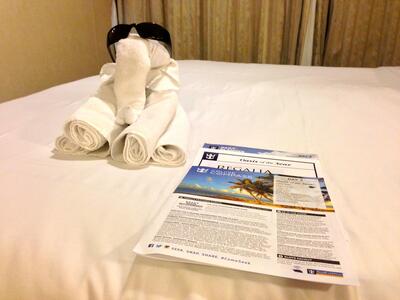 Want an idea of what's going on during your cruise? Google previous Cruise Compasses, which give a rundown of the daily schedule. 
Royal Caribbean doesn't publish Cruise Compasses ahead of time, and while offerings are subject to change, the best way to know what might be offered it to check previous Compasses. 
Onboard Trips & Tricks
1. Stock shareholders get onboard credit
Image
If you are into financial investing, consider adding RCL to your portfolio. Royal Caribbean shareholderscano receive onboard credit when they hold at least 100 shares of the cruise line.
Royal Caribbean's website defines that a shareholder is eligible if the cruiser holds at least 100 shares of RCL (NYSE: RCL) at the time of sailing. Cruises that are 5 nights or less will receive $50 per stateroom. Sailings that are 6 to 13 nights will receive $100 onboard credit. Finally, shareholders who are sailing for 14 or more nights will receive a $250 onboard credit. To receive your credit, cruisers need to complete the Shareholder Onboard Credit Offer Request and submit it 2-3 weeks before sailing. 
If two people sailing in the same stateroom each hold 100 shares of RCL, two credits will not be received. Only one shareholder credit per stateroom is valid on any one sailing. 
Note, too, that this is applicable on any eligible Royal Caribbean or Celebrity Cruises voyage. 
2. Utilize the concierge
Image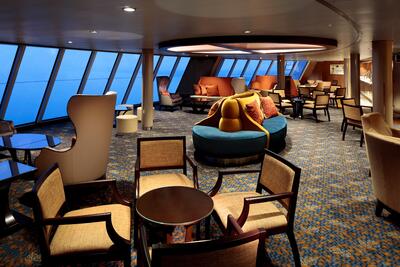 If you have access to the Diamond Lounge, Concierge Lounge, or Suite Lounge, feel free to utilize the lounge concierge. We have had many instances where the concierge has helped us make reservations, change an excursion, or even help snag us early tender tickets.
These employees are great resources if you need assistance while onboard. The concierge will usually go above and beyond to make sure you're happy and enjoy every second of your vacation!
3. Destinations make a difference
Image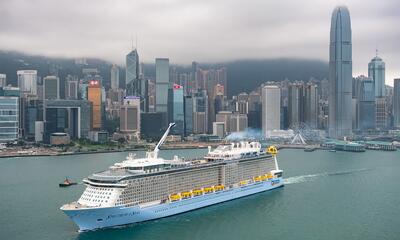 You can cruise on sister ships within Royal Caribbean's fleet and find that the onboard experience is vastly different. For example, I cruised on Spectrum of the Seas in July 2019 from Shanghai to Japan. This was unlike any Royal Caribbean experience we'd ever had!
Loyalty Benefits worked slightly differently, as Spectrum of the Seas was built to cater directly to the Asian market. Because of cultural differences, some of the onboard amenities were not free. For example, the North Star onboard Quantum-class ships is usually free for North American sailings on sea days. Overseas, this was an additional cost of $40 per person. Bumper Cars and iFly were also an extra expense on my Spectrum of the Seas sailing. 
Plus, the traditional Diamond Lounge with complimentary drinks was also located in a corner of the Solarium, which was unusual. As Diamond Plus members, we had access to special dining and an exclusive solarium.   
Similarly, if you cruise onboard an Oasis Class ship in the Caribbean vs Europe, the experience will be different, as the intent of the vacation is different! Those sailing to Europe are looking for enriching, one-of-a-kind experiences, while those on a Caribbean cruise are most likely looking to kick back, relax, and enjoy a few cocktails by the pool. 
4. Do the onboard thrills on embarkation day or when docked in port
Image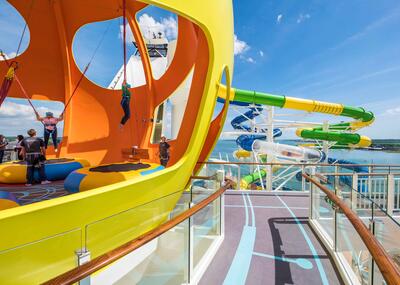 As Royal Caribbean builds bigger ships, there are so many onboard thrills to squeeze into your vacation, including water slides, skydiving and surfing simulators, Ultimate Abyss dry slides, ice skating and roller skating rinks, bumper cars, and zip lines. 
If you wait to do everything onboard when you have a sea day, be prepared to find plenty of other cruisers with the same idea. 
One of the best tips we received long ago was to do the onboard thrills on the first day of your cruise. Many people will be focused on getting settled onboard and figuring the ship out, saving these activities for later in the week. 
You'll also find shorter lines if you can fit in your activities on a port day, sometimes before or after departure. Check the cruise compass to see if you can find an off-time to enjoy the onboard amenities. 
5. Onboard packages work at Perfect Day at CocoCay
Image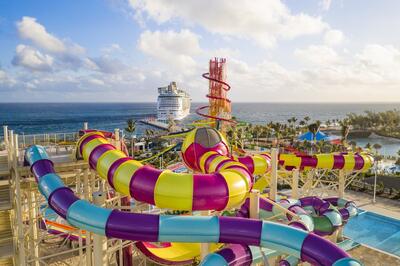 Plenty of sailings in the Caribbean and Bahamas will stop at Royal Caribbean's private island, Perfect Day at CocoCay. In fact, their sister brand Celebrity Cruises will begin sailing here in early 2024, too! 
If you've booked a drink package to enhance your onboard experience, you will find you can use your package while docked at CocoCay! With the package, you can sip on as many Coco Locos, the island's signature frozen drink, as you want and it will not cost you anything extra. 
In addition, Internet packages are also active while you're docked in CocoCay. This is a great benefit that you won't find in other ports while sailing. 
6. Go to the helipad 
Image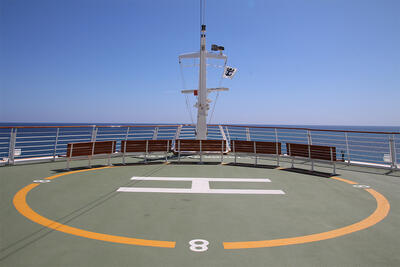 If you are cruising onboard a Radiance, Voyager, or Freedom Class ship, you absolutely cannot skip out on venturing up to the helipad. 
The helipad is located on the bow of the ship, and during sail away, Royal Caribbean permits guests to access to the helipad. You can usually access the helipad throughout the week, too, but it is dependent upon the weather conditions. Dress appropriately, as it can get pretty windy out there. 
Note that Oasis and Quantum Class ships do not have a helipad that's accessible to the public. 
7. How to snag a deal for a spa treatment
Image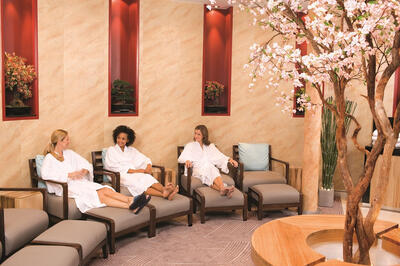 There is no denying that spa treatments onboard cruise ships are pretty pricey. If you are wanting to treat yourself, expect to drop a pretty penny or two!
The onboard spa, however, will usually offer deals throughout the cruise for lower-priced treatments. These are usually found for those that are early in the morning, late at night, or when the ship is docked at port.  
Once you board, you may even find that the spa is running a special for treatments on port days. These will not be advertised in the Cruise Planner prior to embarkation. Your best bet is to head to the spa when you board and periodically throughout the week. 
These are the times when other guests are unable or unwilling to go to the spa, so the prices for treatments tend to be better.
Dining Tips & Tricks
1. Eat lunch in specialty dining
Image
While there's nothing wrong with the food served in the ship's Main Dining Room, especially considering that it is already included in the paid cruise fare, specialty dining can be a nice change from the traditional dining experience. In these venues, you'll get an elevated and unique meal that's usually centered around a specific cuisine or cooking style. 
If you're on a budget, consider enjoying the specialty dining restaurants for lunch. The menu is very similar to dinner, but the cost is usually half what you'd spend at dinner. 
Image

You can also use your loyalty BOGO dining benefit for specialty lunches. We've found this to be a great deal, and it usually gives a more personalized experience with fewer cruisers choosing to enjoy specialty lunch dining. 
2. Johnny Rockets has free breakfast on Oasis Class ships
Image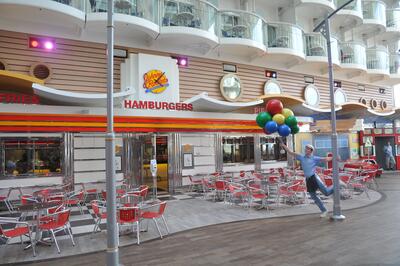 Johnny Rockets can be found on plenty of Royal Caribbean ships, including Voyager, Freedom, and Oasis class ships. When dining for lunch or dinner, you will have to pay a cover charge. The cost, however, does cover your entire meal, and it is much cheaper than other specialty restaurants. 
If you are sailing on Oasis Class ships, you can actually eat at Johnny Rockets for free during breakfast! Though it is a specialty restaurant, Johnny Rockets serves a classic American breakfast free of charge on Oasis, Allure, Harmony, Symphony, and Wonder of the Seas. This can offer a great option for breakfast to switch it up from the Windjammer or Main Dining Room each morning. 
You can order things like egg scrambles, breakfast sandwiches, pancakes, and even french toast!
3. Skip the buffet on embarkation day
Image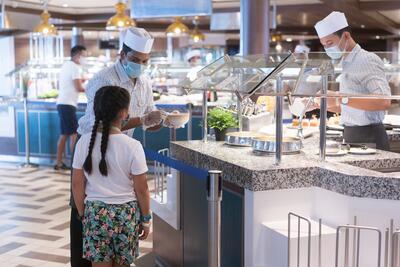 The first stop for many cruisers on the first day is, understandably, lunch, and the Windjammer Marketplace is usually the go-to spot. There are, however, alternatives that are far less crowded. Depending on your ship, these options may include Park Café, Café @ Two70, Cafe Promenade, and Sorrento's. 
You can even pay to dine at a specialty restaurant if you want to! This is a great option for those who want a relaxed embarkation day and do not want to carry around their bags. If you time it right, you will finish your meal right as the staterooms are ready!
Read more: Why you should eat dinner in the buffet
4. Speaking of the buffet, look for the cooking stations
Image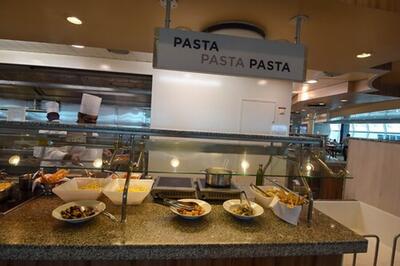 Compared to other cruise lines, Royal Caribbean doesn't have as many quick-service complimentary dining options. If you're in the mood for something fast and fresh, head to the Windjammer and look for their cooking stations. 
During breakfast, you can get a made-to-order omelet, whereas in the afternoon and evening, you'll find a rotating set of options. Dinner one night might consist of a pasta station, while the next has a stir-fry option!
5. You can view the dinner menu early
Image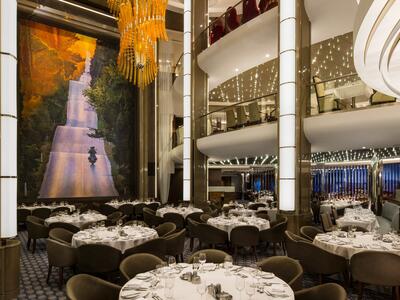 When Royal Caribbean started to add interactive screens onto each deck, we discovered that you could see the nightly Main Dining Room menu on the screens in the morning! For a while, you only could see the menu when you sat down each night at dinner, so this was a fun discovery.
The Royal Caribbean app also allows cruisers to see the nightly menus for the duration of the sailing. You can even view the menu before you board the ship!
Those considering specialty dining will enjoy this feature because it allows you to better curate your schedule to fit your dining needs.
You would hate to miss lobster night in the Main Dining Room (when it is included) by paying for lobster at a specialty restaurant! 
6. Taste of Royal lunch
Image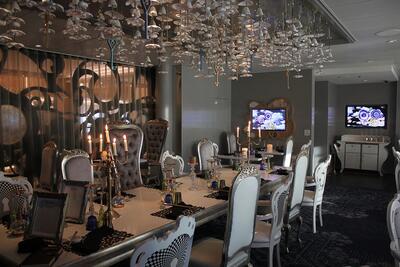 If you want to try a little of what Royal Caribbean specialty restaurants have to offer, look into the "Taste of Royal" lunch. 
You will get to try a signature cocktail and menu items from different specialty restaurants. Your cocktail may be unique to Hooked Seafood, while your first course may come from Wonderland, followed by an Italian pasta dish from Giovanni's, a filet from Chop's, and finally, the infamous fried cheesecake from 150 Central Park. 
For an additional charge, you can even add a wine pairing to the experience. 
It is usually only offered once per cruise on a sea day, so you will want to book early! 
7. Understanding (and avoiding) the Deluxe Beverage Package 21+ rule
Image
Per Royal Caribbean's policy, if one adult purchases a Deluxe Beverage Package, then all adults over the age of 21 staying in the same stateroom must purchase it, too. 
If you are traveling with an adult in your cabin that does not drink much or any alcohol, you can get around this rule by calling Royal Caribbean and requesting that person get the Royal Refreshment Package.
Since they will not let the second person slide by without any package, the non-alcoholic drink package is a good option, as you will save a lot of money compared to buying the Deluxe Beverage Package. 
Did you know that you can also buy a package a few days into your cruise? This is a great way to save money, especially if the first few days of your sailing are port-intensive, meaning that you might not have the desire to drink a minimum of 5-6 drinks per evening to get your money's worth. 
8. Children don't need their own dining package
Image
Dining packages are some of the most popular cruise add-ons. Children, however, eat for free in specialty restaurants if they are between the ages of 0 and 5. Kids 6-12 are charged only $10. 
When you are onboard making reservations, simply let the server or host know that the adults in your party have a dining package. You'll get a better price than if you bought a package for everyone!