Cruising with Royal Caribbean is an incredible way to enjoy an affordable vacation while visiting multiple destinations on world-class cruise ships. With your base cruise fare, you'll have so much already included, such as lodging, transportation, select food venues, and entertainment.
Planning a Royal Caribbean cruise on a budget doesn't mean you have to skimp on luxury. With some extra time and research, you can find great deals and promotions that will save you money. 
Extra cash means you can spend money on excursions, specialty dining, Wi-Fi, or beverage packages. Or, if you're like me, saving major money on a Royal Caribbean cruise means you can cruise more often!
If you're looking for the best tips and tricks to save money on a Royal Caribbean cruise, consider this your ultimate guide. 
1. Book Early + Reprice Often
Image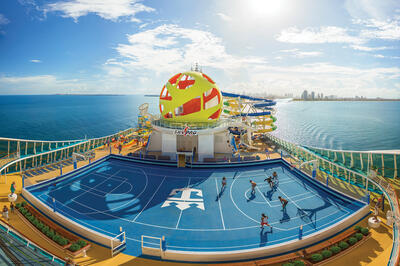 This is probably the easiest way that you'll save money on your Royal Caribbean cruise. When new itineraries are released, the cheapest cabins will get booked first. 
Consider booking a stateroom that best fits your budget as early as you can. This locks in a price and ensures you won't be spending money on a more expensive cabin. Of course, some people want to splurge on a balcony or suite experience. Others prefer to book the cheapest cabin possible to save money. Either way, you'll benefit from booking early and repricing often to ensure you have the lowest price.
With Royal Caribbean's Best Price Guarantee Program, you can reprice your cruise as many times as you want. If you see a price that's lower than you paid for the same sailing and cabin, just call Royal Caribbean and they will refund you the difference. You can take advantage of this program up to the final payment date.
Image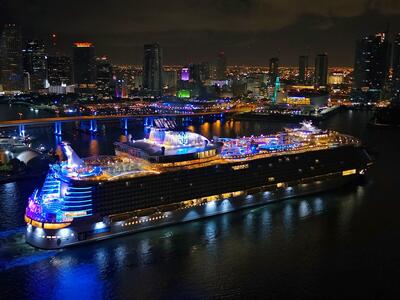 I've saved up to $1,500 by taking a little time to reprice my stateroom on Royal Caribbean's website here and there. When I see the price has dropped, I simply call the cruise line and ask for a reprice; most of the time, this is a quick and painless process, and they're happy to assist. 
In my opinion, checking the current promotion and pricing for your upcoming cruise is the quickest way you can save a lot of money. 
2. Check for Eligible Discounts
Image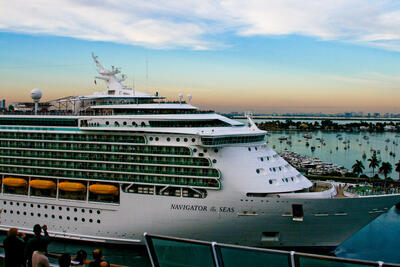 When you book your Royal Caribbean cruise, be sure you select "Apply a promo code and exclusive rate discounts" to confirm you're receiving the best price.
Seniors (55+), EMT/Police and Military can all be eligible for discounts. Depending on your residency, you can also receive a resident discount. Florida residents are eligible for discounts on most sailings, in my experience.
Crown and Anchor members are also eligible for a discount between $50 and $375 on balcony staterooms and suites, so be sure to enter your loyalty number when booking.
As a Florida resident and military family, we almost always receive some sort of discount on our cruises. For example, on a previous Alaska cruise, my resident discount saved me $84. We also saved $500 on a cruise to the Canary Islands, even though neither of these sailings leave from Florida. 
Read more: Cruising for military families and service members
3. Sign Up for Emails
Image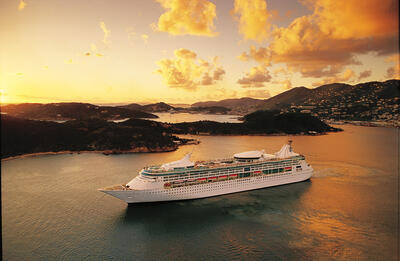 When you book your first Royal Caribbean cruise, be sure you enroll in email communications to save $50 on your booking. This should be a pop-up when you visit the website to book your cruise and it will ask you to enter your email.
This can only apply to your first cruise, so make sure you take advantage of this offer before you place a deposit on the reservation. 
4. Book at Next Cruise
Image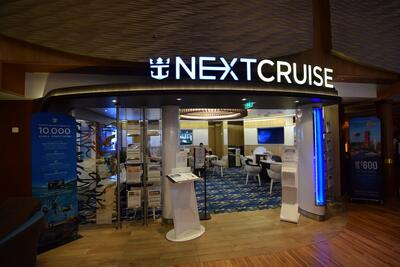 If you fall in love with the art of cruising and become loyal to Royal Caribbean, you will find it can be very lucrative to book upcoming reservations at Next Cruise. 
Onboard all Royal Caribbean ships, you will find a desk for Next Cruise where vacation planners can book future cruises for you. You'll receive any current Royal Caribbean promotions, along with reduced deposits and extra onboard credit. 
Royal Caribbean's website states you can receive up to $600 onboard credit; in my experience, this discount is normally closer to $50-$100, but that's likely because I tend to book cheap cruises and inside cabins. 
These future bookings can also be transferred to your travel agent within 30 days of booking at Next Cruise. You can also make reservations for other people, such as friends and family back home. You can reserve up to three additional staterooms with the same benefits and offerings. 
5. Utilize a Travel Agent
Image
To the surprise of many, there's no cost to you when booking a Royal Caribbean cruise with a travel agent. These experts work for you to save you both time and money. In fact, when you book everything on your own, you are essentially doing the work of a travel agent without any compensation for doing so.
Travel agents have exclusive access to certain fares and promotions. They can also assist you with any questions or issues that you encounter between booking and sailing. 
My travel agent goes above and beyond to make sure I'm receiving the best rate for my cruises. It's also been extremely helpful to have her track my Future Cruise Credits and understand the best way to apply these to my cruises. With so many canceled and changed cruises post-pandemic, I would be overwhelmed tracking all of my cruise credits.
A travel agent works directly with Royal Caribbean to ensure everything is good to go with your reservation and upcoming cruise. Consider utilizing a travel agent in the future to save more money.
Plus, they're your advocate when you are on your cruise, too. This can be helpful if anything were to go astray when you have limited service. 
6. Research Credit Card Perks
Image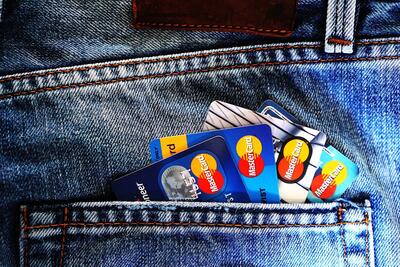 If you travel and cruise often, it's worthwhile to have a credit card that rewards you for traveling. Some high-end credit cards have great perks and benefits that can help you accrue points. 
I always book my Royal Caribbean cruises on the Chase Sapphire Reserve card for a few key reasons. 
First, this card is a premium travel credit card and we receive 3x points on all travel purchases with the card. Therefore, a $1,000 purchase will earn 3,000 Ultimate Rewards. These points can be redeemed for 1.5 cents per point on the Chase website, which is worth $45. When spending thousands of dollars on cruising and airfare, this adds up quickly. Of course, points tend to be more valuable when they're transferred directly to airlines or hotel chains.  
Second, the Chase Sapphire Reserve has incredible travel insurance provided for common carriers, including cruise lines. This includes travel interruptions, cancellations, and delays. Most importantly, it covers emergency medical coverage and emergency medical evacuation coverage. 
Image
The American Express Platinum card also includes travel insurance and coverages, including emergency medical evacuation coverage. They also offer a "Cruise Privileges Program," where you can receive certain benefits if you book a cruise that is five nights or longer through them, such as $100-$300 of onboard credit and one bottle of champagne per stateroom. 
Royal Caribbean International also offers a Visa Signature Card. You'll earn 2x points per $1 on every Royal Caribbean and Celebrity Cruises purchase and 1x point per $1 on all other purchases. Unlike the Chase Sapphire Reserve and American Express Platinum card, this credit card has no annual fee. The points accumulated can be redeemed for onboard credit, stateroom upgrades, and companion fares.
Before booking additional travel insurance for your trip, consider if your credit cards already include coverage. If you cruise often, look into opening a credit card that rewards you for traveling. Ensure you are maximizing your purchases by paying for your cruises with credit cards that earn points for travel.
Read more: Cruise Line Credit Cards: What You Need to Know
7. Become a Royal Caribbean Shareholder
Image
Royal Caribbean shareholders can earn up to $250 onboard credit when holding at least 100 stocks of RCL during the time of sailing. Longer sailings will receive the maximum benefit while all shareholders earn at least $50 onboard credit.  
This can be an easy way to save money if you cruise often with Royal Caribbean. Prior to sailing, you can visit the Royal Caribbean website to learn what information needs to be provided to the cruise line. This can be done via email, fax, or mail. 
8. Watch Pre-Cruise Sales
Image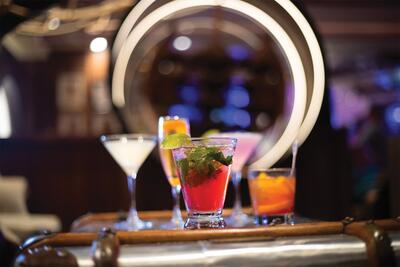 After booking your cruise, make sure to watch for pre-cruise sales in the Royal Caribbean cruise planner. This is where you can purchase shore excursions, internet packages, specialty dining, and beverage packages. 
Royal Caribbean uses a dynamic pricing model, meaning the cost of these extras will fluctuate based on your specific itinerary, ship, and sail date. 
The pre-cruise planner sales happen frequently throughout the year. Be sure to check back often to snag the best sale price, which can be as much as 30% off sometimes. 
Also, if the price drops after you've already booked a reservation, you can simply cancel and rebook at the new price. 
9. Book Third Party Excursions
Image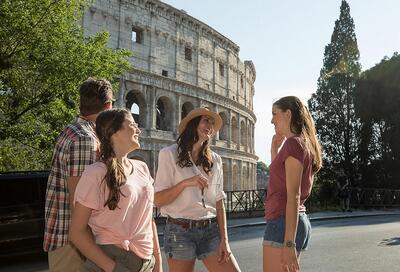 Royal Caribbean's shore excursions offer flexibility and convenience, but you will pay a premium price for them. If you want to do an excursion at one of your ports, consider booking the same tour directly with a third-party company. 
Most of the time, you can walk off your cruise ship and book the same excursion offered onboard for a fraction of the cost. 
I've had good luck using Viator for excursions. In fact, the company offers worry-free shore excursions that guarantee your on-time arrival back to your ship. If you are late, the company will cover up to $1,000 of transportation costs.
Read more: 10 tips for getting the best cruise shore excursion values
10. Look Into Cruise Packages
Image
Cruising can look different to everyone. Some people want an all-inclusive experience while others are looking to save as much money as possible. Some have a hard time making frugal choices onboard and want to have everything prepaid.
Packages can save you money and are meant to make your cruise vacation easier. Most people who enjoy drinking throughout their cruise will benefit from a premium beverage package. In general, 5-6 drinks a day makes a drink package worth it. 
Similarly, those who want to indulge in Royal Caribbean's specialty dining might benefit from a dining package. For example, Chops + 1 packages can cost $75 each. With a standard meal at Chops Grille costing upwards of $55 or $60, this allows you to dine at a second restaurant for only about $20 more! 
Image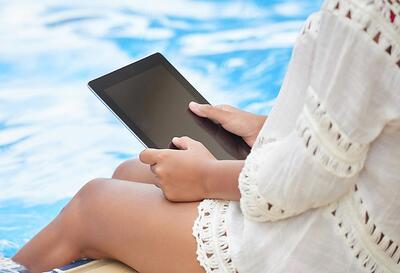 A three-night specialty dining package can usually be purchased for around $130 or $140, meaning that you could experience two additional restaurants for less than $100. 
Internet packages can also save you money if you plan to have daily use of this service onboard.
One thing to consider when booking these packages is how much time you'll actually be spending onboard. Port-intensive cruises mean you won't be spending as much time onboard, so you won't have as much time to utilize these purchases. On the flip side, if you have multiple sea days and consider the cruise ship to be your vacation destination, you'll have more opportunities to drink, eat, and get your money's worth. 
11. Sail in the Off Season
Image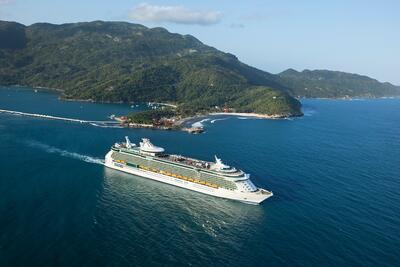 It's a rule of thumb that sailing in the off-season, or shoulder season, is an easy way to save money on your Royal Caribbean cruise.
Typically, when kids are in school, you'll be able to lock in a lower cruise fare. As such, cruising around holidays and during the summer can be more expensive, even for the same exact ship and itinerary. 
When demand is lower for certain itineraries, Royal Caribbean is forced to lower prices to ensure sailings remain profitable. This is when you can save big money, even on newer ships! 
Hurricane season is another great time to save money on a Royal Caribbean cruise if you aren't concerned about the heightened risk of storms. Of course, cruise lines have sophisticated forecasting models and tools that prevent cruise ships from getting caught in the middle of a hurricane. Additionally, hurricanes develop and move slowly so there's more time to make adjustments. 
12. Book on Smaller and Older Ships
Image
Royal Caribbean is known for building the biggest and most innovative cruise ships in the industry. These mega-ships have the latest and greatest technology, newest entertainment, exciting dining options, and more. 
With so much hype around the newest ships, you can expect to pay a premium to sail onboard these sailings. Inaugural sailings for a brand-new ship can cost you thousands of dollars. 
As such, Royal Caribbean's older and smaller ships can offer much more affordable cruise fares. Even ships that are a few years older but still relatively new in the cruise world can offer much more affordable itineraries. 
Older and smaller ships can still provide an awesome cruise experience even without all the bells and whistles. Also, smaller ships can sometimes dock at smaller ports, meaning you can visit more unique locations. 
13. Book a guarantee cabin
Image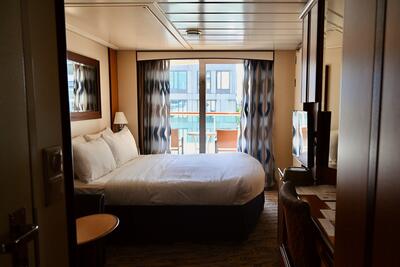 You can often save hundreds of dollars on a cruise by letting Royal Caribbean pick your cabin, known as a guarantee cabin. 
There is sometimes an option to not select a specific cabin at the time of booking. At some point between when you book and your sail date, the cruise line will assign you a room.
If you're not picky about where your room is located, this can be a great way to save money.
Of course, if you're worried about being at the front of the ship because you tend to get motion sick or don't want to be close to a public venue, you're better off paying the extra money to select the perfect room for your party. 
14. Book non-refundable deposit
Image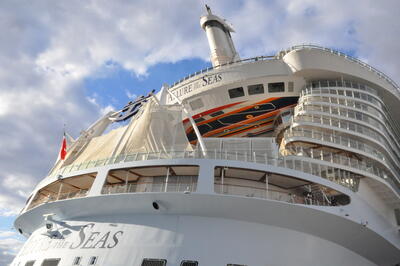 It is cheaper if you are willing to commit early to your vacation; a non-refundable fare could save a lot of money.
You'll have the choice of a refundable or non-refundable cruise fare, and non-refundable fares are cheaper.
The downside to non-refundable fares is that if you want to change the ship and/or sail date later, you'll incur a change fee. Moreover, if you decide to cancel altogether, you'll lose out on the deposit.
But if you feel confident the cruise you're booking will be the cruise you sail on, then a non-refundable fare can net a lot of savings.
15. Put your phone on airplane mode
Image
Before you set sail, you will want to ensure that your phone is in airplane mode. If not, there's a good chance that it will try and connect to the ship's cell phone antenna while at sea or a local network in one of your ports. 
Dubbed "roaming," you may return home to a rather large bill for placing calls, using data, and sending texts. 
Even if you have a Wi-Fi package, it is best to turn your phone's cellular ability off.  
16. Be on the lookout for a casino offer
Image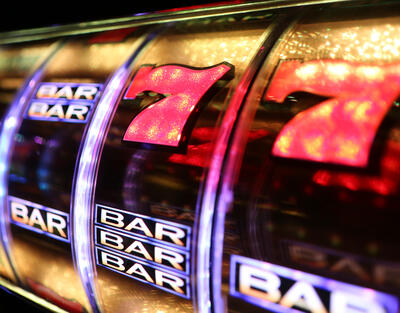 Those who have gambled a lot on previous Royal Caribbean cruises might be eligible for cheap cruise fares. In some cases, you might even be offered a free cruise!
Popular casino brands, such as MGM and Caesars, are known for offering special rates to entice gamblers to return, and Royal Caribbean's Casino Royale is no different. 
17. Bring your own drinks onboard
Image
Did you know you can legally bring your own wine and non-alcoholic drinks on a Royal Caribbean cruise?
You're allowed to bring one bottle of wine (or champagne) per adult in a cabin on embarkation day. It cannot be over 750ml. 
Moreover, you can bring up to 12 bottles/cans of non-alcoholic beverages with you on embarkation day per cabin, too. 
You are absolutely not allowed to bring beer or liquor at all. Bringing your own drinks could save a lot on your bar bill.
18. Don't book spa treatments on sea days
Image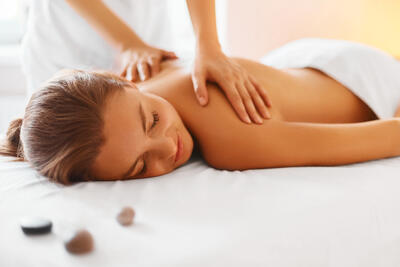 The onboard spa will usually offer some kind of deal on port days in order to attract guests to book services rather than venture ashore and spend money on a shore excursion. 
On embarkation day, head to the spa to see if they're offering any specials during your sailing. They may be offered sporadically, too.