Cruising for the first time can be equally exciting as it is nerve-racking. For those who have never stepped foot on a cruise ship before, everything onboard is a new experience — both good and bad.
I recently returned from a 10-night British Isles sailing onboard Norwegian Star, which is one of the oldest ships in Norwegian Cruise Line's fleet. At just $1,600 for the cruise for an inside cabin guarantee, the cost of the cruise was incredibly cheap. This even included round-trip airfare to London!
Because the cruise was so cheap and my husband was unavailable, I solicited close friends to come along on the European adventure! With some easy convincing, the cruise quickly turned into a girl's trip cruising around the United Kingdom. Even better, our friend Logan would be cruising for the first time!
Read more: Norwegian Cruise Line ships by age — from oldest to newest
Image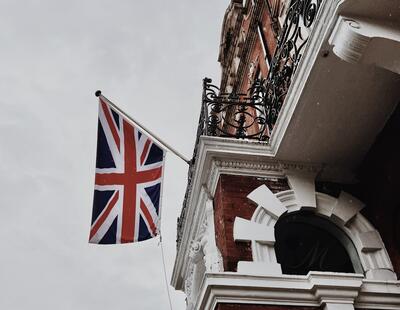 Taking a port-intensive sailing around Europe is not your typical first cruise itinerary. Most first-time cruisers choose a classic Caribbean or Bahamas itinerary; however, Logan was eager to explore four different countries with eight different port visits on her first trip to Europe.
As a first-timer, Logan had a destination-focused mindset for this cruise, as she was not very interested in the onboard cruise experience. Instead, Logan was looking forward to seeing so many new places during our sailing. She felt the ship would serve as a moving hotel each night, transporting us from each beautiful port stop to the next.
As with any cruise, not everything goes as planned. From 18-foot-waves during a historic storm to multiple missed ports, Logan's first time on a cruise had some rare and unexpected challenges. Here's everything that went right and wrong during our cruise onboard Norwegian Star and why she might reconsider cruises again in the future. 
First impressions
Image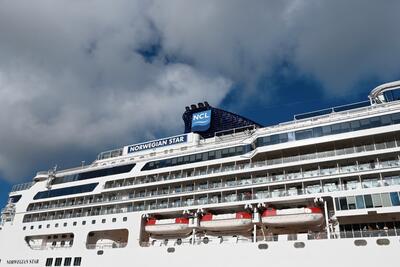 Because Logan was traveling with seasoned cruisers, she admittedly did not do much research prior to boarding Norwegian Star. In addition, our itinerary only had one sea day, so most of our time would be spent exploring the ports of call anyway.
We boarded Norwegian Star in Southampton, England to begin our 10-day sailing. As many will tell you, embarkation day can be a little hectic with checking in, getting settled in your cabin, and navigating your way around the ship. Almost everyone will head straight to the buffet onboard for lunch, which almost always leads to large crowds on the first day.
Image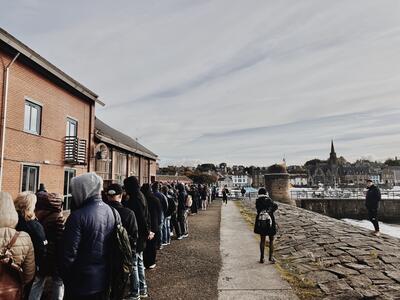 Between the crowds in the buffet and lack of familiarity with the muster drill, Logan was overwhelmed on the first day. Had we not ensured that Logan completed her muster drill, she said it would have been very easy to forget. In her opinion, the muster drill was confusing and unorganized.
In addition, Norwegian's app was also glitchy on the first day, which created further frustrations for Logan. We all purchased the chat feature, so we could stay in touch while onboard, which was something that surprised Logan. Without internet or chatting capabilities, she said it would have been hard to coordinate together.
Unlike a hotel or resort, Logan was initially surprised to see how everything was connected onboard the cruise ship. Heading to dinner the first night, she grabbed her coat as if she was heading outside. She had anticipated walking outside to go from place to place onboard, similar to any other vacation.
Image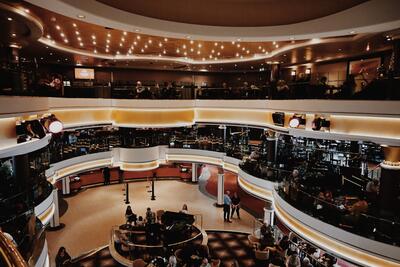 Finally, Logan was mortified by the toilet paper used onboard a cruise ship. She described the toilet paper as, "sandpaper, maybe half-ply toilet paper." Although I've grown accustomed to the thin toilet paper onboard, I can totally see how this would be a shocker. The toilet paper onboard a cruise is thin because the pipes onboard are sensitive, but it does leave a lot to be desired!
Read more: Unpleasant cruise ship problems you aren't prepared for
Rough seas
Image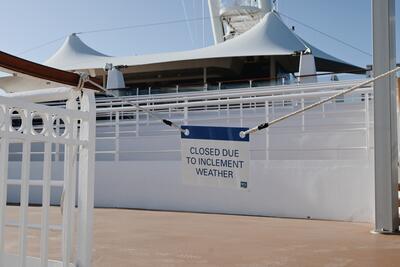 One of the biggest concerns for first-time cruisers is whether or not they will get seasick if the ship runs into bad weather. No one wants to feel sick on their vacation, so this is a valid concern for many. However, it's relatively rare to both encounter rough seas and get seasick.
Logan was particularly concerned about seasickness because she tends to get motion sick. Unfortunately, she earned her sea legs with initiation by fire. During our second night, we encountered very rough seas while sailing to Edinburgh, Scotland. Because Logan had booked an inside cabin guarantee, her cabin was located at the very front of the ship.
During the night, Logan said it felt like she was riding a rollercoaster with her stomach constantly dropping. In her cabin, they could hear the waves crashing against the hull of the ship. With their cabin at the front of the ship, this likely exacerbated the ship's motion through the 18-foot swells.
Read more: I booked a cruise that included an international flight for $160 per day. Was it worth it to cruise during shoulder season?
Image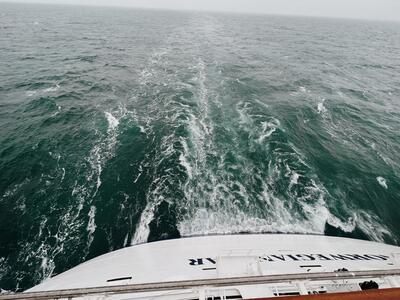 The next morning, one crew member said it was the worst storm they've experienced in the last two years onboard Norwegian Star. Even as a seasoned cruiser, these were easily the some of the roughest waves I've ever experienced on a cruise.
Although we encountered rough seas, Logan said her cabin's bed was very comfortable. She expected the mattresses to be uncomfortable, but she was pleasantly surprised. Even still, there was no sleeping during this rough storm.
Luckily, Logan did not get seasick during our cruise, even with the storm we encountered. We assured Logan that rough seas - to that degree - are very uncommon, and this was bad luck for a first-time cruiser.
Learning cruise quirks
Image
After cruising so much, you start to learn the ins and outs of cruising, but cruising with a first-timer brought to light some of the quirks that you might not think twice about.
To start, Logan was surprised by the friendliness of the crew members and other passengers. She immediately noticed how welcoming the cruise environment was and how it felt almost like a community. This is unlike other vacation environments, as most people do their own thing at a hotel or resort.
In particular, Logan did not anticipate the attentiveness of her cabin steward. I will admit, this is an unusual aspect of cruising compared to other vacations as well. 
Image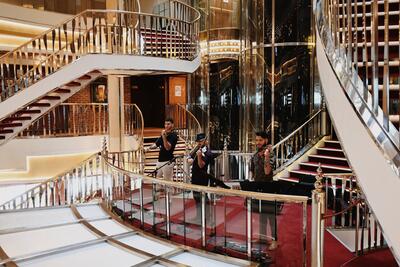 For example, you hardly ever get to know the cleaning staff when you stay at a hotel or resort. In fact, you might not even see the person who cleans your hotel room. In general, Logan was impressed with the service received on Norwegian Star and felt the crew members were helpful, attentive, and friendly.
Another learning curve with cruising arose during our first dinner onboard at Ginza, one of the complimentary restaurants on Norwegian Star. When the waiter came over the first time, Logan simply placed an order for one appetizer, similar to how you would order at a normal restaurant. 
The waiter stood there slightly confused, waiting for Logan to order more. We explained to Logan that you typically order your appetizer, entree, and dessert all at once on a cruise.
Image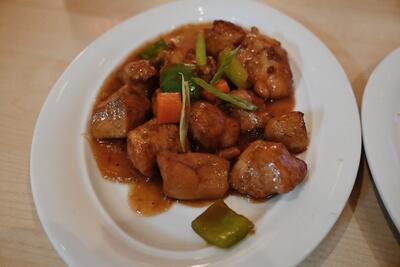 Finally, Logan mentioned how she felt "nickel and dimed" during the first few days of the cruise. As with any cruise line, you can always find ways to spend more money onboard during your cruise. Between the internet, specialty dining, chat features, and drink packages, it seemed as though her cruise fare was not as inclusive as she originally thought. However, by the end of the cruise, she had a better idea of what was included and what cost extra.
Read more: 16 hidden cruise ship extra charges you should know about (2024)
Impressive dining options
Image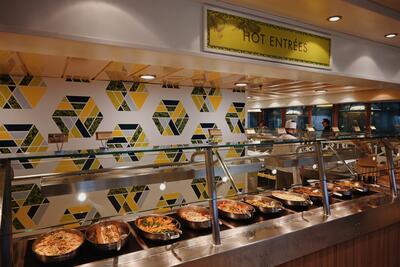 Enjoying all of the included food during a cruise is one of the best aspects of cruising. During our sailing, we dined in all of Norwegian Star's complimentary restaurants, including the main dining rooms, Ginza Asian Cuisine, and O'Sheehan's Neighborhood Bar & Grill. Personally, I was impressed with the food offered by Norwegian Cruise Line —  and Logan was too.
Logan immediately loved how she didn't need to pay a bill at the end of each meal, especially after a multi-course dinner. Once we boarded the ship, she said it was nice to know she did not have additional dining expenses. We also encouraged her to try multiple appetizers and entrees to her heart's desire, as there is typically no limit on how much you can order in the main dining room.
Image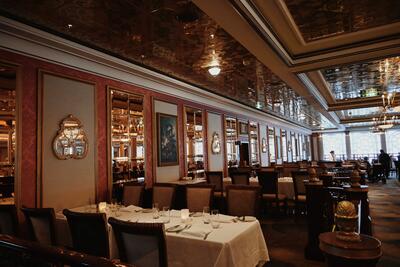 In addition, she enjoyed the ability to order as much as she wanted during meals. When booking the cruise, Logan knew food was included but didn't realize the extent of what that could entail.
Logan said the dining options and food onboard exceeded her expectations! With so many options onboard, Logan said it would be virtually impossible to go hungry onboard. In fact, she said she probably gained a few pounds from indulging in all the delicious cruise food.
However, Logan felt the food quality was a bit more inconsistent. While some of her meals were phenomenal, others were letdowns. Overall, she said her dining experience was very good but noted how some entrees fell short of her expectations.
Canceled ports of call
Image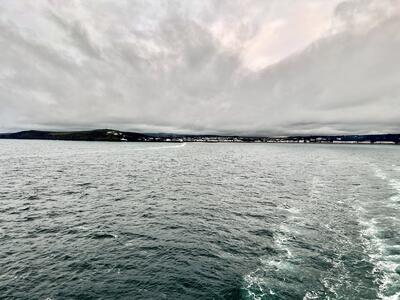 One of the worst parts of our cruise onboard Norwegian Star was the cancelation of two highly-anticipated ports. Due to Storm Babet, we encountered rough seas on our way to Isle of Man. Although we had arrived to the island as planned, the captain announced that the waves were too rough for us to tender ashore.
Sadly, our port visit to Isle of Man was canceled. In all of my 40 cruises, this was the first time I have encountered a canceled port due to weather. Unfortunately for Logan, this was a bad experience to have as a first-time cruiser.
Because of the storm, we also had to miss our scheduled stop in Dublin, Ireland. This was another tendering stop, so the ship could not operate the tenders safely in the storm.
Image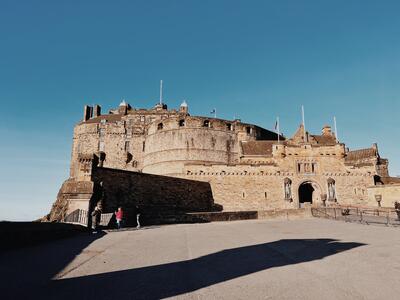 However, Logan said Norwegian Cruise Line handled the situation as best as they could. This was no one's fault, but rather a risk you take when cruising. Because of our canceled stop in Dublin, Norwegian Star instead arrived early in Cork, Ireland and docked overnight. While missing Dublin was a big disappointment, we did appreciate having the evening to spend in Cork.
Our reassurance that skipping ports is rare was not comforting, as an altered itinerary was our sad reality on Norwegian Star. Cruise lines operate on a tight schedule, and you often won't get another chance to return.
Image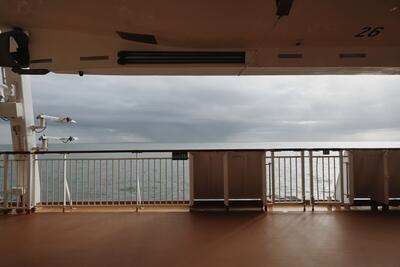 Logan described the disappointing experience as off-putting to cruising, especially as someone who is destination-focused when traveling. Skipping multiple ports had Logan rethinking future cruises that she wanted to take, particularly to her bucket-list destinations.
"If you are on a cruise and miss the ports, you are out of luck. If you take a land trip, you can adjust your own plans as needed, and the airlines will get you to your destination eventually," Logan argued.
Feeling rushed
Image
One of the major downsides of cruising is not having enough time in each port, as you must be onboard by certain times each port day. If you are late returning to the ship, you will be left behind.
In addition to missed ports, Logan said one of the worst aspects of our cruise was feeling rushed in all of the ports. For example, we only had about five hours in Edinburgh by the time we tendered into the port and took a taxi into the city. It's impossible to do everything in Edinburgh when you only have five hours.
Because we absolutely did not want to miss the ship, we planned to be back at the port 30 minutes before the last tender. This also cuts into your port time by allocating enough buffer to ensure you do not miss the ship. With so much we wanted to see in every port, we had to keep diligently checking the time to ensure we were on schedule.
Image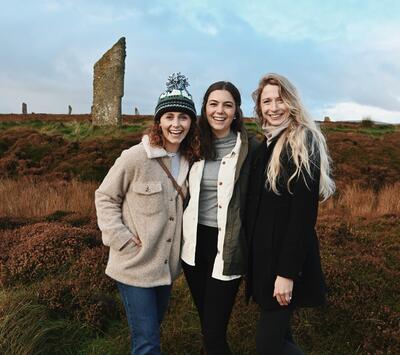 The looming anxiety of being on time for each port can be too consuming for some travelers, as the consequences of being late are severe.
To feel less rushed, you could choose an itinerary that features overnight port stops; however, these are not as common as you might think. Cruise lines make money when the ships sail at sea because the casinos, bars, and shops are open.
Logan's final thoughts on cruising as a first-timer
Image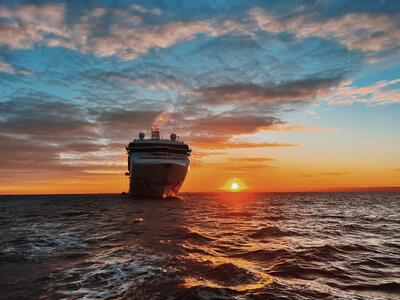 Would Logan ever consider cruising again after this first experience? Her answer: Yes, but only for certain trips.
After her first cruise, Logan said she would definitely do another one. However, she has changed her perspective on which destinations she wants to cruise to.
Experiencing itinerary changes and canceled ports was a souring experience for Logan. While she was originally considering many cruises in the future to some bucket-list destinations in South America, Australia, and New Zealand, our time on Norwegian Star has changed her mind.
If she is dying to go somewhere, Logan says she won't be planning to cruise there. Spending time and money to go on vacation, only for plans to change out of your control, is not an ideal cruise.
Image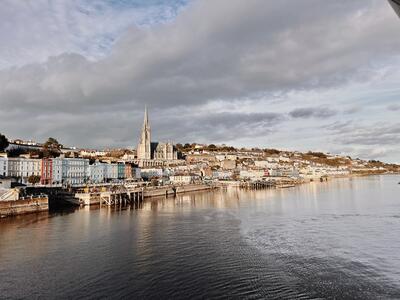 Instead, Logan says she would love to do a Mediterranean cruise to visit places like Italy, Greece, and Spain. With calmer seas and hopefully better weather, these itineraries would be less likely to have diversions and cancelations. Being able to see so many places with the convenience of the cruise ship — and going back to your cabin each night — was a huge perk of cruising for Logan. She also loved the dining experience.
Even for me as a seasoned cruiser, this was a good reminder that the cruise line can change the planned itinerary at any moment. Whether this is because of weather, medical emergencies, or unforeseen circumstances, you aren't guaranteed to visit any ports on your cruise — and that's something you sign away when agreeing to a cruise contract.
At the end of the day, cruising is not for everyone, but if you are someone who wants to cruise, there is certainly a cruise line out there for you that caters to your travel needs.
Read more: Cruise travel insurance and why you need it