You have decided to take the plunge and book a cruise with Norwegian Cruise Line-- this is exciting! We believe that cruising is truly one of the very best ways to travel, and we know that you will make many wonderful and meaningful memories onboard your cruise. 
Checking in for a Norwegian Cruise Line sailing is extremely easy, and much of the check-in process can be done at home before your cruise begins. 
Now that you have made it past the biggest hurdle of cruise planning (i.e., actually booking your cruise vacation), it is likely that the next step you will be planning for is the check-in process. Here is everything that you need to know about the cruise line's check-in process, as well as some helpful tips to help make the most of your cruise vacation.
Download the Norwegian Cruise Line app
Image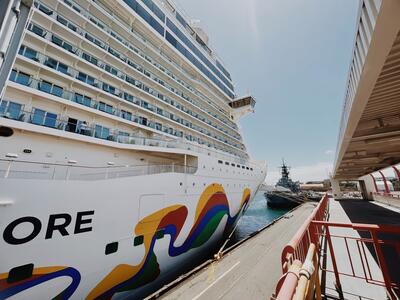 The first thing I recommend when planning any Norwegian Cruise Line voyage is downloading the Norwegian Cruise Line app. This app is very helpful when planning a trip as well, as during a cruise sailing. 
This app is useful checking in for a cruise as well. If you are someone planning your first Norwegian cruise, I also recommend creating an account with Norwegian Cruise Line. This can be done through the Norwegian website or app. 
Image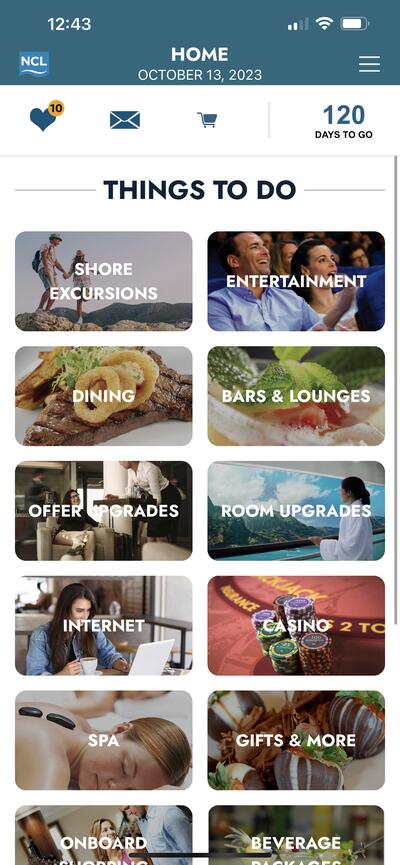 (Norwegian Cruise Line app Home page example)
Creating an account and downloading the app prior to actually booking your cruise can also be helpful, so that once you have booked your voyage you can easily log in to your Norwegian Cruise Line account, link your reservation, and be completely ready to check in when the time comes. 
Creating an account with Norwegian Cruise Line is a great way to sign up for Norwegian's Latitude Rewards program as well. This program gives repeated cruisers with Norwegian certain benefits. Guests of Norwegian will start earning Latitude Reward Points after they have sailed on their first cruise and for every cruise thereafter. 
Explore the app once your cruise is booked
Image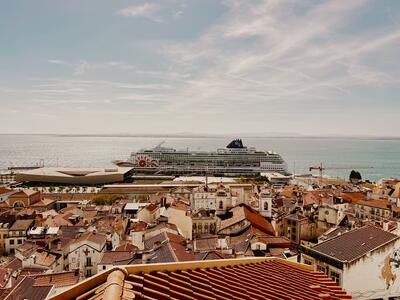 The Norwegian Cruise Line app has a lot of helpful resources when it comes to planning a cruise with Norwegian. This app is also great for when guests are actually on their cruise, as it has deck layouts, ship schedules, and much more. 
In the app, guests will be able to book shore excursions, specialty dining, internet and wifi packages, beverage packages, and more. You should check out the shore excursion tab as soon as possible after booking a cruise. 
Going through and looking at the available shore excursions before a cruise can help ensure that guests will be able to prearrange the exact shore excursions they may want and avoid desired excursions being sold out. 
Image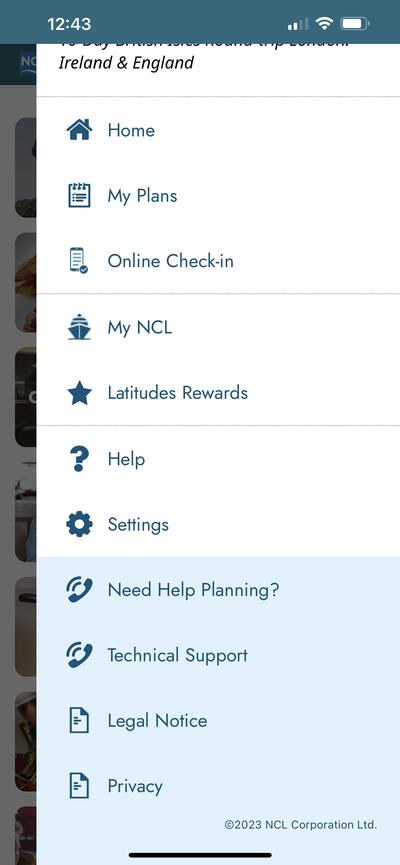 (Where to locate the Online Check-In in the Norwegian Cruise Line app)
Other helpful tabs on the app include the Entertainment section. This will tell guests exactly what entertainment and theater shows will be onboard for particular sailings. If you have sailed with Norwegian before, you will know that they have some really great theater shows! 
I would also recommend prearranging any internet packages or beverage packages before a cruise. Often times the price of wi-fi and beverage packages tends to go up significantly the closer it gets to a cruise sailing. For example, guests are usually able to buy wi-fi and beverage packages for 20% cheaper than if these packages are purchased once onboard. 
Mark down dates in your calendar
Image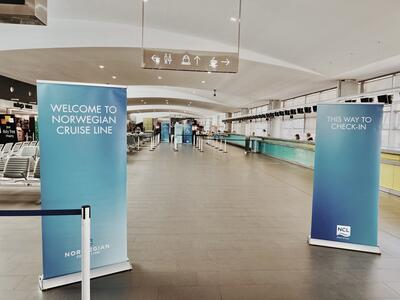 (Cruise terminal in Lisbon, Portugal)
When it comes to checking in for a Norwegian Cruise Line vacation, there is one critical date that all prospective passengers should keep a lookout for. 
According to Norwegian Cruise Line, "online check-in can be completed starting at 21 days and must be completed prior to 3 days before sailing." This means that guests are able to begin check-in at 21 days before a sailing. You should mark down this day in a planner or calendar, so it does not pass you by! 
Image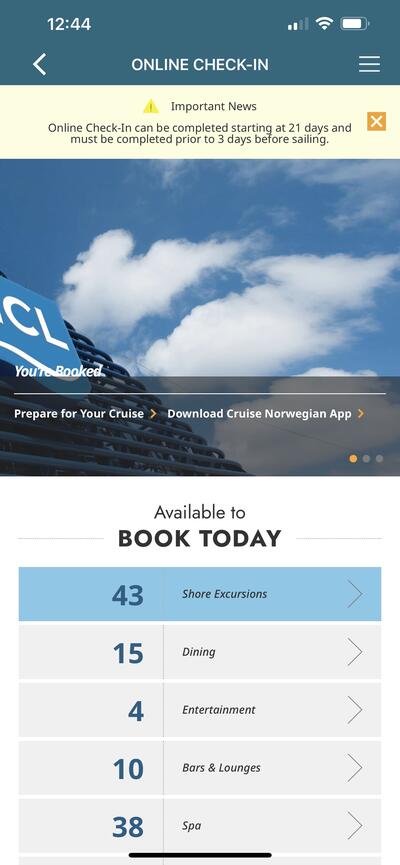 (Example of the Online Check In page prior to 21 days before cruise embarkation)
Checking in as soon as possible for a cruise will help ensure that guests are able to board their ship as early as possible on the day of embarkation. Getting onboard early on in the day means that guests can start enjoying their vacation as soon as possible! 
Read more: 12 reasons to get as early a check-in time as possible for your cruise
Decide which method of payment you will be using
Image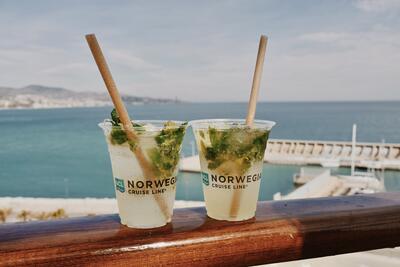 Something that will ensure the online check-in process goes quickly is having all of the required information and documents on hand when guests go to check in. 
One of the required things guests will need when checking in is a preferred method of payment. This method of payment will be used for any onboard purchases, such as wi-fi, alcoholic drinks, specialty dining, duty free purchases, and more. Passengers can link multiple cards to a stateroom, as the requirement is one credit card per person. On the other hands, guests can choose to assign one card to an entire stateroom. 
You will need a passport
Image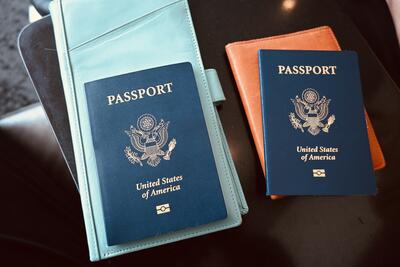 Almost every cruise sailing will require passengers to travel with their passports. Because almost every cruise voyage travels to multiple countries, it is very likely that every guest will need their passport for their cruise. 
Norwegian Cruise Line guests will need their passport to complete online check-in as well. I recommend having this document on hand when completing check in and do not forget this important item at home!
In addition to completing online check in with a passport, guests of Norwegian Cruise Line will also be required to show their passports at the embarkation port before boarding the ship as well. 
If you are someone who is planning a cruise but do not yet have a passport, I recommend applying for a passport as soon as possible! Often times, it can take 3 months or longer to receive a passport, and the sooner this document is in hand the better. 
If you are taking a roundtrip voyage (also referred to as a closed loop cruise) out of the United States, you may be able to use your birth certificate and government issued I.D.
Read more: Where can you cruise without a passport?
Check the app and eebsite frequently prior to your cruise
Image
(Embarkation port in Lisbon, Portugal)
After guests have checked in, it is likely that the excitement will continue to escalate in anticipation of the cruise! I recommend that guests check their Norwegian Cruise Line account on either the website or the app often, as well as their emails. This will help ensure that no updates are missed leading up to a cruise sailing. 
At the embarkation port
Image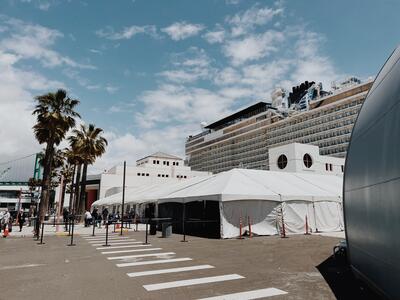 (Embarkation port in Los Angeles, California)
You have completed online check in, made it to the embarkation port, and its the day your cruise begins! 
Before guests can take their first steps onboard their Norwegian Cruise Line ship, they must complete check-in at the embarkation port. Check-in at the port will include dropping off any luggage (make sure to bring some small dollar bills in order to tip the staff who help with luggage), going through security, and picking up stateroom keycards. 
Image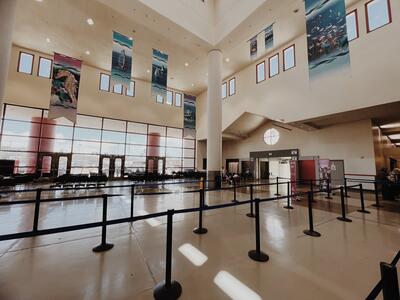 (Inside terminal at Los Angeles cruise port)
It is not required that guests check their luggage, as passengers may carry on their own luggage. It is a personal preference. However, it is important to note that if guests do not check their luggage, they must carry it with them around the ship until the staterooms are ready. Most cruise ship staterooms onboard Norwegian Cruise Line are ready at about 2:00pm on the first day of the cruise. 
Check-in at the port usually differs depending on the specific port. This whole process can take up to an hour or two, or can move as quickly as 10 minutes. Either way, making sure that the online check in is completed before embarkation day will help ensure the quickest boarding process as possible. 
Enjoy your cruise!
Image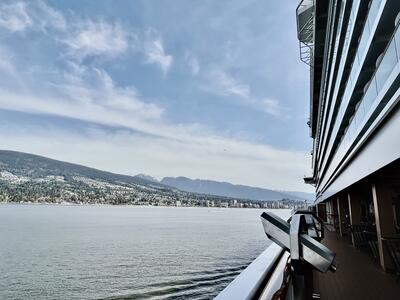 Once check-in is completed, you have made it through security, and have your stateroom keycard in hand, it means its time to board your Norwegian Cruise Line ship! 
For me, one of the best parts of a vacation is the planning and anticipation leading up to the adventure. Norwegian Cruise Line does a great job of helping guests through the check in process. 
Once guests have a Norwegian Cruise Line account and have downloaded the app, they will be on their way to a smooth check-in process.