Is Disney Cruise Line a cruise line that can cater to adults as well as children and families? Or is this a cruise line that should be a vacation for only those with children? We cruised with the Disney Fantasy to find out for ourselves the answer to these questions.
What comes to mind when you think of Disney? Probably entertainment, memories, childhood, and magic. We recently sailed on the Disney Fantasy ship for the very first time, with the goal of discovering exactly what this Disney ship has for adult guests. 
Image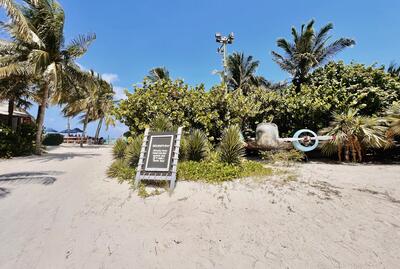 Come along with us as we detail exactly what the Disney Fantasy has onboard just for adult guests, and those passengers looking for an awesome cruise vacation with Disney without children! 
Stateroom And Cabins
Image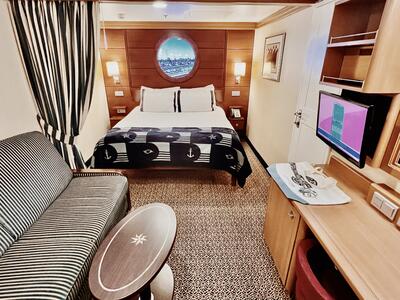 Because this was our first time traveling onboard the Disney Fantasy, I was interested to see what the staterooms would be like. Would they be overly Disney or too filled with details for small children? Would a standard interior stateroom be good for an adult couple traveling onboard? 
Image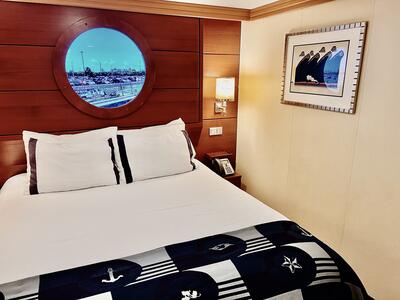 I was pleasantly surprised by our room and just how comfortable it was! Not only was this room comfortable, but it contained everything that guests could need or want to create their own magical little home at sea. We had a great time reviewing and discovering everything this standard interior stateroom has to offer. 
Read: Check out our in-depth look inside an Interior Stateroom onboard the Disney Fantasy
Image
Additionally, we thought that this stateroom had just the right amount of Disney design touches without it being overly in your face Disney. These subtle design choices meant that even adults who casually like Disney will appreciate the atmosphere and aesthetics of the stateroom. 
Lounges And Bars
Image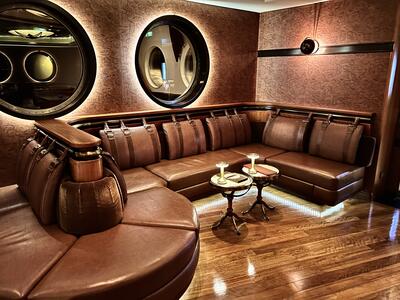 It pretty much goes without saying that bars and lounges are typically reserved for adult guests exclusively. 
We were shocked just how many bars and lounges can be found onboard the Disney Fantasy. Ranging from pool bars to exclusive Europe themed lounges, there is more than enough spaces for adult guests to explore during an evening onboard.
Image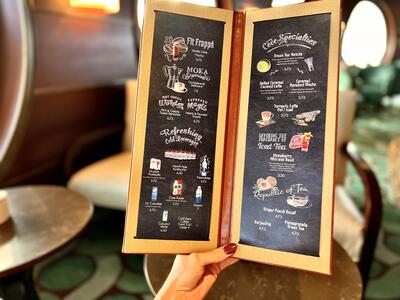 When it comes to nightlife onboard, we were honestly shocked just how much there is to do and see for adult passengers. Not only can guests roam the ship and visit all the bars and lounges, many of these bars and lounges have live music performed every night of a cruise. 
Image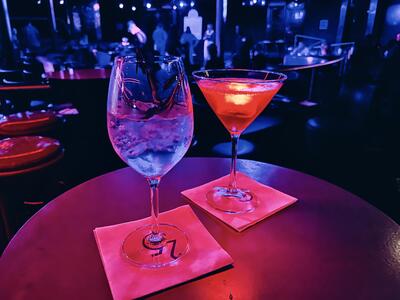 Additionally for those guests looking for an activity and a good laugh, definitely check out The Tube, this large bar and lounge venue is the premier space for adult guests to watch and participate in adult game shows or catch an adult only showing of a variety act performance. 
Image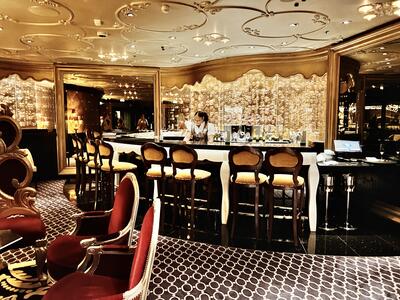 One of my personal favorite bars onboard the Disney Fantasy is the 'Ooh La La' French champagne bar serving beautiful drinks in a romantic atmosphere and 'The Meridian' bar, a lounge at the very top of the ship that inspires adventure and travel. 
Image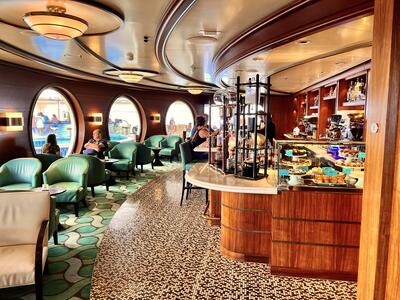 The Disney Fantasy has 10 bars and lounges onboard the ship, all with their own unique theming and drink menus. For those looking for beers on tap, make sure to check out the British Pub styled bar, O'Gills Pub that also hosts trivia games. 
Not One But Two Adult Pools
Image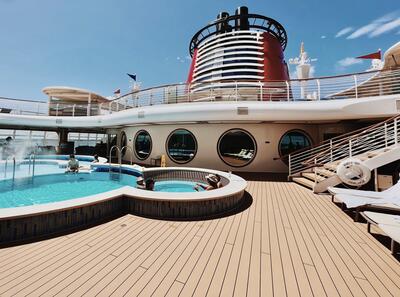 Another adult only feature that surprised me onboard the Disney Fantasy was the fact that there is not just one adult only pool, but two! 
Image
These two adult only pools are quite expansive and we were pleasantly surprised to discover that the adult only outdoor spaces covered multiple decks as well. When it comes to outdoor lounge spaces on the pool decks, adult guests will find plenty of space and availability! I personally felt like the adult only pool areas never felt too crowded, even during a sea day. We were easily able to find a comfortable lounge chair near either of the adult pools. 
Image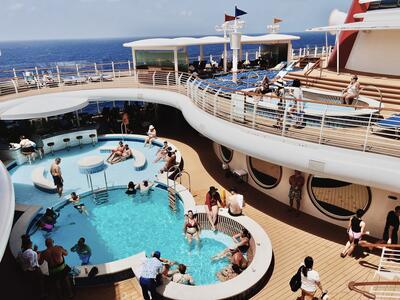 The main adult pool is near the Cove Cafe lounge, and also features a small bar. This pool has two levels and is quite large for an adults only pool. I recommend stopping by the main adult pool either earlier in the morning or later in the afternoon for the least busy times. We noticed that the main adult pool tended to get the most busy during the middle of the afternoon, around 12:00pm. 
Image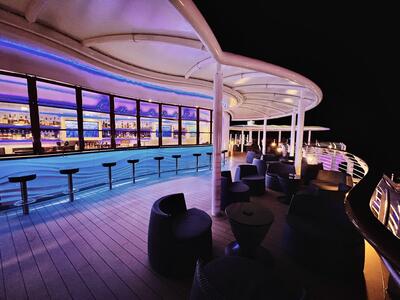 Something that I thought was very unique, that I have not seen so far on a large scale cruise ship was the live music near the main adult only pool. Not all the time, but occasionally one of the talented singers and musicians may play some relaxing music for an hour or two near the main adult pool. For exact times of when there may be live music, guests can check and reference the ship schedule in the Disney Cruise Line Navigator app. 
Image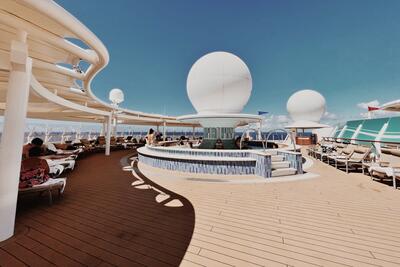 The second adult pool area is one deck above the main adult pool. Guests can walk up the stairs near the main adult pool area to find this second adults only region of the ship. This second adult only area features a large outdoor bar area with comfortable seating and great sea views. Around the corner guests can find plenty of laying down lounge chairs, and will find the second adult pool at the very front of the ship. This area is quite relaxing, and we found it to be the most quiet of the two adult pool areas. If you are looking for the perfect spot to unwind or even take a nap in the sun, this might be the perfect spot onboard! 
Image
I also recommend coming up to the second adult only pool area during port visits. This deck provides great reviews of the front of the ship and can be a great spot to snap a photo or two. We really enjoyed grabbing a drink on this deck during our sail away from St. Thomas! 
Adult Only Activities
Image
Adult guests will not find themselves bored on a Disney cruise vacation! In fact there was so much to do each day that we often found ourselves having to pick and choose which activities were the most important for us to do and see. 
Adult passengers can locate the adults only activities by taking a look at the ship's schedule in the Disney Cruise Line Navigator app. The ship's schedule is a handy tool, and I recommend checking it frequently in order to not miss anything happening onboard. In the Disney Cruise Line Navigator app, guests can also save activities and events they are interested in, and then the app will send a notification to guests' phones when it is almost time for an activity or event so they do not miss it. 
Image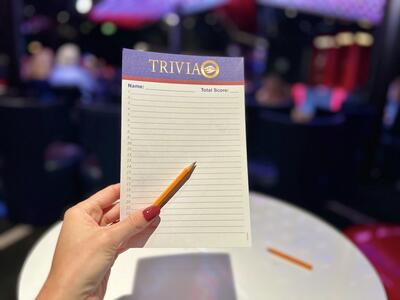 Some of our favorite adult only activities and events took place in The Tube bar and lounge onboard the Disney Fantasy. This venue has lots of seating, and is the main space that is used for adult activities and entertainment. I recommend getting to The Tube about 20 to 15 minutes early before the start of an event in order to grab a good seat. Often times The Tube can get quite crowded for popular adult activities and entertainment. 
Dance Parties
Image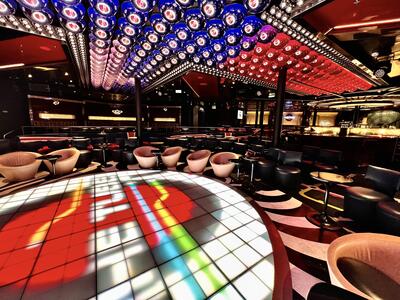 Something that guests might not have expected onboard a Disney cruise, is a nightclub! The Tube onboard the Disney Fantasy occasionally turns into a nightclub in which adult guests can enjoy a drink or show off their moves along to popular pop tunes on the dance floor. 
One of our favorite adult dance parties that happened during our Disney Fantasy sailing was the silent disco dance party. These silent disco dance parties are often lots of fun, and I highly recommend checking them out! 
Adult Only Entertainment
Image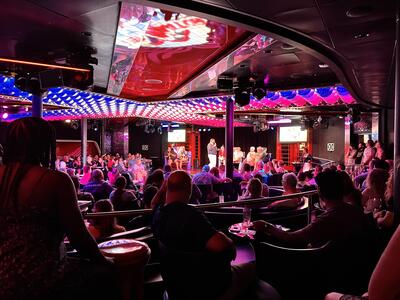 Before this sailing with the Disney Fantasy I had no idea that Disney provides entertainment specifically for adults during the cruise, in addition to all of the family entertainment. 
From comedians, to magicians, to ventriloquists, adult guests can catch a showing of adult only entertainment in venues onboard the Disney Fantasy such as The Tube. On our sailing we were able to catch the adult only showing of the ventriloquist's performance, and we were laughing until our sides hurt! 
Image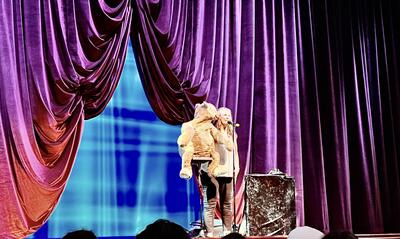 As with the other adult only activities, make sure to check the ship's schedule for the times and locations of any adult only entertainment onboard. 
Very Special Dining Experiences
Image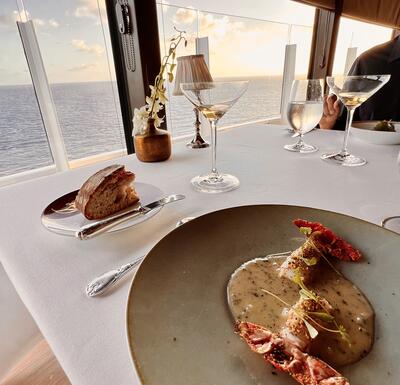 One of the very best adult experiences onboard all Disney Cruise Line ships, including the Disney Fantasy, is the specialty dining. 
Every Disney Cruise Line ship has at least one specialty dining restaurant. All of the specialty dining restaurants onboard Disney Cruise Line ships are designated for adult only guests. Some of these specialty dining venues serve Michelin Star quality food and have menus prepared and designed by world renowned chefs. 
Image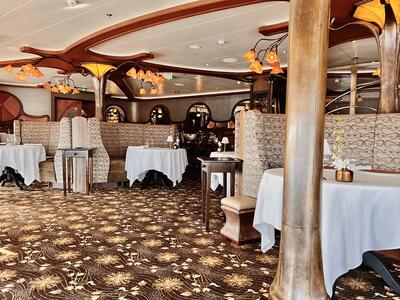 While onboard our Disney Fantasy sailing we had the opportunity to dine at the exclusive Remy restaurant. This was an incredibly unique dinner, and one of the most interesting dining experiences we have ever had. 
Read: Our in-depth look at what dining at Disney's most exclusive restaurant is like
Image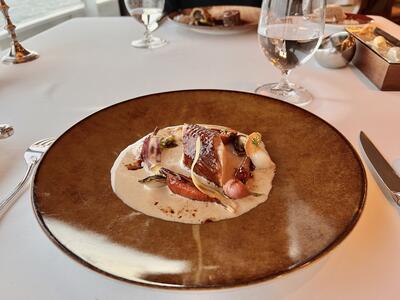 Onboard the Disney Fantasy adult guests can dine at two different specialty restaurants; Remy and Palo. Disney Cruise Line describes Palo as, "named after the signature long poles used by gondoliers in Venice, Palo serves Italian fare in an intimate setting." While Disney Cruise Line describes Remy as, "a French inspired menu featuring superior seasonal ingredients ensures dining at Remy is always a first rate gastronomic affair."
Image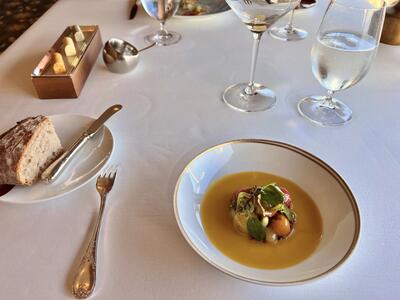 Something important to note about these two adult only restaurants, is that there is a dress code. Guests who wish to dine at one or both of these restaurants will need to pack a nicer outfit. Disney Cruise Line says the following about the dress code for adults dining at either Palo or Remy, "adult exclusive restaurants aboard Disney Cruise Line ships are elegant dining experiences. Guests are requested to dress in a manner consistent with the restaurant's sophistication. Formal or semi-formal attire is recommended. Dress casual attire with a polished look is permitted (such as dress pants, jeans in good condition, collared shirts and blouses and lifestyle shoes). Clothing such as t-shirts, swimwear and sports attire is not permitted." 
Image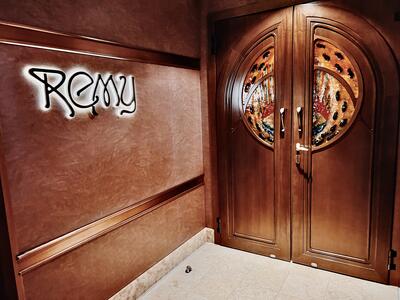 These adult only restaurants do come at an extra cost for all guests. They can be rather expensive, however for adult passengers looking for a romantic dinner while on vacation, or wishing to celebrate a special occasion, dining at one of the specialty dining restaurants can be the perfect meal. 
Unwind At The Spa
Image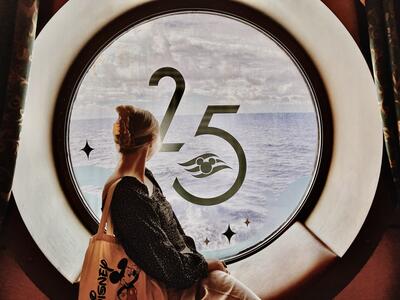 Disney Cruise Line onboard all its ships features the Senses Spa and Salon. This is a completely adult exclusive venue provided for passengers to relax, workout, and unwind during their cruise vacation. 
"The Senses Spa & Salon provides tranquility, pampering and relaxation with a multitude of spa and beauty treatments. Dive into pure bliss, indulgent luxuries and inner contentment in an environment designed to sooth the senses. This pristine setting features rainforest themed aromatherapy steam rooms, a dry sauna fashioned after a Roman bath, private luxury villas and so much more. Enjoy this impressive retreat at sea that offers therapeutic and beautifying personal care services for both men and women," states Disney Cruise Line. 
Disney's Private Island For Adults
Image
Our first sailing onboard the Disney Fantasy included a stop to visit Disney Cruise Line's private island Castaway Cay. When it came to this heavily Disney themed Caribbean island, I did not know what to expect when it came to adult offerings. 
We were surprised to discover an entire exclusive beach just for adult guests and passengers over the age of 18. 
Image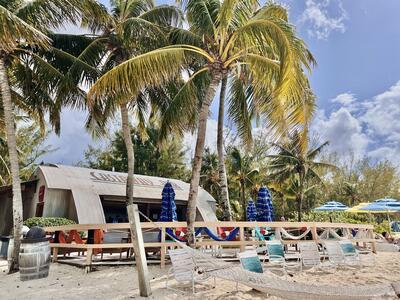 "Escape to this secluded, adults only oasis reserved exclusively for adults 18 years of age and older. There, you can unwind in the heart of serenity, treating yourself to such offerings as an open-air cabana massage under swaying palm trees, or frozen specialty drinks at the Castaway Air Bar. Air Bar BBQ has hearty fare and savory dishes to satisfy your appetite when hunger strikes," states Disney Cruise Line about its adult exclusive beach. 
Image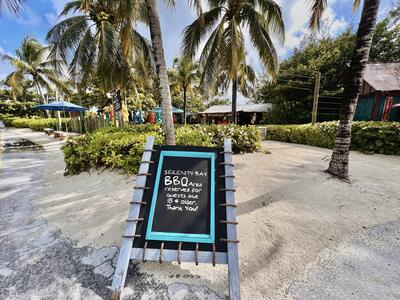 We thought it was a neat feature that adult guests can get all the same food from the Air Bar BBQ that they can from the main Cookie's BBQ food venues on the island. This means that guests can enjoy the same complimentary food options without ever having to leave Serenity Bay if they do not want to. In theory, adult guests to the island can head straight for Serenity Bay and spend the entire day in this adults only area without ever needing to leave until it is time to get back onboard their ship. 
Image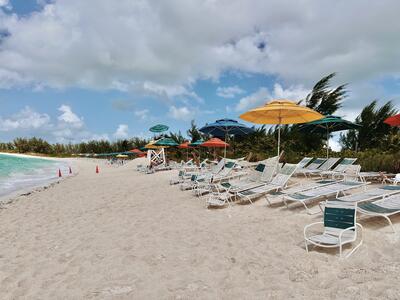 This adults exclusive beach is very quiet and calm, and offers more than enough space for adult Disney Cruise Line guests to spread out and relax during their day in the Caribbean. 
Our Thoughts And Conclusion
Image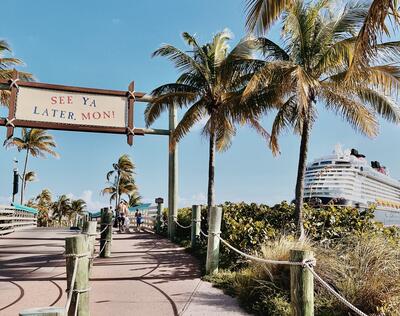 Overall the Disney Fantasy ship greatly exceeded our expectations when it came to adults only venues, spaces, and offerings onboard. Because of our experiences testing out these adult exclusive options onboard, we would say that Disney Cruise Line can be a great choice for guests traveling without children, as well as with children.
If you are a couple who has an appreciation, love, or nostalgia for Disney I would recommend Disney Cruise Line for adults. We were impressed with the fact that Disney Cruise Line caters not just to families and children, but they pay special attention to their adult passengers. Even if you are someone without young children, guests are sure to enjoy many of the adult exclusive spaces and offerings onboard the Disney Fantasy. 
Image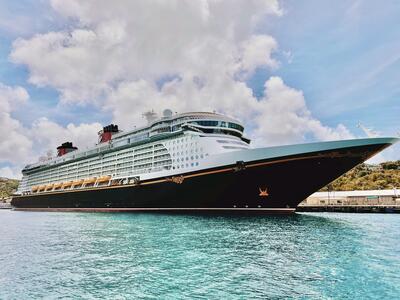 With Disney Cruise Line's newest ship, the Disney Treasure, making its debut next year in 2024, we are eagerly awaiting to see what this ship will have in store for its adult passengers.