Disney Cruise Line is one of the biggest names in the cruise industry. The same year that their first new-build ship, Disney Magic, launched, they opened Disney's Castaway Cay, their private island located in The Bahamas. 
I recently had the opportunity to visit Castaway Cay, for the very first time this year. This was not the first cruise line private island that I've visited. Throughout my cruising adventures, I've called at Royal Caribbean's Perfect Day at CocoCay, as well as Norwegian's Great Stirrup Cay and Harvest Caye. 
After spending some time on Castaway Cay, I can say that it is one of my favorite cruise line private islands. Here are 10 things Disney got right about Castaway Cay and why I can't wait to return in the future!
#1 - Unique and complimentary activities 
Image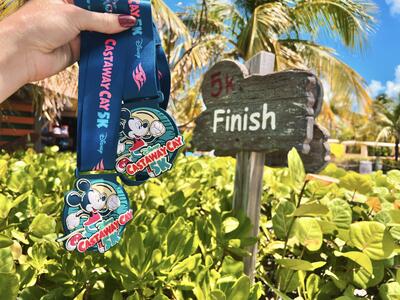 One of my favorite things about Disney's Castaway Cay is the complimentary and unique activities that can be found ashore. 
During our visit to Castaway Cay, we were able to participate in the Castaway Cay 5k running trail. This 5k run is completely free for guests to enjoy and takes visitors on a tour of the island. One of the fun perks of participating in this activity is that all guests receive a free little prize at the end of the run! 
Much of the 5k course is in the direct sunshine with very little shade. Because of this, I recommend bringing a hat and a sunshirt in order to protect from sunburns. Along the course, there are several water stands for guests to cool down and rehydrate. 
Image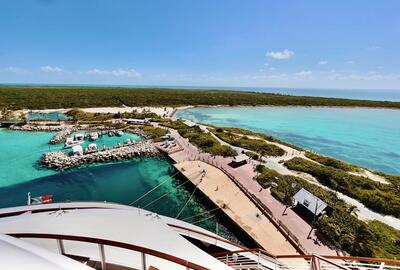 Since 5k courses are a little over 3 miles long in total, this activity can take a while if you are someone who is not a regular runner, so I would take this into account when it comes to planning your day on Castaway Cay. 
The 5k has no official start time, and visitors are encouraged to take this run at their own pace. Simply make your way to the starting line and begin your trek. At the end, a nice crew member will hand you your exclusive Castaway Cay 5k prize! 
Another exciting activity that we were able to do during our visit was the snorkel trail. On other visits to cruise line private islands, I have yet to see an activity as unique as the snorkel trail on Castaway Cay! 
Image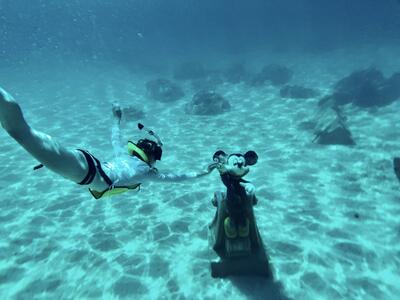 Just off the shore of the main beach, visitors will be able to see white buoys floating in the water. 
These buoys are floating just above some magical things under the water for guests to find and look at. Swimming the snorkel trail is complimentary to all guests, and you'll want to keep an eye out for the hidden Mickey!
When we embarked on our Disney Cruise, we knew we wanted to do the snorkel trail on Castaway Cay. We decided to purchase and bring our own snorkel gear with us. 
Image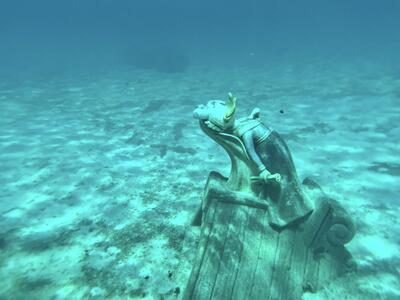 Oftentimes, purchasing your own snorkel gear can be the same price or even cheaper than renting snorkel gear when on vacation. Plus, you can reuse the gear in the future! We brought our snorkel gear onto the island and picked up a complimentary to-use life preserver vest at the stand next to the beach. 
If guests choose to rent snorkel gear from Disney Cruise Line, they can do so at the stand near where they pick up the life preserver vests. It is required by Castaway Cay that all guests swimming the snorkel trail use and wear a life preserver. 
Something important to note is that the snorkel trail is quite long. There are so many awesome magical things to discover, though! On this trip, I was traveling with my husband; we both are relatively proficient swimmers, and we still felt that it was quite a far way to swim to do the entire snorkel trail. 
Image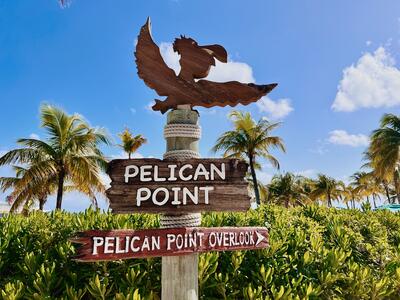 Because of this, if you are a family taking small children out onto the snorkel trail, I recommend accessing if your child is a good swimmer and staying close to the snorkel spots near the shore. All in all, it took us about an hour and a half to explore the entire snorkel trail during our Castaway Cay visit. 
#2 - Adult-only areas
Image
Serenity Bay is the name of the adults-only beach on Castaway Cay, and it is a must-see for all adult guests!
While Disney Cruise Line is, of course, designed with families and children in mind, I appreciate that they also do an excellent job of catering to adults.
Image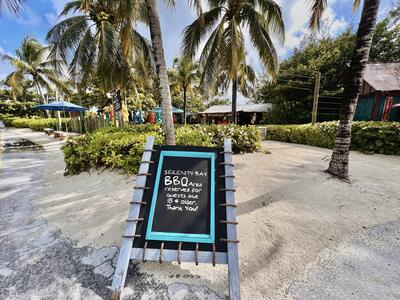 Serenity Bay consists of a dining area featuring some great barbecue and food options for lunch onshore the island, as well as a bar in order to enjoy a tasty tropical drink, a quiet beach, and plenty of lounge chairs in order to relax near the sound of crashing waves while enjoying the day in the Caribbean. 
Once on the island, guests can either walk to Serenity Bay or hop on one of the complimentary shuttles that take guests all over the island.
Image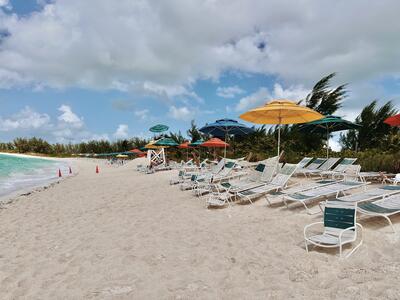 It is important to know that Serenity Bay is a little far from the main areas of Castaway Cay. Because of this, I would recommend walking to the main area of Castaway Cay and then taking the shuttle to Serenity Bay. 
Read more: Is Disney Cruise Line fun for adults without kids? 
#3 - Areas just for kids and families
Image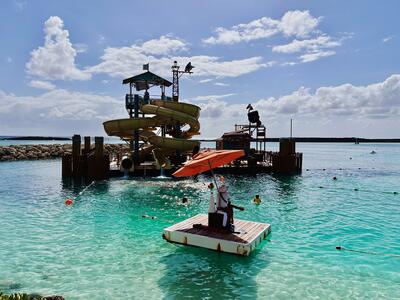 The kids and family areas on Castaway Cay are huge and impressive. There are two beaches that children and families can explore together and make some awesome vacation memories. 
Be sure to check out the Pelican Plunge waterslide and play structure. This great area is located near the farther end of the Castaway Family Beaches and can only be reached by swimming. This fun waterslide is family-friendly. 
Near the family-friendly beaches, visitors will find plenty of areas to relax or play to their hearts' content. To snap that perfect family picture, I recommend taking a stroll out onto the pier near the Heads Up Bar, where guests will have great views of Pelican Plunge, the family beach, and your docked Disney cruise ship. 
Image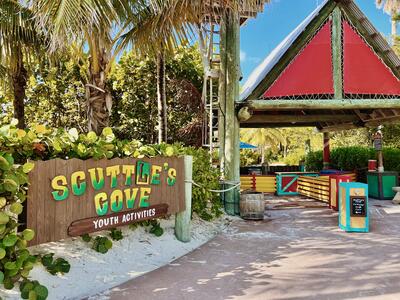 In addition to the family beaches, there are private and exclusive areas designated for kids to play, meet travelers their own age, and participate in age-appropriate activities. 
Essentially, these areas are similar to the kids' clubs onboard Disney cruise ships but located on Castaway Cay. The area for children is called Scuttle's Cove, and there is an area specifically for teen visitors called the Hideout. Guests 14 to 17 years of age are able to access the Hideout during their visit to Castaway Cay. 
Read more: See what the cheapest stateroom is like onboard the Disney Fantasy is like
#4 - Unlimited soft serve ice cream
Image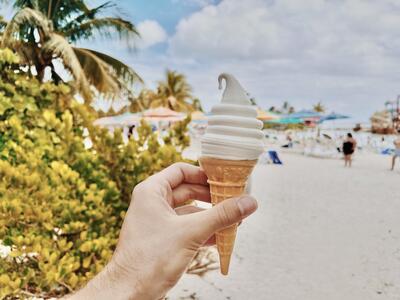 Something that Disney Cruise Line is known for is their unlimited, complimentary, self-serve, soft-serve ice cream. Onboard, the soft-serve ice cream flavors change several times throughout a cruise, and this amenity is often quite popular amongst guests of all ages. 
I was surprised that Disney offers unlimited complimentary soft-serve ice cream on Castaway Cay, too! Guests can enjoy as much soft-serve ice cream either in a cup or a cone during their visit to Disney's private island. 
Image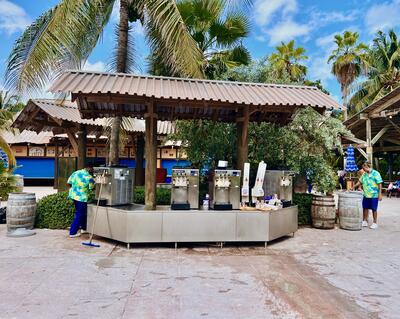 Visitors can find the ice cream machines near the main dining and food venue, Cookie's BBQ. 
#5 - Plenty of lounge chairs
Image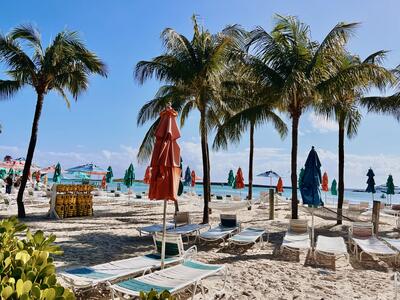 Something that can be quite frustrating onboard cruise ships is snagging a lounge chair near the main pool. 
Oftentimes, there just are not enough lounge chairs around the main pool onboard larger cruise ships; however, this is not a problem on Castaway Cay! 
During our visit to Disney's private island, I was surprised to find a plethora of lounge chairs on the beaches.
Image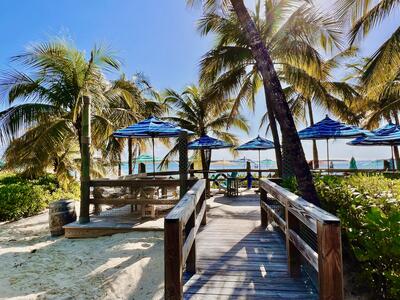 All of the lounge chairs are complimentary to use on Castaway Cay and having plenty to choose from helps ensure a relaxing visit to Disney's private island. 
At the adults-only beach, guests can even use a complimentary hammock during their visit! 
#6 - Complimentary dining options
Image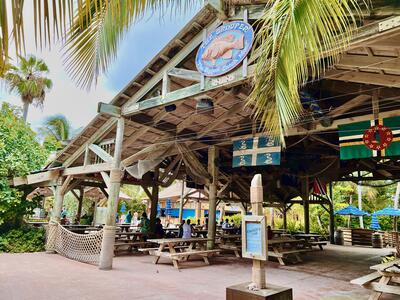 All of the dining on Castaway Cay is complimentary to all Disney Cruise Line guests. This is a great feature that is not always offered on some cruise line private islands, like Norwegian Cruise Line's Harvest Caye.
The main food venue on Castaway Cay is Cookie's BBQ. However, there are three locations on the island including Cookie's BBQ, Cookie's Too BBQ, and the food venue near Serenity Bay. 
There are plenty of options that help cater to every guest's tastes, preferences, and dietary restrictions. 
Image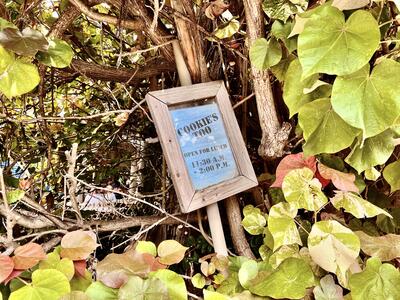 Something important to note is that all of the food locations close in the afternoon after lunchtime. This is to help ensure that the crew members can get everything cleaned up at the end of the day before the cruise ship departs. 
On our visit to Castaway Cay, the venues closed around 2:00pm. Make sure to double-check the times for when the food locations close, so you do not miss this tasty and complimentary lunch! 
#7 - Island transportation
Image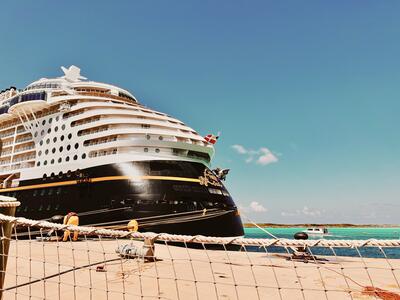 Disney's Castaway Cay has a great transportation system that is complimentary for all guests to use. There are a series of tram-trains that take guests all over the island.
These trams can come in handy for reaching more remote parts of Castaway Cay, such as the adults-only Serenity Bay, or for small children at the end of the day who are tired of walking. 
No matter the circumstances, the free and efficient transportation on the island is an excellent feature that guests should take advantage of during their visit. 
Image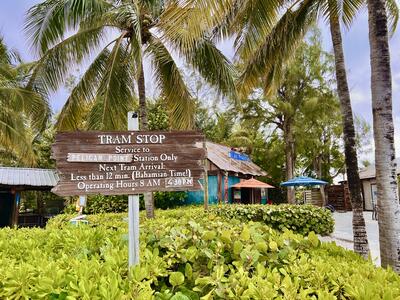 Of course, these transportation trams tend to be the busiest during the very beginning of the day and at the end of the day when guests are making their way back to the cruise ship. 
Guests can consider walking in order to avoid waiting in long lines to get either into Castaway Cay or back onto the Disney ship. 
#8 - There's so much to explore
Image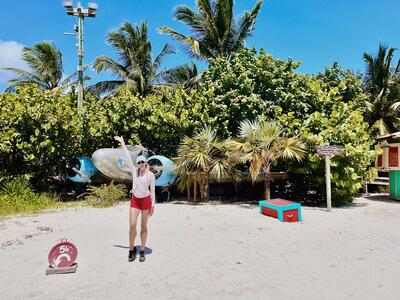 Because this was my first visit to Disney's Castaway Cay, I wanted to see and do as much as possible in the relatively short time we had onshore. 
We had about six hours in total during this trip, and while it was enough time to see some of the highlights, it was definitely not enough time to do and see everything on Castaway Cay. 
Disney's Castaway Cay has some great shore adventures for visitors to participate in. One of the most notable is the Castaway Ray's Stingray Adventure. This shore excursion allows guests to get up close and personal with stingrays that live near Castaway Cay. It, however, is not complimentary. 
Image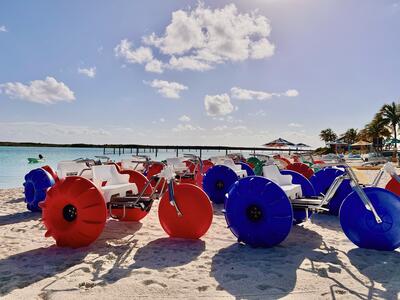 For those guests looking for a little dose of adrenaline, there's a parasailing shore excursion, weather permitting. 
Disney Cruise Line passengers can rent a bike to take a self-guided tour of the island. During our 5k run, we noticed quite a few fellow guests on bikes! In addition to bike rentals, guests can also rent items such as floats, tubes, and even paddle boats. 
There is absolutely way more than can be seen in just one day on Castaway Cay. This makes Disney's private island an exciting Caribbean destination that can be visited several times, and guests can still see and do new things during their day in paradise. 
Read more: Love all things pirate-related? You have to check out Disney Cruise Line's Pirate Night
#9 - Exclusive merchandise and souvenirs
Image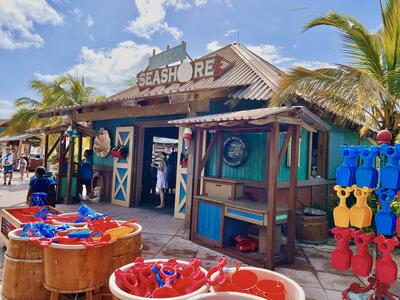 For Disney Cruise Line guests who like to shop and find the perfect souvenir from their trip, there is no need to fear because Castaway Cay has several great little shops with all sorts of exclusive merchandise. 
Guests can visit "She Sells Sea Shells and Everything Else" and "Buy the Seashore" for exclusive Castaway Cay logo items and souvenirs. 
Additionally, for those visitors who are looking for something specific to the Caribbean and Bahamas there is "Bahamian Retail."
Image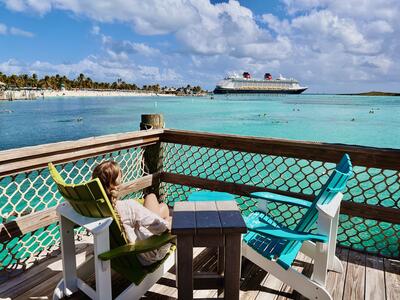 All of the items that can be found for purchase on Castaway Cay are exclusive to the island. That means if you see something you like and want to buy, pick it up right away. 
If you change your mind and would like to return something later, guests can do so onboard their Disney cruise ship or at any retail location around Walt Disney World. 
However, clothing items cannot be exchanged, as they can only be found on Castaway Cay, which means guests should try on a shirt or clothing item if they are considering something wearable for their Castaway Cay souvenir. 
#10 - Disney theming and magical storytelling
Image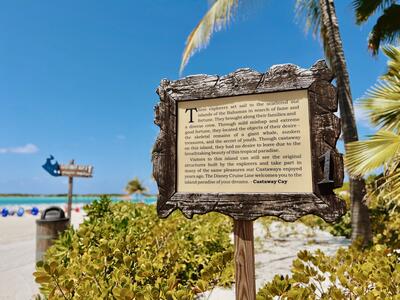 Probably the most significant thing that sets Castaway Cay apart from any other cruise line private island is Disney's attention to detail, theming, and storytelling. 
From the moment that guests set foot on the island, they are immersed in the Disney storytelling. There are so many hidden features that have to be seen for yourself. 
Disney does a great job of making everything beautiful and seamless when it comes to attention to detail. 
Image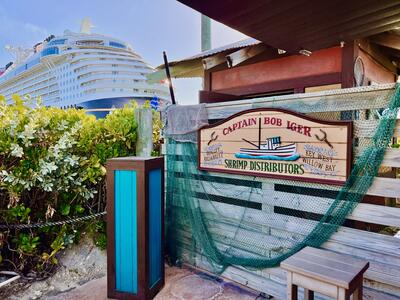 Castaway Cay's story can be seen throughout and all over the entire island. Everywhere guests look they will see the story of Disney's Bahamian island 'town' around them. 
Make sure to bring your camera onto the island, as there are countless great spots to get that perfect family photo. Disney creates experiences by making meaningful family memories in mind, and Disney Castaway Cay is the perfect Caribbean destination for that. 
I wish that I had had more time to explore Disney's Castaway Cay
Image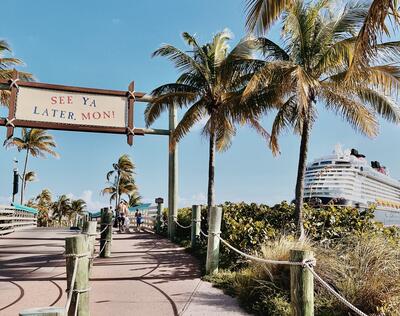 For guests who enjoy all things Disney, Disney's Castaway Cay may become their favorite cruise line private island! 
I highly enjoyed our day ashore, and my only con is that we did not have more time in the day to explore and see everything. 
Above all, I appreciate Disney's attention to detail and their ability to create a beautiful Disney destination while preserving the authentic Bahamian feel of this Caribbean island. 
Read more: The Disney Fantasy has so many hidden details to discover, check them out here