A cruise vacation is meant to be a chance to kick back, relax, and escape from your mundane everyday routine. 
Like with school, work, and nearly every hobby and activity in life, there are unwritten rules that we must abide by while on vacation. 
After losing a game, it is unsportsmanlike to be rude to players on the other team. Similarly, if you run into an issue on your cruise, you wouldn't want to be rude to guest services or other passengers. 
Here are the unspoken rules of behavior and etiquette on a cruise ship. 
When planning pre-cruise transportation, book your flights the day before the ship is scheduled to depart
Image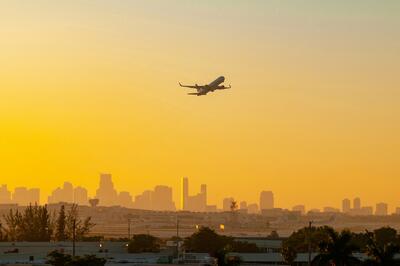 If you are lucky enough to live within driving distance of your cruise port, this rule will not apply to you. 
However, for those who are relying on airplanes as their mode of transportation to get them to their embarkation city, you will want to ensure that you book a flight that arrives the day before you are scheduled to depart. 
While you can fly in the morning of, it is a risky decision. A thirty-minute delay might not ruin your vacation, but a two or three-hour one might! What happens if your flight gets canceled and there are no rebooking options that will get you to the port on time? 
Image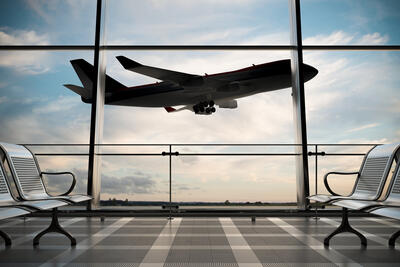 Rather than chance it, you should book a flight for the day before. While this means you will have to pay for a pre-cruise hotel and potentially take another day off of work, it's worth it! Plus, you can use things like credit card points to help offset the cost of the hotel. 
Read more: The costly cruising mistake newbies make planning their first cruise
Always get a clean plate when returning to the buffet for seconds, thirds, or fourths
Image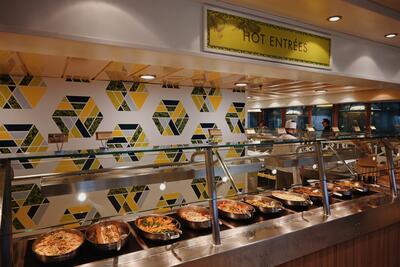 When you are browsing options in the ship's buffet, you will notice that there are utensils at each station for a reason, whether it's a spoon, salad tongs, etc. 
Using your hands puts the health of others at risk when it comes to cross-contamination, as germs can easily be spread. 
It is also good manners to wash, or at least sanitize, your hands before going into the buffet, too. This doesn't mean you can use your hands, though!
Speaking of buffets, don't cut the line
Image
Cruise buffets rarely have any sort of defined lanes; however, you shouldn't cut people who appear to be waiting for any station. 
While you might have to ask if someone is in line, it is more polite than simply assuming that they aren't. 
If you interrupt the flow of the line, even if you assume it will only take you thirty seconds or so to grab what you want, you're being disrespectful to those who have been waiting. 
Read more: Why you should eat dinner in the buffet
Do not be a chair hog
Image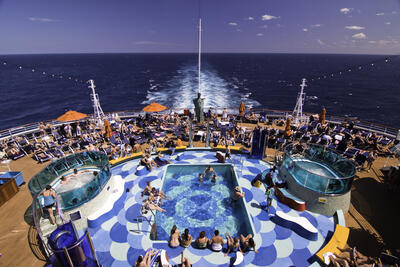 Chair hogs are people who will leave their belongings on one or more chairs near the pool to try and reserve them for later use. They won't actually use them at that moment and will go do other things, such as grab a bite to eat or breakfast or return to their stateroom to finish getting ready. 
The majority of cruise lines do try and limit this practice by monitoring which chairs are actively being used; however, there's only so much they can do, especially when there are 3, 4, or even 5,000 people onboard!
Rather than contribute to the problem, only claim chairs when you plan on being by the pool. Everyone steps away every now and then, but you should not reserve chairs if you are planning on going elsewhere on the ship. 
Image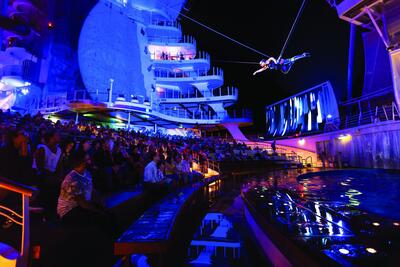 You also should not hog chairs during shows, either. There have been instances on cruises that I've sailed on when a performance has started and family members are still instant on savings chairs for others until they arrive!
If you know that people in your party will be running late, you should sit near the back of the theater, so they can enter without disturbing others. 
Read more: 17 Things You Should Never Do on a Cruise Ship
Check in at your muster station as soon as possible
Image
Since the pandemic, a lot of cruise lines have implemented e-muster drills. Rather than have all passengers gather at their assigned assembly stations at once, they're able to watch videos on their mobile devices or in their stateroom and check in at their assembly station prior to the ship's departure. 
If you have been on a ship with e-muster drills, you've probably heard the ship's staff come on over the PA system numerous times reminding people to visit their station; it can be rather annoying to those who took the time to complete all the required safety drill steps. 
The sooner you get this done, the sooner you can get back to exploring the ship and preparing for sail away! 
Read more: 20 rules of cruise ship etiquette no one ever tells you (but should)
Let everyone off the elevator before getting on
Image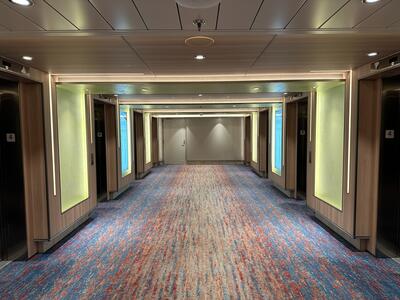 Cruise ship elevators tend to be pretty crowded, especially during the initial embarkation and disembarkation or in ports of call. 
It is important to let people who are in the elevator out before trying to cram in. Letting people out first is not only courteous but it will speed up the process, helping you get to your destination much quicker!
Another good rule to abide by is that if there's someone waiting on an elevator with a mobility issue, you should let them in first. Sometimes, it is quicker to take the stairs, and it will free up space in the elevator for those who really need it. 
Make sure you are on time for all reservations
Image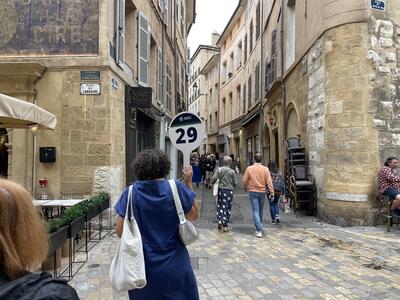 Even though much of cruising is doing what you want when you want, there are times when you should be punctual. Perhaps you're dining at a specialty restaurant at 8:00pm or have a shore excursion booked for 9:00am. 
If you are too late to either of those, you may find that, one, your table was given up or, two, your tour group is gone. 
I recommend showing up at least 5-10 minutes before your time slot for whatever the activity may be. That way, you won't be holding anyone up, and you are guaranteed to be seated and enjoy your meal!
Read more: 11 common cruise shore excursion mistakes to avoid
Be kind to crew members and other passengers
Image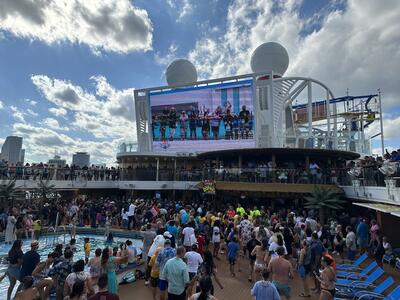 All crew members on your ship are dedicated to working as hard as they can to make sure that you have a memorable time onboard. A little kindness can go a long way. It doesn't hurt to say hello to the crew in the corridors when leaving your cabin for breakfast or returning for an afternoon nap. 
Additionally, all other passengers are onboard to have a great time. You don't want to waste time speaking with a security officer or getting involved in an altercation. Working with each other with respect will help foster the best environment for everyone onboard. 
Do not remove gratuities once onboard
Image
Unless you are sailing on a luxury line, it is unlikely that your daily tips are included. If you don't prepay them, they'll be charged to your onboard account to settle at the end of the sailing. 
The rates vary from cruise line to cruise line, as well as what stateroom category you're staying in. Guests staying in suites, for instance, will pay more than those in standard cabins. 
While you technically are able to remove the automatic gratuity by speaking with Guest Services, it impacts crew members who receive a percentage of the daily gratuity. 
Read more: 10 do's and don'ts of cruise ship tipping
Control your noise level
Image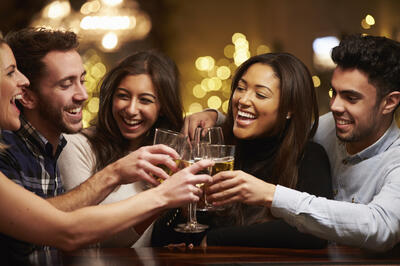 No matter where you are on the ship, it's important to be respectful of your noise level. 
Whether you're blasting your cabin's television, scolding children on the lido deck, or talking to your partner on your private balcony, there will be other passengers who can hear you. 
Before your ship sails away, ensure that your phone is in airplane mode
Image
Regardless of whether you're planning on purchasing a cruise ship Wi-Fi package or not, you will want to make sure that your cell phone is in airplane mode before your ship reaches international waters. 
Cellular providers charge an outrageous amount in roaming fees. The last thing you want is to return home from a great vacation to a bill that's hundreds of dollars simply because you neglected to switch your phone into airplane mode. 
If you're worried about being without service, you can always purchase a Wi-Fi package. 
Read more: Do cell phones work on cruise ships?