Have you ever thought of cruising on your own? Some people can't imagine the idea, but for others, it is a fantastic way to travel. I recently took a 10 day solo cruise and loved it. In fact, it turned out to be one the most relaxing vacations I have ever taken. 
More and more people are enjoying solo journeys for a whole host of reasons. Cruising, in particular, is an excellent option for solo travelers, especially for first-timers. 
With a wide range of itineraries, tons of activities, incredible food, and entertainment, it's the vacation that has it all.  
Here are the top 15 reasons why solo cruising is a fantastic way to travel.   
1. An easy first step
Image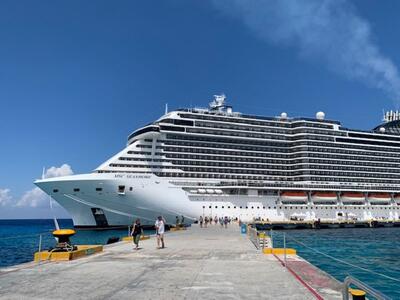 If you are thinking about vacationing on your own, but are not sure where to begin, cruising is an ideal first step. The simplicity of this form of travel makes it quite manageable, especially if you are nervous or unsure about venturing out on your own.
As someone who has cruised solo, I have found it to be one of the easiest ways to travel, because so much is taken care of. Once you are on the ship, your food, entertainment, and daily activities are all there. No worries about finding a restaurant, which shows to watch, or getting a taxi back on your own late at night.
2. Planning made simple
Image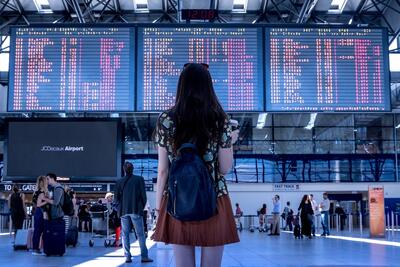 Another major perk to solo cruise travel is that the logistics of getting to a bunch of countries in a short amount of time are all taken care of. Whether it's a cruise of the gorgeous Amalfi coast or the tropical Caribbean, you don't need to worry about ferries, flights, or trains.
Not sure where to start planning a solo cruise? The first step is to pick where you want to go and on what ship. No worries about making everyone happy; just book what you want. A good travel agent is always a great place to start and can help navigate the ins and out of cruising, especially for first-timers (and they don't cost you a cent).
3. Travel when it's convenient for you 
Image
For all of us who have planned vacations with our family and friends, a fair amount of diplomacy and negotiation is involved. Everyone wants a wonderful holiday, but trying to manage diverse preferences and opinions, not to mention opposing work schedules, can be tricky at times.
A solo cruise takes all this away. It's all about you. You pick the time that works best for you, and you can even take advantage of off-peak periods to travel and maybe save some money, sometimes as much as half off the normal cruise fare. 
4. Flexibility  
Image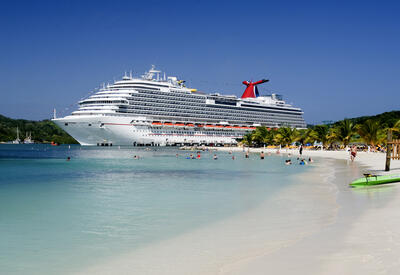 Once onboard, whether it's a sea day or a stop in an incredible port, solo cruising gives you a lot of flexibility. You can visit that special place you have always wanted to see, hit up a beautiful beach, or zipline through a jungle; the sky's the limit.  Some people even like staying on the ship, enjoying amenities like spas or a quiet pool day.
If you are going to a place where you don't feel secure or comfortable venturing out on your own, you can always go on a cruise line excursion, and you will be in a group with others, without the stress of making it back to the ship on time on your own.
5. Cross off some bucket list destinations
Image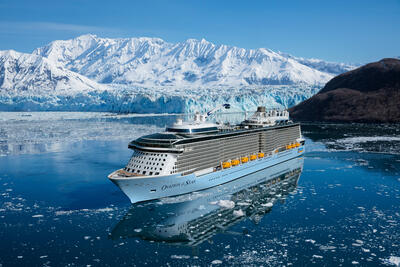 Do you want to go somewhere isolated like Antarctica, see the sunny coasts of Australia, or the incredible wildlife of Alaska but can't find a pal to go with?
Cruises extend well beyond the typical tropical islands we all hear about. Pretty much anywhere you want to go in the world, you can cruise to. If you are traveling solo, it makes it even easier to get to some of these locations on your own. Let the cruise line experts figure out the best way to get you there, most even arrange flights as well.
6. Space
Image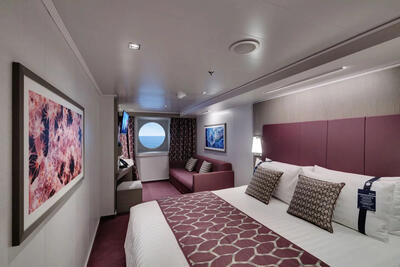 Cruise staterooms are generally not known for their size. There are a few massive suites, but often cruise cabins are smaller than many hotel rooms. Although most peoples spend a lot of time outside of their cabin, it can feel rather cozy at times, when there are a couple people inside. 
Having a cabin all to yourself adds to your relaxation as a solo cruiser. Go to bed when you want, watch tv, or lay in silence. It is all up to you since you aren't sharing a cabin.
7. Ideal for digital nomads
Image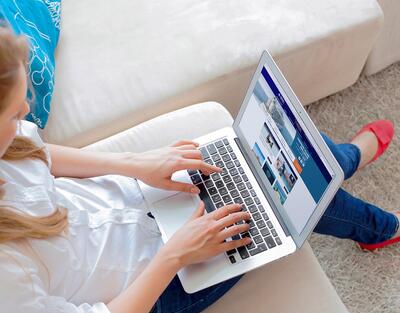 If you work while traveling, your own cabin is a nice perk. If you work online and want to get away, a cruise can be a great alternative to working in a coffee shop or your living room. As a solo cruiser, your schedule can be flexible and login when you want /need to. Post-pandemic, more and more people have continued to work remotely while trying to recapture lost travel time, and cruising is the ideal solution. 
With the recent launch of Starlink on many cruise lines like Royal Caribbean, the internet has improved, making it an even better option.
8. Food, food and food 
Image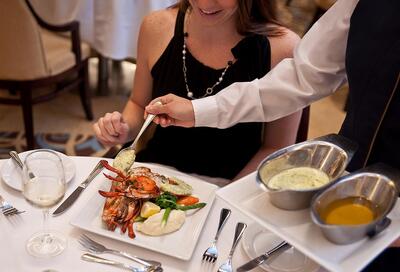 Cruises are famous for their non-stop buffets and a multitude of dining venues. From quick service food to leisurely dinners in the main dining room, solo cruising means having the luxury of eating whatever you want, when you want. 
Most families struggle with meal times while cruising. In our case, my daughters tend to get up later, while I need to have breakfast 5 minutes after I wake up. Different schedules always seem to throw us all off course the rest of the day. While it's fun to cruise with my family, on my own, I eat when I want. Two breakfasts, no lunch. Whatever works that day. You can even change your mind at the last minute, and no one is there to care or see you take that extra helping of bacon. 
9. Meet new people
Image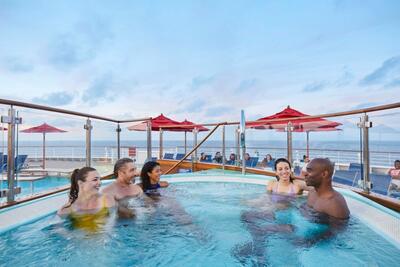 Many cruisers can't imagine traveling solo, but in reality, there are so many ways to meet new friends, and people from all over the world. The cruise line's daily program outlines activities and entertainment available onboard, a great place to start. Even excursions are an excellent opportunity to meet new and interesting people. While recently traveling to St.Kitts, I made some lovely friends while we took a boat ride to the nearby island of Nevis. We even met up a couple more times during the cruise, which was lots of fun.  
Sailing on your own provides lots of opportunities to talk to the staff and learn about them. I have always found the crew to be incredibly welcoming and chatty when they find out I am cruising on my own.
10. Learn a new skill
Image
Cruise lines offer their passengers plenty of things to keep them busy. A whole host of seminars, tons of entertainment, dance classes, trivia, wine, and whiskey tasking, the list is endless.
Some new things I saw on my recent cruise included archery, glass blowing, and golf (on a real grass green), all included activities. A great time to try something new or a hobby you already love.
11. Solo perks and benefits
Image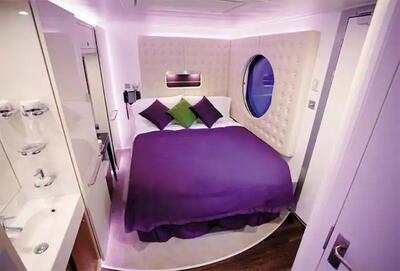 Some cruise lines, like Norwegian Cruise Line, go the extra mile for solo cruises, with solo cabins (so no pesty supplementary fee). They also have a studio complex with limited key card access to a private space and lounge. This shared private area is where guests can hang out, have a drink, order room service, watch the big-screen TV, and meet other solo passengers.
In addition, most cruise lines have scheduled solo meetups where you can get to know other cruisers, if you feel like socializing.
12. Nap whenever you like
Image
This may sound a little lame, but the older I get, the more I enjoy a mid-afternoon siesta with no explanation. When you are a kid, you can't imagine why anyone would want to nap and miss out on all the activities, but when you get older, a nap becomes a lovely indulgence.
And, then, there is the added bonus of being at sea. There is perhaps no more glorious of a thing than closing your eyes, and hearing the sounds of waves hitting the ship.  A small detail, but a great way to take a much needed break, and catch up on sleep.
13. Get inspired 
Image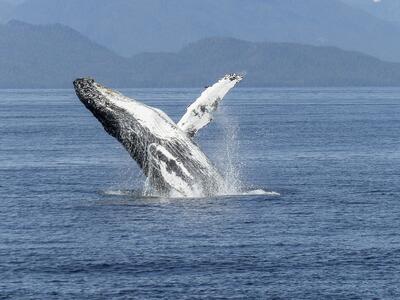 Sometimes a little quiet or a change of scenery is good for the mind. Having downtime, or hours without conversation, is okay, and can be beneficial to the creative process., While cruising, I found that I used technology less, and didn't even stream one show while vacationing. Instead, I spent time listening to live music, taking in the scenery, and enjoying all the ship had to offer. All good for the mind.
Secondly, there's nothing like visiting a foreign land, learning about new cultures, trying exotic food, or touring an ancient ruin to change your perspective. 
14. Relax and recharge 
Image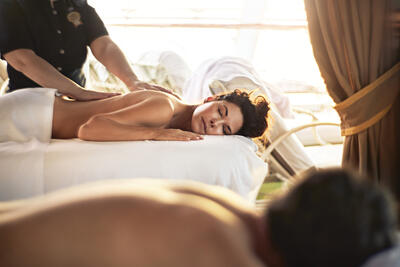 There's something about lounging on a chair, looking out on the expansive blue ocean with no land in sight. It can be mesmerizing and completely relaxing. Vitamin Sea, as many people call it, it is a truly restorative process. Busy family lives and work stress add up. Sometimes it's not about not wanting to be with others but rather some time off to heal on your own. 
People pay money to hear the sounds of the ocean on their phones. How about spending a day on your own, listening to real ocean waves ? Grab a book, put your feet up and stretch out on your balcony. Pure bliss. 
15. Gain confidence
Image
If you are new to solo travel or a little nervous about venturing out on your own, cruising is a great first step. After seeing how easy it is to travel independently, you get confidence in your abilities, making the next one even easier. 
As someone who is directionally challenged, cruising solo has made me better at navigating on my own. On my last cruise, I did some research and ventured around on my own in two new ports in French Martinique and Grenada. It was an excellent opportunity to use my language skills and experience a" go with a flow type" day, which proved to be lots of fun.