Can you still have fun on an older cruise ship? I recently sailed on both MSC Divina and MSC Seascape, the oldest and the newest MSC ships currently sailing in the Caribbean, in a bid to answer this question. 
MSC Cruises is known for its competitive pricing, and I was able to get a super cheap four-day cruise, followed by a 7-day cruise on the much newer MSC Seascape. 
I wanted to sail them both to see how the experiences compared. Does a new ship automatically beat an older ship, and does the price make a difference in the cruise experience? 
Here is how my cruise vacation went and which ship was victorious.
Cruise overview 
Image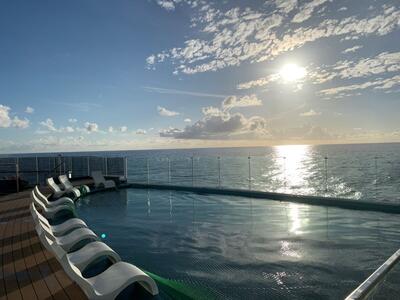 This is a tale of two cruises if you will. While the Dickens reference is a bit of an exaggeration for a cruise vacation, it does set the tone for my adventures. My first voyage was MSC Divina sailing out of Miami on a 4-day cruise with stops at the cruise line's private island in the Bahamas, Ocean Cay MSC Marine Reserve, and Nassau. 
Two days after disembarking MSC Divina, I again ventured to the busy Miami cruise port to board MSC Seascape. This time I was heading south on a 7-day cruising sailing, returning to the Bahamas and visiting Puerto Rico and the Dominican Republic for the first time. 
To make the comparison even more dramatic. I was saying in an interior suite in MSC's luxury Yacht Club on MSC Seascape and a standard interior cabin on MSC Divina. 
The two contenders 
Image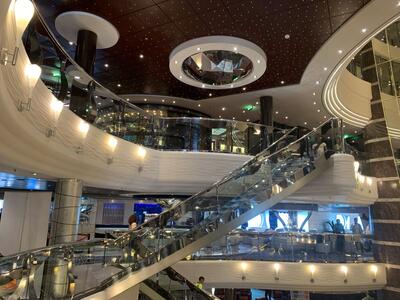 MSC Divina, which was launched in 2012, is a good size ship at 139,000 gross tonnage and has a capacity of 4,345 passengers. MSC Divina is part of the Fantasia class of ships, which preceded the popular Meraviglia class of ships.  
MSC Seascape is the newest MSC ship sailing in the Caribbean, the fourth in the Seaside class of ships. At 169,400 gross tonnage, it can welcome up to 5,877 guests onboard. It is designed to take advantage of warm climates, with many outdoor spaces, even al fresco dining. It is nearly identical to its sister ship, MSC Seashore, except for the addition of ROBOTRON, a thrill ride. 
Image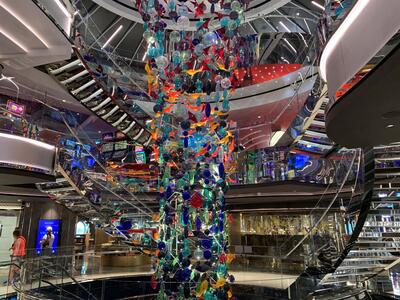 MSC Divina has 18 decks in total, and MSC Seascape has 20.  Of course, some of them are off-limit to guests as they are crew only areas. A bit of trivia, both ships have a deck 13, but no 17, as that is an unlucky number in Italy. 
Externally, they have the classic navy and white MSC colors, although they have different silhouettes. They both have a central atrium which acts as a main hub for a lot of activity onboard. They have standard amenities like main dining rooms, theatres, casinos, spas, gyms, pools, a variety of cabins, and more. Just looking at the ships' interiors, you can see they are both MSC with their elegant interiors and sparkly stairs adorned with Swarovski crystals.  
Cabins 
MSC Divina 
Image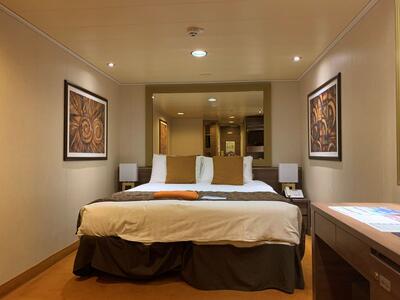 On my MSC Divina cruise, I was booked in an interior cabin on deck 12, near the aft (sailing speak for the back of the ship). Although the cabin's color scheme was a bit outdated, the room was typical of MSC cabins. I was impressed with how much storage space there was, and it was comfortable. 
The cabin had everything I needed, including a compact bathroom. I have read that interior cabins range in size from 140-170 square feet. I don't know the exact size of the one I was in, but it felt like it was at the larger end of that size range, based on my other MSC cabin experiences. 
Being at the back of the ship meant that it was pretty quiet, as there was little foot traffic.  But, I did feel the movement of the ship quite a bit as we went through some rough seas. 
MSC Seascape 
Image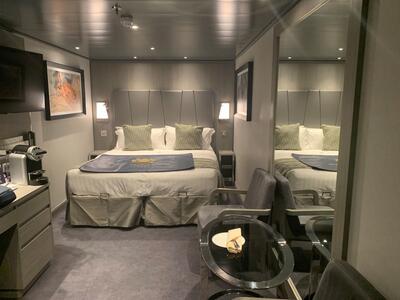 For my next cruise, my upgraded inside cabin was 226 square feet, much smaller than many of the deluxe suite options available in the Yacht Club. Nonetheless, I was impressed with it. My first impression was that it was serene, and the sophisticated design was elegant.
The cabin was stuffed with goodies, including flat and still Italian bottled water, a variety of teas, nuts, and a stocked (free) mini-bar with more water, soda, beer, and wine. At one corner of the desk was a shiny coffee maker, a real treat for those who like their early morning java boost.  
My interior stateroom did have a good amount of storage space, but the bathroom was pretty compact; it felt very similar to the one on MSC Divina. Of course, many of the perks of Yacht Club are outside of your cabin, which I assume is the same with MSC Divina. 
Design  
Image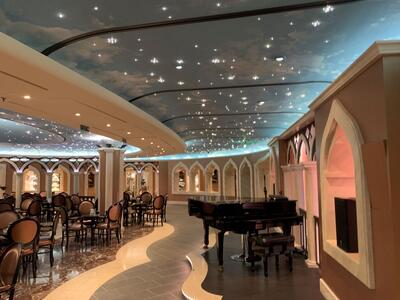 Having previously sailed on MSC Seashore, I was already partial to the design of the Seaside class of ships, and MSC Seascape was no exception. The silhouettes of both ships are quite different from one another. MSC Divina is more rectangular in shape, with a flat back. The ship does, however, have some nice attributes; I liked the adult-only area on deck 18, with a pool and fantastic views of the wake of the ship. Inside, I enjoyed the classic looking stone Piazza with a café and shops.  
Image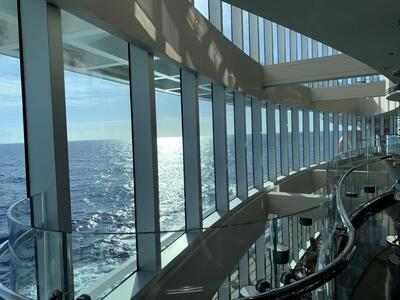 On MSC Seascape, you immediately notice more outside space, with an infinity pool jutting out from the back of deck 8. This deck houses lots of outdoor deck space, where you can dine at Butcher's Cut, have a drink at the Sports Bar, or find an empty lounger on a sea day. Inside, the layout of the specialty restaurants and bars, including the fantastic Cocktail Bar, is super elegant and never seemed crowded. There is an incredible use of windows on MSC Seascape, and the light permeates throughout. 
MSC Seascape also has the benefit of advancements in technology to improve its carbon footprint. Some of the major updates include greater energy efficiency, an advanced wastewater treatment system, a Hybrid Exhaust Gas Cleaning System,  LED lighting, energy-saving appliances, a Ballast Treatment System, and a state of the art recycling and solid waste management onboard. 
Food 
Image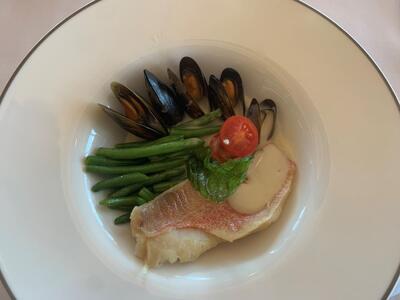 The buffet is a cruise ship mainstay, with lots of options, throughout the day, including freshly made pizza, lots of hot dishes, salads, grill items, and much more. Both were quite large but busy most of the day. Although there was tons of seating, especially near the back of the ship, walkways created bottlenecks during peak times. MSC Seascape has outdoor seating at the back of the buffet, a real bonus.
Image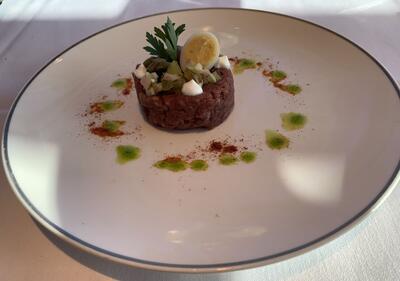 Both have the classic main dining room as well as specialty dining options.  On MSC Divina, I discovered Piazza del Doge, a quaint Italian stone piazza with shops. It has a great café/ bar, gelato, and complimentary pastries and sandwiches. The main dining room on MSC Divina could be slow at times, and the food varied.
While on MSC Seascape, I had access to the Yacht Club restaurant, which was akin to specialty dining in quality and was open all day. The food and service were very good.
Image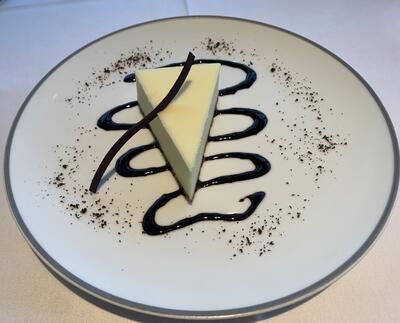 Overall I ate well on both cruises. In particular, MSC excels with fresh pasta, and its baked goods are stellar. I was very impressed with Butcher's Cut on MSC Divina; the service and food were outstanding. I feel like MSC would benefit from more free dining/ snack venues on these ships, alleviating some of the crowds from the buffet. I understand that their new World Europa has more complimentary venues -  a good move. 
Fun stuff 
Image
Both MSC ships offer a good amount to do, with activities for families, kids, and adults alike. There are many standard cruise options -  dance lessons, trivia, movies, spa, gym, bingo, and meetups for solo, LGBTQ+, and veterans. 
In terms of water fun, there were three main pools on MSC Divina. One was covered by a retractable roof, and another was in the adult-only area. There were also a number of hot tubs throughout the ship. The adult-only area on the upper-level deck was enjoyable. The bartenders were very entertaining, and it never seemed overwhelmingly busy - it was one of my favorite spots onboard. There was a cinema, Virtual World, shuffleboard, sports court, aquapark, and slides. The covered pool was well used on our voyage, especially with lots of rainy weather. 
Image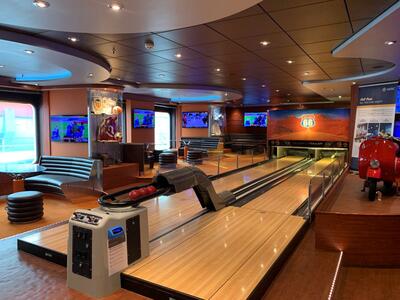 By contrast, the adult-only area on MSC Seascape seemed busier/ more crowded. The pool area on MSC Seascape has a lush jungle theme, and for some reason, it always felt extra hot and humid in this area. 
Image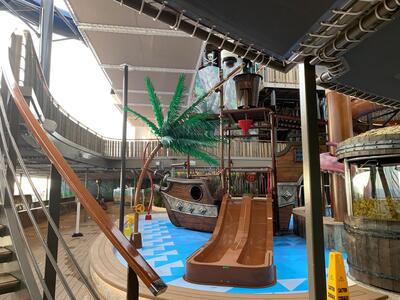 MSC Seascape is a bigger ship, so not surprisingly, it has more to offer. One of the biggest plusses is the free Pirate's Cove Waterpark, where a pesty oversized Kraken has been set loose. Kids and parents alike seem to enjoy the space. This is in addition to the mega slides, ROBOTRON, games, kids clubs, and other activities onboard. 
The Hall of Games is a fun option, especially for their VR rides, including the F1 Simulator. I watched a friend ride the simulated ride through the famed Italian track at Monza, Italy.
Entertainment
Image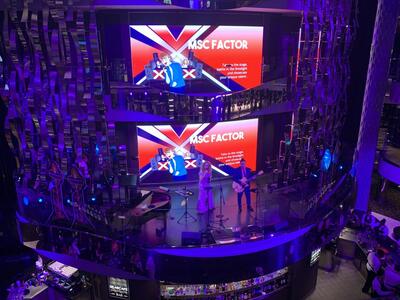 I really enjoy live music while on ships, and there was a good selection on MSC Divina. Standouts included live piano and jazz music. Additionally, the Latin show on a white night was a fun event in the Black and White Lounge. I found a couple of other fun spots. The Golden Jazz Lounge had a strong 60s retro feel, and I ended up visiting it often for music and trivia. The Sports Bar was full of TVs, a fun bowling alley, and classic American décor.  I wish they ran shows during the day, as most seem to conflict with our long dinners.
I did not love the main show on MSC Seascape, which was an odd combination of singing and some acrobatic moves. I believe the cruise line is trying to cater to a wide variety of clientele, and music seems to be the best approach.
One of the fun new shows onboard  MSC Seascape is the Guinness World Record. MSC has teamed up with the famous organization to provide some onboard fun. While cruising, I attended a show to see if we could set some new records. One particular fun event had the audience know if they could break a noise record, everyone screaming and shouting. Family-friendly, it is a fun event for all.
Itinerary 
Image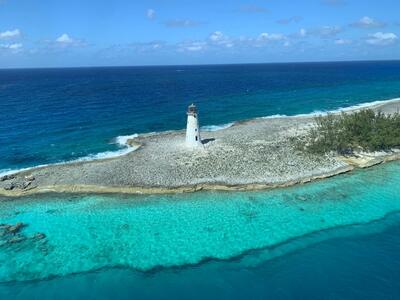 Often, older cruise ships end up on shorter cruise itineraries, and this was the case when I sailed on MSC Divina in April for a 4-night cruise to the Bahamas. This meant that I had less time to get to know the ship, and we had a limited itinerary. 
During my cruise, we ran into inclement weather, and some people complained that we should sail around it. But - there isn't enough time to switch to the Western or Southern Caribbean on a short cruise. Unfortunately, the weather is always a gamble, and I understand why people are upset when it rains three out of 4 days on a cruise. With everyone inside, MSC Divina did feel crowded at times.  But that is beyond the cruise line's control.   While we were in the rain, I relaxed and found lots to do, but the ship did feel more crowded. 
MSC Seascape, being designed for warmer climates, has tons of windows and outdoor areas. Maybe the weather, but the ship felt much brighter inside. I also liked the 7-day option, a restful break, and more to explore all that the ship had to offer. 
Internet/ tech stuff 
Image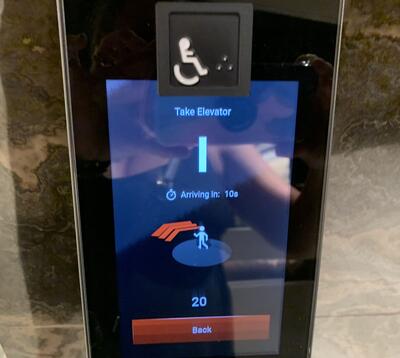 One major difference in sailing on an older MSC ship is that the MSC for ME app is not supported onboard. You have to go completely old school and use an actual paper-based program. Not a big deal at all; however, this also means you can't access the free messenger service to connect with other passengers while onboard. 
I had the basic wi-fi package (called Browse in MSC world). It worked much better on MSC Seascape. On MSC Divina, it varied significantly based on where I was on the ship and would drop out a lot. 
MSC Seascape also has a newer elevator system. You select your floor before you get on, and a projected wait time is provided. The idea is that the system is more efficient as the elevators don't stop at every floor. Some people did not like it, but I thought it was a good idea. 
Price 
Image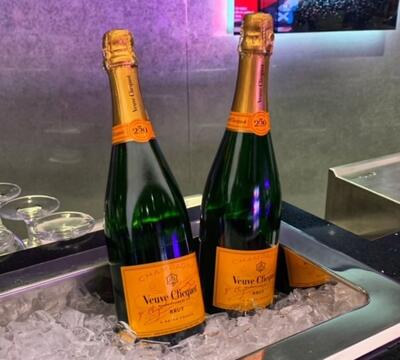 There was a huge difference between my two cruisers - price. A major deciding factor for many. MSC Divina being an older ship, I was able to get a fantastic deal, $185 per person, including wi-fi and drinks. This came to a total of $371.26 plus $100 taxes. Not bad at all. 
Not a fair comparison at all, but my MSC Seascape was $1,689 per person for a total of $3,881 with taxes and gratuities. Now, this was a Yacht Club interior cabin with all kinds of perks, like a premium drink package and access to a rooftop terrace and more. 
Value for money, MSC Divina is the clear winner. To put it another way, I could have done 8 cruises on MSC Divina for the price of my suite cabin on MSC Seascape. Even without staying in a suite, most often, newer ships will cost more. What's right for you? It really depends on how you want to spend your money.
The verdict
Image
These cruises really aren't easily comparable, especially staying in Yacht Club versus a regular cabin. Dollar for dollar MSC Divina provides a lot. It is priced extremely competitively, which is fitting for its age. This is an important point to keep in mind when evaluating the overall cruise. 
I liked the design of the newer ship, and it felt less crowded. MSC Seascape can hold up to 35% more passengers, and I found it seemed to have a better flow, part of which is the use of space outside, even the buffet. The waterpark is also a great perk for kids and families. There seemed to be a little more to do, which can be important if you get bad weather. Some other things to consider. 
The staff was friendly and helpful on both ships, and my cabins were very clean.
Overall, the food was comparable between the two,  and I could always find something I wanted to eat. 
Both showcased Italian culture well in design and offerings. I love freshly made pasta, gelato, and the fine Italian chocolate at Venchi. 
I sailed as a solo cruiser, and there were solo meetups on both ships. I was assigned a table with other solo cruisers on MSC Divina. MSC Seascape I ate alone, but due to the smaller Yacht Club venue, I was able to meet people quickly and easily. In general, cruising is easy for a solo traveler. 
The weather was an uninvited character in this story, which has nothing to do with the ships themselves, although it made a lot of people unhappy on MSC Divina. If you are worried about the weather, it is important to look at what the ship has to offer onboard. 
Cruising is about exploring new places and meeting new people, so I ended up having a good time on both. An older ship can be a great option, but it really depends on your budget and your priority. While MSC Seascape won my heart, I was glad to experience both.