I recently sailed on MSC Divina for the first time on a super cheap four-night cruise to the Bahamas. Being an older ship, I was able to get a fantastic deal. I paid $185 per person, including Wi-Fi and a drink package. 
The cruise was such a great deal and as a last-minute add-on to another trip that I was on, I did not do much research about the ship itself, something I rarely do. 
It was a bit of a crazy cruise as we sailed through a major storm and endured some rocky seas. In addition, the cruise was packed with many families enjoying spring break. In some ways, it was not what I expected. 
Image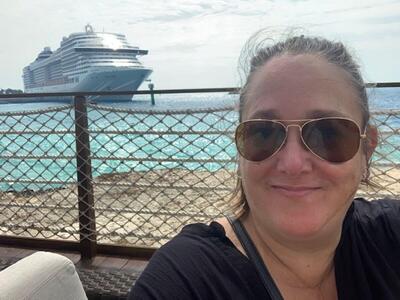 How was it? Let me take you through my four days sailing on MSC Cruises' oldest ship in the Caribbean. 
Overall, it was a fun cruise experience, and there were a lot of things that I loved about cruising on MSC Divina, but there were definitely some things that could be improved. 
Loved: the cheap cruise fare 
Image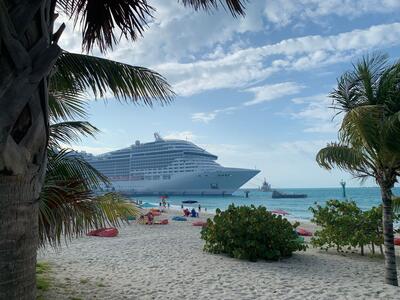 This cruise was by far the cheapest one I have ever taken. It was $185 per person, which included Wi-Fi and MSC's basic drink package. This came to a total of $371.26, plus $100 in taxes. 
The four-day cruise was scheduled to have one day in Nassau, as well as two days at Ocean Cay MSC Marine Reserve. While a limited itinerary, I was particularly excited to spend a night docked at the cruise line's private island in the Bahamas, which is one of my favorite port stops. 
Even though the itinerary changed due to bad weather, I am still glad I got to do this shorter cruise and had a great time meeting new friends and visiting the Bahamas. 
Hated: MSC's ship app was not available onboard
Image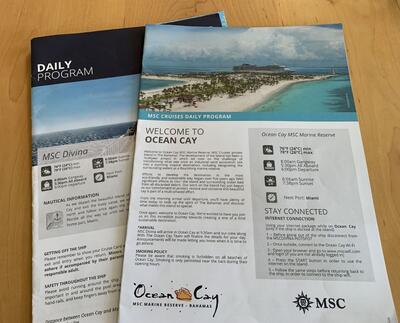 Being one of MSC's older ships, MSC Divina does not support the MSC for Me app, which is something I used a lot on previous MSC cruises.
Each night, I received a Daily Program with a schedule of activities and other relevant information, but during the day, I missed having quick access to all the onboard info, especially when walking around the ship and trying to figure out what to do and when things open.
This also means that you cannot communicate with other passengers onboard unless you have internet/cell access, and at times my Wi-Fi did not work well. 
Image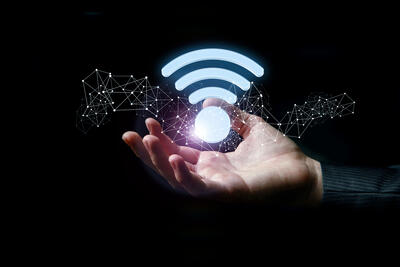 Also, if I wanted to check my onboard charges, I needed to go to guest services each day, as I had no other way to get this information. 
Loved: my spacious interior cabin with plenty of storage
Image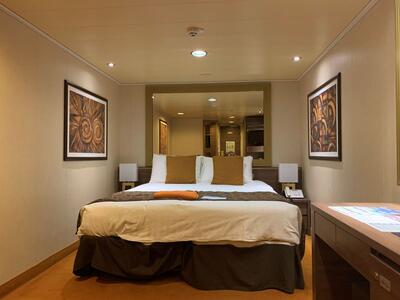 For this journey, I was booked in an interior cabin on Deck 12, which turned out to be quite quiet. While I do prefer a balcony cabin, this was a great option, especially at such a low price. The cabin felt roomy and surprisingly spacious for an inside cabin, even with a king-size bed.  
The stateroom was a little dated with an orange carpet but had a good flow despite the large bed. There was a small sitting area, a desk, and lots of drawers and closet space. The area flowed well, and cruising solo, it was definitely enough room for me.
Read more: MSC Cruises Cabin Overview – what you need to know
Image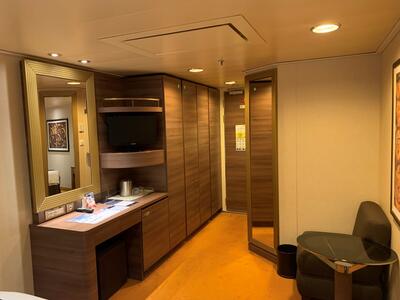 Upon entering the cabin, my first impression was that it was extremely tidy. Throughout the cruise, my cabin steward came twice a day, keeping everything spotless. It was easy to keep all my stuff organized with all the shelves, and I was able to store my suitcase under the bed.
Hated: the tiny bathroom in my cabin
Image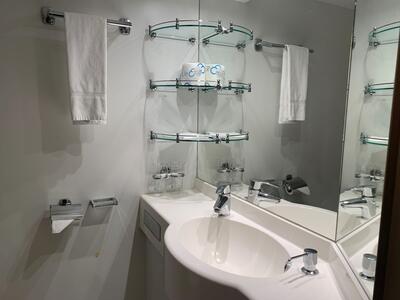 This is something that I have noticed on all of MSC Cruises: the bathrooms are quite small, and although very clean, the sterile décor is not overly appealing.
This, of course, is not a big deal, as you don't spend a lot of time in the bathroom, but it would be virtually impossible for two people to get ready in there at the same time. There was some open shelving, which was useful in keeping things organized. 
The shower was very small and would be a challenge for a tall person or for families. There was no bathtub, which would be hard to manage with small kids. 
Loved: MSC's specialty dining venue, Butcher's Cut 
Image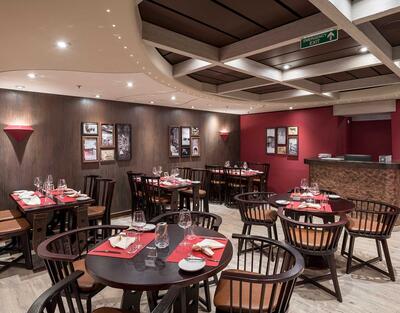 Usually, booking specialty dining before getting on the ship is the best deal, but I decided to forgo this treat on this cruise, given that it was just 4 nights. However, with our missed day at Ocean Cay, they had a special deal on lunch at Butcher's Cut. At 40% off I thought, "Why not?"
I had the opportunity to have dinner at the Butcher's Cut on a previous cruise onboard MSC Seashore and was wondering if this time would be as great. 
For the second time, I was very impressed. The service and food were fantastic, and the eatery had a relaxing atmosphere.
It was also a nice break from the busy buffet and crowded main dining room, which were especially loud during this cruise. 
Hated: the crowded layout of the main dining room 
Image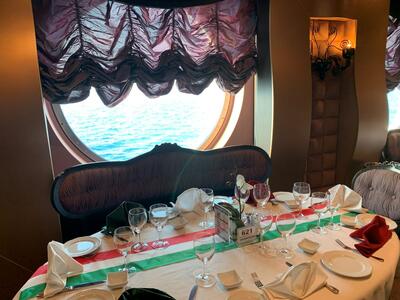 Speaking of the main dining room, it was really crowded. In terms of both space and number of people, I don't think I've ever seen a cruise ship dining venue with so many people in it. 
The restaurant was called the Black Crab, which did not really align with the décor and confused some guests, and they thought it was a seafood place.
I was sailing by myself on this cruise and was assigned to a table with 7 other solo sailors. Only 3 others showed up, and I can't imagine how we would have comfortably seated 4 more people at our table.
In addition to this, the tables were so close together that it was tough to walk between them. The dining room was very full, creating a less-than-relaxed atmosphere.
Read more: I took my first solo on MSC Cruises. After 4 nights, here are the pros and cons of cruising alone
Loved: the variety of food, especially the Italian dishes 
Image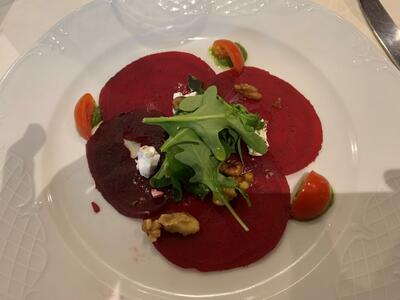 MSC Divina has two main complimentary dining venues: the buffet and the main dining room. Similar to other MSC ships I have been on, the main buffet was huge and wrapped around the back part of the ship. 
Typical for MSC, there was freshly made pizza, even at breakfast! Although there was lots of seating, especially near the back of the ship, the narrow walkways created bottlenecks during peak times.
Image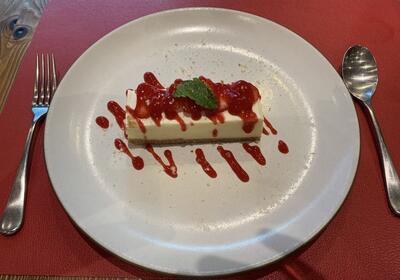 The freshly made pizza and variety of salads and cheeses were right up my alley. There were lots of options, with many stations offering different types of cuisine.  
Although the main dining room was busy, I did eat some good food. The pasta, which they make fresh onboard, was delicious and perfectly cooked. I also had a wonderful Indian bean dish with roti, which was fantastic. 
Read more: What's included on an MSC Cruise?
Hated: the limited complimentary dining options 
Image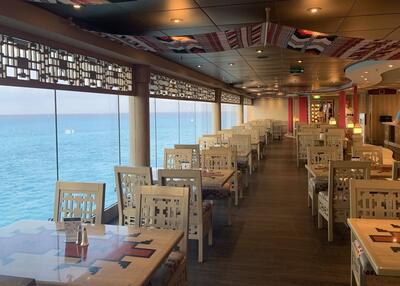 Unlike some of the other cruise lines I have been on, MSC does not have as many complimentary dining options onboard. Beyond the main dining room, they do have a very large buffet, which is open most of the day; however, I did miss having other options in different areas of the ship.  
I wish they had a quick service-type hamburger spot by the pool for a quick bite. This would have helped disperse people around the ship, making the buffet less crowded. 
I understand that many of the newer ships have dealt with this issue. For example, on the cruise line's new MSC World Europa, there are many more included venues. 
Read more: Why are MSC cruises so cheap?
Loved: the ship was bigger than I expected and had lots of onboard amenities  
Image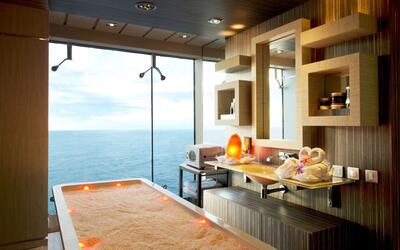 Despite being an older ship, I was surprised at how big it was. I erroneously made the mistake of thinking it would not have as much onboard due to its age, but I was wrong. 
MSC Divina is a good size at 139,000 gross tons and has a capacity of 4,345 passengers. MSC Divina is large enough to provide traditional cruise ship amenities such as pools, shows, casinos, lounges, entertainment, dining, and more. 
Despite being near capacity, embarkation was extremely quick and efficient at the Miami terminal. 
Hated: slow and unreliable internet 
Image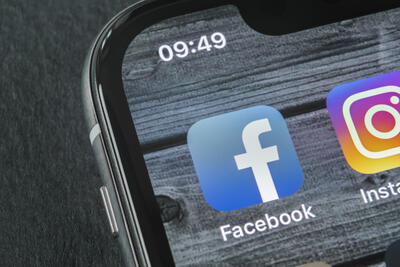 As part of a cruise promotion, I received the basic Wi-Fi package. Since it was only a 4-day cruise, I thought I would see how I would manage without the premium version even though I did need to keep in touch with work, as well as family at home. 
Although it initially worked when I first boarded, it completely dropped off for a couple of hours and then mysteriously returned. This happened throughout the cruise. 
It also worked better in some of the public areas versus my cabin. I was able to check email, use social media, and use Facetime audio at various times during the cruise. 
An important note for MSC is that you can't switch devices like other cruise lines. If you need to have a reliable connection, you may want to purchase the Browse & Stream package. Plus, if you want connection on your phone and laptop, you will need to get two packages. 
Loved: themed bars and lounges
Image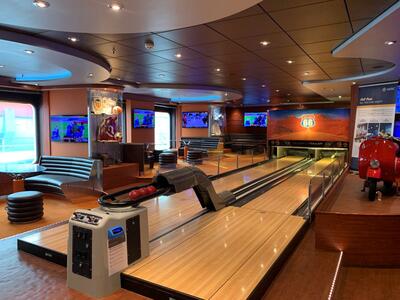 MSC seems to excel at décor, and this ship was no exception. In particular, I thought their themed lounges, like the Sports Bar, did a great job of creating a fun hang-out with a vintage theme. The vibrant colors, use of memorabilia, and lighting all created a good look. It even had a bowling alley for an extra cost.
Another spot I really enjoyed was the Golden Jazz Lounge. I wasn't entirely sure if the décor was outdated or meant to have a cool retro vibe, but it did not really matter. It was the perfect after-dinner drink spot or somewhere to play trivia with some new friends.
Image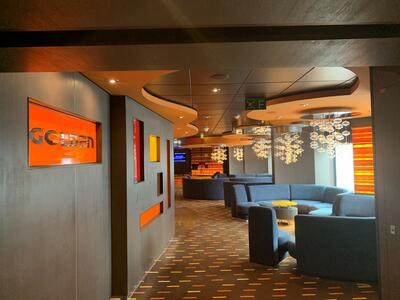 Similarly, the Piazza del Goge transports you to Italy, with stone facades and a quant Italian eatery serving gelato with a glass of wine. Another bonus is that you could get complimentary treats like cookies and small sandwiches at this spot.
Hated: the smell of smoke in parts of the ship
Image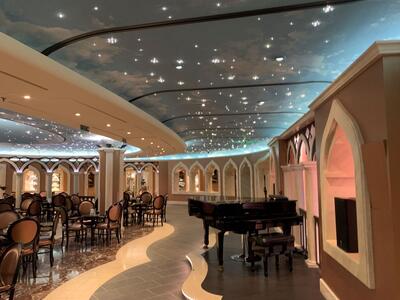 I am admittedly extra sensitive to the smell of smoke, so this may not be an issue for some but was something I definitely noticed. MSC allows its guests to smoke in designated locations outside as well as in the casino. 
I found that this smell seemed to seep out of the open casino and into the nearby Piazza del Doge, which I enjoyed spending time in. This area was a nice little gem, but unfortunately, it did smell of smoke, which is not so great when you want to browse through some shops or have a freshly made Italian coffee. 
There were also people outside who were not smoking in designated areas, which needed to be dealt with by the staff.
Read more: Can you smoke on a cruise ship?
Loved: friendly and helpful staff 
Image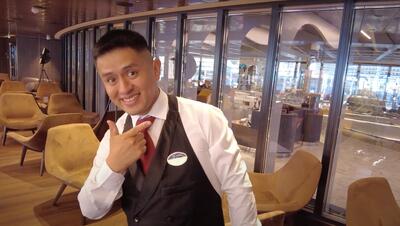 Despite how busy my cruise was, the staff on MSC Divina were very nice and helpful, similar to my other cruise experiences. 
With a ship cruising through stormy weather and a missed day at Ocean Cay, I am sure some of the staff were working extra hours to deal with guests who were spending more time on the ship than planned. According to the staff I spoke to at guest services, our ship was at 95% capacity, and you could feel it, especially when waiting for a drink or at peak times in the buffet.
My room attendant was very pleasant, and my cabin was always spotless. While on MSC Divina, my cabin was serviced twice a day, and overall, the ship was very clean and well-maintained. 
Hated: slow service during dinner service and at bars
Image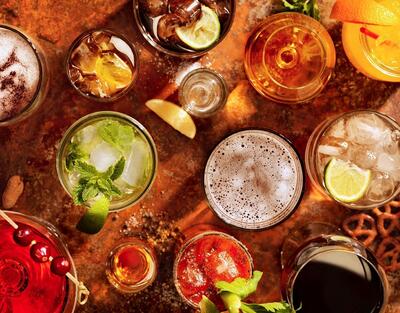 Unfortunately, during our cruise, we had rain on 3 out of the 4 days. This meant we missed out on the first day at MSC's private islands, Ocean Cay, and guests spent a lot of time inside. In fact, one evening, we sailed through a particularly bad storm, and the Captain announced that no one could go outside!
This created a concentration of passengers at many places like lounges and bars. And while there are quite a few throughout the ship, they were not open all the time, and those that were open often had long wait times to get served.
On the first evening in the main dining room, our dinner was almost 2 hours, and it took 30 minutes to get a refill on the drink. I am not sure what happened that first evening, but things did get much better on subsequent nights.
Loved: adult-only area with great location and pool
Image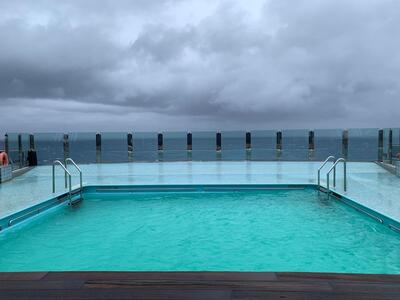 Located on Deck 16 at the stern of the ship, MSC Divina has an adults-only area with the most incredible views of the wake of the ship. With a full ship during our sailing, many venues, even bars and lounges, had many kids in them, but this was the one spot that was not overly busy. 
There is nothing quite like relaxing and looking out at the sea from the back of the ship, and this proved to be one of my favorite spots (when it wasn't raining).
Image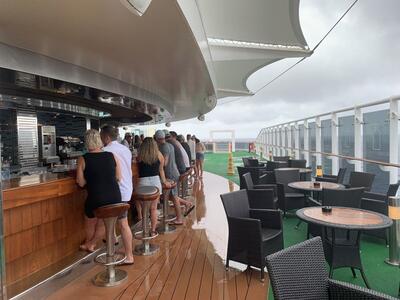 This adults-only enclave also had a pool and lots of chairs and loungers. Another bonus: the best bartenders on the ship worked there and kept spirits high throughout the cruise.
Hated: the lack of entertainment and activities options during the day
Image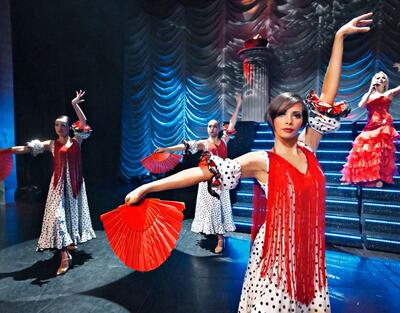 MSC Divina is not a small ship by any means; it has numerous bars, lounges, and entertainment options. I really enjoyed live music and there was some good piano and jazz during the cruise. 
However, I would have liked to see more options during the day, especially shows. With long dinners, it was a little harder to make it to some shows in the evening, and the entertainment options seemed limited during the day.
I really enjoyed the Latin show in the Black and White lounge, but I wish they had more activities and entertainment, especially on such a short cruise. 
Loved: the elegant atrium area
Image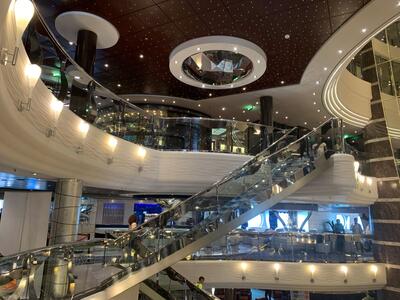 One of the things I love about MSC ships are their stunning atriums. A multi-story, versatile space, it is a central meeting point with lots of bars and music throughout the day. 
The atrium on MSC Divina was beautifully decorated, with lots of light and metallic finishes that add to the elegance of the ship. The staircase is adorned with Swarovski crystals, which are the perfect backdrop for pictures. 
Image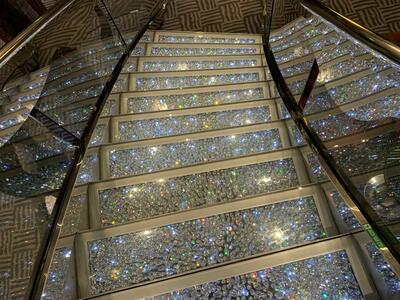 This focus on design and decor is carried out throughout the ship, with lots of beautiful spaces, art, and sculpture. 
Hated: confusing ship layout
Image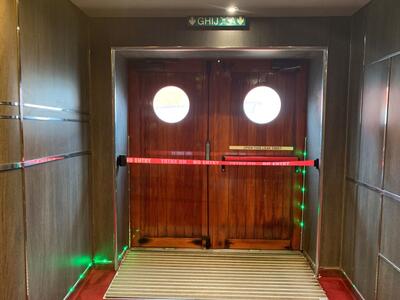 As with many MSC ships I have been on, MSC Divina's main hub centers around its open atrium, which provides some great views of the ocean, as well as a stage for music, and plenty of lounges and bars.
However, once leaving the atrium, it could be confusing to get to different locations throughout the ship. This is particularly the case on Deck 7, where you walk through lounges like the Golden Jazz Club to get to other venues in the front of the ship.
As my quick 4-day cruise came to an end, I was just beginning to feel like I was getting used to the ship and where everything was located. 
Loved: a ship that is designed for all-weather sailing
Image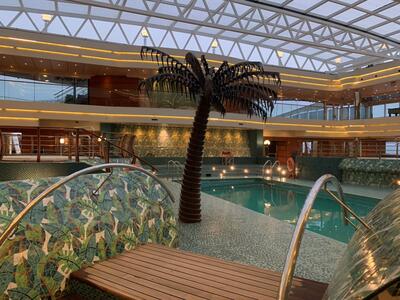 Unfortunately, we had bad weather on our cruise, so I spent a lot more time inside the ship. One of the best features was the covered pool area, which was perfect in this type of weather and was well-used on this cruise. 
There were also many other indoor amenities like a games room, classic style ping pong, kids clubs, lots of shops, a bowling alley, and a race car simulator. 
Previously, my MSC cruises have been on the Seaside Class, which are designed for sailing in warmer climates, with lots of outdoor spaces, lounges, and even dining venues outside. 
While ships like MSC Seascape and MSC Seashore are fantastic options in sunny weather, I was glad to be sailing on this more versatile type of ship for this wet-weather cruise. 
Read more: Why MSC Cruises is a great option for a family cruise
Hated: slow muster drill process
Image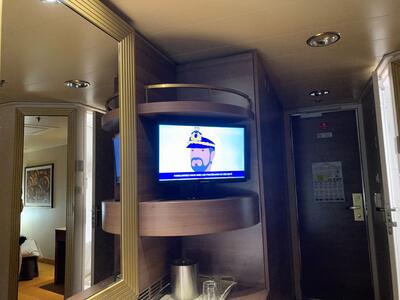 I don't usually write about muster drills, but this one seemed particularly disorganized and different than other cruise ships I have been on. When cruising on Royal Caribbean, I am able to watch a safety video before boarding, with a quick check-in at my designated muster station once onboard. 
On MSC ships, you have to wait until they make an announcement, and then everyone heads to their cabins to watch the muster video and then are asked to check in to the muster stations. 
This was when things got really messy as so many people rushed to the hallways, most going down to the lower decks where their stations were located. Guests weren't allowed to use the elevator during the muster drill, adding to the crowds and a serious bottleneck around the stairs.
Despite instructions, so many people seemed confused, and some guests even showed up in life jackets. Going back up was worse, so I took the time to walk around the ship while the crowds settled down.