When you're new to cruising, you're bound to have a ton of questions about the basics of a cruise vacation, especially regarding accommodations. You might think your cabin questions are dumb, but only stupid people don't ask for the information they need and end up booking the wrong room or being surprised about what is and isn't included. 
Consider this FAQ your personal "Cruise Ship Cabins for Dummies." We swear you'll feel smarter and more confident about booking a cruise cabin after you've read it.
What is a stateroom on a cruise ship?
Image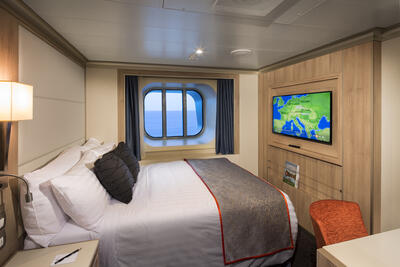 Stateroom, cabin, cruise room – they are all names for your private living accommodations on a cruise ship. Like a hotel room, your stateroom will feature one or more beds, a private en-suite bathroom, a closet and storage space for your belongings, and in most cases, a desk/vanity and seating area. 
How big are the cabins on a cruise ship?
Image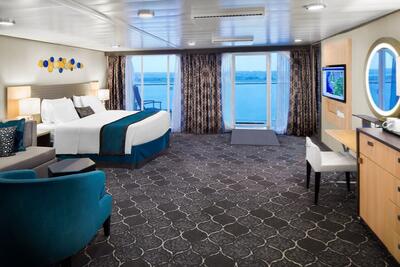 Not very big. The interior portion of standard cabins ranges from 150 to 200 square feet. If you book a room with a private balcony, that veranda will add another 30 to 60 square feet of outside space. Many first timers are shocked at how small cruise ship cabins can be, especially the bathrooms that squeeze a toilet, small sink, and stand-up shower into a room with little floor space.
However, ship designers have found creative ways to make the small rooms livable, especially if you don't try to fit four people into one cabin. Plus, the rest of the cruise ship has so many attractions, you might find you hardly spend any waking hours in your stateroom. You can also try our favorite cruise cabin hacks to make your stateroom more livable.
Do cruise ships have TVs in the rooms?
Image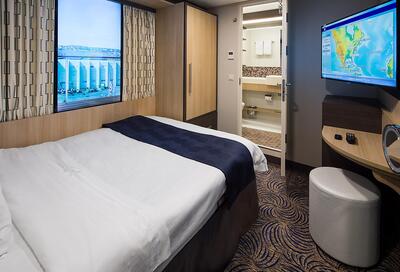 Yes. Cruise ship cabins feature televisions, though you might not be able to keep up with all your favorite shows. You won't find hundreds of cable channels as you would in a hotel, but a short list of news, sports, and movie channels, plus ship channels re-broadcasting onboard events, promoting the spa and shore excursions, or showing live footage from the camera on the bow (front) of the ship.
For example, Royal Caribbean's 29 television channels include Fox News, BBC World News, MSNBC, and ESPN, and Carnival upgraded the channel options on its in-cabin TVs to include HGTV, Food Network, Travel Channel, and Discovery, as well as two movie channels. Disney cruise ships will offer Disney channels and movies.
On many cruise ships, the televisions have an interactive portion that allows you to view the charges made to your onboard account and check the day's restaurant menus, activity schedule, and tune into live video feeds around the ship. Some also offer on-demand movies for an extra fee.
What is a picture window on cruise ship? What is a porthole?
Image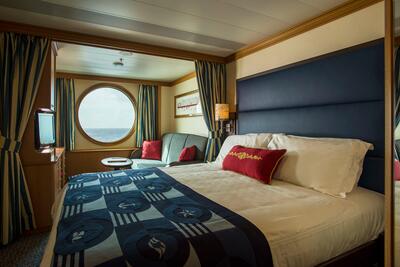 Picture windows are large rectangular windows that dominate the upper half of the exterior wall of your cruise room. In some configurations, the picture window is above the head of the bed; in others, it runs parallel to the side of your bed.
A porthole is a smaller, round window that is often a circular piece of glass encased in a metal frame that's bolted to the side of the ship. Some oceanview cabins will have one or two of these instead of a picture window. Disney cruise ships often feature a hybrid, and you'll get a picture window that's large but round like a porthole.
You will only get a porthole or picture window if you book an oceanview cabin. Inside cabins have no windows and zero natural light. However, some of Royal Caribbean's newer ships feature a virtual balcony. If you book one of these cabins, expect a floor-to-ceiling LED screen that features a live video feed from the ship's exterior. 
It is almost important to note that some ships feature staterooms with windows that view the interior of the ship. On Royal Caribbean's Oasis-class ships, for instance, you can book a room with a window overlooking their Central Park, Boardwalk, or Royal Promenade neighborhoods. 
Balcony cabins will have floor-to-ceiling windows with a glass door that opens onto the veranda outside.
Is my outside cabin really outside?
Image
Some cabins are listed as outside cabins. Are these rooms open to the elements because they lack a roof? Are they tents up on the pool deck?
No, silly, outside cabins are another name for oceanview staterooms that have a window looking outside the ship. All cruise ship cabins are fully indoors with roofs and walls. The only outside portion of your room is the balcony.
Why does my oceanview cabin look out on a parking lot?
Image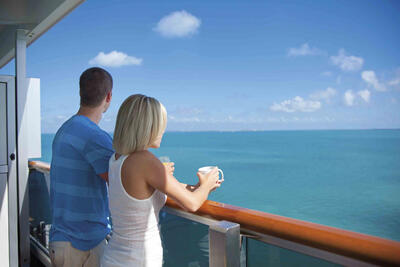 Before you complain to the front desk about your cabin's terrible view, remember that unlike a hotel, your cruise ship moves. An oceanview room at a hotel will always look out at the beach and sea; otherwise, yes, you've been misled and have overpaid. 
On a cruise ship, the view will change as the ship sails. The same window that shows you the parking lot when it's docked at your embarkation port is guaranteed to show you waves and sky when the ship is sailing on the open ocean. Just be patient – your beautiful sea views are on the way.
What size beds are on cruise ships?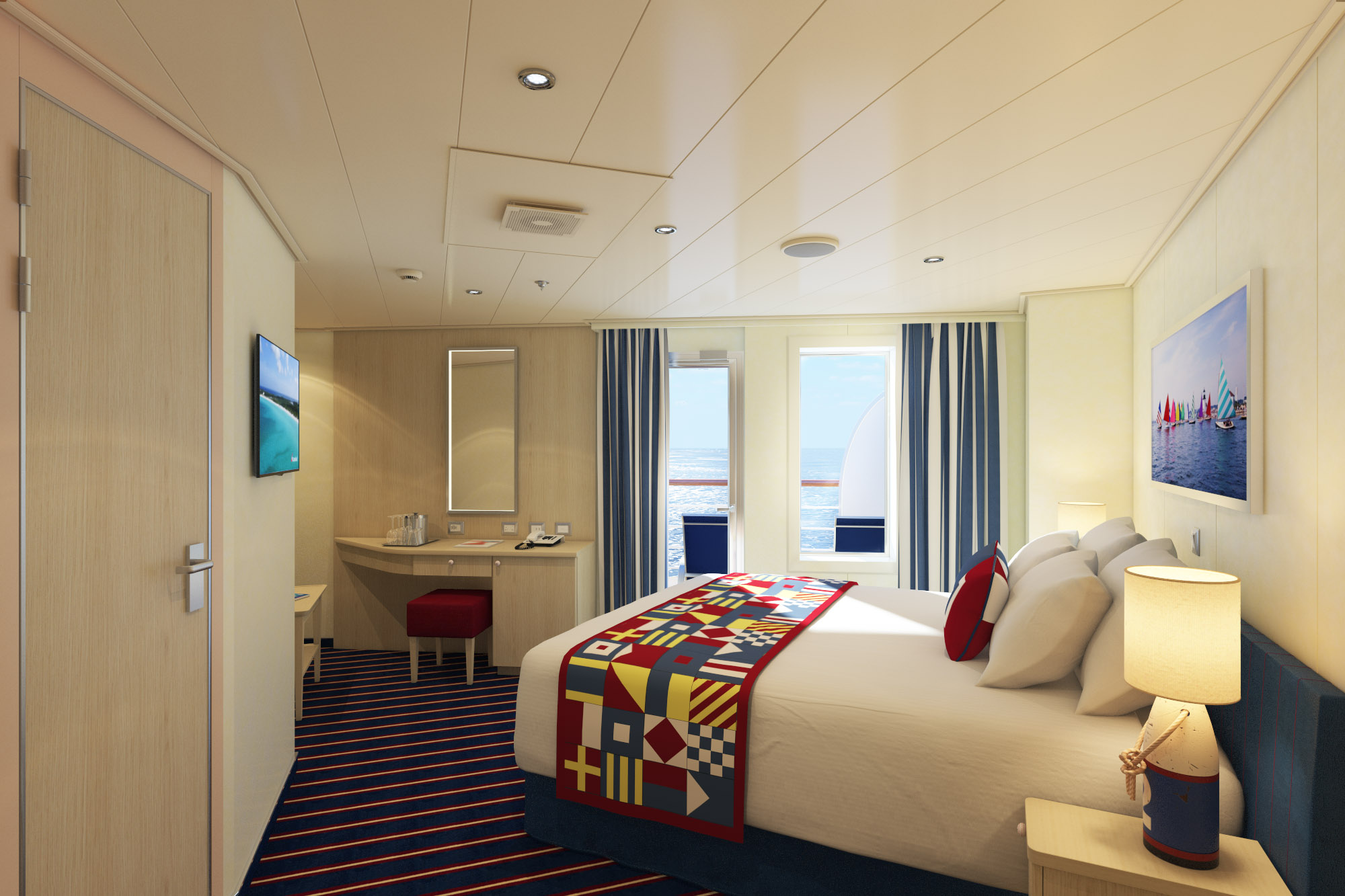 This is actually not a dumb question because cruise ship beds aren't always standard sizes. Most cabins contain two "twin" beds that can be pushed together to form a "queen-sized" bed. However, the mattresses don't always conform to the standard dimensions of twin and queen beds you'd buy for your home. We've even been on cruise ships where the beds have rounded corners to create slightly more walking space in the sleeping section of the room.
Some suites will feature true king-size beds, and these typically do not split into two single beds.
How many beds are in a cruise ship cabin?
All cruise ship cabins sleep at least two people, unless they are designated as solo cabins and intended for a single traveler. However, many cruise ship staterooms can sleep additional guests -- up to five in regular cabins, though three and four are more common. 
Typical cruise rooms feature two twin beds that can be pushed together to form one queen. Some rooms with two beds feature an upper and lower berth (like bunk beds, though the two beds aren't attached by a shared frame) or two single beds that can't be moved.
Cabins that can sleep three, four, or five guests often have upper berths that pull out from the wall or drop down from the ceiling to create bunks over the lower beds. Sofas can convert into beds for one or two, and some cabins have Murphy-style beds that pull down from a wall.
In certain situations, cribs and rollaway cots can be brought into a stateroom as beds for extra guests. So the number of beds can vary, even within the same cabin, depending on how many people are booked into it.
That being said, don't expect to walk into your cruise cabin and see two double beds like you would in most hotels! They simply do not have the space. 
Does a cruise ship cabin have its own bathroom?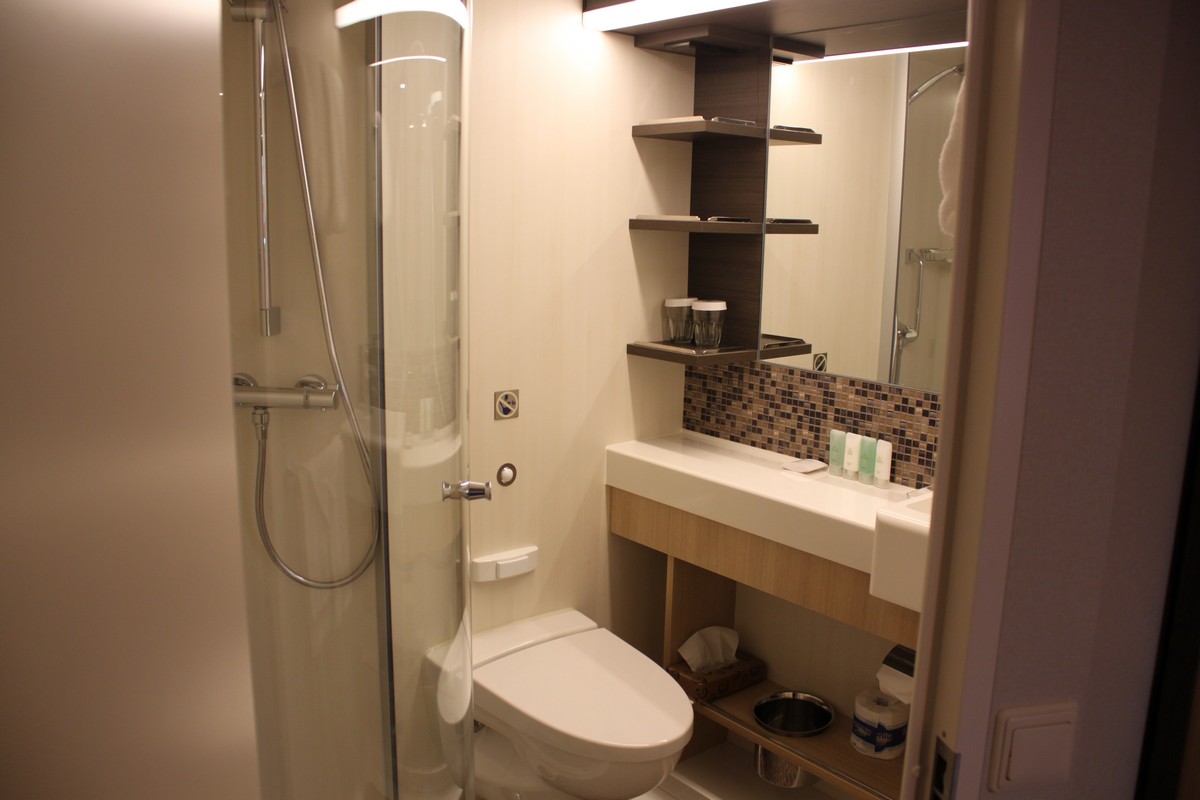 Cruise ships are not like your college dorm. You do not need to don a robe and run down the hallway to shower in a shared bathroom with the other residents of your hall. You get your very own private bathroom – even though it's a small one.
Typical cruise ship bathrooms feature a toilet, single sink with a few shelves for storing toiletries, and a small shower. Bathtubs are not standard, though certain ships and cabin categories offer them (Disney is a great bet if you want tubs for bathing children). Bath towels, hand towels, and washcloths are provided, as is hand soap and some kind of shampoo and body wash, either in dispensers or in travel-size bottles.
Some cabins that are designed for larger families feature a split-style bathroom. This is most common onboard Disney Cruise Line; however, Carnival Cruise Line has some ships that have implemented this concept in their Deluxe Oceanview staterooms. 
How do you work the microwave in the cabin? 
Image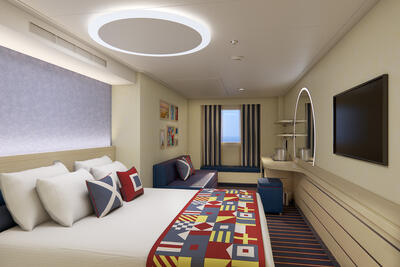 That box with the numbers on it you found in the closet of your cabin? It's not a microwave. It's the safe.
Don't feel dumb. Many have made this mistake before you. The number pad allows you to create your own code to open and close the safe, keeping your valuables safe from theft.
Microwaves and other appliances are typically frowned on in cruise ship cabins as they present a fire hazard. On most ships, you won't even find a coffeemaker or tea kettle in your room. It's a bummer for caffeine addicts, but we assure you that you have access to warm beverages and snacks 24/7, so you don't need to heat up food in your room. Just call room service or head over to the buffet or other late-night dining venue on your ship.
Can I choose my cabin?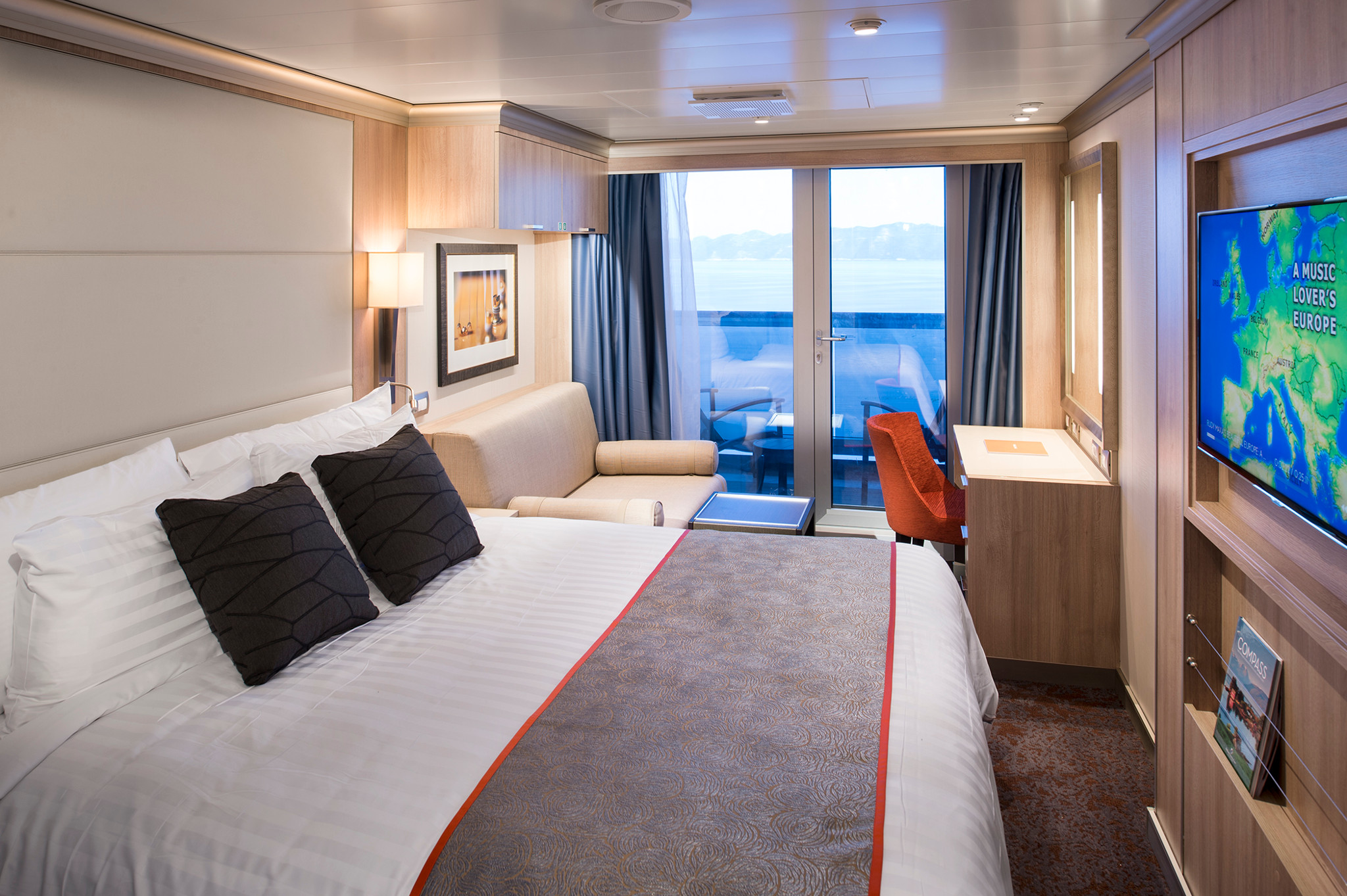 Unlike with hotels, when you book your cruise, you will select the exact room you prefer. In other words, you can choose to stay in room 5142 and not 5069, and you will come away from your booking with a cabin number that's all yours. You can look on the ship's deck plans and pick out the perfect cabin category, deck, and cruise ship cabin location (forward, aft, by the elevators, etc.).
There are a few times when you would not pick your room number. One example is when you book a guarantee room. That's when you agree to let the cruise line pick your cabin in exchange for paying a reduced rate. You book a minimum category, and before your cruise, you will be assigned a room in that category or higher (but not lower). 
Another time you cannot pick your room is if the cruise you're interested in sells out and you get on a wait list. Should you be offered a spot because someone else canceled, you will have to accept whichever room is available (or forfeit the spot onboard).
Who cleans the cabin?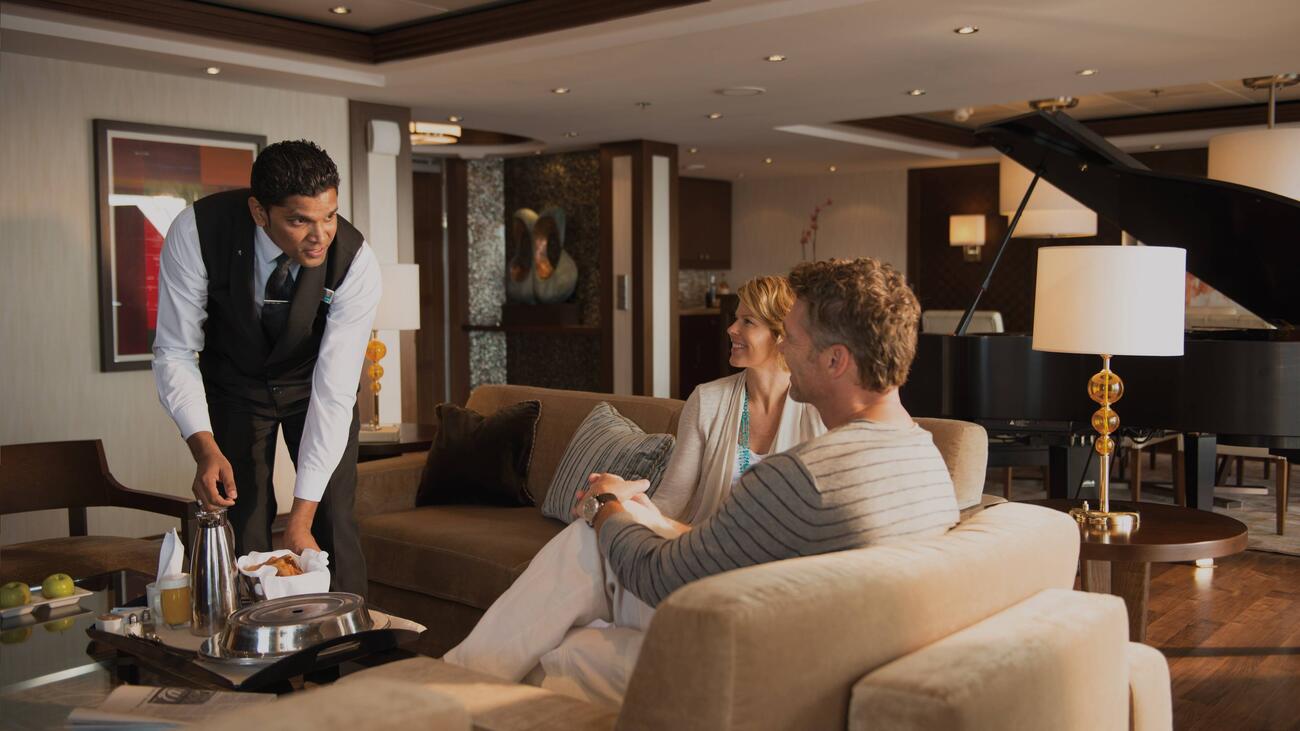 Not you! Isn't vacation great? Every cabin is assigned a room steward who works with the ship's housekeeping team to clean your cabin, change your linens, take out the trash, and tidy up. Your steward will also help you with any cabin-based requests, such as bringing ice and taking your laundry to be cleaned.
Your cabin steward will also turn down your bed for you at night, and maybe leave you a cute puppy or swan made of folded-up towels on your bed.
Are there cruise ship cabins for crew too?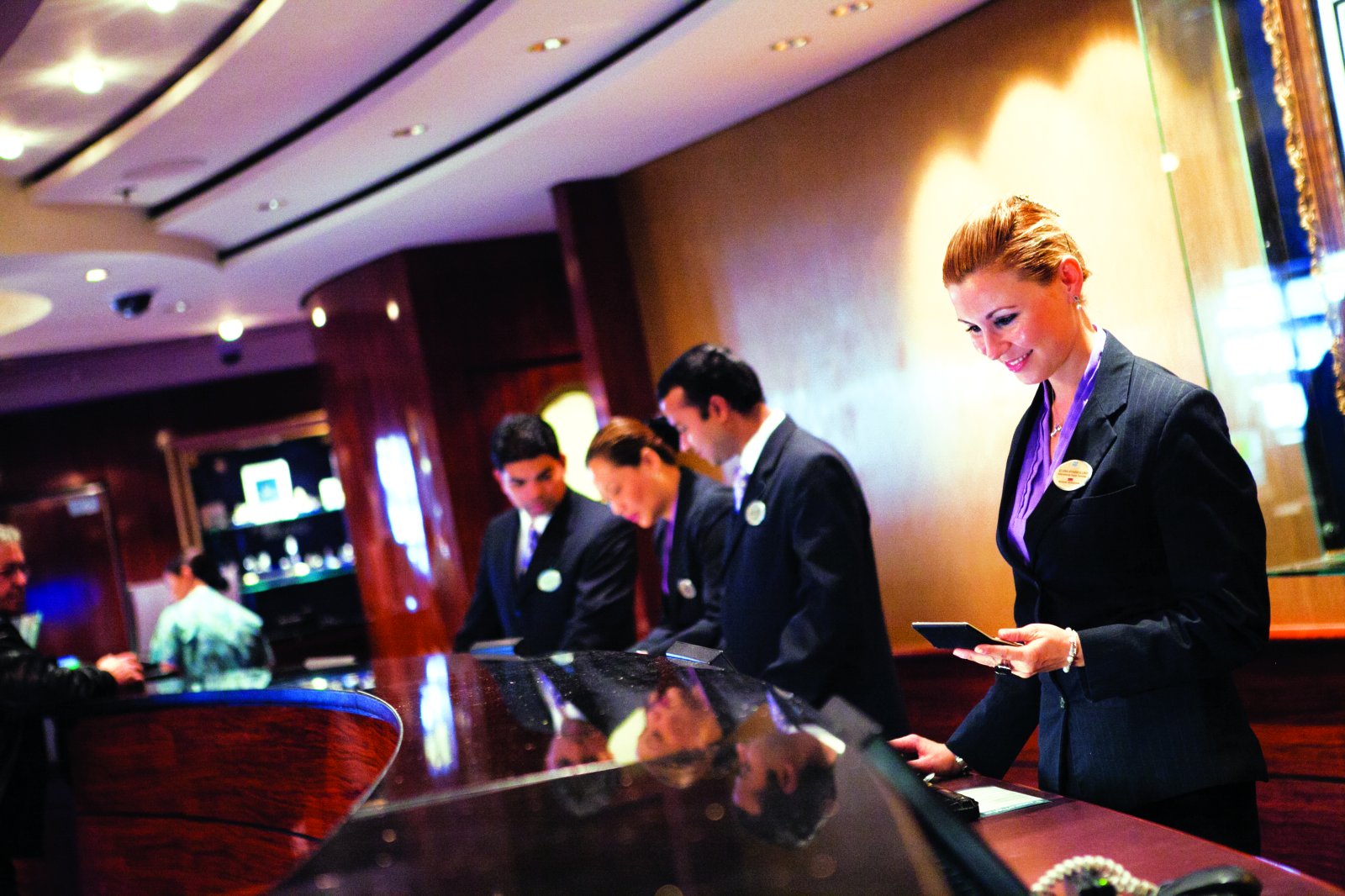 Cruise ship crew work long hours. It would be impossible to do their job – not to mention very expensive – if they had to commute to their job in the middle of the ocean via speedboat or helicopter. Rather than parachute into work every time, cruise ship crew live onboard in designated crew cabins. Usually, the crew cabins are located on the lower decks below the passenger decks; some officers do have cabins located near the bridge. 
Read more: What are the crew areas like on a cruise ship?
And though you didn't ask, cruise ships also have dining rooms, gyms, bars, and outdoor space for the crew, as well.
Got your questions answered and you're ready to book? Learn more about how to choose a cruise ship cabin.