If you have ever been on a cruise before, you will know that the experience is unlike any other! There is nothing quite like having everything you need (and more) in the same place! 
From seemingly endless dining options to thrilling onboard activities, unique shows, and visiting different ports of call, there is a reason why cruising remains a popular vacation choice for families and friends alike. 
If you are new to cruising, you may be wondering how to make the most of your time onboard and appear as though you are a seasoned pro. 
Here are 25 cruise ship do's and don'ts to help you prepare for your next cruise vacation.
DO understand what is and is not included with your cruise fare
Image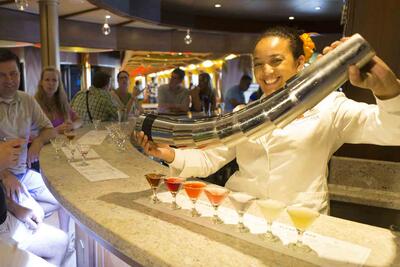 For the most part, cruises are not all-inclusive. Your base fare will include your accommodations, entertainment, select food and beverages, as well as transportation between each port of call. 
With that, you will want to budget appropriately for cruise add-ons, such as alcoholic and select non-alcoholic beverages, shore excursions, spa treatments, Wi-Fi, and specialty dining experiences. 
Read more: What's included in my cruise fare?
DON'T assume that all cruise lines and ships are the same
Image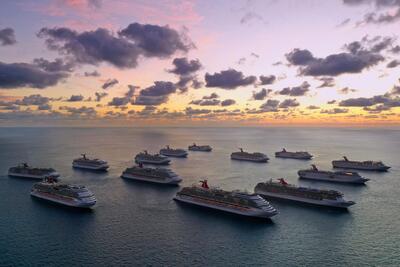 Even if you have cruised before and are planning another voyage, you should know that not every cruise line and ship are the same. It is important to take your travel party's preferences into consideration when looking at all the different cruise lines. 
Those who enjoy a more intimate and upscale cruising experience, for instance, might like sailing on Celebrity Cruises, while families with kids who are adrenaline seekers will want to sail on Royal Caribbean's newest and boldest ships that have zip lines, surfing simulators, rock walls, water slides, and ice skating rinks onboard. 
Read more: The most popular cruise lines (and why)
DO take time to get acquainted with the ship on embarkation day
Image
Rather than heading straight to the pool deck when you board the ship, take a little bit of time to walk around and get familiar with where everything is. Knowing exactly how to get from your stateroom to some of the most popular venues will help you feel like a cruising pro! 
DON'T forget to pack basic over-the-counter medication 
Image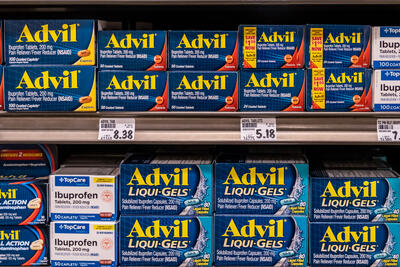 While your prescriptions are one of the most important things to pack, there are some over-the-counter medications that you should pack, too. It is better to have them in case you need them, rather than having a pay a premium for them once onboard. 
Here are the over-the-counter medications and first-aid supplies that you should bring with you:
Pain killers (Ibuprofen, Motrin, Tylenol, or whatever your preference may be) 
Band-aids
Antibiotic ointment (Neosporin) 
Hydrocortisone (especially if you are going to ports where you will be spending time outdoors and could fall victim to bug bites)
Feminine hygiene products
Bonine or Dramamine for seasickness 
Cold/flu medication (DayQuil/NyQuil, Tylenol Cold + Flu Severe, etc.)
Cough drops (Ricola, Cepacol, etc.)
Sunscreen and aloe vera gel
DO make sure that your flight arrives the day before your ship departs
Image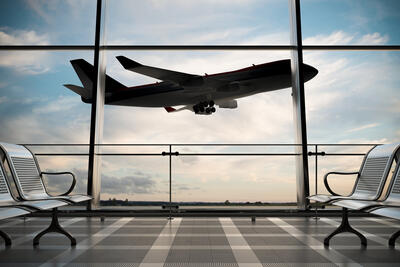 It is tempting to want to fly in the day your cruise ship is scheduled to leave to save money on a hotel and take less time off of work; however, even if you book the earliest departure, a single flight delay could cause you to miss the ship. Depending on your itinerary, you may not be allowed to meet up with it in another port of call. 
For my very first cruise, my family was scheduled to fly from North Carolina to Orlando the morning of our departure. Well, we ended up sleeping through our alarms and missing the flight. 
I remember waking up to my parents in a full blown panic! They loaded us into the car and took off driving. We barely arrived on time and learned our lesson! From then on, we always left a day or two before departure to allow ourselves ample time in case of any unforeseen circumstances. 
DON'T be afraid to try something new
Image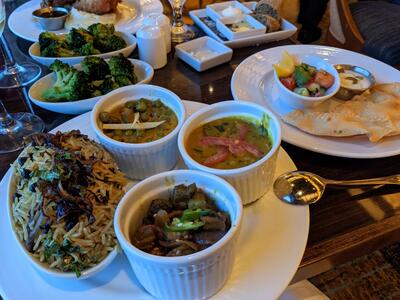 Traveling on a cruise ship allows me to step outside of my comfort zone in a safe way, as I don't feel like I am being financially irresponsible by ordering something I am unsure if I will like or not.
At traditional restaurants, I always order something that I am going to enjoy. What is the point of going out and paying for a meal if you are just going to waste it?
On a cruise, I can be just about as adventurous as I want to be! If there is something on the menu you would like to try but do not want to order a full portion of, you can always ask and see if they will bring you a small sample. 
DO research each port of call prior to getting on the ship
Image
To make the most of your time in each port of call, you will want to research each place prior to getting onboard. This way, you can book once-in-a-lifetime excursions, such as riding up to the top of a glacier in Alaska via helicopter, snorkeling with sea turtles, or visiting ancient Mayan ruins.
If you want until you are onboard, you may find that some experiences are sold out. Plus, it is always best to compare cruise line excursions with third party vendors. Sometimes, independent parties will offer the same, if not a better, tour for less! 
Read more: 10 tips for getting the best shore excursion values
DON'T reuse your plate at the buffet. Get a new one each time you return
Image
Just like you want to make sure you wash and sanitize your hands before entering the buffet, you will also want to grab a new plate whenever helping yourself to additional servings. 
Often, you can leave your dirty dish on the table, and they will be picked up by crew members before you return! 
Image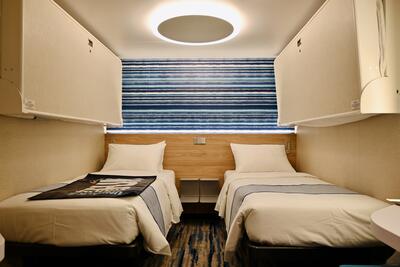 If you are used to staying at hotels and resorts, you might be surprised at how small cruise cabins are. Most staterooms are under 200 square feet! Truth be told, there are so many other activities that you will be interested in doing, so you probably will not be in your stateroom as much as you think you will. 
That being said, there are some hacks that you can do to help you make the most of the limited space in the cabin:
Use magnets to help you keep your belongings organized 
Keep the lights on with a library card
Bring a night light, especially if you are staying in an inside cabin
Upgrade your bathroom amenities with your own stuff from home
DON'T book a cruise just because it is cheap
Image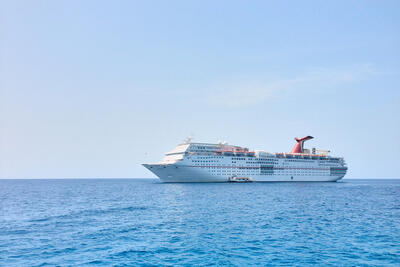 Sometimes, you will come across a cruise deal that seems too good to be true, and that is probably because it is. 
If you find a rate that is $200 per person for a 4-night cruise, you will likely end up paying more than that when all is said and done, as things like port fees, gratuities, shore excursions, alcoholic beverages, and Wi-Fi are not included in that initial fare. 
When a cruise's departure date is creeping up and there are still available cabins, cruise lines will sometimes reduce the fare as an incentive to get the ship as close to maximum capacity as possible. Something to consider with this is that you might be stuck paying last minute airfare, which can negate your total savings. 
Read more: What to know before booking a cheap cruise
DO choose the right stateroom
Image
Cruise ships have staterooms for all budgets and personal preferences. Your stateroom is where you will go to rest, so you should book whichever works best for you. 
That being said, a balcony is a must-have for many cruisers. Others may be okay with staying in an inside cabin if that means they can splurge in other areas. 
Something else to consider is where you want your cabin to be located. If you are a light sleeper, for instance, you might not enjoy being located near an elevator or late-night venues.
Read more: Confused about Cruise Rooms? Here's How to Choose a Cruise Cabin
DON'T push the limit and return to the ship at the very last minute 
Image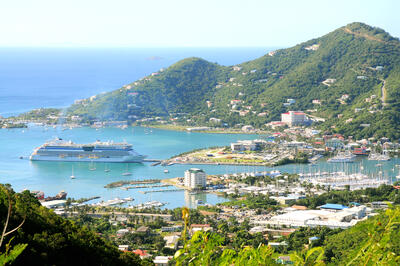 What a bummer it would be if you came back to your ship's pier after a fantastic day at port just to realize the gangway has already been pulled. 
You should always, always pay attention to the all aboard time. If you cross time zones, the all aboard time will be in what is referred to as "ship's time." If, for instance, your cruise departs from Miami and sails to Cozumel, the ship will stay on Miami time, even though Cozumel is in a different time zone. 
Aim to be back on the ship at least a half hour before final call. That way, you won't spend any part of your vacation in a panic!
Read more: Will the cruise ship wait for you if you're late at a port?
DO attend the muster drill
Image
The muster drill is mandatory for all passengers onboard a cruise, and 100% participation is required before the ship is able to set sail! Do not be that person who hides out in their stateroom or avoids watching the videos on your phone. 
If you are on a cruise line that allows you to do the safety drill on your own time, get it done as soon as possible! That way, you can start enjoying the things you want to do. 
Some cruise lines still have traditional muster drills where everyone must report to their assigned station at the same time. We get it--it is annoying! However, the sooner you show up and participate, the sooner everyone can head back up to the pool deck for sail away!
Read more: 30 cruise ship embarkation tips & tricks
DON'T forget to take your children to the youth clubs to get signed up as soon as you board 
Image
On embarkation day, the youth clubs will be open for parents to register their kids, as well as to tour the facilities and meet some of the staff members. You will want to make sure that you block out some time to take your children, so they can enjoy the programming and meet friends throughout the cruise!
DO learn ship lingo ahead of time
Image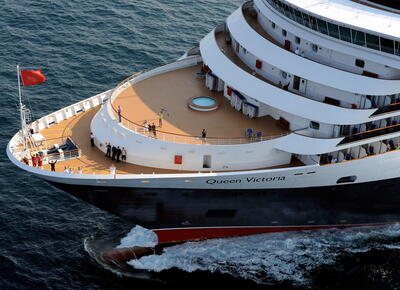 Speaking of "ship's time," there are other terms that you should become familiar with before your trip, including bow, stern, forward, aft, port, and starboard. 
The bow is the ship's forward most part, while the stern is the rear of the ship that's opposite from the bow.
Forward and aft refer to location, with forward being the forward of the ship and the aft the rear. Additionally, port and starboard are directional terms used to indicate the left and right side of the ship relative to the bow. For that reason, they never change! It does not matter which direction you are personally facing. 
All of these terms will be useful in locating your stateroom and other venues throughout your cruise. Your stateroom, for instance, could be located at the aft starboard side of deck 3. 
Image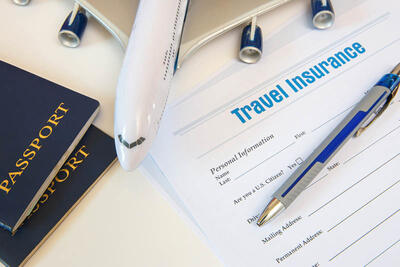 When you are planning your picture perfect vacation, you never want to think about the worse case scenario. Life,  however, happens. You may get ill prior to embarkation or miss you connecting flight due to a flight delay. 
This is why it is important to purchase travel insurance, as it ensures that you will be covered if things do not go as planned, such as medical emergencies, travel delays, or other unpredictable events.
Image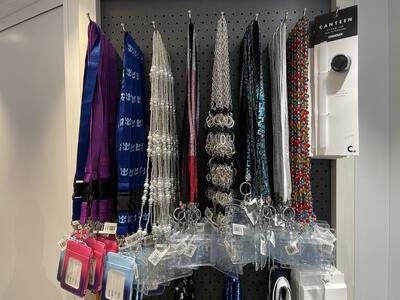 Your cruise card is, quite literally, your key to everything while onboard the ship. You'll use the card to make all onboard purchases, open your stateroom door (and in some cases, turn on the lights), and disembark/embark the ship in ports of call. 
You will want to keep this card safe, and many cruisers like to do so with a lanyard. Lanyards can be bought ahead of time to reflect your personality or once onboard.
DON'T forget to turn off cellular data 
Image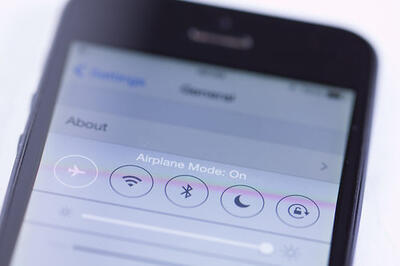 One of the first things you do when you get onboard your cruise ship is switch your phone to airplane mode. If you forget, you mind get a very unpleasant phone bill. Cruise ships get their internet via satellite, which means that most cellular options are unavailable at sea or absurdly expensive.
 If you are worried about staying connected, you can purchase a Wi-Fi plan through your cruise line. Note, however, that you won't be able to use the ship's Wi-Fi when you are off exploring each port of call. Some phone plans may allow you to use a certain amount of data aboard for a flat rate. Contact your wireless provider for more information regarding your specific plan prior to leaving to see what your options are. 
Read more: Do you have to turn off your cell phone on a cruise ship?
Image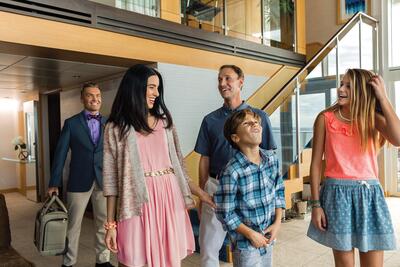 Sure, you want to take certain measures to prepare for any vacation, but cruises are a little bit different since you are out at sea, sometimes with limited communication. 
You, for instance, will want to make sure that you get enough cash, as ATM fees onboard are pretty hefty. Additionally, if you do not have the correct travel documents, you may find yourself in a position where you are denied boarding. 
Read more: Top 20 tips for first time cruisers
DON'T forget to verify your onboard account before disembarking the ship
Image
Before you disembark the ship, you will want to thoroughly check your onboard account to make sure that everything looks correct. Once you get off, the cruise line will be unable to modify it if you notice anything astray.
You should plan on visiting Guest Services about halfway through your trip to request a printed statement. That way, you can get anything resolved before the lines start to get longer. 
DO try all the fun activities onboard 
Image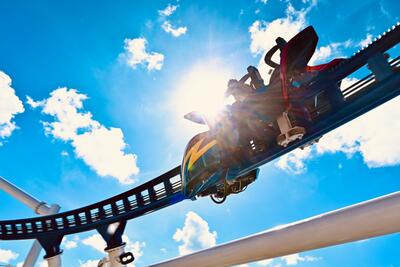 Even if you are going on a smaller cruise ship, there will still be tons of fun activities to help fill up your time onboard! Sure, there are ships that have surfing simulators, ropes courses, rock walls, mini-golf, zip lines, ice skating rinks, and even roller coasters on them, but cruises offer different events to appeal to all sorts of interests. 
If you like fitness, perhaps you will enjoying taking a fitness class. Maybe you will find a trivia event for a niche topic that you know a lot about. And, of course, do not forget about all the great entertainment options. 
In short, there are all kinds of things that you can do onboard, so make sure you check out the daily calendar each morning!
Read more: 18 free things to try on your next cruise
DON'T automatically assume that going on a solo cruise is not for you
Image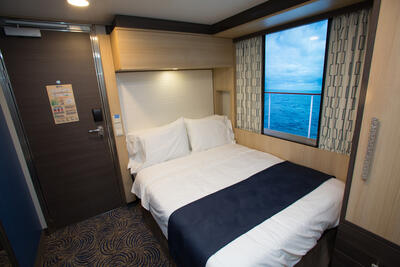 When you think of taking a vacation, you often assume it will be with family or friends. There is nothing wrong with taking the time to go on an adventure by yourself, though!
In fact, it can be a great experience. I went on my first solo cruise in early 2023, and I learned a lot about myself during it! It forced me to get out of my comfort zones in ways I had never experienced before. 
You might be surprised at how easy it is to strike up a conversation with people while moving about the ship. Plus, if you go to events early on, you might find a group of likeminded travelers that you end up spending time with throughout the cruise!
Read more: 15 reasons why a solo cruise is a great way to travel
Image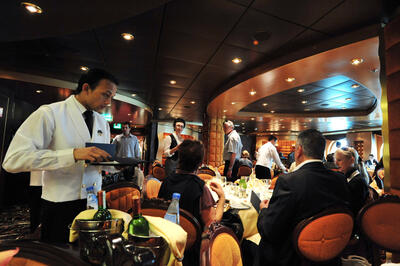 When you are booking your cruise, you will notice that you're asked if you want to prepay your gratuities. Gratuities are just tips for the hardworking crew members that help makes your cruise vacation memorable!
They are divided between dining and culinary services staff, the guest services team, and others individuals who work behind-the-scenes. 
You do not have to prepay your gratuities. If you wait, they will be added to your onboard account. 
Gratuities are charged per person and per day of the cruise, and the rate varies from cruise line to cruise line. Most charge somewhere around $16-$20 per day for guests staying in standard staterooms. Those staying in suites can expect to pay more, usually no more than $25 per day.
Additionally, outside of the daily gratuity, some onboard purchases are subject to automatic gratuities, including spa services, alcoholic beverages, and specialty dining experiences.  
DON'T forget about the stairs 
Image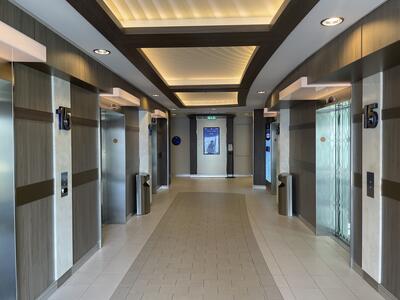 With thousands of people onboard a single cruise and only a limited number of elevators, it is no surprise that they can often get pretty crowded, especially in the evenings around dinner time. 
To avoid elevator frustration, consider taking the stairs! While you may not mind waiting if you are having to walk up 10+ flights, the stairs are a great alternative if you are only traveling a few flights, rather than waiting for an elevator to arrive just to find that it is jam packed. 
DO visit the next cruise staff members if you are thinking about booking another cruise 
Image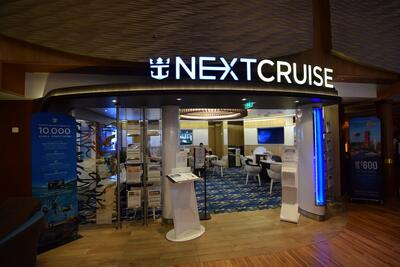 If you have had a fantastic time on your cruise and are thinking about another one, make time in your schedule to visit the future cruise desk! You do not have to be 100% certain about it just to go discuss options with the staff. 
Booking a cruise while onboard usually comes with some pretty great perks, such as reduced deposits on onboard credit, that make it worthwhile.