After fourteen cruises onboard Royal Caribbean, Disney Cruise Line, and MSC Cruises, I decided it was finally time to try Carnival!
I recently sailed onboard Carnival Celebration, their newest ship at sea that launched in 2022, and had a wonderful vacation. I am already looking forward to my next cruise onboard Carnival Vista. 
As with any trip, though, there were things that I thoroughly enjoyed and a few things I wish I could have changed; no vacation can ever be perfect. 
Here are 15 things I loved and hated about my first Carnival cruise. 
I loved the complimentary dining options outside of the Main Dining Room
Image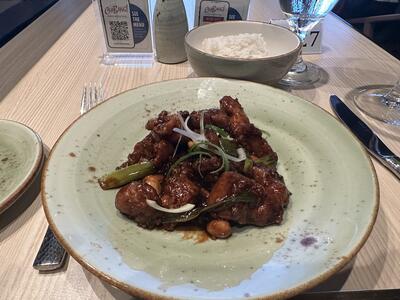 No matter what ship I have cruised on in the past, I have always wished for more complimentary dining options. 
Even though some of Royal Caribbean's Oasis Class vessels have things like the Boardwalk Dog House, El Loco Fresh, etc., it always felt like they could have done a little bit more. Moreover, these options were pretty much exclusively open for lunch. When it came to dinner, the buffet or main dining room tended to be the only options. 
Image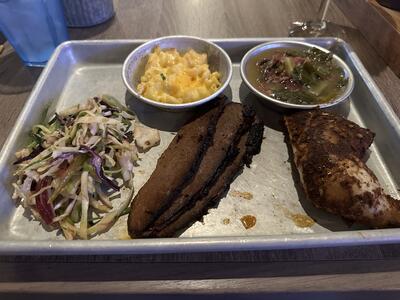 I had always heard that offering more complimentary dining options was an area Carnival excelled in, and I have to say that I agree!
When I got onboard, I headed straight to Guy's Burger Joint. Despite a lengthy wait, I was surprised at how delicious and juicy my burger was. 
Image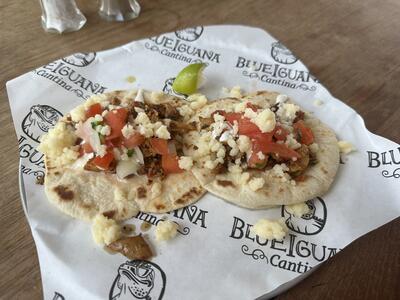 I also enjoyed the fresh tortillas and salsa bar at BlueIguana Cantina, crispy chicken and fries from Big Chicken, Mexican and Asian cuisine from ChiBang, and barbeque from Guy's Pig & Anchor Smokehouse. 
They even had a midnight buffet from 11:30pm to 1:00am in Guy's Pig & Anchor Smokehouse, and I loved having this as an option! 
Image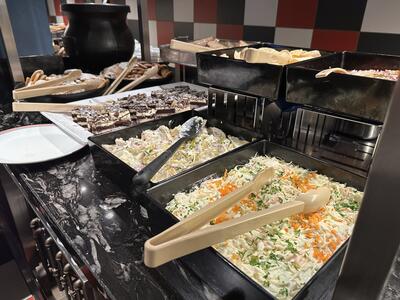 The hours were slightly limited; however, it was nice to know that I could grab something other than pizza if I got hungry late at night. The black forest cake was good, and I can always eat chips and salsa no matter what time it is! 
When I was onboard MSC Seashore, the buffet was really the only other complimentary option, so I appreciated that I never felt the need to go to the Lido Marketplace while sailing on Carnival Celebration. 
I hated Amber Cove
Image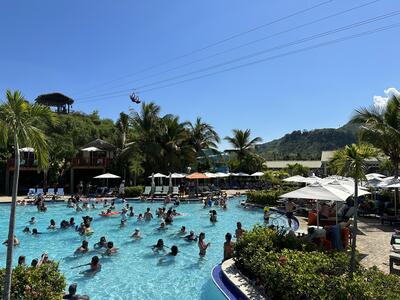 Whenever I am on a Disney or Royal Caribbean cruise, I always look forward to my day at their private islands: Castaway Cay and Perfect Day at CocoCay. While I knew that Amber Cove wasn't the exact same thing, I was excited to see what Carnival Corporation's port in the Dominican Republic was all about. 
There's no free beach at Amber Cove. In addition, there are no complimentary food options, either; the options were kind of pricey. 
I did not feel the need to pay upwards of $16 for a Caesar salad or $25 for fried shrimp with so many different dining options onboard that were included in the cost of my cruise fare. 
Image
It felt less like a private destination and more like a standard port in the Caribbean, albeit less busier. 
While this is not the only private cruise line destination that doesn't include food (i.e., Norwegian Cruise Line's Harvest Caye), the only complimentary activity was the pool. Drinks are not included, either, even if you have a CHEERS! Drink Package. 
While the pool was a great amenity for those who wanted to get off the ship, I think I would prefer to stay onboard and enjoy one of the pools onboard, rather than hang out in the crowded pool ashore, or book a shore excursion and venture into Puerto Plata. 
If possible, I would rather look for a sailing to Half Moon Cay or Princess Cays to make sure that I had a relaxing day at the beach.  
I loved how stylish and modern my stateroom was
Image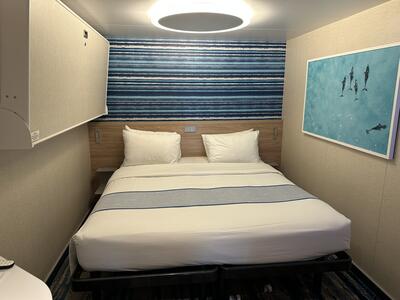 While only 162 square feet and quite possibly the smallest stateroom I have ever stayed in while onboard a cruise ship, my interior cabin was both modern and stylish. I loved the blue accents and lighter wood, which made the room feel a little bit bigger than it actually was. 
Since I was sailing alone, I had no issue with the space. There was a third pullman bed, though, meaning that this cabin could technically fit three people. Personally, I think that would be a little bit tight. 
Image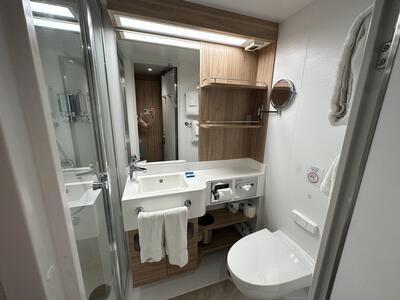 The cabin's shower was one of the largest I have ever seen on a ship, too. Typically, showers tend to be a bit more rounded. This one, however, had more of a square shape. While this meant there was less floor space in the bathroom, I would rather not hit my elbows while showering! 
I also loved how I got a different towel animal each night of my 7-night cruise. It was fun to come back each night to a new creature hanging out on my bed. 
Read more: I stayed in a windowless cabin onboard Carnival Celebration that cost $1,900 — here's what my inside stateroom looked like
I hated Miami Slice
Image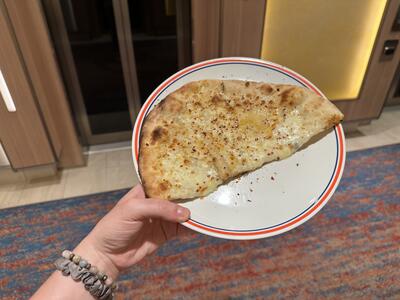 My least favorite dining venue that I tried while onboard Carnival Celebration was Miami Slice. I grabbed a fresh slice of the quattro formaggi pizza and found the texture to be less than desirable. In my opinion, it was pretty rubbery! 
Cruise ship pizza is never the best in the world, and I never expect that onboard any vessel. I've been on some Royal Caribbean ships where Sorrento's is barely edible. 
I loved the onboard entertainment options
Image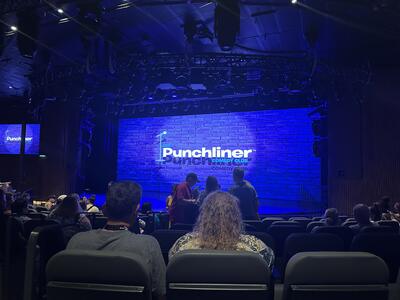 The entertainment onboard Carnival Celebration was not as high-quality as the Broadway-style musicals found onboard Royal Caribbean ships; however, I enjoyed everything that I went to! 
The comedy shows were my favorite. I got to see a number of different comedians, including Tim Young, Jorge Marroquin (DJ Cooch), and Jaylyn Bishop. Every night, there were both kid-friendly shows and those for guests 18+. 
In addition, I was able to catch the first showing of "The Most Magnificent Circus." While the costumes and singing were great, the show started off pretty slow, and the acrobatic tricks were not anything that I had not seen before. 
Image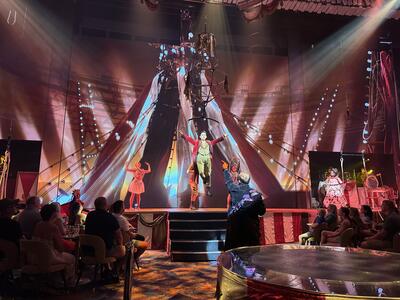 One night, I decided to spend $25 to play Deal or No Deal, as this is an activity that's exclusive to Carnival Cruise Line. I ended up winning $25 in bingo credits that I used the following day; however, I do not think I'd pay to play again. 
They have a member of the audience come play on stage, and I found that to be the most entertaining part! I loved seeing everyone in the audience react when each case was opened. 
Since it was October, there were a couple of different Halloween events, including costume pumpkin carving contests. I went on a Royal Caribbean cruise onboard Freedom of the Seas the week before and did not notice any special programming. 
Read more: I took my first Carnival cruise on its newest ship. Here are my honest thoughts
I hated the in-person muster requirement
Image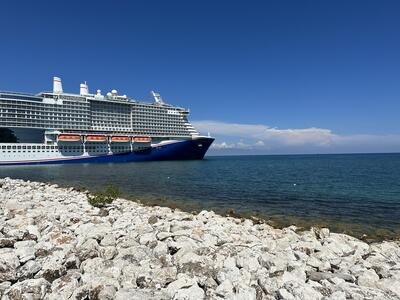 Since the pandemic, many mainstream cruise lines have moved to offering virtual safety drills. While you still have to visit your actual muster station, you are not required to watch any in-person safety demonstrations. This was not the case on my Carnival cruise. 
In addition to visiting my muster station, I had to sit and listen to a safety demonstration where a crew member gave instructions on how the life jackets worked. 
It did not take long; however, I prefer being able to watch videos ahead of time. I will usually complete them in the Uber to the terminal, so I do not have to worry about it once I am onboard. 
When it came time for them to sound the alarm, they gave a lot of other information over the intercom as well. 
I loved being able to check in for dinner through the HUB app
Image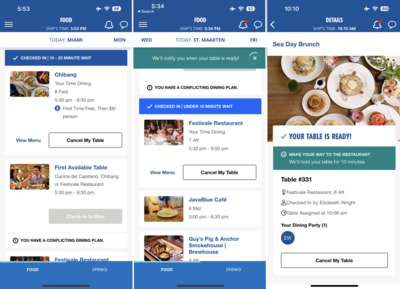 On this specific sailing, I had Carnival's flexible dining option, meaning that I did not have an assigned dining time or table. Instead, I had to check in through the app whenever I was ready to eat. 
I had a couple of flukes, like when I checked into Cucina del Capitano for dinner at 5:49pm. It said there was a 10-20 minute wait; however, I did not get a table assigned to me until 6:55pm. 
When I tried out the infamous sea day brunch, there was a 60-70 minute wait when I checked in at 9:45am; I was assigned a table less than thirty minutes later at 10:06am!
Usually, however, the wait times were pretty accurate. I loved the convenience of being able to go ahead and get on the wait list while I was still getting ready or grabbing a pre-dinner drink. It was better than having to wait in the My Time Dining line onboard Royal Caribbean ships! 
I hated the wait for Guy's Burger Joint on embarkation day
Image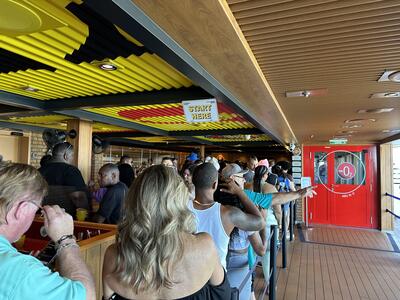 Something I learned on my first-ever Carnival cruise is that I will never go to Guy's Burger Joint on embarkation day ever again! 
I ended up waiting over an hour, and while the burger was delicious, I wish I had given up and gone elsewhere. After twenty minutes, though, I felt committed to waiting. I joked that it felt like waiting in line at an amusement park. 
Image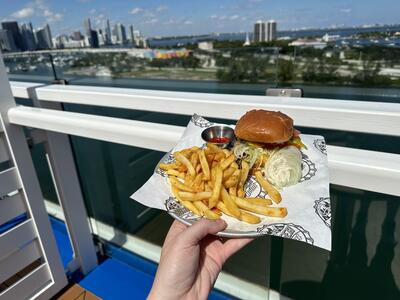 I went one afternoon for lunch after bingo and was through the line with food in about ten minutes! It all depends on when you go. 
Thankfully, there are tons of other options onboard, so if you ever get to Guy's and find a long line, you can go elsewhere. The Lido Marketplace, Street Eats, and BlueIguana Cantina are located right downstairs. 
I loved how easy embarkation and disembarkation was
Image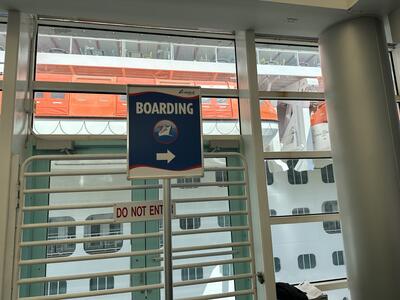 Initially, I was a little overwhelmed by the Carnival embarkation process. There was a lot of yelling by different port agents as soon as I stepped out of the Lyft, and I was told two different things by two agents regarding when I would be able to get in line to go inside. 
Once that was figured out, though, the rest of the embarkation process was easy. I was onboard by 1:00pm, and my arrival appointment was not even until 1:00pm. 
My check-in agent was friendly and helpful. She told me the importance of getting my safety drill done because if I wanted to purchase a CHEERS! Package that day, I would not be able to until it showed that I had visited my muster station. 
One aspect I found interesting was the drug dog who sniffed everyone's carry-on bags before being allowed to go through security.
Image
When it came to disembarkation, I found out that Carnival lets their passengers choose their exact disembarkation group. Rather than being brought luggage tags, guests must collect them on the final day of the cruise. 
I chose express disembarkation because I was trying to rush to the airport to make an earlier flight. I was let in line before an official announcement was even made and was off the ship and waiting for my Lyft by 7:35am.  
Read more: All You Need to Know About Cruise Embarkation and Disembarkation
I hated that I had to print my boarding pass ahead of time
Image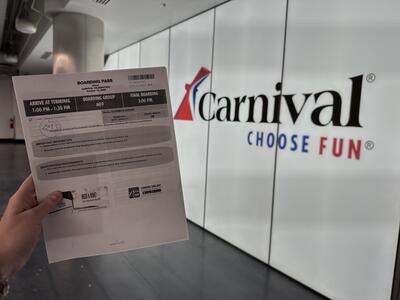 Before I left for the airport, I made sure that I had my luggage tag and boarding pass printed and safely packed in my backpack. During the check-in process, my agent stamped the boarding pass, and it was later verified before I was able to walk onboard the ship. 
I don't own a printer, so I had to pay $5 to use the communal one at my apartment complex. 
I prefer Royal Caribbean's boarding process, which allows me to simply download the Set Sail pass on my cell phone to be scanned at the terminal. 
I loved eating at Emeril's Bistro 1397 for breakfast
Image
One of the best things I ate while onboard Carnival Celebration was the bananas foster crepes at Emeril's Bistro 1397. This dining venue is not included in the cost of the cruise fare; however, breakfast is pretty reasonable and only costs $7.08, including gratuity! 
Image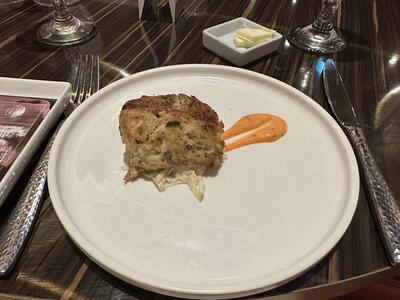 One regret I have is not eating there for dinner. I had Emeril's crab and shrimp cake one night in the Festivale Dining Room for no extra charge and loved it; it was actually one of the best things I had in the dining room. I can only imagine how delicious the dinner options are! 
I hated sea day brunch
Image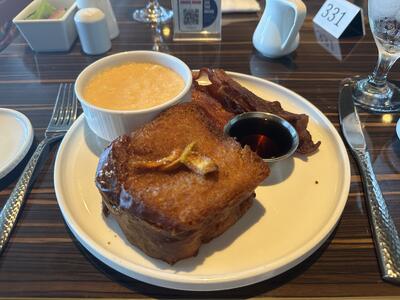 Hated is a strong word because there was nothing wrong with the brunch itself. Personally, I just think it is overhyped. I had heard from numerous people how this was a must-do while onboard, but it is something I could have skipped. 
I think it's a great option for those who want to sleep in; however, you must check in ahead of time. On the very first sea day, I saw wait times reach 100 minutes! This means that you cannot stroll up to the dining room thirty minutes before brunch is scheduled to end and expect to be seated. 
The service was the slowest I experienced during any of my meals onboard, and while the french toast was good, the hash browns, cheese grits, and bacon were pretty standard. 
I loved the lido deck activities 
Image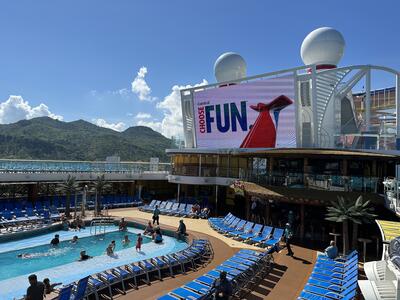 On the last sea day, I spent a lot of time hanging out on the top decks. Not only was I surprised by the amount of available seating, but the activities were fun and more unique than traditional pool deck offerings (i.e., belly flop contests and standard Caribbean music)
Since this cruise took place in October, there was a pumpkin carving contest. Almost immediately after was the "Legends of the Lido" competition. In addition to dancing and lip-syncing, the participants were expected to battle the poisonous lido snake, which was really just a towel. 
The energy was infectious. Even though I was not sitting on the actual pool deck (I found a comfortable and relatively secluded spot on Deck 18 overlooking the lido deck and television screen), everyone around me was cheering for all the participants and laughing!
I hated that there was no bar service in the Grand Spectrum Theater
Image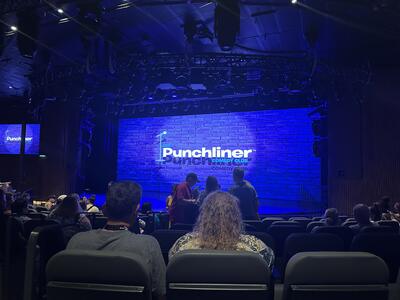 This is minor, but the only bar located close to the Grand Spectrum Theater was in the casino. This meant that if you had claimed a seat but wanted a beverage for the show, you'd have to get up and order your own. 
If you enter on Deck 7, the closest bar is the one inside the casino. The closest bar on Deck 6 is technically Piano Bar 88; however, if this venue is closed or extremely busy, you will have to go to the Tropicale Bar. 
Make sure that you allow yourself enough time to grab a drink on the way to the theater, so you do not have to venture into the casino and wait in line. Other options include the Aquaria Bar and Alchemy Bar on Deck 7, as well as the Latitudes Bar on Deck 6. 
I loved riding a roller coaster while at sea
Image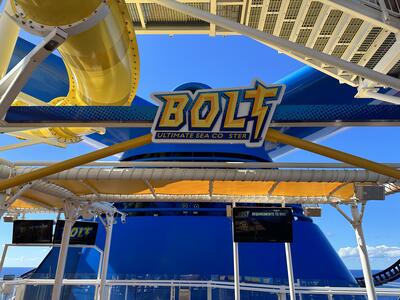 At $15, riding BOLT can become pretty expensive for a large family. If you have six people traveling in your party, you will have to expect to shell out $90 for everyone to get a chance to ride BOLT. 
I thought the extra cost was worth it, though! Standing below the roller coaster near the mini-golf course, I did not think it would feel as fast as it did! Plus, you actually get to go around the track twice, with your speed increasing as you begin your second loop. 
This is definitely something that I could see myself paying for again! However, I probably would not pay to ride it twice during a single cruise.