Norwegian Star is one of the oldest ships in the Norwegian Cruise Line fleet. She made her debut in September 2001, making her over two decades old! We were curious to see how this old ship would hold up to our experiences on some of Norwegian's newer vessels. 
We took a 10-night European cruise to the United Kingdom and British Isles onboard Norwegian Star. Because our cruise was over a week, we had quite a bit of time to explore this ship and see everything it has to offer its guests. 
Image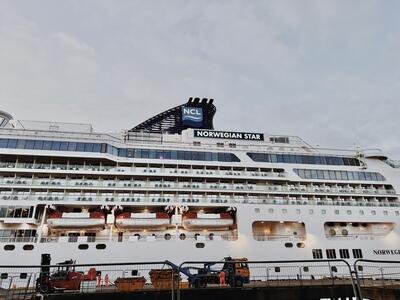 Overall, we were quite surprised by this old ship. Earlier this year, we also had the opportunity to sail onboard Norwegian Sun, another ship in Norwegian's fleet that also launched in 2001. 
We were curious to see what the differences between these two older Norwegian Cruise Line ships would be. Would we like the Norwegian Star more than the Norwegian Sun ship? 
Here are 19 things that we discovered we loved and hated while onboard Norwegian Star.
Liked: Remodel and updated features 
Image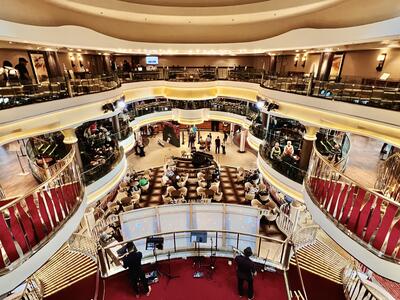 Even though the Norwegian Star is over 20 years old, the ship has been maintained remarkably well. In 2021, the ship was remodeled and updated to give it a fresh look and keep it sailing for years to come. 
Some of the remodel included updates to the staterooms to make them more convenient and comfortable for guests, as well as updates to various public areas around the ship. 
Image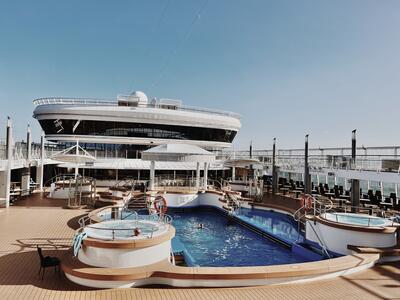 When we compared the Norwegian Star to some of the other older cruise ships we've been on, we were very impressed. We often commented throughout our cruise sailing how much we enjoyed this smaller vessel. 
While Norwegian Star does show its age in some of the decor styles and aesthetics around the vessel, it was clean and well-maintained! Overall, it was my favorite older cruise ship so far that I've sailed on! 
Disliked: There was only one show in the ship's theater
Image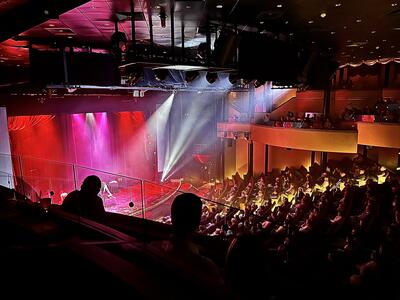 10 days can be quite a long time to be onboard a cruise ship. The average cruise sailing tends to be around a week long. While we personally love cruising and thrive on longer-length cruises, we thought it was interesting that there was just one main theater-style show onboard the Norwegian Star during our lengthy voyage. 
The main theater production show currently onboard the Norwegian Star is called "Paradis."
According to Norwegian Cruise Line, this show was inspired by the Parisian culture: "A glimpse into an unknown club in Paris, where the up-and-coming mix with the rich and elite. A visual feast that will delight and entice all of your senses."
Image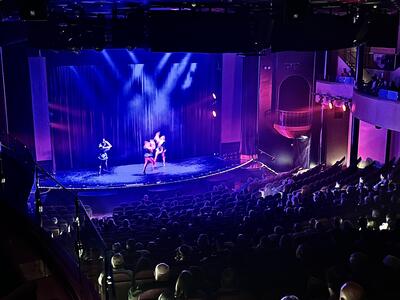 This show highlights different features of European culture while combining elements of dancing, singing, and acting. We thought this show was entertaining and had many different themes and storylines mixed in. While we enjoyed this show, we do wish that there had been at least one other large theater-style show onboard during our voyage. 
When I sailed onboard Norwegian Bliss, I got to see two different Broadway-style shows during my 7-night cruise. 
Read more: Things you'll notice when cruising on the newest cruise ship
Liked: Six different complimentary dining locations
Image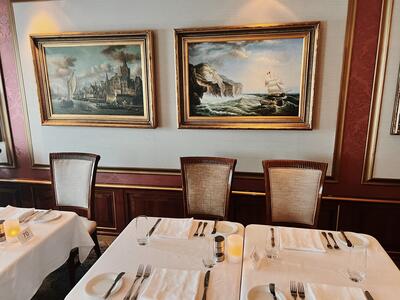 Onboard Norwegian Star, guests can enjoy six different complimentary dining locations, meaning that there are plenty of places to eat. Most Norwegian Cruise Line cruise ships have three to four complimentary dining venues onboard, so we were interested to see that the Norwegian Star ship had way more than usual! 
The six complimentary dining venues onboard Norwegian Star included the main buffet named "The Garden Cafe," two main dining restaurants called "Versailles" and "Aqua," a 24-hour pub eatery named "O'Sheehan's," an Asian-themed venue called "Ginza," and an outdoor bar and grill area called "Topsiders." 
Image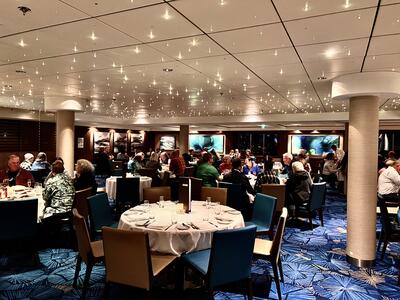 We had the chance to dine at all six of these venues throughout the course of our 10-day sailing on the Norwegian Star and thought that there was a wide variety of food choices to serve different dietary needs, preferences, and desires. 
Our personal favorite complimentary dining locations onboard were the Versailles dining room and Ginza Asian restaurant. 
Image
These two venues served up some tasty offerings while giving guests a fun and beautiful dining aesthetic. Having a complimentary Asian restaurant is a rare feature amongst the Norwegian Cruise Line fleet, and I was excited to see Ginza as a complimentary dining option onboard the Norwegian Star. 
Disliked: Not many indoor places to relax and hang out
Image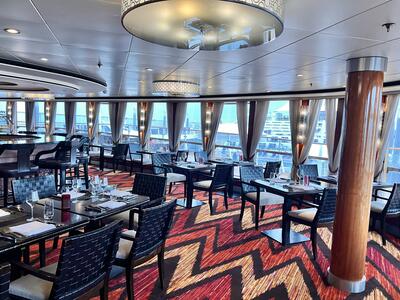 Our 10-day experience onboard the Norwegian Star took us around the British Isles. Because our cruise was in October, it meant that it was often quite cold. The chilled weather meant that guests stayed inside bundled up and warm in order to avoid the chilly temperatures and weather. 
We often wanted a place to hang out, relax, and watch the beautiful scenery; however, we quickly discovered that there were not many spaces for guests to take in the ocean views while inside. 
Image
While outdoors, one of our favorite spots was the Spice H2O venue at the back of the ship. It was rather chilly outside; however, if passengers bring a blanket or jacket, this can be a great spot to hang out during a sea day!
On newer ships, such as the Norwegian Bliss and Norwegian Encore, guests will find the Observation Lounge, which is a space that's completely indoors and offers plenty of comfortable lounge chairs and seating for passengers to relax. However, the Norwegian Star does not have any spaces onboard like this for guests. 
Read more: My favorite onboard must-do activities with Norwegian Cruise Line
Liked: Comfortable staterooms
Image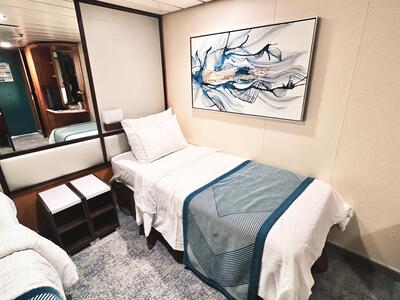 When Norwegian Star was updated in 2021, the staterooms were one of the places that received a major refresh! 
During our journey, we stayed in a standard interior stateroom. We found our room to be very comfortable and the beds to be quite cozy. 
Image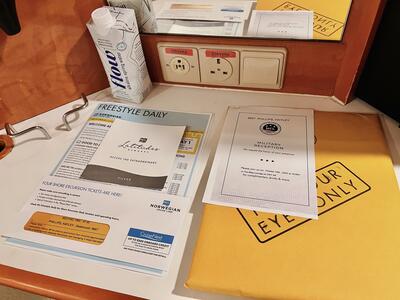 Something we greatly appreciated was the plethora of charging spaces for devices. Near each bedside lamp guests will find USB ports, as well as both United States and European outlets near both the desk areas. Between the two of us, we had plenty of outlets to charge our phones and cameras. 
We also thought that for an older cruise ship, the stateroom bathrooms were quite nice. It was fairly sizable and even had a closing shower door rather than a cloth curtain, which can be uncommon on ships that are 20+ years old. 
Additionally, there was plenty of space and shelving for guests to store their belongings and toiletries in the bathroom.
Image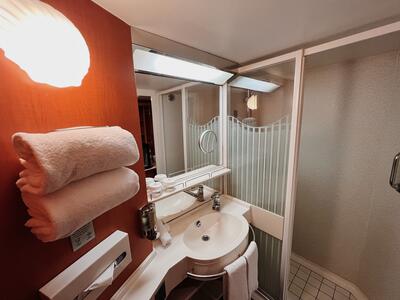 When it comes to storing clothing, guests will find a great deal of room for their shoes, clothes, accessories, and suitcases. The closet has more than enough room for two people traveling together. 
Additionally, guests will find several shelves and drawers to use during their cruise adventure. We brought a fair amount of clothes with us, as we were prepared for cold and rainy weather in the United Kingdom in October, and we still had room in the closet!
We are certain that guests will find their stateroom onboard the Norwegian Star to be a comfortable home at sea during their cruise vacation!
Image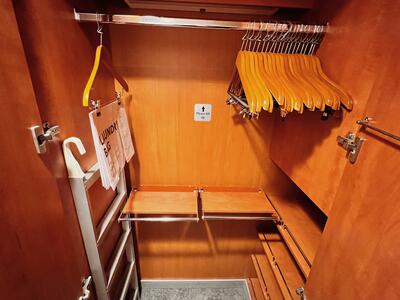 While some of the design features may reflect the ship's age, we think the renovations made to the ship have kept it updated for many sailings for years to come.
Disliked: Wasted space onboard
Image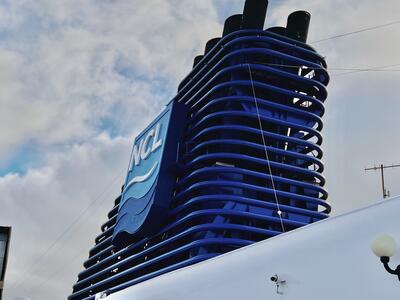 Something that we thought was interesting and did not like about the Norwegian Star was that there seemed to be quite a bit of wasted space in various locations onboard. 
For example, there is a large area onboard reserved for the photo spot where guests can look up photos taken of them during their sailing, as well as purchase photo gifts. 
This area seems to hardly ever be used and, most of the time, we personally feel this is wasted space where something else could be placed for guests to enjoy onboard. 
Liked: Wrap-around deck
Image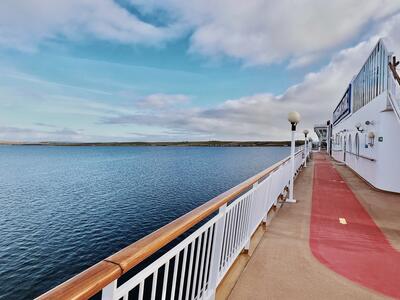 Nothing compares to the ocean views you will get while on a cruise! Something we loved about the Norwegian Star was that the ship features a complete wrap-around promenade deck on Deck 7 for guests to take in these stunning views, as well as enjoy a walk in the fresh air. 
During our cruise, one of our favorite times to enjoy the wrap-around deck was during sail away after a long day of exploring an exciting port of call. 
The wrap-around deck is the perfect place to watch sunset, sunrise, or wave goodbye to locals as the ship takes off for its next destination during sail away. 
Image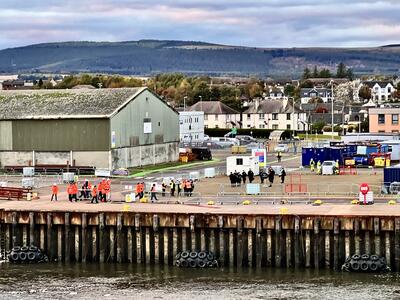 (The bagpipe band in Inverness during sail away was one of our favorite memories from the trip)
One of our favorite memories about sail away on Deck 7 was getting to see the bands and performances that were conducted by the local town. Our ship was gifted with performances from the cities of Invergordon, Orkney, and Cobh.
While this was something relatively unique to this itinerary, we thought the promenade deck on Deck 7 of the Norwegian Star was the perfect place to view these sweet and exciting performances by the local ports. 
Disliked: Fewer onboard activities
Image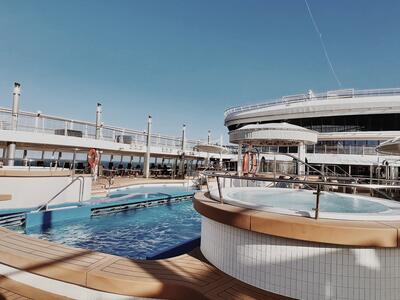 For a 10-day sailing, we expected there to be more onboard activities on the Norwegian Star. However, we found that if guests were not out and about exploring a port, there was not quite a lot to do onboard the ship during the day. 
Our British Isles itinerary meant long days exploring the destinations each day. However, during our sea days, we found there was not very much to do onboard. 
In comparison, Norwegian Cruise Line's newer vessels have plenty to do during sea days, from thrilling water slides to go-kart tracks and more!
Image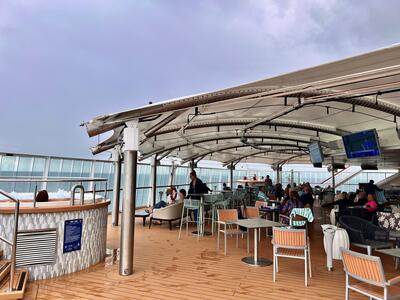 While onboard Norwegian Sun, we chose to relax, enjoy the views, sample some of the yummy food, and order a drink or two from the couple lounges during our much-needed days at sea. 
Read more: Why sea days are a good thing with Norwegian Cruise Line
Liked: Exciting itineraries
Image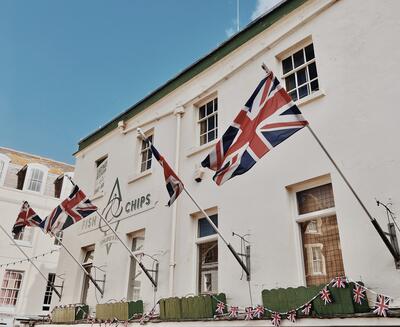 We have noticed that many of Norweigan Cruise Line's older ships conduct unique and exciting itineraries. This is one of the reasons we initially became interested sailing onboard Norwegian Star. 
A British Isles itinerary in the autumn time is rather rare. Cruising to Scotland and Ireland is not usually something that cruise passengers can do on other cruise lines in the fall and winter, but Norwegian Cruise Line utilizes the Norwegian Star ship to sail to these beautiful destinations during the off-season. 
Image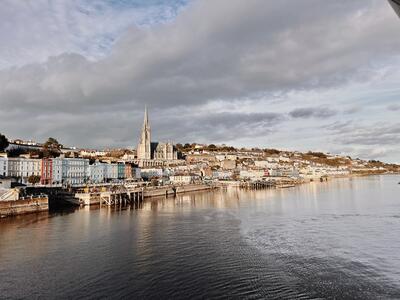 Because of this, I highly recommend taking a look at Norwegian Cruise Line's older ships for special itineraries. 
We were thankful this sailing was offered by Norwegian Cruise Line, even if it was on an older vessel. For that reason, you should never dismiss older ships; they may have some of the best itineraries! 
Disliked: Missed ports due to inclement weather
Image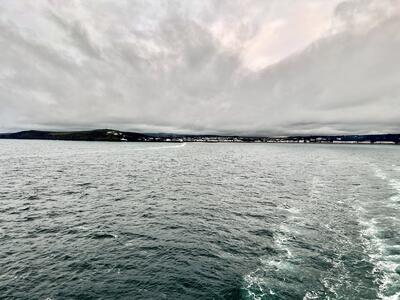 While we absolutely loved our United Kingdom itinerary, our excitement was dampened by some extreme weather later on in our cruise that caused us to miss two ports of call. 
An unfortunate side to cruising near the United Kingdom during the off-season is the unpredictable weather. During our cruise, we had three beautiful days in Scotland with no rain. 
However, after the first few days, a large storm breezed through the United Kingdom, causing us to have to miss our ports in both the Isle of Man and Dublin due to safety reasons. 
Image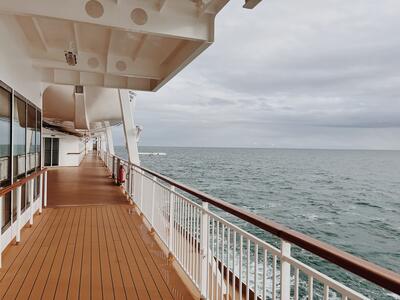 Norwegian Star was unable to launch the required tender boats in order to deliver guests safely to shore to enjoy the port, Because of this, these port days were canceled. 
We understood that these missed ports were due to safety concerns and therefore were no one's fault; however, it did cause us to be disappointed. 
While this was not a negative of the Norwegian Star itself, it is something to be considered when sailing near the United Kingdom during the fall and winter. 
Read more: 25 Tips to deal with bad weather on a cruise
Liked: Mojito and whiskey bars with views
Image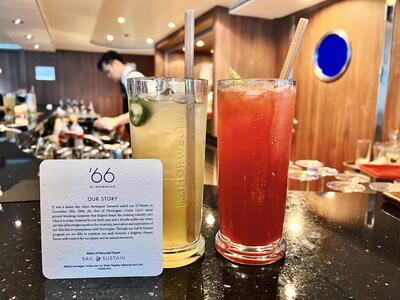 When it comes to enjoying a tasty drink with ocean views, Norwegian Star has two great venues that guests should try: Sugarcane Mojito Bar and Proof Whiskey Bar. 
Both of these spots have some great seating near the windows that allow guests to sip a cocktail while passing by some spectacular views. We enjoyed visiting these spots, and would recommend checking them out when sailing onboard the Norwegian Star! 
Disliked: Some inconsistencies in the quality of the food
Image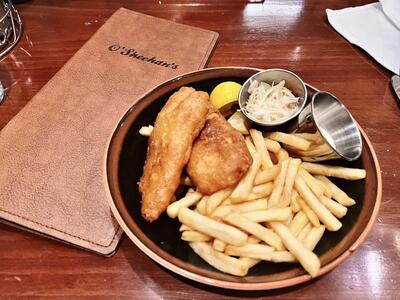 Overall, we thought the food onboard the Norwegian Star was much better than the food onboard the Norwegian Sun that we had earlier this year. We thought the food options were tasty and there was a lot for guests to choose from!
However, we did notice that there were some inconsistencies in the quality of the food. For example, at dinner in the Versailles dining room, we noticed that some of our food dishes were delicious, while others fell flat. Of course, everyone will find food they both enjoy and potentially dislike during any cruise. 
Image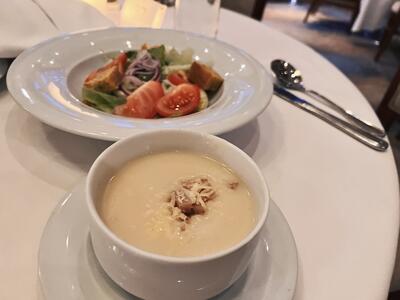 That being said, the quality was good for an older cruise ship. Additionally, we thought that there was an impressive selection of offerings onboard the Norwegian Star that we did not experience onboard Norwegian Sun. 
Liked: Beautiful main dining rooms
Image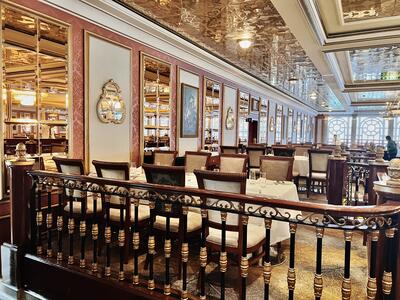 Something that surprised me about Norwegian Star was how beautiful the main dining rooms were. In fact, the Versailles and Aqua dining rooms are now some of my favorite large-scale dining rooms that I have experienced so far in my cruising adventures. 
The Versailles dining room design and atmosphere very much reflects its name and is molded after the Versailles palace near Paris, France. This dining room is beautiful, and with its large windows also offers some great ocean views during breakfast, lunch, and dinner. 
Image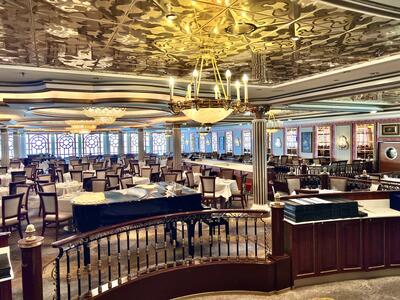 The Aqua dining room has a more modern aesthetic than that of Versailles, but it is still beautiful and offers a great atmosphere for guests to enjoy their dinner after a long day of exploring or relaxing during their cruise. 
Disliked: staterooms at the front and back of the ship
Image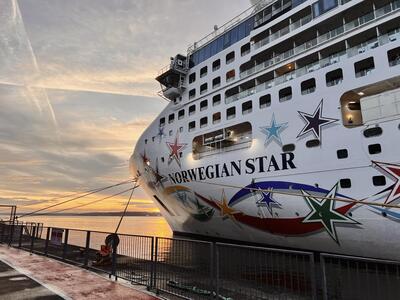 This cruise was the first time that I have had an inside stateroom at the very back of a cruise ship. Additionally, we were traveling with some friends, and it was the first time they had cruised while staying in an inside stateroom that happened to be at the very front of the ship. 
Because our cruise sailing experienced some extreme weather, it meant that we also experienced some of the roughest seas we've ever sailed through. Our friends staying at the front of the ship had quite the ordeal one evening as the ship aggressively rocked up and down as it traversed huge 18-foot swells of waves. They were unfortunately unable to get any sleep that night. 
The room we stayed in at the very back of the ship did not feel the impact of the waves quite so much; however, it did have its disadvantages as well. Our room happened to be right above the Bliss Lounge, the main party lounge and bar onboard Norwegian Star. Every night of our cruise, loud music could be heard quite clearly in our room until about 12:30am.
Image
Additionally, the walls were very thin, meaning that we could clearly hear the voices from fellow passengers below us in the lounge, as well as the guests staying in the room next to us. Our inside stateroom was also next to a Crew Only door. Several early mornings throughout our cruise, we could hear drilling noises and voices of crew members conducting work on the other side of the wall starting as early as 6:00am. 
The less-than-ideal location of our staterooms was likely due to the fact that we booked the cheapest possible staterooms onboard. These room categories are often referred to as Inside Guarantee staterooms. 
For guests looking for quieter and less rocky staterooms, I recommend booking a cabin category that allows passengers to choose the location of their stateroom. Choosing an inside stateroom towards the middle of the ship is usually the best option for guests looking for the smoothest sailing.
Read more: How to avoid cruise motion sickness
Liked: Exciting variety entertainment
Image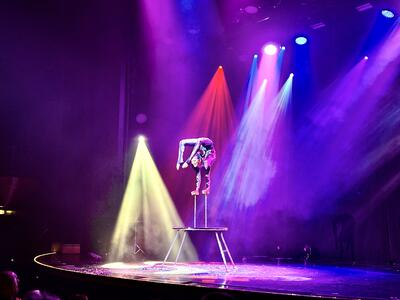 While Norwegian Star did not have very many large theater-style production shows, it did have some great variety performances. 
In fact, some of the best variety entertainment I've seen yet at sea were onboard! During our voyage, there was a magician and contortionist duo, as well as a juggler and acrobat duo who each performed several times throughout the cruise. 
The name of the magician and contortionist duo was White Magic, while the name of the juggling and acrobat duo was Cameo Rascale. Both these acts were very impressive and were thoroughly entertaining!
Image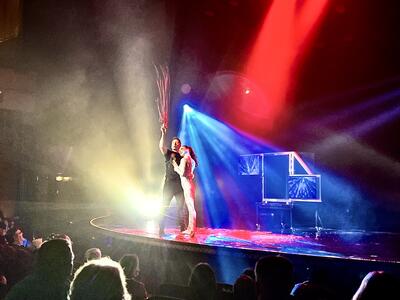 These two shows were great, and we were surprised to find such awesome variety acts and performances onboard an older Norwegian Cruise Line ship. I recommend double-checking the Freestyle Daily, the onboard ship schedule, for when and where any entertainment might occur onboard during your cruise!
Disliked: Paid onboard messaging
Image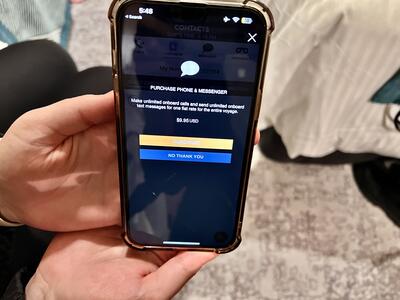 Because we were a group of four people traveling together and staying in two separate staterooms onboard, we quickly figured out that we needed a way to communicate with each other. 
Passengers on cruise ships often cannot text or call while at sea and usually must rely on Wi-Fi in order to communicate with fellow guests, as well as with the outside world.
Unfortunately, Norwegian Cruise Line does charge guests an extra $9.95 USD per person in order to use the online messaging system in the Norwegian Cruise Line app onboard their ships. This is in addition to any Wi-Fi packages that guests purchase onboard. 
Many other cruise lines, such as Royal Caribbean, offer online messaging in their app for free. Therefore, it was a disappointment to discover that Norwegian still charges for this feature, making it slightly harder for large groups of guests traveling together to communicate during their cruise vacation. 
Read more: What you need to know about Norwegian Cruise Line's onboard wifi
Liked: Best Norwegian Cruise Line merchandise
Image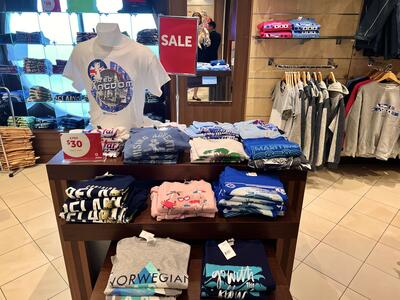 A surprise we discovered was the best Norwegian Cruise Line merchandise we have seen so far!
Onboard previous cruises, we have seen very little Norwegian Cruise Line marketed merchandise. However, onboard Norwegian Star, we discovered not just Norwegian Cruise Line branded items but itinerary-specific items as well, which we have never seen!
For our British Isles itinerary, there were items for Ireland and England, which was fun to see. 
Image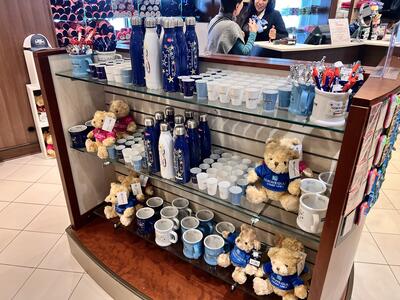 We found these items in the Tradewinds shop onboard on Deck 7. My friend Allie and I ended up purchasing matching sweatshirts that we are sure to wear on our upcoming sailing on Norwegian Cruise Line's newest ship in December: Norwegian Viva. 
Disliked: Stressful tender operations
Image
During this sailing around the United Kingdom, we were scheduled to have three tender ports during our cruise. This meant that Norwegian Star had to anchor offshore, and guests would take smaller boats to the actual port. 
We were scheduled to tender in Edinburgh, Isle of Man, and Dublin. Due to the canceled ports because of the storm during our cruise, we had only one tender port instead of three. However, we quickly discovered that tendering onboard the Norwegian Star can be rather stressful. 
Image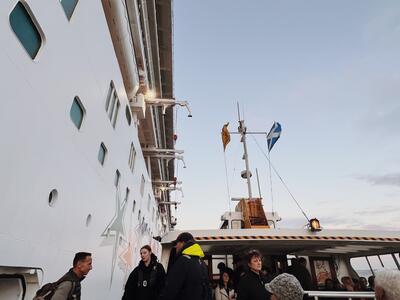 Guests were given a time in which they could collect tender tickets from the Bliss Lounge on Deck 7 the morning of the tender port visit. However, even if guests showed up on time, there was often already a very long line. 
While tender tickets are complimentary, the farther back in line guests are, the later the tender they might get. I recommend waking up early and getting in line early to collect one of the first tender tickets. If guests get a later tender slot, this might mean less time to explore a port destination.
Image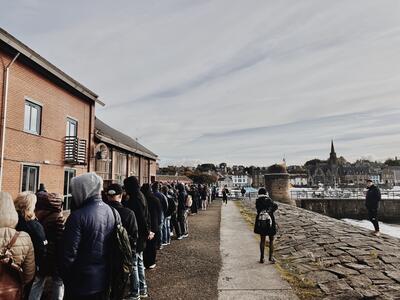 Additionally, guests should report to the atrium as soon as their tender group is called. There are often long lines associated with tendering, and this can eat up quite a bit of time during the port visit. 
On our Edinburgh visit, we discovered that there was a massive line to get back on Norwegian Star at the end of the day. The all-aboard time was 4:00pm, and we showed up at the tender location at 3:30pm to discover a huge line to get back onto a tender and back onto the ship! 
Liked: Easy boarding and disembarkation
Image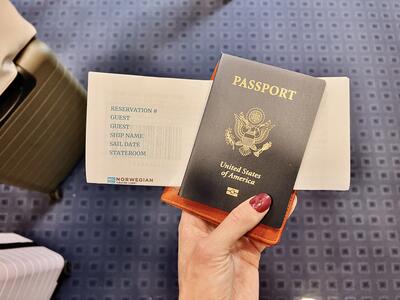 Despite the lengthy lines and complicated tender procedures, we found boarding and disembarkation for our cruise to be easy and seamless. 
On embarkation day, we arrived at the Southampton cruise port and found the lines to be relatively fast-moving, and the embarkation process to be fairly quick. The staff at the Southampton cruise terminal were very helpful, kind, and made embarkation easy. 
Disembarkation was also very easy and straightforward! This was in part because we had woken up very early in order to meet the transfer bus that took us to Heathrow Airport in London. 
Image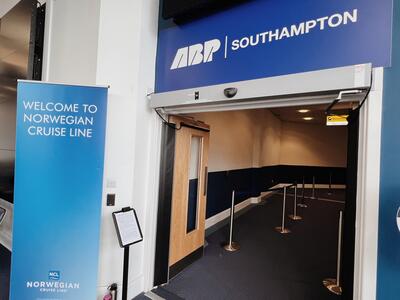 We had booked transfer transportation through Norwegian Cruise Line ahead of time, and this one-way ride cost each of us $75 USD. We felt this was relatively reasonable considering a taxi would have cost upwards of $250 from the Southampton cruise terminal to Heathrow. 
Guests sailing on the Norwegian Star can book an airport transfer at the Guest Services desk on any day of their cruise except for the last day of the voyage. 
Overall thoughts about the 20+ year old Norwegian Star
Image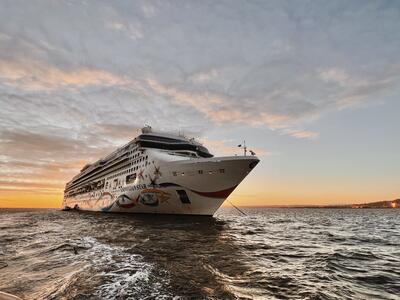 While this ship does have the occasional fault or downside, we thought Norwegian Star offered a great cruise experience to its guests. 
Prospective guests of Norwegian Cruise Line can find some great affordable cruise vacations onboard Norwegian Star. Because of this, we always recommend considering a cruise on an older ship, as it might mean an awesome itinerary at a more affordable price.
Overall, we really enjoyed our cruise onboard the Norwegian Star! This older ship has held up extremely well and is a great home at sea for an epic cruise vacation. During our 10-day sailing around the British Isles, Norwegian Star was the perfect home base and proved to be a great ship despite its 20+ year old age.