The very first cruise ship I ever sailed on was Oasis of the Seas. At the time, I did not realize that I was setting my cruise vacation bar so high. It was an incredible trip, and I immediately fell in love with cruising. 
The endless sea views, onboard fun, and tons of tasty food made it a great family vacation, not to mention the fantastic ports of call that we visited.  
After a couple of Royal Caribbean cruises, we branched out and tried some other cruise lines, like MSC Cruises, which I really enjoyed as well. Although MSC has mixed reviews among cruisers, I have had a wonderful time sailing with them.
Image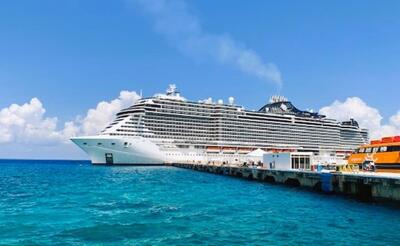 There are, however, some noticeable differences between the two cruise lines. For context, I have mainly sailed on Royal Caribbean's Oasis and Freedom Class ships in the Caribbean and Mediterranean. 
With MSC Cruises, I have sailed on the Seaside Class and Fantasia Class in the Caribbean.
While I have had some amazing cruises on both MSC Cruises and Royal Caribbean and would sail with either of them again in a heartbeat, there are some pros and cons to each. 
Comparing the complimentary food options on MSC Cruises and Royal Caribbean
Image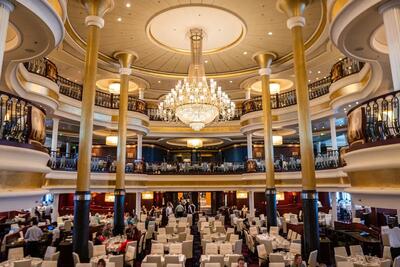 Food is one of the most talked about topics for cruisers, so a good place to start for a comparison of these two major cruise lines. 
Although MSC has a bit of a bad reputation when it comes to food, I am not sure why. During my sailings with them, I always found plenty of food that I liked; in particular, I enjoyed their variety of mixed salads, savory dishes, European meats, and cheeses, as well as top-notch bread. 
I also loved that the buffet had outdoor seating, which is a real plus for me, as there is no better way to start the day off than sipping a cup of coffee with sea views and the warm morning sun. 
Image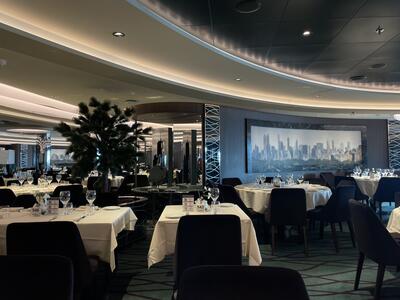 Perhaps one of the biggest drawbacks of MSC ships is the lack of complimentary dining venues beyond the standard buffet and main dining room, whereas on Royal Caribbean ships, there are other options like the Solarium Bistro, Café Promenade, and Park Café, to name a few. 
I feel like the lack of dining options on MSC ships can make the buffet feel quite crowded. I would say Royal Caribbean is a good choice if you really want a variety of food without spending lots of money on specialty dining venues. 
I hope Royal Caribbean fans are sitting down when I say this: MSC wins on the pizza. Sorrento's just doesn't cut it for me. MSC, of course, is an Italian cruise line, and their piping hot, Naples-style fresh pizza (served all day long – even for breakfast!) was a clear winner to me. 
Image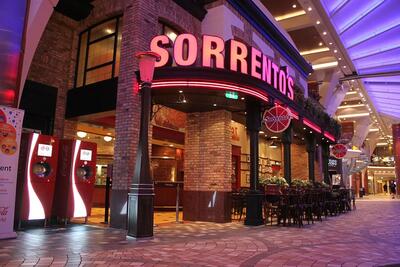 All in all, I found the food to be comparable between the cruise lines, and like I said, I ate well on both.
Specialty dining options on MSC Cruises vs. Royal Caribbean
Image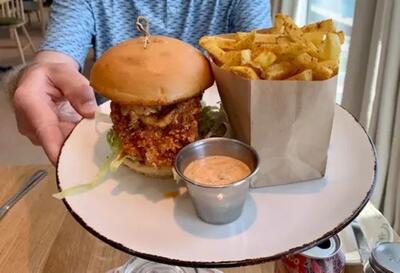 In terms of specialty restaurants, I am always keen to try all types of cuisine. With the extensive list of onboard venues, I feel like this is an area that Royal Caribbean excels at, and their Oasis-class ships, in particular, have an excellent array of dining options. 
On Wonder of the Seas, which I was lucky enough to sail on a 7-day Mediterranean cruise out of Barcelona, we opted for the unlimited dining plan, so were able to try many venues. 
I loved the fun atmosphere of the Mason Jar, the elegance of 150 Central Park, and the East Coast vibe of Hooked. For a family that loves to try a wide variety of cuisine, Royal Caribbean certainly provides tons of great options; however, they do come at a price, and I don't think I would splurge on that every time. 
Image
MSC Cruises has a smaller number of specialty dining options, and none of them were overly full when I sailed with them. I have tried their steakhouse, seafood, and Mexican venues, and all were good, with superb service. 
I found them to be more affordable, especially if you book a package pre-cruise. I do have to give a shout-out to MSC for their onboard Venchi cafes, which sell luxury chocolates and some of the best gelato around, but this is not a deciding factor. 
Read more: 16 hidden cruise ship extra charges you should know about (2024)
Design and style onboard Royal Caribbean and MSC ships
Image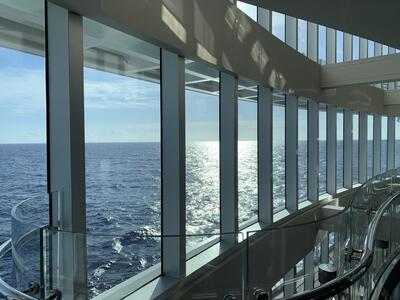 Although each cruise line has a number of different classes of ships, many of the Royal Caribbean ships share similarities like wide-open promenades, fun-filled waterparks, and sky-high slides. 
Oasis-class ships have their festive Boardwalk area families love and a lush Central Park. I quite like the design of the Royal Caribbean ships and found them to be more intuitive inflow and easy to get around, even on their biggest of ships.  
Image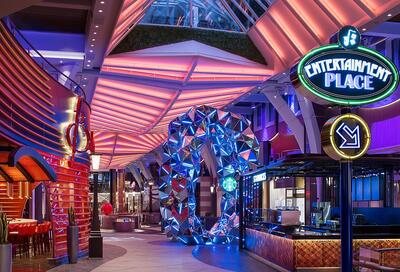 Many of the MSC ships are centered around a multi-story atrium, which provides great music and fantastic views, but once you leave the area, it is less open and takes a couple days to really get the flow of the ships. 
MSC ships have lots of style and are full of art, sculpture, and their signature Swarovski staircase. I also like the outdoor space on the MSC ships; you even have dinner at a specialty restaurant or get a drink outside, which is an excellent plus. Royal Caribbean ships could benefit from more outdoor eateries and lounge areas. 
Image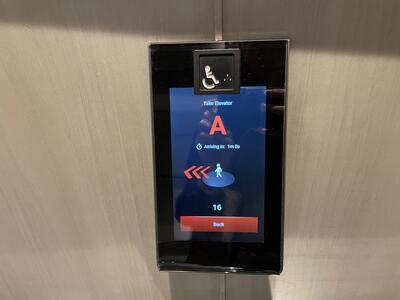 Although not universally popular, I like the elevator system on newer MSC ships, where you select your destination prior to entering the elevator and are assigned which one to go on (for example, A, B, C, D). This is far more efficient, as elevators don't have to stop at every level and don't feel as crowded. 
Comparing the entertainment offerings on MSC Cruises and Royal Caribbean 
Image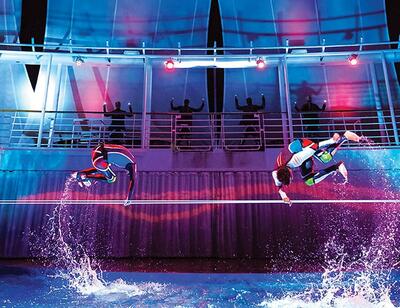 Royal Caribbean is known for their onboard entertainment, with a wide array of shows to choose from; in fact, there is almost too much! Of course, their aqua shows are unparalleled in the cruise industry and probably my favorite that I have seen onboard. They're exclusively found onboard Oasis and Icon Class ships. 
Additionally, I am a big fan of live music, frequently listening to bands throughout the day. This means that when I first heard Royal Caribbean was removing the dedicated Jazz Lounge on Wonder of the Seas, I was disappointed. But as it turns out, Central Park is a wonderful place to listen to the soothing tones of jazz.
While MSC has a lot of great live music, they don't have the same selection of shows, and some people may be disappointed, especially if they like Broadway-style musicals and other productions of that nature. 
Image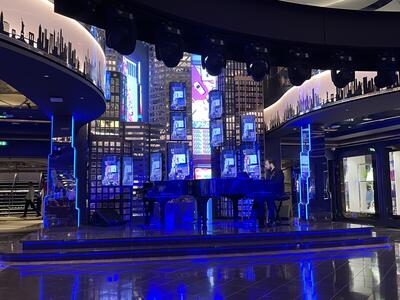 Many have said this is due to the fact that MSC is trying to please a wide range of cruisers who speak a variety of languages. I don't know if this is the case, but I have not found them to have the same quality and selection of shows as Royal Caribbean. 
On my latest cruise on MSC Seascape, I thought the Guinness World Records show was fun, giving a chance for the audience to participate, and was family friendly-- a move in the right direction. 
Which cruise line has the best drink package options?
Image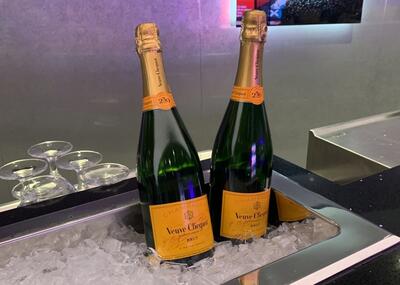 A drink package is a popular add-on for a cruise, and I often get one on a cruise vacation, so it's due proper consideration when comparing these two cruise lines. While Royal Caribbean only has one alcoholic drink package, MSC has three. I typically drink more wine and beer, so I find the MSC Easy Drink Package to be the most cost-effective. 
For my next MSC cruise, the lowest-level alcohol drink package is $54 per day per person. The premium drink package is $74 per day, covering drinks up to $14. These prices are quite competitive and often cheaper than Royal Caribbean packages. Another bonus of MSC Cruises is that drink packages are often a perk if you book the more inclusive package, along with basic Wi-Fi. 
Image
On the other hand, I don't find I drink enough on Royal Caribbean to always justify purchasing a drink package. This was particularly evident when we cruised with Royal Caribbean, sailing through the Mediterranean and having only one sea day. 
With long excursions and long travel times (going back and forth from Rome to the port is 1 ½ hours each way), we were gone close to 10 hours, so we just weren't on the ship enough to make the plan work for us. 
It is not uncommon for this package to cost upwards of $75 per person, per day! This can add up quickly, especially when everyone else in the stateroom over the legal drinking age is required to purchase the package if one person does. 
Which cruise line is more technolically advanced?
Image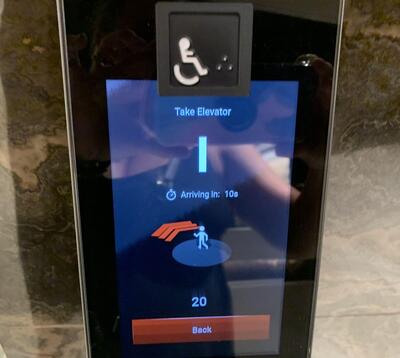 Technology has become an integral part of cruising, helping us plan and keep track of all the fun things to do on a cruise ship. I find both cruise line apps to be comparable in ease of use and content. 
However, on a number of MSC ships, like MSC Divina, you can't use the MSC for Me app, the cruise line's app. While I do love receiving a hard copy of MSC's Daily Program each night, I missed the convenience of being able to search for what's going on while exploring on the ship. 
While both cruise lines provide a number of internet Wi-Fi options, MSC's plan is more limited. If you purchase a one-device option, you cannot switch between electronic devices. The first thing you log onto, whether that's your phone or laptop, is what you are committing to using, unlike Royal Caribbean, where you can log off and on, switching between devices.  
Image
One of the best advancements post-COVID is being able to complete the muster drill online. With Royal Caribbean, you can easily watch the video on their app and then check in at your designated muster drill station within a specific time frame. 
I would say the MSC's muster drill does not run as smoothly. Guests have to all go to their cabins to watch the video (at the same time), and then go to the muster drill station to check in. This created a ton of traffic within a short time frame, which I think could be avoided. 
Comparing the level of service onboard Royal Caribbean and MSC Cruises
Image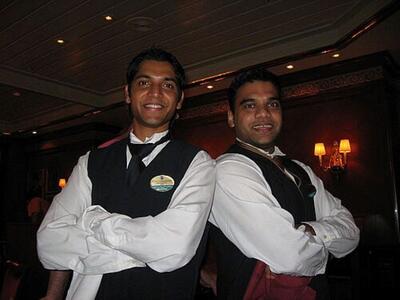 Overall, I found the staff on both lines to be friendly, helpful, and certainly trying their best. It did, however, seem like the MSC ships tended to feel understaffed at times. 
They have tons of bars but seem to have limited operating hours. Those that were open were often crowded. This may be a way that they are to deliver these price savings, but it did seem to be an issue on sea days. 
Image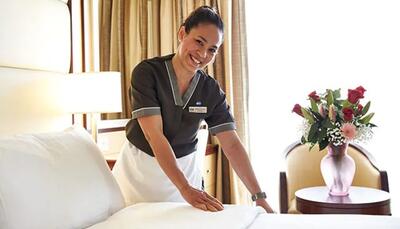 Although it depends on each sailing and passenger capacity, I wanted to see how the staff ratios varied by the cruise line and ships. I have sailed on Wonder of the Seas, which has a guest-to-staff ratio of 2.3 to 1, as well as Liberty of the Seas has a guest-to-staff ratio of 2.7 to 1.
In comparison, MSC Seascape has a guest-to-staff ratio of 3.6 to 1, while MSC Divina has a guest-to-staff ratio of 2.5 to 1. A fair difference in ratios, but it was a bit surprising as I found MSC Divina seemed to be the most understaffed of all the ships I have sailed on. 
MSC Cruises' and Royal Caribbean's stateroom and suite experience 
Image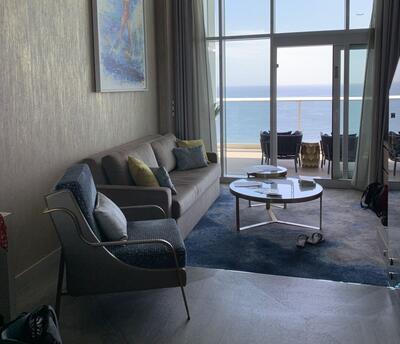 I have had the opportunity to sail in a few different types of cabins on cruise ships, everything from an inside cabin to ocean view, balconies, and even suites. 
Generally, the basic cabins are comparable, although the showers on MSC cruise ships were quite tiny! Perhaps my absolute favorite cabin I have ever stayed in was the two-level crown loft suite on Wonder of the Seas. It was incredibly spacious and full of windows, and I loved having two bathrooms while traveling with my husband and two daughters. 
Overall, though, I would say that MSC Cruises' suite experience (Yacht Club as it is called) is very impressive, with lots of high-value inclusions. As a suite guest, you receive the premium drink plan, which can be used anywhere on their ship and private island. 
Image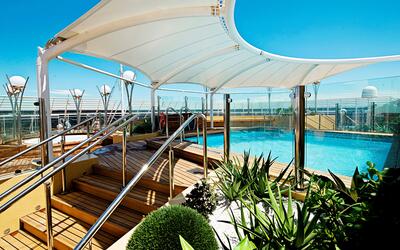 There is also 24-hour concierge service, butlers, and a sizeable lounge with outdoor space, as well as a rooftop area that includes a pool, hot tubs, and a restaurant that serves a buffet breakfast and lunch. 
One of the best perks was the suite area at their private island Ocean Cay. They have transportation, a private suite area with loungers, umbrellas, and a full drink service. There is a quaint Bahamian-style house for guests to enjoy and acts as a home base for a 3-course lunch on the patio, all included in the cost of the cabin fare. 
The only drawback is that MSC only provides their basic Wi-Fi package to suite guests, whereas Royal has the premium package. 
Image
Royal Caribbean does offer a number of great perks for suite guests, even better in Star Class, which is the highest level of suites onboard the Quantum, Oasis, and Icon Classes. Dedicated spaces, including a private deck with pool and restaurant, dubbed Coastal Kitchen, are some of the great perks. One of the weaknesses of their suite program is the limited free drinks, which were only available in the suite lounge. 
Royal Caribbean's Perfect Day at CocoCay vs. MSC Cruises' Ocean Cay
Image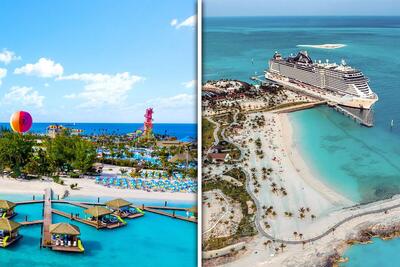 Royal Caribbean and MSC Cruises have stunning private islands in the Bahamas, and I have been lucky enough to visit both. 
I'll never say no to a day on a private island with soft white sand, crystal blue waters, and incredible views, so comparing them feels a little silly; I would take either any day of the week. Both islands are fabulous but have different amenities and distinct vibes.  
Perfect Day at CocoCay offers slides, pools, and a lot more of the traditional resort and waterpark attractions. Many of the activities, such as the well-marketed Thrill Waterpark, are an extra charge. 
Image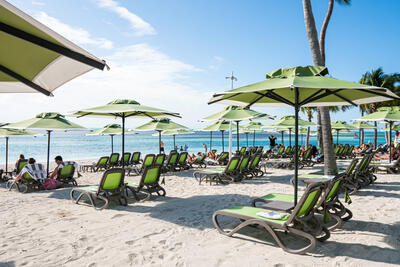 Their Coco Beach Club and overwater bungalows are superb-- one of the best experiences I have had while cruising. But you can easily spend the day there enjoying the free amenities and food. 
MSC's Ocean Cay, on the other hand, has no pools in keeping with its more natural feel, but there are plenty of shallow areas to swim. It has more of a quiet paradise feel, with plenty of open space. 
Image
MSC has done an excellent job of making you feel like you have stumbled upon a Caribbean island lost in time. I loved the colorful, Bahamian-style buildings, including the lighthouse, the desolate beaches, and cool beach bars. 
Read more: Royal Caribbean's CocoCay versus MSC's Ocean Cay, which is better?
Where does each cruise line sail, and which is the cheaper option?
Image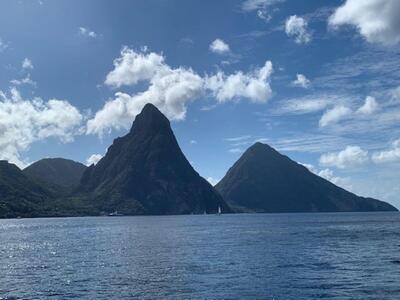 While booking this year's winter cruise, I spent a lot of time looking at itineraries, searching for something a little more unique. Both cruise lines sail to hundreds of destinations worldwide. 
Notably, MSC does not sail to Alaska, but they have a lot of options, probably more international routes, especially if you are looking at South America or Africa, and they sail in Europe all year long. 
Royal Caribbean covers numerous cruises leaving from the U.S., sails to Alaska, and has great options for Asia and the South Pacific.  
One of the main reasons I booked my next cruise with MSC was their unique itinerary and price. It was thousands of dollars cheaper than other cruise lines like Royal Caribbean. With MSC, you get 5% off the cruise fare as part of their loyalty program, even after one cruise, another nice perk. Plus, if you've sailed with another cruise line or have status with a particular hotel chain, they'll match your status! 
Image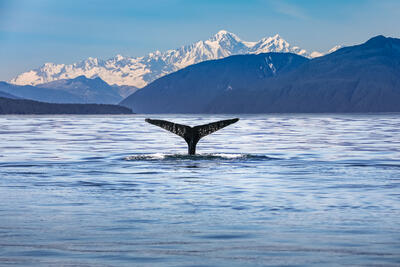 We selected a southern Caribbean route that lets guests explore islands like Martinique and Guadeloupe, as well as visit islands like St. Vicent and the Grenadines as part of 5 ports of call on a weeklong cruise.  
Of course, this is a subjective comparison, but I would not hesitate to sail either cruise line again, and if I decided to go to Alaska, I would certainly want to try one of Royal Caribbean's ships like Quantum of the Seas. Each cruise line has its strengths and weaknesses, but both provide a fun, relaxing cruise experience.