After a 10-night sailing onboard the Norwegian Star, this older ship quickly became one of my favorites. After a refurbishment in 2021, this ship has been outfitted to last into the future for many sailings.
This ship is older, having been built .in 2001, but it is a great vessel that is more than capable of providing an excellent cruise vacation. Being able to explore the Norwegian Star for 10 nights meant that at the end of my journey, I walked away thinking about 10 things the Norwegian Star got right. 
Here are some of my favorite things about Norwegian Star and why you should consider sailing onboard this older ship. 
#1 - Adventurous itineraries
Image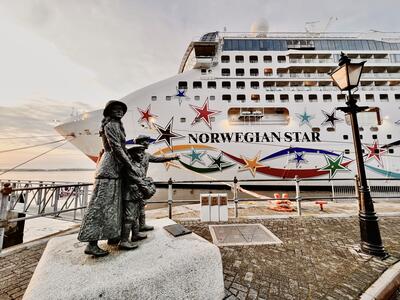 The thing that initially enticed me to book a cruise onboard Norwegian Star was the itineraries this ship offers. We chose a 10-night sailing through the United Kingdom and British Isles in the month of October. 
This can be a relatively rare-to-find itinerary on other cruise lines. Most cruise lines do not conduct United Kingdom cruises during the fall and winter on a regular basis. Once we saw this itinerary and its reasonable price, we were sold and booked our adventure with the Norwegian Star. 
Read more: How much did it cost us to sail on a 10-night cruise with Norwegian Star? 
Image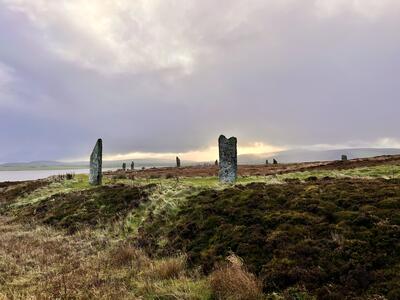 Norwegian Star sails to some unique and great places, such as Northern Europe, South America, Canada, and the East Coast of the United States. These types of itineraries can be some of the most unique, and it is an exciting benefit that  Norwegian Star sails on these types of cruises. 
Our 10-day itinerary sailed to Southampton, England; Edinburgh, Scotland, Invergordon, Scotland; Orkney, Scotland; Belfast, Northern Ireland; an overnight in Cobh, Ireland; and Portland, England. 
Our ship was scheduled to also visit the Isle of Man and Dublin, Ireland; however, we ended up missing these ports due to weather. Of course, this is the risk that one takes when selecting a United Kingdom or Northern Europe cruise during the fall and winter. 
Image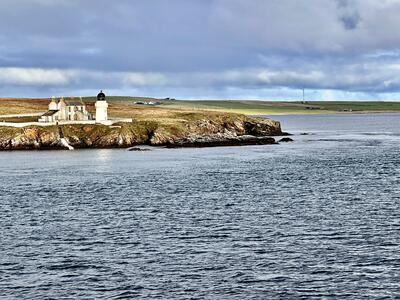 Instead, our ship docked for an overnight in Cobh, Ireland, and we had two days to explore this destination. Despite the change in schedule, this cruise ended up being one of my all-time favorites. 
For this reason, I always recommend selecting an itinerary first and then the ship. Sometimes older ships, such as Norwegian Star, have the most interesting itineraries. Never rule out an older cruise ship because they sometimes offer the best itineraries! 
#2 - Main dining experiences
Image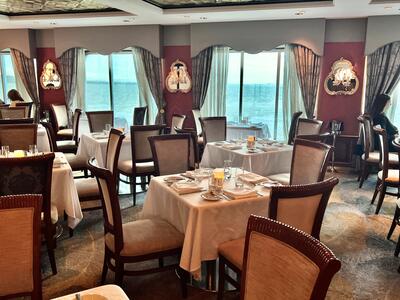 Throughout the past few years, I've been able to sail on some of Norwegian's newer vessels, such as Norwegian Bliss and Norwegian Encore. The food onboard these ships was awesome, and I was curious how the food onboard an older Norwegian ship would be in comparison. 
Norwegian Star is over 20 years old, and the ship provided great food-- much of it was just as good as the newer Norwegian ships!
Image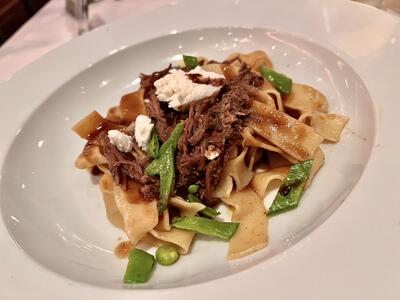 Norwegian Star has two main dining restaurants, Versailles and Aqua. Each night of the cruise both restaurants serve the same menu, while each day of the sailing the menu changes. This means that no matter which restaurant guests choose each night, they will have the same menu.
I appreciated that both Versailles and Aqua had a great ambiance and atmosphere for passengers. The Versailles dining room had a French theme and design flare that was modeled after the palace near Paris, whereas Aqua had a very modern aesthetic, reflective of a sophisticated restaurant. 
Read more: What's included in my cruise fare?
Image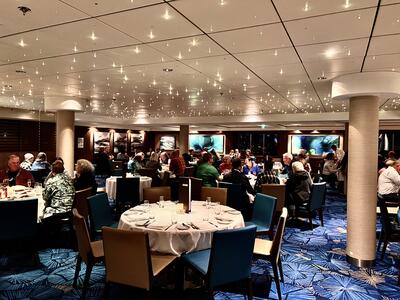 Onboard many of Norwegian Cruise Line's newer ships, such as Norwegian Encore, the main restaurants are nearly identical. Both Taste and Savor main restaurants onboard some of these newer vessels are essentially the same and have very few differences when it comes to atmosphere. 
I appreciated that the two main dining rooms onboard Norwegian Star were very different and each offered a unique atmosphere and environment. 
Both Versailles and Aqua provided great dining experiences. We really liked the Versailles restaurant, and we dined there several times throughout our 10-day cruise. We appreciated the large floor-to-ceiling windows in the Versailles restaurant and elegant decor. 
Image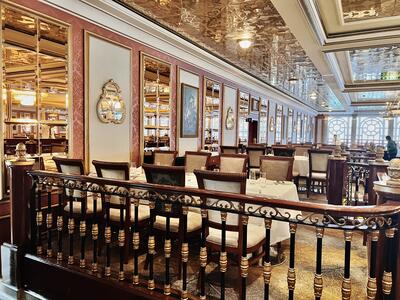 When it came to the food at these two restaurants, we thought it was excellent. As with any food establishment, there can be some things that are hits and others that are misses. However, we thought the food served at the main dining restaurants was great! 
I am someone who really enjoys soup, and I appreciated that each night of the cruise there were two different soups appetizers to choose from!
#3 - Variety acts and entertainment
Image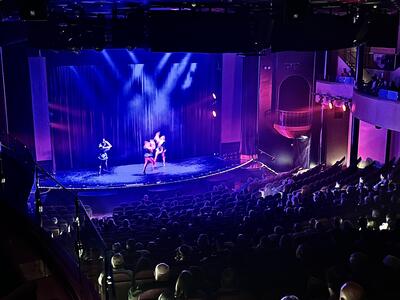 I was curious to see what the entertainment would be like on a longer cruise itinerary, as well as on an older ship. I was not disappointed! 
Something that really impressed me onboard Norwegian Star were the variety acts and other entertainment options. These variety acts were truly some of the best I've seen yet on a cruise, and we were talking about these performances long after we saw them. 
Image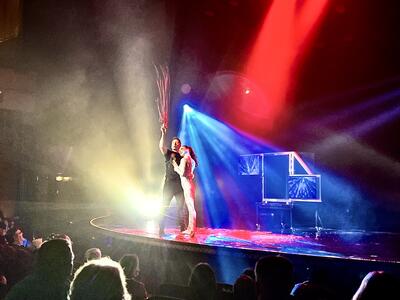 There were two variety acts performed on our cruise sailing: a magician and contortionist duo and a juggler and acrobat duo. These two acts were performed a couple times throughout the 10-day sailing. 
The magician and contortionist duo, called White Magic, were truly incredible and conducted some tricks that were amazing. Cameo Rascale, the juggler and acrobat duo, was also awe-inspiring. 
Of course, the variety acts onboard a cruise ship can change at any time. We thought that these two acts were great and definitely added to our entertainment experience onboard Norwegian Star. 
Image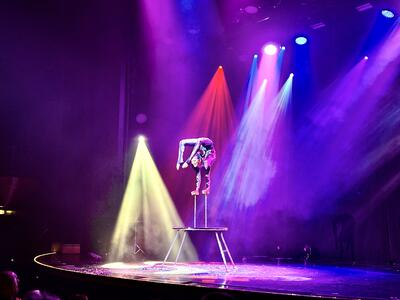 In addition to the variety acts, Norwegian Star also conducted a theater stage show called "Paradis" which was all about French culture. This show featured comedy and some impressive singing, dancing, and acting. 
Guests can locate the times and locations of shows onboard all Norwegian Cruise Line ships in the Freestyle Daily, the ships' onboard schedule detailing activities and events for guests. 
Image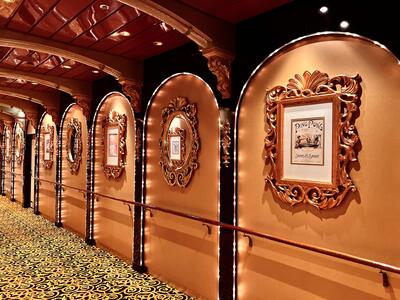 For additional entertainment onboard, Norwegian Star also had several live music performers. There were some very talented artists who performed during our cruise. There was also live music in the atrium most evenings. 
Overall, we thought that the entertainment onboard Norwegian Star was very good! We appreciated that there was something each night of the cruise. This gives guests the option to see a show each night or to relax after a long day exploring an exciting port. 
#4 - Comfortable inside staterooms
Image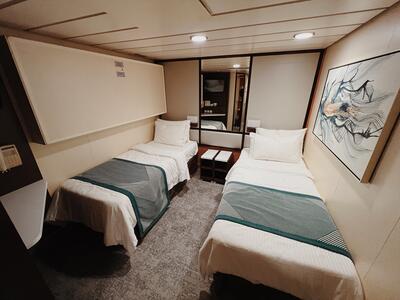 For this journey, we opted to stay in the most affordable stateroom type onboard Norwegian Star: a standard interior stateroom.
I had relatively low expectations for this 20+-year-old inside stateroom but ended up being very impressed. After Norwegian Star's 2021 refurbishment, all the staterooms are in excellent condition, and even the cheapest rooms onboard are capable of providing a great home at sea. 
Image
Our inside cabin was very comfortable and had plenty of space to store our belongings, an excellent bathroom and shower, as well as comfortable beds. Oftentimes, if you are two friends traveling together Norwegian Cruise Line will split the queen bed into two separate beds, and this is what they did for our sailing. 
Our stateroom quickly became our little home at sea, and we enjoyed many of the modern amenities that have been added since the 2021 refurbishment, such as the USB ports near the bedside lamps and the additional U.S. and European outlets for all our devices and electronics. 
Image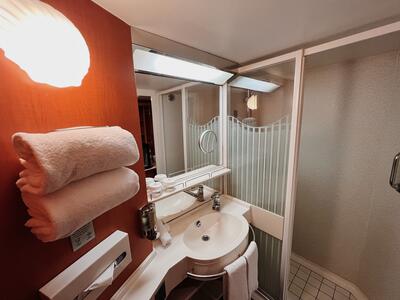 Overall, we thought our inside stateroom was excellent, and we were impressed with the amount of storage in the room!
Read more: Our in-depth review and guide to the inside staterooms onboard Norwegian Star
#5 - Hot tubs and pool deck
Image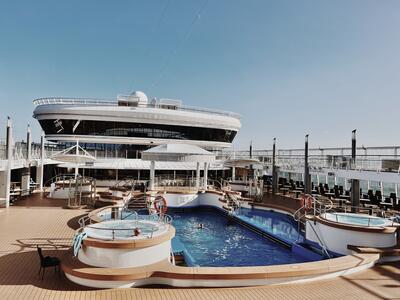 Norwegian Star has an impressive amount of hot tubs onboard: six! This means there are more opportunities for more guests to enjoy this amenity. Four of the hot tubs can be found near the main pool on the lido deck, while two other hot tubs can be found in the Spice H2O venue. 
Our cold weather cruise around the United Kingdom in October meant that not many guests utilized the hot tubs and pool during our sailing, but I appreciated that these amenities were an option to guests should they want them. 
Image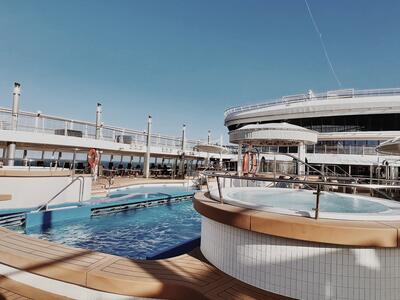 The main pool deck onboard the Norwegian Star looks great and is in excellent condition after the 2021 refurbishment. There is plenty of seating, both loungers and tables for guests to sit at and watch the ocean views. 
Read more: 19 things we loved and hated about the Norwegian Star
#6 - Wraparound views on the promenade deck
Image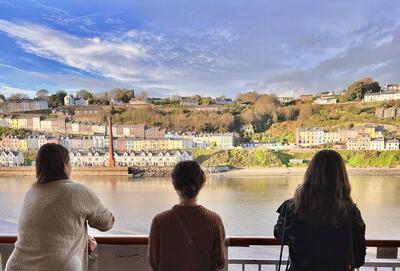 Something I appreciate about Norwegian Cruise Line is their commitment to bringing guests closer to the ocean. Norwegian Star does not have an Oceanfront or Ocean Boulevard like some of the newer Norwegian Cruise Line vessels, but it does have a complete wrap-around deck, as well as a jogging track. 
The wrap-around deck allows guests to stroll outside and take in the views of the oceans and ports. Our favorite time to go out onto the wrap-around deck was when the ship sailed into a port, as well as when the ship sailed away from a port. 
Image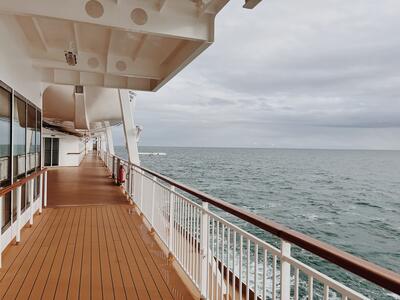 The sailaways on this itinerary were perhaps the most fun I've encountered yet in my cruising experiences! In almost every port on this itinerary, the ship was treated to a music performance by local performers. 
In Invergordon, we were gifted with a farewell performance by some local Highlander bag pipe players. This was one of my favorite memories of the trip and was rather emotional for us. With the beautiful highland snow-capped mountains, the fjord, and the gorgeous Scottish scenery, this moment was one that reminded me just how special cursing can be! 
Image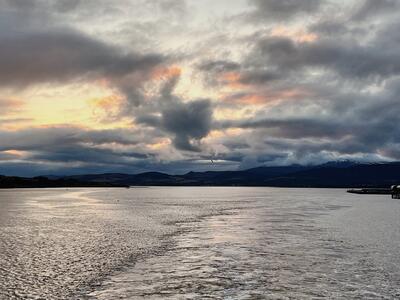 To watch the sail-ins or sailaways, I recommend going out on the wrap-around deck. Guests can find the best views on Deck 7 near the Proof Whiskey Bar. I recommend checking out the views from the very back of the ship on this wrap-around deck as well. 
In addition to the wrap-around promenade deck, guests can also find a jogging track on Deck 11. This jogging track is a great amenity for those looking to get a run in at sea while enjoying some spectacular views. 
Read more: 58 Best Norwegian Cruise Line Tips, Tricks & Hacks (2023)
Image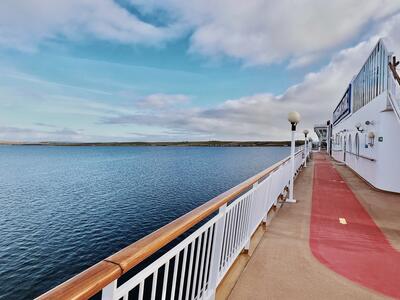 Whether it is the wrap-around promenade deck or the jogging track, Norwegian Star has plenty of spaces for guests to catch some awesome views during their cruise. This was something we greatly appreciated and took advantage of. 
Each night we sailed away from a port we spent time appreciating the sailaway views and scenery-- I recommend you do the same! 
#7 - Bars and lounges
Image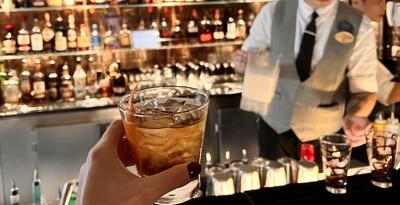 There are several bars and lounges onboard Norwegian Star. Guests in search of a tasty beverage will not need to look far. 
Our two favorite bars were the Sugarcane Mojito Bar and the Proof Whiskey Bar. These two bars and lounges offer unique and yummy alcoholic drinks for adult guests to enjoy. 
Image
I appreciate the close proximity to the promenade deck that the Proof Whiskey Bar has, as well as its windows. The Sugarcane Mojito Bar has some unique mojito flavors and is sure to impress a wide variety of guests. 
For those guests looking to enjoy a drink after a long day of exploring, I recommend trying a new bar or lounge each night of a cruise. This will ensure that passengers see all that is offered onboard and can sample some unique cocktails during their vacation. 
#8 - Additional complimentary dining
Image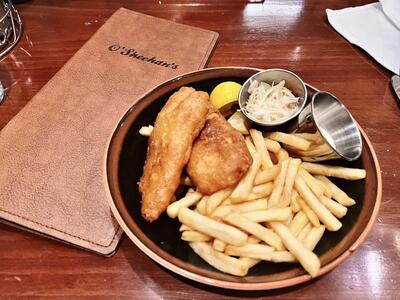 One of my favorite aspects of Norwegian Star was its six complimentary dining locations onboard. This is an impressive amount of dining options for guests looking to not pay extra for their food once onboard, especially on an older vessel. 
In addition to the two main restaurants of Versailles and Aqua, guests can also dine at the Garden Cafe, the ship's main buffet; Topsiders Bar and Grill located near the pool deck; Ginza, an Asian-themed restaurant; and O'Sheehan's, a 24-hour Irish Pub.
Image
On the first night of our cruise, we dined at Ginza. This Asian restaurant is an awesome feature onboard Norwegian Star that I was excited to try. Not all Norwegian Cruise Line ships have a complimentary Asian restaurant, and the fact that the Norwegian Star does have one is a unique feature. The food here was pretty good-- I recommend trying some of the soups. 
I was also pleased to discover that Norwegian Star had an O'Sheehan's Bar and Grill. O'Sheehan's is a Norwegian Cruise Line classic place to dine but is not always present onboard some of the cruise line's older ships. 
O'Sheehan's is open 24 hours a day to all guests, completely free of charge! Here, guests can grab a quick bite of classic Irish pub fare, including pretzel bites and fish and chips. 
Image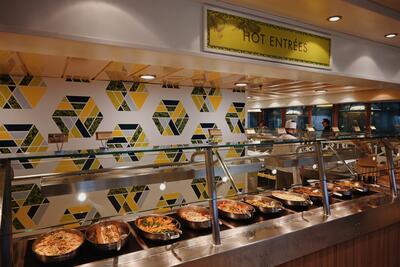 The Garden Cafe was also much better onboard Norwegian Star than I anticipated. I was a little disappointed in our buffet experience onboard the Norwegian Sun, a ship also built in 2001, and therefore was curious to see how the buffet onboard the Norwegian Star would be in comparison. 
I was pleasantly surprised to find an extensive buffet with plenty of options for all guest's needs and desires. Guests can dine at the Garden Cafe buffet for breakfast, lunch, and dinner. 
Topsiders Bar and Grill is also a unique complimentary dining option onboard Norwegian Star that can not be found on every Norwegian Cruise Line ship. This eatery is located next to the main pool and serves classic food such as hot dogs and burgers. 
Image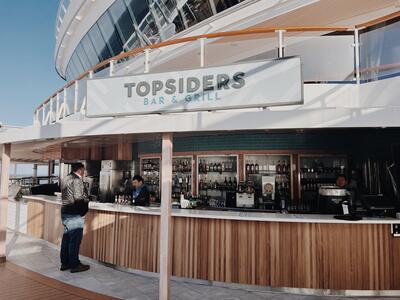 Sometimes the line to the Garden Cafe can get rather long during peak meal times on a sea day. We encountered this during lunchtime and discovered that the line for the Topsiders Bar and Grill buffet was much shorter. 
Overall, I was very pleased with the food onboard Norwegian Star. I appreciated that there were plenty of food options for guests to choose from, both healthier choices and more indulgent options. 
#9 - Grand yet cozy design
Image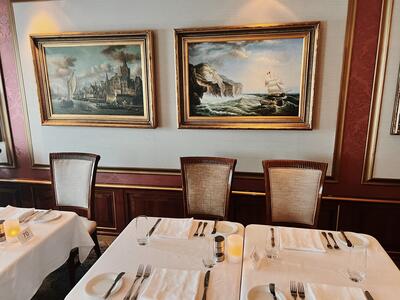 I was interested to see what the design and layout onboard the Norwegian Star would be like compared to newer Norwegian Cruise Line ships, such as the Norwegian Encore. I found the decor and designs onboard to be quite cozy and beautiful. 
Norwegian Star features more dark woods and grand design elements that are different than Norwegian Cruise Line's newer vessels; however, I found Norwegian Star to still feel up-to-date.
Some of the spaces onboard had a grand feel to them, such as the Versailles restaurant and the theater. Despite Norwegian Star's age, I felt this ship was well maintained! This is not often the case with ships that are that old. 
Image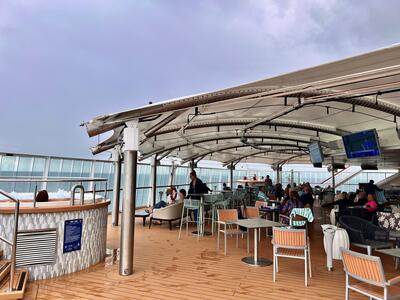 One of our favorite spots onboard was the Spice H2O, which is a Norwegian Cruise Line adults-only venue. This space is a chill area by day and often a venue for themed parties at night. 
Spice H2O was definitely more centered around relaxation during our cold weather itinerary. There were several large comfortable couches, as well as large round sharable chairs, and two hot tubs. 
Image
We visited this location a couple times during our sailing and thought it was a great place to watch the ocean waves pass by while chatting with friends or reading a good book. During a cold weather cruise, it can get chilly at the Spice H2O. For this reason, I recommend bringing a warm sweater if you plan on visiting!
Norwegian Star has some older design elements throughout; however, I felt that there were many aspects of this older ship that were quite beautiful. 
#10 - Easy embarkation and disembarkation
Image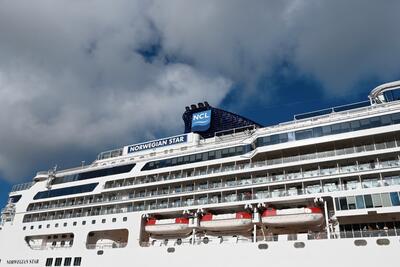 When it comes to boarding and disembarking Norwegian Star, the ship and helpful crew members make the process quite easy. 
For our journey, we took a train from central London to Southampton, the port town where Norwegian Star was waiting for us. We had difficulty procuring a taxi or an Uber from the train station in Southampton to the cruise terminal and ended up walking to the terminal. 
This proved to be a bit of a challenge with our large rolling suitcases. For this reason, I recommend doing research ahead of time into taking a taxi from the Southampton train station to the cruise terminal. 
Read more: An in-depth guide to the Southampton cruise port and things to do in the area
Image
However, once we arrived at the cruise terminal, the crew members were extremely helpful in getting our luggage checked, as well as getting us checked in for our cruise. We were able to breeze through security and the check-in process in about 20 minutes before we boarded!
When it came to disembarking, we needed to be up fairly early in the morning to catch our flight home. We had arranged an airport transfer ahead of time through Norwegian Cruise Line and were able to meet the transfer bus just outside the doors at the cruise terminal. The transfer process was very easy and worthwhile in our opinion to have peace of mind. 
Image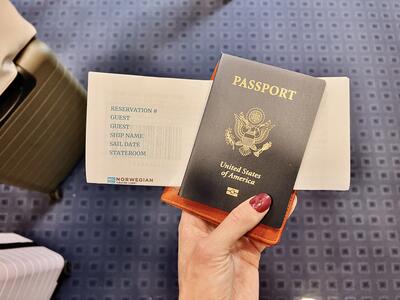 The Norwegian Star crew made both the boarding and disembarkation process very easy. I have had disembarkation experiences onboard some of Norwegian's newer ships that were much more chaotic, and I greatly appreciated the ease with which these processes were conducted on this older vessel. 
Read more: 31 cruise ship embarkation tips and tricks (2023)
Norwegian Star is a great ship capable of providing an excellent cruise sailing around Europe
Image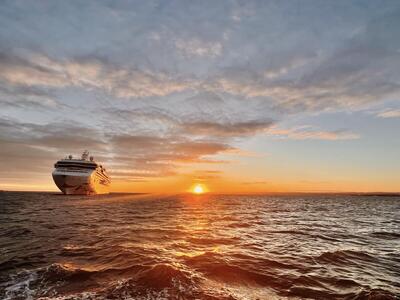 If you're looking for a port-intensive sailing, I think that Norwegian Star is an excellent option!
Note that these are just some of my own personal thoughts and opinions about Norwegian Star that I hope can help readers make an informed decision when beginning the cruise planning process. 
Overall, there were so many things that I liked about Norwegian Star! This ship got many things right when it comes to cruising, and I appreciated that this ship far exceeded my expectations.