Packing for a cruise is unlike packing for a land-based vacation. If you forget something, you cannot hop in the car and go to a nearby drug or department store. 
While the majority of what you will need to bring will vary based on where you are cruising to (i.e., what you'll pack for an Alaskan cruise will differ from a Caribbean or Western Mediterranean one), some staples can be brought on any voyage! 
Here's a list of 41 useful things to bring on a cruise that will ensure you have the greatest trip possible. 
Please note that we've linked items on Amazon, which contains an affiliate link. This affiliate link costs you absolutely nothing extra, but Cruise.Blog makes a small commission if you purchase it.
Passport
Image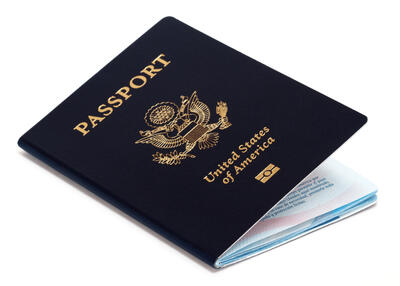 First and foremost, you'll need to bring some sort of identification documentation. 
If you are going on a closed-loop sailing from the United States, you can get by with an original birth certificate and government-issued photo I.D.
It is recommended, though, that you always cruise with a passport. You never know when there will be an emergency, such as an unexpected medical air evacuation or docking at an alternate port of call.  
Make sure that you check your passport's expiration date, as most cruise lines require that it be valid six months after the sailing's end date. If, for example, your cruise ends in June, your passport should be valid through at least December. 
Read more: Why it's more important than ever to cruise with a passport
Lanyard with pouch 
Image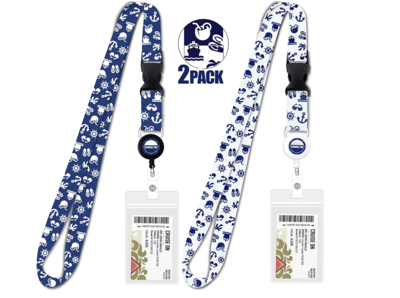 Lanyards are great cruise accessories, as they provide a safe place to keep your cruise card throughout the sailing. Rather than have to dig through your beach bag on the lido deck, you'll be able to easily locate your cruise card to hand off to the bartender when ordering a drink. 
Personally, I prefer lanyards that come with plastic pouches, as they can be used to keep your I.D. and cash safe in port, too, especially if you are planning on going to the beach. 
This two-pack of cruise lanyards is a popular choice and has over 5,500 four and five-star reviews. They come with all the bells and whistles, including a waterproof I.D. holder, retractable reel, and detachable clasp, and only cost $5.50 each. Plus, there's a variety of different colors and patterns to choose from! 
Sunscreen
Image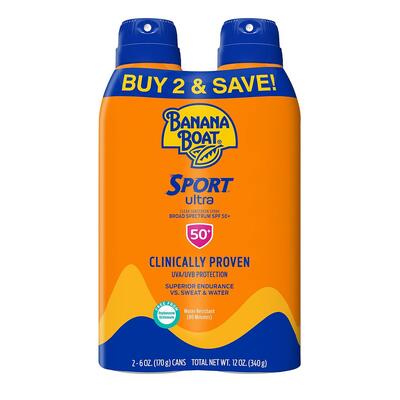 Sunscreen is important regardless of where you are cruising to. You do not want to get burnt and spend the latter half of your trip in pain. 
Onboard, a bottle can get pretty expensive. I once ran out while visiting Royal Caribbean's Perfect Day at CocoCay and ended up having to buy another bottle for over $16! Two 6oz bottles of Banana Boat 50 SPF spray normally cost less than $13 on Amazon, which is a much better deal! 
It's always better to have more than not enough. If you return home with some extra, you can just save it for later use. 
Wrinkle release spray
Image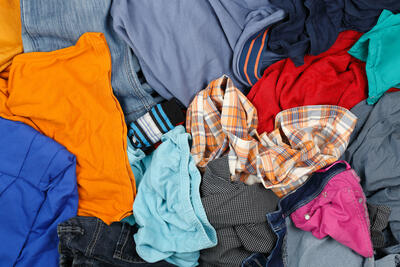 Did you know that you cannot bring irons or streamers on a cruise with you? If one of these items are found in your luggage on embarkation day, they will be confiscated and returned to you once you disembark. 
Rather than settle for wrinkly clothes, an easy solution is to bring wrinkle-release spray. In addition, I will usually hang the garment that I am planning on wearing in the bathroom while I shower.
Motion sickness medication
Image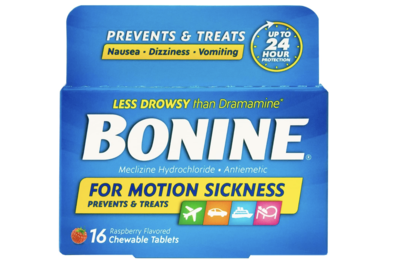 Even if you have been on numerous cruises and have never felt seasick, you never know when your ship will encounter an unexpected storm. 
While you can often acquire motion sickness medication onboard, like at the ship's medical facility or Guest Services, it would be an inconvenience to have to locate it when you are not feeling well. 
Instead, come prepared with your favorite motion sickness remedy, such as Bonine or Dramamine, an acupressure band, or scopolamine patches. 
Read more: Bonine vs. Dramamine: Which motion sickness medicine is better? (2023)
Wine
Image
Some cruise lines, such as Royal Caribbean and Carnival, allow you to bring on a limited amount of wine (i.e., one 750ml bottle per person of legal drinking age) on embarkation day. If you are someone who has a preferred go-to drink or is trying to save money, you should stop on your way to the port! 
Note that not all lines have this generous policy. MSC Cruises does not allow passengers to bring any alcohol onboard with them. On the other hand, Disney Cruises has a more relaxed rule, as they allow up to six cans of beer, rather than just wine. 
Research your cruise line's specific policies beforehand, so you know what you can and cannot bring!
Towel clips
Image
The pool deck can get pretty windy during a sea day. Towel clips are a great way to ensure that your towels don't blow away and can be used ashore at the beach, too! As soon as you step out of the pool, you will be able to easily recognize your chairs. 
On Amazon, they're pretty inexpensive. Purchasing towel clips can be thought of as an investment for the future, as they can be reused on future vacations.  
Read more: 20 best things to bring on a cruise that cost less than $10
Refillable water bottle
Image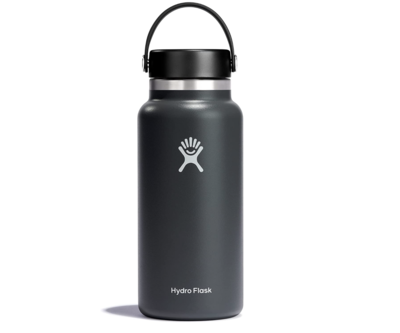 If you wake up with an unquenchable thirst in the middle of the night, you will be thankful that you have a full water bottle in your cabin's mini-fridge. Plus, if you are someone who takes medication in the morning, you will not have to stumble to the nearest water dispenser before getting ready. 
While you can purchase water to be delivered to your room on embarkation morning, you can save money by bringing along a refillable water bottle. You will just have to remember to carry it with you! 
Over-the-counter medications
Image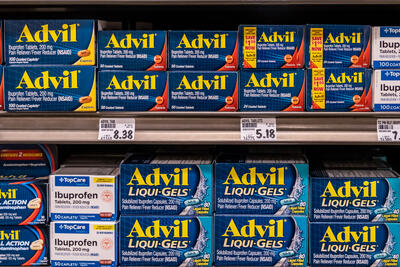 Cruise ships do not have a fully stocked pharmacy, so you will want to come prepared with your favorite over-the-counter medications. Think of things like pain relievers, cold and flu medication, antacids, etc. 
Ships, of course, do have some medications available for purchase; however, they are much more expensive than if you bought them at your local drugstore. 
It would be a huge inconvenience if you woke up in the middle of the night with a headache and were unable to purchase a pain reliever before the onboard shops were closed.
Prescription medications
Image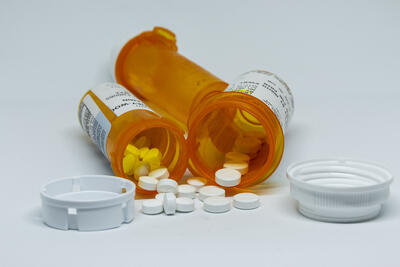 Speaking of over-the-counter medications, do not forget your own prescription stuff, too. 
Unlike going to the beach a couple hours away from home and being able to transfer your forgotten prescription to a nearby pharmacy, you will be out of luck on a cruise. It is always smart to bring extra. 
Since I am asthmatic, I always make sure that I have two rescue inhalers whenever I travel. If something happens to one inhaler, I know that I have a backup! There have been times when I haven't needed to use my inhaler once while on a cruise; however, it's better to be safe than sorry! 
Door decorations
Image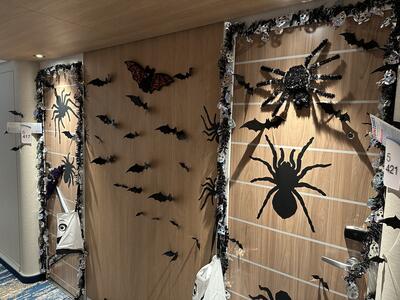 As you walk through the hallways of many cruise ships, you will notice passengers who opt to decorate their doors. This is a fun cruising tradition, and if you want to participate, you will need to bring your own materials from home.
It's not uncommon to see decorations that commemorate a special occasion, like a honeymoon or wedding anniversary, graduation, birthday, etc. Of course, you do not need to be celebrating anything to make your cabin door stand out from the rest!
While sailing onboard Carnival Celebration during October, tons of passengers themed their stateroom doors around Halloween. 
Snorkel equipment 
Image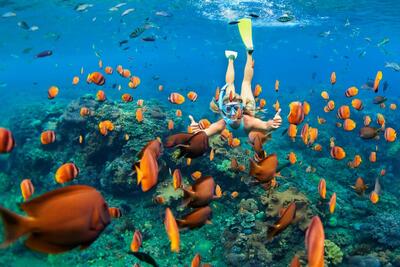 If you're going on a snorkeling tour, the equipment will be provided. For those planning their own DIY beach day, however, you will either have to rent it or bring your own. By bringing your own snorkel equipment, you will actually save money over time. 
All you will have to do is head to the beach and throw it on! You never know what underwater treasures you will find. 
Some people are a fan of full-face snorkel masks, while others prefer the goggles/breathing tube combination. 
A night light
Image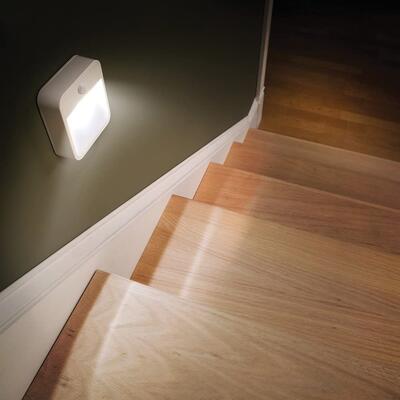 If you're staying in an interior cabin, you will not have any natural sunlight to help wake you up in the morning. 
Even during the day--let's say your cabin mate is sleeping in a little longer & you don't want to wake them when going to the restroom--, the stateroom will be pitch black if the lights are off. 
Night lights are great to help make sure that you do not accidentally stub your toe or wake anyone else up. Since cruise ship cabins are notoriously known for not having a lot of outlets, you will want to make sure you get one that's battery-operated. 
An insulated tumbler
Image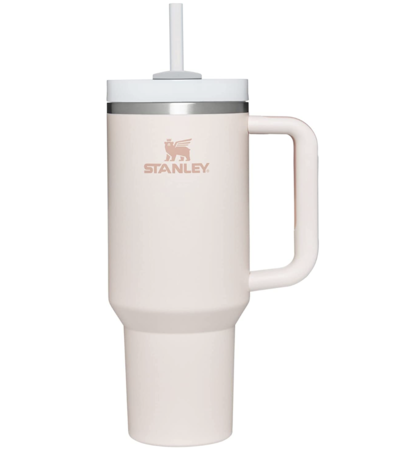 If you are someone who likes to sip on their beverages, you might benefit from bringing an insulated tumbler. As soon as you are given your drink, you can pour it inside and it will stay cooler for longer. 
This is especially helpful for frozen drinks which are prone to melting quickly in the hot Caribbean sun. Plus, you can use it daily after your vacation for coffee, tea, smoothies, etc. 
Sunglasses 
Image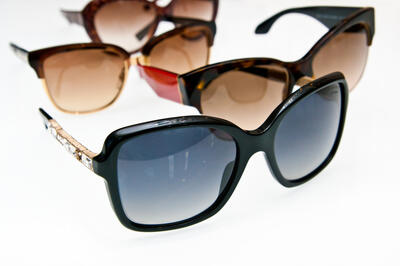 Speaking of the Caribbean sun, you don't want to be squinting your entire trip! Sunglasses are important on any cruise, whether it's a tropical one or a sailing that visits cooler destinations. Just because it might not be 80 degrees doesn't mean that it won't be bright!
Pro tip: Do not bring your favorite pair. Instead, buy a cheaper pair from Amazon or at your local department store. If a wave knocks you down in the ocean, you will be far less upset about losing a $20 pair than a $200 one! 
Magnetic hooks
Image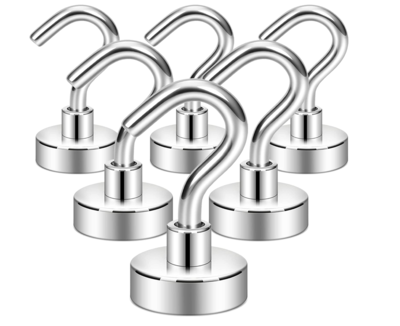 Did you know that most cruise cabins have magnetic walls? 
To increase storage space and keep your stateroom more organized, you should bring magnetic hooks to hang things like wet swimsuits, cruise lanyards, jackets, or day bags. 
You can find a 6-pack on Amazon for as low as $5.99. 
Read more: Top 25 cruise cabin hacks to improve your stateroom's functionality
A light sweater
Image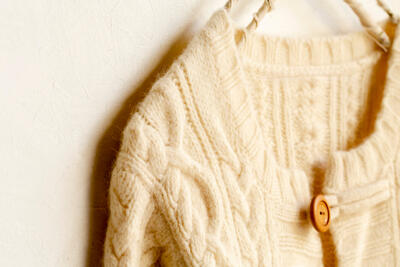 You're certain to have some outer layers if you are going to Canada/New England, Alaska, or Nothern Europe; however, you shouldn't neglect to pack a light sweater if you are cruising somewhere warm. 
Even if you are sailing to the Caribbean in the middle of August, the ship can get pretty chilly, which is why it is good to pack a light sweater to throw on at night when you're going to dinner or a show. 
Read more: Cruise packing list: What to bring on a cruise
Non-surge power strip
Image
Cruise ship cabins, especially on older ships, have fewer outlets. Onboard Navigator of the Seas, for instance, there were only two American outlets and a single European one. If you are cruising with three or four people in a single room, you may end up bickering over who gets to charge their devices and when. 
Most cruise lines prohibit standard power strips, as they pose a risk of starting a fire if too many devices are plugged in. Non-surge power strips are allowed, as well as European power adapters, so you can take advantage of the additional outlet. 
You can purchase a non-surge power strip from Amazon for around $20. 
Read more: 20 things cruise lines really do not want you to bring on ships
Binoculars
Image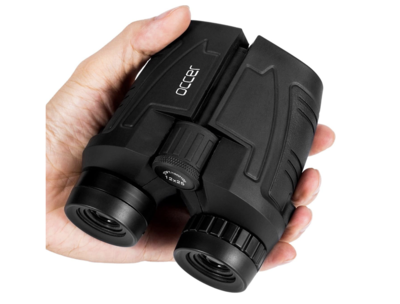 You will want binoculars on certain cruise itineraries, like those visiting Alaska or Canada/New England. They're useful for trying to spot wildlife, as well as to just take in the beautiful scenery. 
You do not have to spend a lot on high-quality binoculars. Additionally, compact binoculars are ideal since they don't take up as much space. 
The Occer compact binoculars set from Amazon costs $35.99. They have a 12x magnification, 25mm objective lens, and a wide field of view. Out of over 27,700 reviews, 85%, or roughly 23,500 people, have given them a four or five-star rating! 
Read more: 21 best cruise gifts for someone going on a cruise ship
Earplugs
Image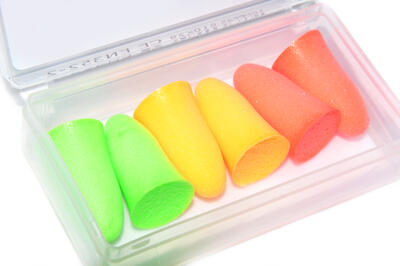 If you are a light sleeper, you will benefit from bringing earplugs onboard to help drown out any noises that may awaken you, like the thumping of the nightclub, chatter from next door, etc.
There are other tips to help you sleep better, too, such as booking a stateroom that's sandwiched between other cabin-only decks (i.e., away from public venues that may cause noise bleed). You can also ask your cabin steward for additional pillows and blankets, as well as for a mattress topper.  
Cruise luggage tags
Image
Once you have finished the online check-in process for your sailing, you will be able to print your luggage tags.  
Normally, I do not print them, as I primarily sail with Royal Caribbean, and I know that their porters have some available on hand. I decided to print them out for my first-ever Carnival cruise and was surprised at how much it sped up the embarkation process. 
I did not have to stand outside and listen to the port agents yell at cars/buses, etc. I stapled the tag to my bag before leaving the hotel; however, an even better option is to pre-purchase cruise luggage tag holders beforehand, as they can be re-used on all your future sailings. 
Make sure that you get some that are compatible with your specific cruise line. If you buy luggage tags that are for Carnival cruises but are sailing with Royal Caribbean, you will find that the printed tags will not fit.  
Packing cubes 
Image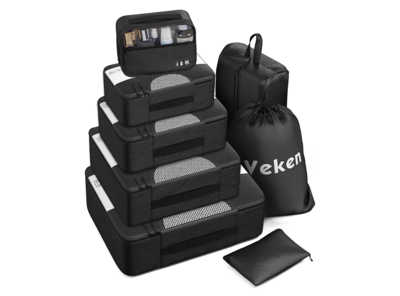 Not only will packing cubes help you take advantage of all the available space in your suitcase, but they will also aid in the convenience of your vacation. 
When it comes to unpacking, you will be able to simply remove the cubes from your suitcase and place them in drawers or on shelves, rather than have to actually unpack each individual item of clothing. 
Cash
Image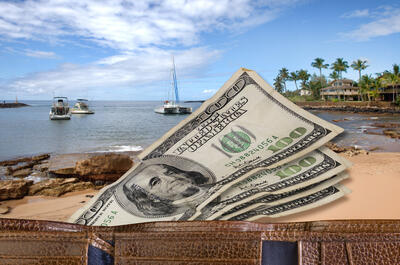 While on the ship, you will be able to use your cruise card to pay for everything. This means that you should leave all of your credit cards in your cabin's safe! 
When you go ashore, though, you will need to carry your credit/debit cards, as well as cash. If you're traveling abroad, make sure that you bring the local currency, as USD will not work in places like Spain, Norway, or Greece. 
Cash is great for tipping tour operators, as well as for paying for small souvenirs. If your credit card has a foreign transaction fee, you will want enough cash to cover all of your expenses ashore. 
When I cruised to San Juan, Puerto Rico, I was interested in buying a postcard for my partner. I discovered that most stores had a $10 minimum to be able to charge credit cards; I found myself wishing that I had cash! 
You may even find yourself wanting to leave a tip for a great bartender onboard, as well as for your cabin steward on the final evening of the cruise. 
Read more: How much cash should you bring on a cruise?
Pre-downloaded movies and shows to your iPad or cellular device 
Image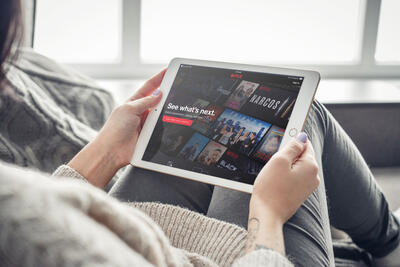 Some cruise ship Wi-Fi packages do not allow you to access any streaming services. Even if they do, service can sometimes be spotty. Before you get onboard, take some time to download a couple shows and/or movies to your personal device. 
This way, you will not have to rely on what's available on your stateroom's television. For those with young children who are fixated on a specific show, having their go-to show available might mean a couple of minutes of peace and quiet while getting ready in the morning or during dinner if they're being fussy. 
Modest clothing
Image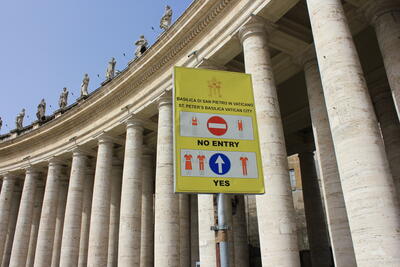 On the pool deck, tank tops, shorts, and flip-flops are totally acceptable. Ashore, however, you might find yourself missing out on some once-in-a-lifetime activities if you do not adhere to the dress code. 
The Vatican, for instance, requests that all guests -- both men and women -- cover their knees and upper arms. If you wear shorts or skirts that fall above the knee, as well as sleeveless tops and low-cut shirts, you might find that you'll be denied admission. 
When planning your shore excursions, research the landmarks that you're visiting to see if they have a specific dress code. 
Read more: 11 common cruise shore excursion mistakes to avoid
Stain remover pen
Image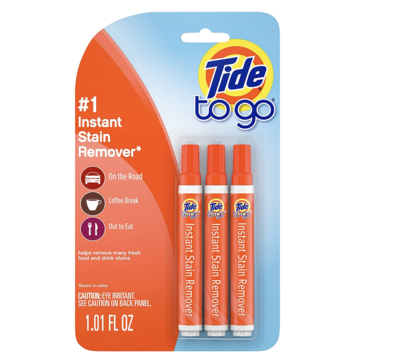 Life happens. If you accidentally get a stain on your favorite dress, having a stain remover pen on hand will ensure that you're able to quickly address the issue, without having to go back to change or let the stain seep into the fabric. 
Beach bag
Image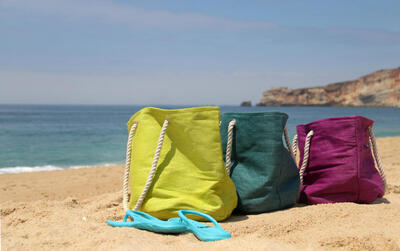 If you are going to the Caribbean and/or Bahamas, a cute beach bag is essential! You'll need something to carry sunscreen, towels, toys, etc. with you to and from the beach. 
They are also handy when going up to the pool deck. While you do not need much on the ship, you don't want to be without sunscreen if you are planning on being in the sun for a while. 
There are numerous different options in terms of both style/function, as well as price. Heeta Dry Bags have become popular and only cost $14.99 for the smallest size. BOGG Bags are also popular. They, however, tend to be more expensive; however, they will work better for families. 
Portable charger
Image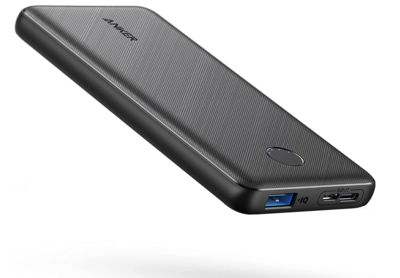 When on the ship, you will never be too far from a charger. If your phone ends up dying, you can simply run back to your cabin and drop it off. You do not, however, want your phone to die while you are off the ship. 
If you know that you have an all-day excursion and will be taking a lot of pictures, having a good portable charger on hand is ideal. 
One of my favorite chargers is the Anker Power Bank. While it is a little bit larger and not as compact as others, I can charge two devices at once, which is great when I am traveling with others. Plus, I find that it's able to fully charge a single device twice. 
Liquid I.V. 
Image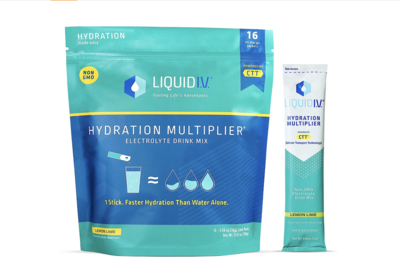 Whether you have a drink package or are just worried about getting dehydrated while exploring humid ports of call, having Liquid I.V. on hand can help rehydrate you. 
Liquid I.V. hydrated your body faster than a regular glass of water and contained three times the amount of electrolytes as sports drinks like Powerade. 
Liquid I.V. comes in convenient portable packages that you can quickly throw into your day bag before heading ashore. 
Shampoo and conditioner in travel-sized containers
Image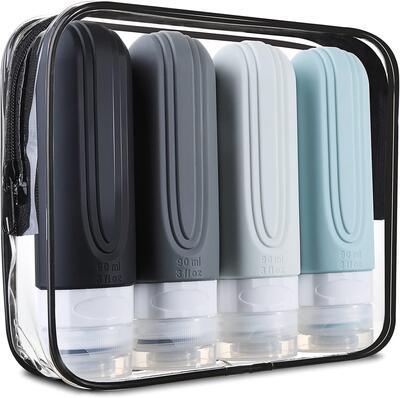 If you're expecting the cruise line to provide toiletries like a regular hotel, you'll be disappointed. Plus, the shampoo/body wash that's provided is not always the best quality. Royal Caribbean, for instance, provides a single shampoo/body wash duo, rather than separate products.
Before you leave your house, make sure that you have your toiletries packed in travel-sized containers. While you can just throw the entire bottle of shampoo in your luggage, it will take up more room. Cruise ship showers do not have the most storage, either. 
Headphones 
Image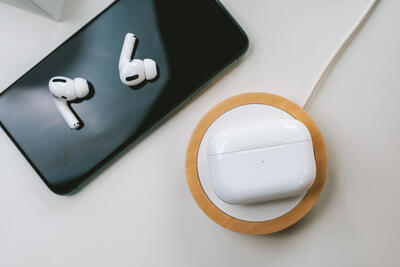 Are you someone who likes to listen to music or a podcast while working out or getting ready
If so, you'll want to pack headphones, so you can listen to what you want without bothering other guests. They're also good for when you want to watch something on your phone while your cabin mate(s) are still sleeping. 
Headphones are also great for long car and plane rides.
Baby powder
Image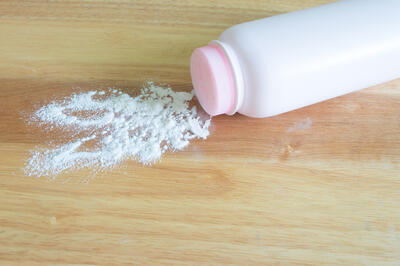 Something fun I have learned this year is that baby powder is something that should be in everyone's beach bag because it helps to make the sand fall off of your body! 
The key is to put it on after you've been in the ocean, rather than before. Once you have air dried for a minute, the powder will help absorb excess moisture from your skin, making it easier to brush off any stubborn sand. 
Lip balm
Image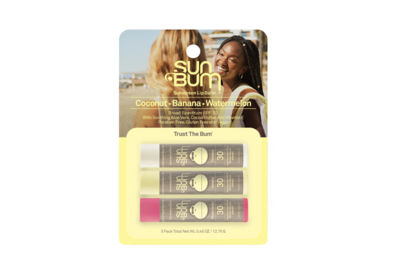 I often get chapped lips when I am in the sun a lot. On my last cruise onboard Carnival Celebration, my lips were so chapped that it got to be pretty painful to smile. 
A small tube of chapstick won't take up much room, and you'll be thankful you threw it in your purse before you left when your lips start to feel a little dry. Bonus if it has SPF in it, too.
Read more: 15 Packing Tips for First-Time Cruisers (2023)
Band-aids
Image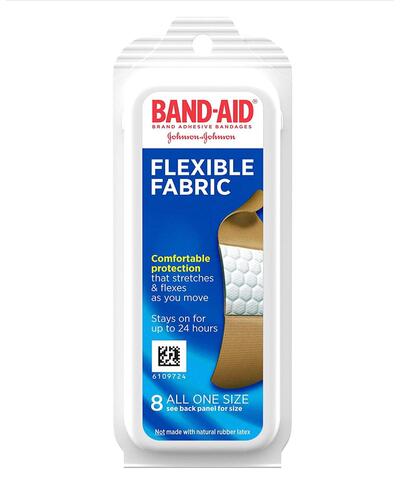 It's easy to go to Guest Services and ask for a band-aid onboard; however, if you're ashore and need one, you might end up wasting time while looking for a convenience store.
Sometimes, you might even be in a position where it's not possible to immediately search for one. Come prepared with some band-aids packed in your carry-on luggage and keep them in your day bag at all times. 
Read more: How to make your own DIY cruise first aid kit
Themed attire
Image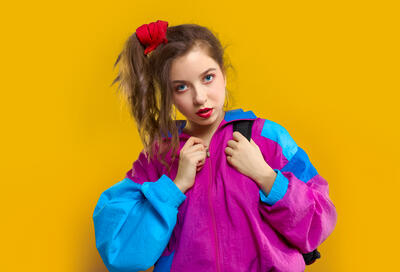 Want to be an active participant of the ship's 80s party? Make sure that you pack a festive outfit! If you're unsure of what themes are common onboard your ship, a quick Google search will give you some answers. 
Cruises are also a great time to take some updated family portraits. If you are hoping to get your Christmas card photo taken early, plan your outfits ahead of time and bring them with you! There will be photographers available every single night of your cruise, so you will have plenty of opportunities to get the picture taken. 
Mesh laundry bag
Image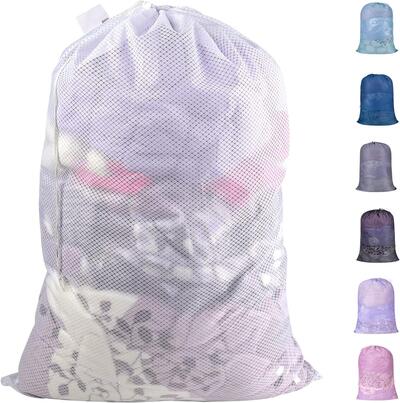 A great way to keep your stateroom organized without having to pull out your suitcase to use it like a laundry hamper is to bring a mesh laundry bag. Simply keep the bag in the closet and add items when they're soiled. 
In the past, I have also used a trash bag. It makes packing easier, too. Rather than having dirty laundry in different drawers, it is all in one place. 
Insect repellent
Image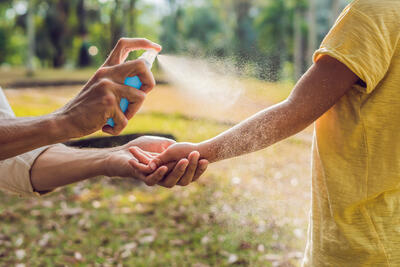 Are you planning on being outside a lot, especially in Alaska? You will want to protect your skin from bug bites. It is no fun to be itchy, especially when you are on vacation!
Just because you are going to the Caribbean doesn't mean that you should leave insect repellent off your packing list, either. What happens if you decide to book a zip-lining tour through the jungle in Jamaica? 
Read more: Ultimate Alaska cruise packing list
Eye drops 
Image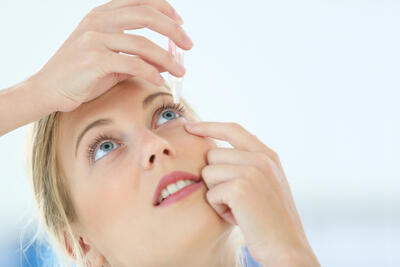 I was on a cruise once with a friend, and while we still are not 100% sure what caused it, she had some major eye irritation for a few days. Thankfully, I had eye drops in my bag that she was able to use. 
We wished that we had brought it with us ashore one day, too, as her eyes were so irritated that she wasn't able to fully enjoy the all-inclusive resort we were at in Puerto Vallarta. 
Aloe vera gel 
Image
Try as you might, but you still might end up sunburnt during your cruise. To help aid in the aftercare of a burn, you will want to have some aloe vera on hand. 
This is a must-have for me, as I find myself burning if I do not rigorously reapply sunscreen every thirty minutes! 
If not, you might have a few nights of restless sleep and have to skip out on an excursion or day relaxing by the pool because of the pain. 
Reading materials
Image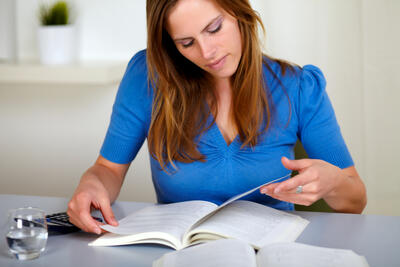 Vacations are a great time to catch up on your reading list. If you have a few sea days, it is easy to get situated in a comfortable chair and read all day long! 
You should not rely on finding a good book in the ship's library. In fact, Carnival Cruise Line has begun removing libraries from their ships! 
If you are bringing an electronic device, download your potential reads ahead of time, especially if you do not plan on purchasing Wi-Fi. 
Sneakers
Image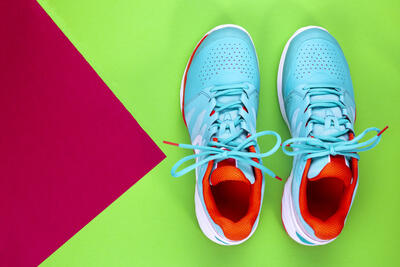 For those planning on spending their entire cruise by the pool and relaxing on the beach, you might forget a pair of sneakers. 
Even if you do not plan on going to the gym, you do not want to find yourself in a position where you regret not throwing them in your bag at the last minute. 
Many onboard activities require them in order for you to participate. Once, I tried to zip line onboard Symphony of the Seas while wearing closed-toe shoes; however, I was told that in order to be able to soar across the Boardwalk, they needed to be able to be tied. 
Even if you don't wear them again, you don't want to have to miss out on the zip line, rock wall, roller coaster, ropes course, etc. 
Read more: 40 Fun Things to Do on a Cruise Ship