A short cruise can be the perfect weekend getaway and has the added bonus of being budget-friendly. 
There are tons of short cruise options sailing from popular ports in Florida, the East and West Coasts, and Texas, meaning there are choices no matter where you live. Even in Europe and Australia, there are some great two and three-day itineraries for a fun weekend away. 
With limited vacation time or simply wanting to pack in more travel during the year, short cruises are a fantastic way to have a mini vacation to relax and refresh. 
Here's a look at some of the reasons why a short cruise may be ideal for you, as well as what's currently being offered by the major cruise lines, such as Carnival Cruise Line, Royal Caribbean, and MSC Cruises.  
Price
Image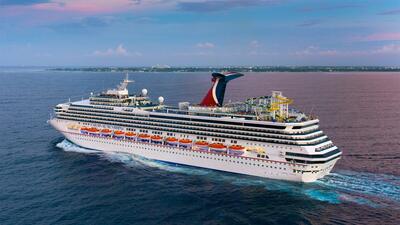 For many, the biggest appeal of a short cruise is the price. Cruise sales can be as low as $100 per person. The base fare does not include port fees, taxes, and gratuities; however, it is still an economical way to travel. In fact, in many cases, it is cheaper than staying in a hotel, especially since food and entertainment are included. 
Many people use a per day cost as a benchmark for a good cruise deal. While short cruises may have a lower overall cost, they aren't always the cheapest on a per day basis, in comparison to longer cruises, such as seven days. 
For guests looking for the ultimate deal, consider picking an inside cabin, or let the cruise line select your stateroom for even more savings. Often times, there are no sea days on short cruises, so you won't be spending much time in your cabin anyway. 
Advantages of a short cruise 
Image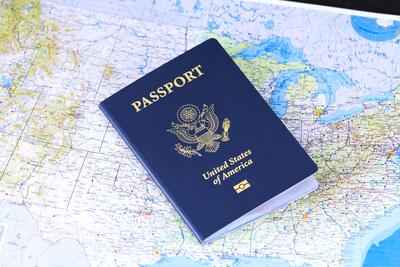 In addition to price, there are several other factors that make short cruises alluring: 
Maximize vacation time - People only have so much vacation time or are limited by their kids' school schedules. A short weekend cruise can be a great way to make the most of holidays. 
Great value - Cruise fares provide great value, especially compared to the recent increase in hotel prices. Not only is food included, but guests also enjoy world-class entertainment, pools, sports, classes, and waterparks. 
Opportunity to splurge - With a cheap cruise fare, some guests like to take the opportunity to splurge for a special event like an anniversary or birthday. Enjoy an upgraded cabin, indulge in specialty dining, and get pampered with a massage at the spa. 
Bump up loyalty points -  A quick weekend getaway can be a great way to add to loyalty points. The upper levels of cruise line loyalty programs have some serious perks, and this is a good strategy to get to the next tier even faster.
Don't need a passport – Many, if not most, short cruisers don't require a passport if leaving from the United States on a closed-loop itinerary. A closed loop means starting and ending at the same port. This can be convenient for those who do not currently have a passport. 
Things to consider
Image
There are many advantages to booking a quick cruise, but there are a few factors to consider to have realistic expectations of a shortened cruise experience.
Party scene – While not always the case, some shorter cruisers have been known to cater to a younger demographic, which can mean more of a party vibe onboard. This can be more common during spring break when many college-age kids like cheap cruise deals. 
Ship age and size - Many cruise lines use older and smaller ships on these routes, with very few of the mega-ships advertised on tv. This means they may not have as many amenities, such as the latest slides, waterparks, and tons of specialty restaurants. 
Add-on costs – Short cruises often advertise super low prices, with some even under $100; however, there are a few add-ons to consider, such as port fees, taxes, drink packages, and internet. Most often, cruise prices are based on double occupancy; meaning solo cruisers may also have to pay a supplemental fee. 
Limited ports and sea days – Given the shortness of this type of cruising,  the itineraries can be limited, and many feature the Bahamas, with few stops in the Caribbean. They also tend to be short on sea days, something to consider before booking.  
Quick – Maybe too quick? Perhaps the biggest drawback of a short cruise is, as the name implies, brevity. Guests barely have time to unpack, and the cruise is over without having gotten into a vacation groove.  
Where do short cruises sail to?
Image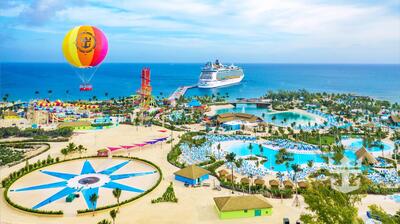 There are a number of options for short cruisers, with the Caribbean being a popular choice for cruise lines sailing out of the United States. 
Frequent stops on these short cruises include several stunning private islands owned by the cruise lines. These can make for a cost-effective excursion, with complimentary food, loungers, and easy access to the beach. Royal Caribbean's Perfect Day at CocoCay has become a fan favorite, as well as Disney's Castaway Cay and MSC's Ocean Cay.
Other ports of call include the Bahamas, with stops in Nassau, Grand Bahama, and Bimini. Cozumel and Key West are also on a number of itineraries.  MSC cruises also have options to embark on some Caribbean islands, such as Martinique and St. Maarten, traveling to some of the Southern and Eastern Caribbean islands.  A great add-on to a land-based vacation.  
There are also some West Coast options, including sailings between Seattle and Vancouver. Ensenada is another frequent stop for cruises sailing in the Pacific.  Other international options include Europe, Australia, and the Middle East.  
Tips for short cruises 
Image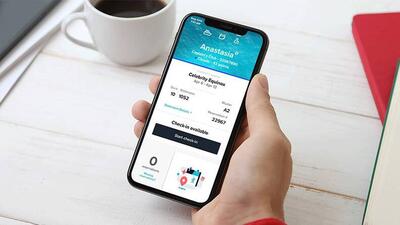 How to make the most of a short cruise: 
Plan ahead - With only a few days onboard, a little planning goes a long way to make the best of your mini vacation. It is advisable to do some research about what restaurants, bars, entertainment, and activities appeal to you.
Book as much as you can before the cruise - Once you figure out what you want to do, an evening at a specialty restaurant or a show you want to see, book as soon as possible. Download the cruise line app ahead of time to see what is offered.  
Book shore excursions – With so few days in ports, it is best to determine your preferred tours and book early. Popular ones tend to sell out, do not wait until onboard to book them. 
Get an early check-in time to enjoy even more of your vacation. Even a couple of extra hours on departure day can add to your cruise vacation. 
Save money by sailing in non-peak times, such as during major holidays. A good travel agent can also assist with this, ensuring you know about all the current promotions.
What to pack for a short cruise 
Image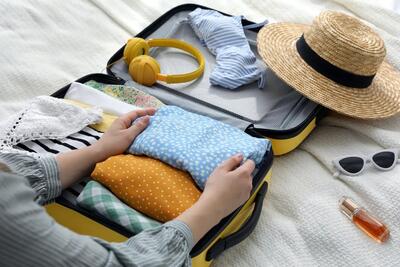 Packing for a shorter cruise is not that much different than a longer one.  Common items include such things as clothes for lounging by the pool or activities in port, as well as evening attire.
This may be an excellent opportunity to cruise with just a carry-on, but remember that you most likely have to lug it around while waiting for cabins to be ready. In addition, ensure to bring important documents, cash and credit cards, electronic devices, glasses, and any prescription medication. 
For sun-filled destinations, bring sunscreen, hats, sunglasses, and bathing suits. For cooler climates, ensure to bring layers, comfortable shoes for walking, and layers for changing temperatures. 
Short cruises by cruise line 
Here's a look at the major cruise lines and what short cruises they are offering in 2023. 
Carnival Cruise Line 
Image
Carnival offers plenty of short cruises, with some great deals, occasionally as low as $99 per person. Their site makes it easy to search by the number of days, best prices, and any last minute promotions.  
In terms of destinations, they have numerous cruises sailing to the Caribbean, including the cruise line's private islands Half Moon Cay and Princess Cays, as well as Nassau and Bimini in the Bahamas. Other port stops include Key West, Cozumel, and Grand Turk. 
On the East Coast, there are quick trips to New Brunswick, Canada, and Bermuda on four-day cruises. At the other end of the country, West Coast cruises venture to Ensenada and Catalina Island. There are also some short cruises in Australia. 
Carnival ships and homeports:  
Carnival Breeze (Galveston)
Carnival Conquest (Miami) 
Carnival Elation (Jacksonville) 
Carnival Freedom (Port Canaveral)  
Carnival Glory (Port Canaveral) 
Carnival Liberty (Port Canaveral) 
Carnival Luminosa (Brisbane, Australia) 
Carnival Magic (Norfolk)
Carnival Miracle Los Angeles) 
Carnival Radiance (Los Angeles)  
Carnival Splendor  ( Sydney, Australia) 
Carnival Sunrise (Miami)  
Carnival Valor (New Orleans)
Carnival Venezia (New York)
Celebrity Cruises 
Image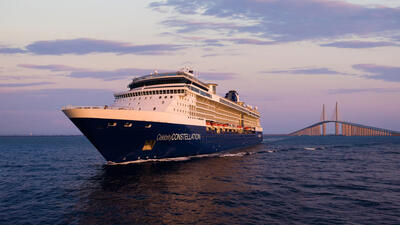 Celebrity manages to cover a fair amount of geography with short cruises in the Caribbean, Europe, and the West Coast of the United States.
For those seeking sun in fun, they sail to Nassau and Bimini in the Bahamas, Cozumel, Mexico, and Key West. Other North American options include a shorter cruise out of Los Angeles that voyages to scenic Oregon and Victoria, British Columbia, Canada.  
Heading overseas, they sail out of Southampton, England, to northern favorites like Amsterdam, and Bruges, Belgium. Lastly, they have a three-day cruise, entirely sea days out of Sydney, Australia. 
Celebrity ships and homeports: 
Celebrity Eclipse (Sydney, Australia) 
Celebrity Silhouette (Southampton, England, and Fort Lauderdale ) 
Celebrity Solstice (Los Angeles)  
Celebrity Summit (Miami)
Disney Cruise Line 
Image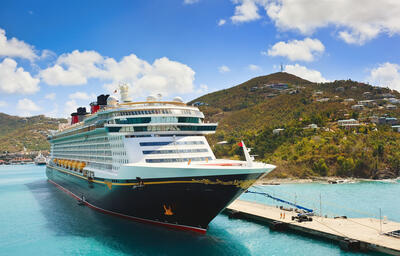 Disney Cruise Line also offers several short cruises. The entertainment giant expanded their fleet in 2022 with the launch of the Disney Wish, which is doing numerous short cruises in 2023. Disney continues to be a premium-priced cruise line, so a shorter cruise is a great way to experience some Disney magic without breaking your budget. 
While many of their short cruises sail to the Bahamas, including the cruise line's private island Castaway Cay, they have a few other options as well. West Coast sailings include a short cruise to Mexico. Some may be surprised to see some international cruises on this list at the Disney Wonder ventures to Australia and New Zealand. 
Disney ships and homeports:  
Disney Dream (Fort Lauderdale, Miami, and San Juan) 
Disney Magic (San Diego and Miami) 
Disney Wish (Port Canaveral) 
Disney Wonder (Brisbane, Melbourne, and Sydney, Australia, San Diego, and Auckland, New Zealand). 
Holland America Line
Image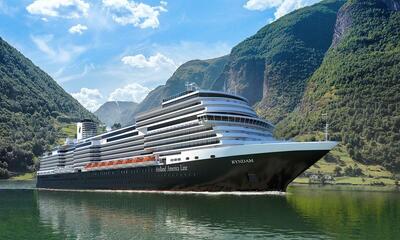 The Dutch cruise line, which is now part of Carnival, is well known for traveling far and wide, cruising to 500 destinations internationally. 
The cruise line does provide some options on the Pacific Coast for a scenic weekend getaway. Sailing from ports such as Seattle, Victoria and, Vancouver, British Columbia. They even have a cheap 1-day cruise for $75 from Vancouver to Seattle. 
Cruises to the Caribbean and other international destinations are dominated by longer itineraries of five days or more. 
Holland America ships and homeports: 
Volendam (Vancouver, Canada) 
Eurodam  (Vancouver, Canada and Seattle)
Zaandam (Vancouver Canada)
Nieuw Amsterdam (San Diego) 
MSC Cruises 
Image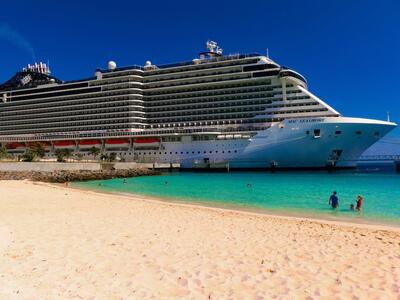 MSC has an expansive selection of short cruises worldwide. Many of their voyages, especially in Europe, allow guests to get on at multiple ports on the itinerary for maximum flexibility.  This could be a convenient and affordable way to travel between major hubs in the Mediterranean and Northern Europe. 
For the Caribbean, they have cruises starting as low as $199 per person and venture to a number of sun-filled destinations such as Antigua, St. Kitt's and Nevis, Martinique, Dominica, Key West, and Nassau, as well as their private island Ocean Cay. MSC has some unique itineraries in the Caribbean, which leave from islands such as St. Maarten and Barbados. However, these are not considered closed-loop, and require a passport. 
They have numerous short cruises in Europe, with as little as 1-day sailings out of ports in Italy, France, Belgium, England, Spain, Portugal, Germany, Sweden, and Greece, among others. In addition to this, they have short cruises in South Africa, the Middle East, and South America. 
MSC ships and homeports:
MSC Divina 
MSC Divina (Miami) 
MSC Euribia (Hamburg, Germany) 
MSC Fantasia (Lisbon, Portugal and Kiel, Germany)
MSC Magnifica (Miami)
MSC Orchestra (Cape Town, South Africa) 
MSC Poesia (Le Havre, France and Stockholm, Sweden)
MSC Preziosa (Sao Paulo, Brazil)  
MSC Seaside (Philipsburg, St. Maarten, Bridgetown, Barbados, and Port Canaveral)
MSC Seashore (Port Canaveral and Marcelo, Brazil) 
MSC Seaview (Rio de Janeiro and Sau Paulo, Brazil)
MSC Splendida (Jeddah, Saudi Arabia, Sokhna, Egypt, and Durban, South Africa.
MSC Virtuosa  (Abu Dhabi, UAE, Bruges, Belgium, Southampton, England,  Rotterdam, the Netherlands, and Barcelona, Spain 
Norwegian Cruise Line 
Image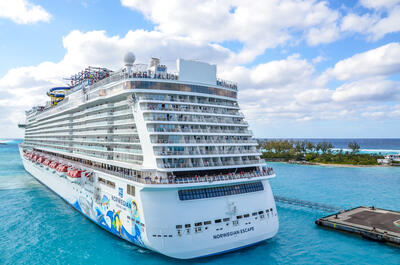 Norwegian Cruise Line tends to have fewer short cruises than some of the other major cruise lines; however, they do have some international variety, which can be a great add-on to a land-based vacation when traveling or living abroad. 
In terms of sailing out of Miami, guests of Norwegian Cruise Line can enjoy a cruise to Great Stirrup Cay, their private island in the Bahamas, as well as Nassau and Grand Bahama Island. One major plus, their newest ship Norwegian Viva will sail out of Miami, going to Key West and Great Stirrup Cay on a short cruise. A fantastic opportunity to sail on a newer ship.
There are great options for those interested in Europe, including the classic ports of Barcelona, Cannes, and Lisbon and coastal ports with access to Rome, Florence, and Pisa. 
Norwegian ships and homeports include: 
Norwegian Encore (Los Angeles) 
Norwegian Epic (Barcelona, Spain) 
Norwegian Joy (Miami)
Norwegian Pearl (Maimi) 
Norwegian Sky (Miami) 
Norwegian Sun (Granada, Spain)  
Norwegian Viva (Miami)
Princess Cruises 
Image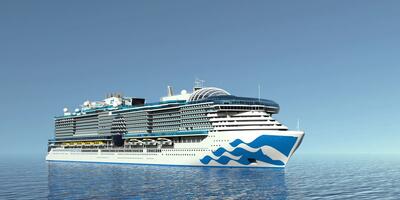 Princess Cruises is known for sailing to numerous destinations worldwide and provides a good variety of short cruises for those wanting a quick getaway. 
The Pacific Coast has lots of options, including 2-day sailings out of Seattle to Victoria, and Vancouver, Canada. There is even an Alaskan sampler that heads as far north as Ketchikan, Alaska. A few sailings head south to Ensenada, Mexico, for an even sunnier getaway. 
In terms of other international trips, they have some two and three-day cruises in Australia, sailing out of Sydney, Adelaide, and Brisbane, and even a few cruises out of Auckland, New Zealand. Rounding this out are cruises out of Southampton, England, visiting Netherlands and Belgium. 
Princess ships and homeports: 
Coral Princess (Sydney and Brisbane, Australia) 
Crown Princess (Seattle and Vancouver, Canada) 
Discovery Princess (Los Angeles)
Grand Princess (Adelaide, Melbourne and Sydney, Australia)
Majestic Princess (Seattle and Sydney, Australia)
Royal Princess (San Francisco, Seattle, Vancouver, Canada, Sydney, Australia, and Auckland, New Zealand
Sky Princess (Southampton, England) 
Royal Caribbean 
Image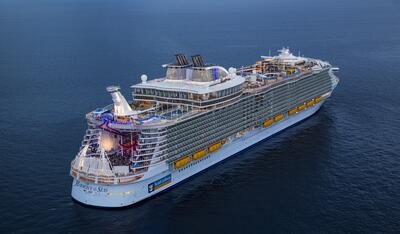 Royal Caribbean offers numerous shorter cruisers, even 2-day cruises, on many of their ships sailing internationally. Unlike other cruise lines, Royal Caribbean has some of its larger ships on some shorter cruises, including Allure of the Seas, Harmony of the Seas, Oasis of the Seas, and Symphony of the Seas. This is a real plus for cruisers who still want to enjoy top-rated activities and entertainment. 
There are a variety of ships sailing shorter cruises in the Caribbean, including to destinations such as Perfect Day at CocoCay, Nassau, Labadee, Costa Maya, Cozumel, Puerto Plata, and Progreso (Mexico). Pacific Coast options include Ensenada, Catalina Island, and Vancouver, Canada. On the East Coast, options include New Jersey, Halifax, and Nova Scotia. 
There are also European and Mediterranean cruises, including stops in Limassol, Cyprus, Rhodes, Greece, Le Havre, France, and Naples, Italy. In Asia, featured destinations include Penang and Kuala Lumpur, Malaysia as well as Phuket, Thailand.
Royal Caribbean ships and homeports: 
Adventure of the Seas (Galveston) 
Allure of the Seas (Port Canaveral)
Anthem of the Seas  (Southampton, England) 
Brilliance of the Seas (Tampa) 
Freedom of the Seas (Miami)
Grandeur of the Seas (Tampa)
Harmony of the Seas (Galveston) 
Independence of the Seas (Miami and Port Canaveral)
Liberty of the Seas (Fort Lauderdale and New Jersey)
Mariner of the Seas (Port Canaveral)
Navigator of the Seas (Los Angeles)
Oasis of the Seas (Miami)
Ovation of the Seas (Sydney, Australia) 
Quantum of the Seas  (Brisbane, Australia) 
Radiance of the Seas (Tampa) 
Rhapsody of the Seas (Fort Lauderdale and Haifa, Israel)
Serenade of the Seas (Miami and Tampa)
Spectrum of the Seas (Singapore, and Brisbane, Australia)
Symphony of the Seas (Rome, Italy)
Voyager of the Seas  (Galveston)
Virgin Voyages 
Image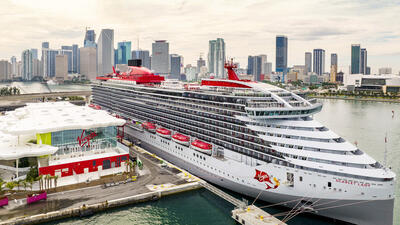 Virgin Voyages, a newer cruise line on the scene, has made a splash with its bold red branding and adults-only environment. 
They have a small fleet of three, with a fourth ship due to be launched this summer. They have plans to cruise internationally, with itineraries in Europe and the South Pacific.
They are currently sailing in the Caribbean for 2023, with the shortest cruises being 5 days sailing on the Scarlet Lady out of Miami sailing to Mexico, the Dominican Republic, and Bimini, Bahamas, where they have a private beach club.