When planning the best cruise vacation, there are some things that you will want to do to ensure that nothing goes wrong. While there are some things that are out of your control (i.e., weather), you do not want to make a mistake that will ruin your cruise. 
Wouldn't it be awful if you returned to the port after a fun day ashore only to realize that your ship departed thirty minutes prior? What about if you decided to cram your entire family of four in a stateroom to save a little extra money, just to end up tripping over each other and arguing the entire time?
Here are 16 bad decisions that can ruin your cruise vacation. 
Read more: 10 Reasons People Leave Their Cruise Ship Vacation Disappointed
1. Not reading up on prohibited items 
Image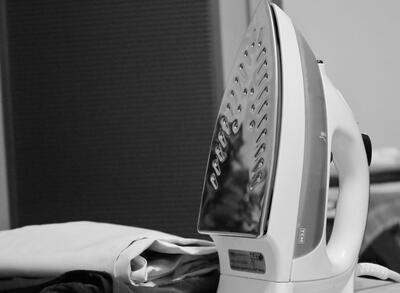 Cruise ships have rules regarding what can and cannot be brought onboard to help make sure that the onboard environment is safe and welcoming to all! 
While you might be able to bring your streamer with you to a beach resort, you cannot take it with you on a cruise. If you show up with one on embarkation day, it'll be confiscated by the cruise line and held until you disembark.  
In September 2023, a young man was kicked off of Mariner of the Seas while the ship was docked in Falmouth, Jamaica after being caught with medicinal marijuana. 
Image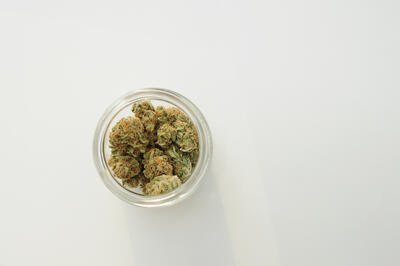 @infamousxdrew documented his experience via TikTok, saying, "Unfortunately, they saw my medical marijuana...and all the senior security advisors or whatever they're called...have [come] to the conclusion that I must disembark."
He was escorted through customs and immigration by a security officer, meaning that they were unable to explore Falmouth's port and were responsible for making arrangements to return to the United States. 
To ensure that this does not happen to you, take a few moments to read up on what is and is not allowed onboard. Even if you claim that you were unaware of their policies, you may find yourself instantly kicked off in a foreign country!  
Read more: 20 things cruise lines really do not want you to bring on ships
2. Booking the cheapest cruise you can find 
Image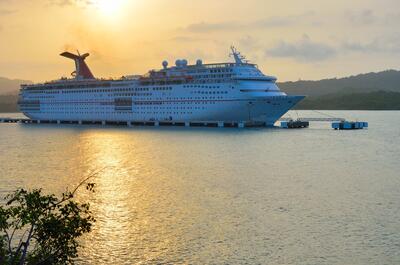 There's nothing wrong with wanting to save money on your next vacation; however, you want to make sure that you are not booking the cheapest cruise just for the sake of going.
Oftentimes, the cheapest sailings are on a cruise line's oldest ships, meaning that it won't have all the bells and whistles that you are probably used to seeing advertised. Do you, for instance, want to sail onboard a Carnival ship with a roller coaster onboard? 
You will only find this amenity on their three newest ships: Mardi Gras, Carnival Celebration, and Carnival Jubilee. If you book a sailing onboard Carnival Victory, you might be unhappy when you step foot onboard!
Image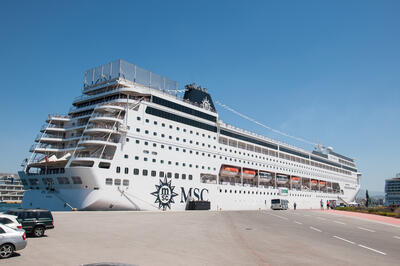 Moreover, the cheapest fare is usually not for a balcony cabin. If you dream of waking up and stepping outside onto your personal verandah, you'll most likely have to pay a little bit more.
You might not visit your must-see ports of call, either. Maybe the cheapest cruise visits Nassau and a cruise line's private island, rather than the Eastern or Western Caribbean. If you're looking at an Alaska cruise, it might begin and end in different ports, which is something to consider when you are factoring in transportation costs.  
Read more: I tried the cheapest Caribbean cruise I could find - here's what it was really like
3. Forgetting to check your passport's expiration date
Image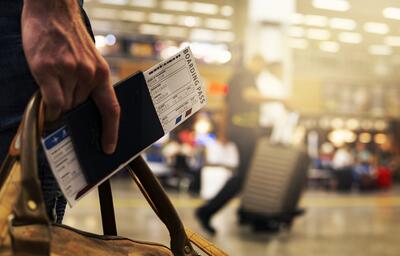 Some cruises, such as those that begin and end in the same United States port, do not require you to have a passport. You are able to set sail with just a birth certificate and government-issued photo I.D.
Even so, it is recommended that you always cruise with a passport. If, for some reason, you were to be stranded in a foreign port or had a medical emergency, it would simplify your return to the United States or other home country. 
Moreover, if you're cruising to Europe or on an open-jaw sailing from Whitter to Vancouver, you'll definitely need one in order to pass through customs and immigrations to enter the foreign country either upon embarkation, disembarkation, or both. 
Image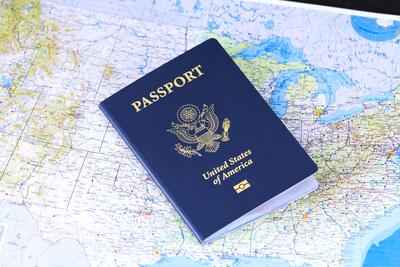 All that being said, in order to cruise and travel with a passport, it needs to be valid for at least six months after your cruise. If you open your passport to realize that it expires one month after, you will be denied boarding. 
Read more: Where can you cruise without a passport?
4. Smoking in your cabin (or elsewhere on the ship where it's not allowed)
Image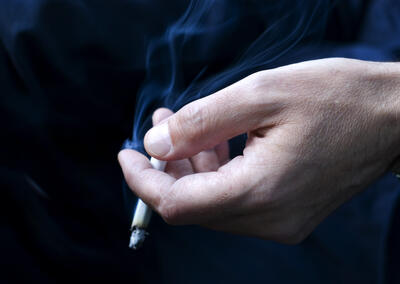 While you will be able to smoke on your upcoming cruise, you will only be able to do so in certain areas, such as in the casino or on the starboard side of the top deck. In fact, some cruise lines, such as Celebrity Cruises, do not even allow smoking in the casino! 
Another place that you will be unable to light up is your cabin, even if you have a balcony. If you are caught doing so, a cleaning fee will be charged to your onboard account, and they can often be pretty high! If you have not budgeted for this, learning about this charge could ruin your cruise pretty quickly. 
Per Virgin Voyages website, for instance, "A Guest found smoking anything, to include "vapes," in their room (including balcony) or other non-designated areas onboard, agree to a $500 fee to be added to their onboard account, and may be disembarked from the Voyage, which may be at a port of call." 
Read more: Cruise Ship Smoking: Is Smoking Allowed on Cruises?
5. Not putting your phone in airplane mode 
Image
Nobody wants to rack up a large roaming bill. Before you ship sails away, make sure that you have your phone in airplane mode, even if you have purchased an internet package. This is the safest way to ensure that your cell phone company doesn't charge you any pesky roaming fees. 
Speaking of internet packages, if you are looking to save a couple of dollars, consider purchasing Wi-Fi in advance. Some cruise lines, such as Royal Caribbean, often offer pre-cruise sales through their planning portal. You might be able to save on a drink package, too!
Read more: 16 tips to not waste money on your first cruise
6. Forgetting to change your watch to ship's time 
Image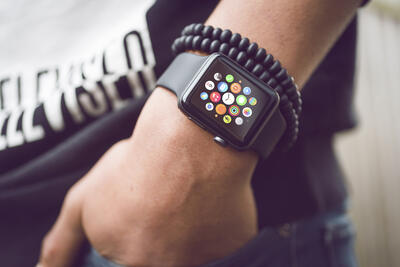 Learning ship lingo should be part of your pre-cruise check list! Not only will this help you navigate the ship like a pro, but you will know that ship time may not always be the same as the local time. 
If you're sailing from Florida to Mexico, for example, your phone might try and connect to the local time, which is one hour behind. You don't want to accidentally miss your ship's all board time because you thought you had an extra hour to explore Cozumel! That would surely ruin your vacation. 
Read more: Will the cruise ship wait for you if you're late at a port?
7. Booking a single stateroom instead of two 
Image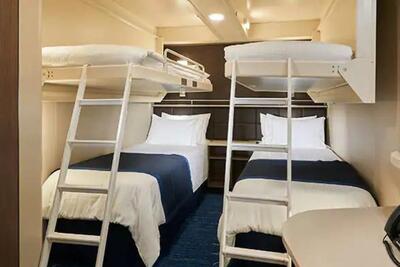 It might be tempting to try and save money by booking one cabin. You should, however, know that cruise ship staterooms are smaller than the average hotel room. You won't find any with two double beds. In fact, some cruise cabins are so small that there's not even a loveseat! Third and fourth guests are accommodated on pullman beds that come down from the ceiling. 
Rather than tripping over each other, you might want to consider booking two staterooms. While this means that you might have to settle for two interior rooms versus one balcony, you will appreciate the extra living space and bathroom, which will help when everyone is getting ready for dinner or if you're feeling rushed in the morning. 
Speaking of staterooms, as ships are sailing closer to full capacity, scoring an upgrade is harder than in the past. If you book an interior room thinking that you can upgrade to a balcony for less money, you might be left disappointed and stuck in a room that you aren't happy in. 
Read more: How to get a cabin upgrade on a cruise
8. Skipping the safety drill on embarkation day
Image
On the first day of your cruise, you will be required to complete a mandatory safety, or muster, drill prior to sail away. The muster drill is important because while emergencies at sea are rare, completing the drill is meant to familiarize you and your travel party with your assigned assembly station and other protocols.
Even if you've cruised before, you will be required to complete it, as the assigned location will most likely be different on each sailing. If you fail to show up or do not complete the virtual muster, your name and stateroom number will be given to crew members who will track you down. Don't try and hide in your stateroom; that is one of the first places that they will check!
If you miss the initial drill, you may be given a second opportunity to complete it. If, for whatever reason, you fail to attend it again, you face getting kicked off of the ship without receiving a refund. In some instances, you may be kicked off before the ship event sets sail.
Image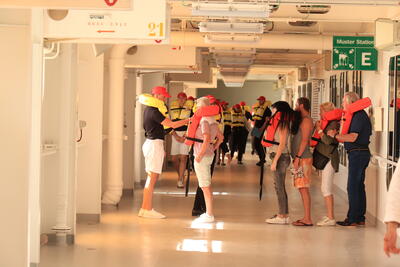 It is also not fair to those who have done their part, as they do not want their first day of vacation to be cluttered with announcements reminding guests that they need to fully participate in the drill. It takes a few moments of your time, so there is no reason that you should be the person who misses the muster drill.
9. Climbing, jumping, or throwing things off of the ship 
Image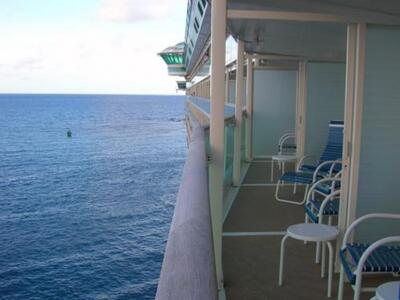 In 2019, a man jumped off of his cruise ship balcony while Symphony of the Seas was docked in Nassau. As a result, he -- and everyone else in his group -- were banned from Royal Caribbean for life. Not only was this a foolish decision, but it was also extremely dangerous, as he could have been seriously harmed. 
Moreover, cruise lines have an environmental responsibility and are working to decrease any negative impact on the marine ecosystems that they operate in. If you choose to throw anything overboard, such as a cigarette bud, you are disturbing life underneath the sea! It's rather easy to dispose of any trash in one of the bins onboard.  
Per Royal Caribbean's guest conduct policy, "Sitting, standing, laying or climbing on, over or across any exterior or interior railings or other protective barriers, or tampering with ship's equipment, facilities or systems designed for guest safety is not permitted." If caught, you face getting kicked off of the ship. 
Read more: 20 rules of cruise ship etiquette no one ever tells you (but should)
10. Booking a ship without baby splash zones if your children aren't potty trained 
Image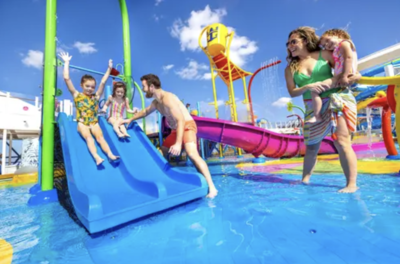 Cruises are great vacation options because they are family-friendly and offer something for everyone, from relaxed adults-only decks to supervised fun for the kids. 
If, however, you are traveling with infants who have yet to complete their potty training, you will want to make sure that you are booking a ship that caters to even the youngest of sailors, as they won't be permitted to swim in regular pools. 
Royal Caribbean's Freedom of the Seas, for instance, has both a Baby Splash Zone and Royal Babies & Tots Nursery. While the latter is not included in the cost of your cruise fare like the rest of the Adventure Ocean program, it offers parents with children between the ages of 6 and 36 months a childcare option, so they can enjoy some alone time. It costs $6 per hour between 9:00am and 6:00pm and $8 per hour from 6:00pm until midnight.
Image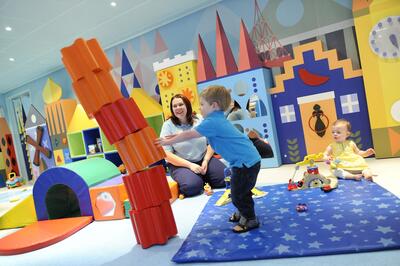 Disney cruise ships are the most family-friendly. You'll find water play areas on all of their ships: Toy Story Splash Zone onboard Disney Wish, Nemo's Reef onboard Disney Dream and Disney Fantasy, Nephews' Splash Zone onboard Disney Magic, and Dory's Reef aboard the Disney Wonder.
Read more: Best Royal Caribbean ships for kids by age
11. Packing up your entire cabin the night before disembarkation 
Image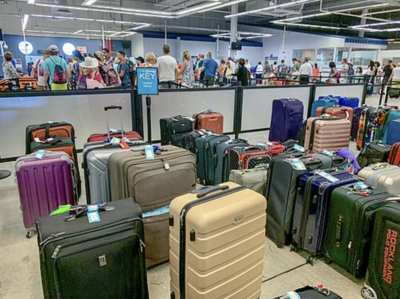 On the last night of your cruise, you will be instructed to leave your suitcases outside of your cabin by a certain time. Rather than pack everything, you will want to make sure that you leave pajamas out, as well as a change of clothes for the next morning and all of your essential toiletries. 
Otherwise, you might be forced to get off the ship in your dinner outfit, which may not be the most comfortable travel day attire. 
Moreover, make sure that you don't pack your passport in your suitcase, either. While you won't be apart from your luggage for long, you will want to make sure that you have your important documentation on your person at all times. 
Read more: 20 cruise ship disembarkation day mistakes to avoid
12. Thinking that you're immune to feeling the effects of seasickness 
Image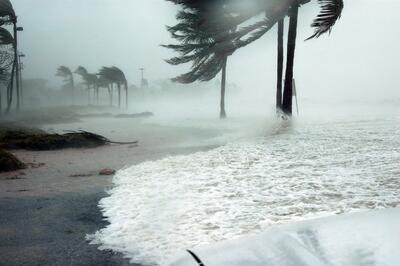 Cruise motion sickness is no joke. The overwhelming feeling of nausea can easily ruin a fun day by forcing you to remain in bed and missing out on relaxing by the pool, checking out the go-kart track, or playing a round of trivia in one of the onboard lounges. 
While cruise ships are usually smooth, rough ocean conditions can turn your vacation from great to bad in a matter of minutes. Thankfully, there are plenty of remedies that help combat the feelings of seasickness; you just need to come prepared! 
Don't forget to stock up on Bonine or Dramamine. If you're particularly worried, you can even visit a doctor to get a prescription for scopolamine patches. A single patch lasts up to three days and is easy to apply-- simply place it right behind your ear! 
13. Not planning your shore excursions ahead of time 
Image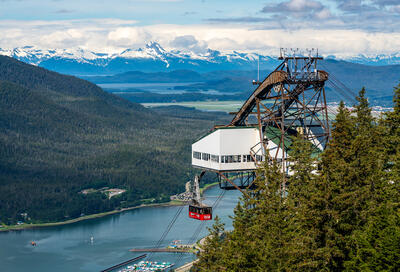 Do you have your heart set on doing a certain tour while in port? Do you even know what's offered in each destination? 
Prior to your cruise vacation, make sure that you take some time to research all the offerings and book any that you find particularly interesting.
Some tours are more likely to sell out than others, and if you wait until the night before you dock to visit the shore excursions desk, you might find that you have limited options. Nobody wants to tell their child that the activity they were looking forward to was sold out!
You don't have to book with the cruise line, either. Oftentimes, you will find cheaper tours through third parties. Plus, you might even find an option that the cruise line doesn't offer! 
Read more: 11 common cruise shore excursion mistakes to avoid
14. Selecting the wrong dining preference
Image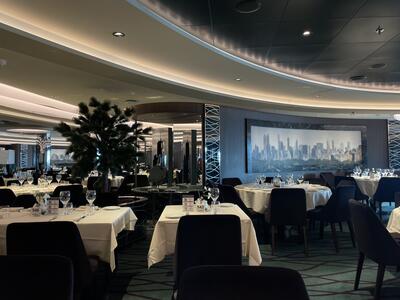 There's no denying that one of the best parts of a cruise vacation is the unlimited food! Where else can you indulge in three course meals every single night without worrying about racking up large dinner tabs? 
Unless you are sailing on Norwegian Cruise Line or Virgin Voyages, you will be given an option to select which dining preference you have. First, you will have to decide whether you want a traditional dining option or a flexible one, meaning that you can show up to the main dining room whenever is most convenient for you or make reservations for a different time each night. 
If you decide that you want to sit at the same table each evening and have the same wait staff, you'll then have to choose whether you want an early or late seating. 
Image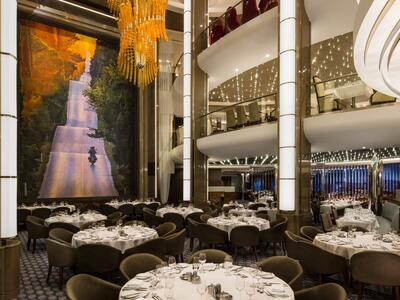 Note that if you're sailing on Disney Cruise Line, you won't be able to choose a flexible option, as they have a rotational dining service. This simply means that each night of your cruise, you will eat in a different dining room with the same wait staff. It's a great way to have a different dining experience each night, as one night you might be in the ship's elegant dining room and the next in the immersive world of Marvel or Frozen. 
Choosing the wrong dining preference could mean that you're stuck eating much later than you'd like or having to wait for an available table. 
15. Skipping purchasing travel insurance
Image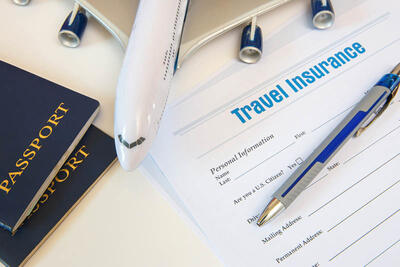 Nobody wants to think about the worst case scenario happening during their highly-anticipated cruise vacation. While we'd like to believe that it is always smooth sailing as soon as the deposit is placed, unexpected events, such as the sudden onset of an illness prior to embarkation or a delayed flight, can wreak havoc on your trip. 
Purchasing cruise travel insurance ensures that you will be covered if things do not go as planned, such as medical emergencies, travel delays, or other unpredictable events. 
Policy coverage varies from cruise line to cruise line; however, you can expect things like trip interruption protection, baggage protection, medical protection, and emergency evacuation services. 
16. Booking your flight the morning of your ship's scheduled departure 
Image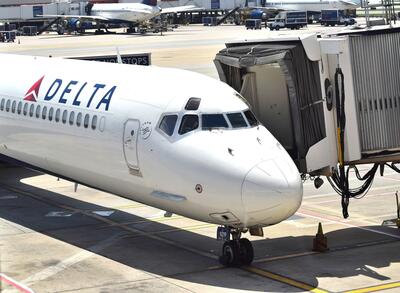 What's the worst way to start your vacation? I'd argue that it would be if you completely missed your ship departure! 
What would you do if you got to the airport only to learn that your flight to your cruise was delayed or, even worse, cancelled? Unfortunately, the cruise ship will not wait for you, as they run on a tight schedule in order to make it to each port of call on time. 
When taking a land-based vacation, it makes sense to schedule your flight for the same day as your hotel reservation is set to begin. If you were to arrive the night before, you'd have to book another hotel. 
With a cruise vacation, however, you cannot arrive and check-in whenever is convenient for you. A flight delay during a land-based vacation might mean getting to your resort later than anticipated, but it's not the end of the world. If you arrive at the terminal too late, you get there just to find out that your ship is long gone. 
To save yourself the ultimate heartbreak, book your flight for the night before and book a hotel close to the airport or cruise terminal. 
Read more: The costly cruising mistake newbies make planning their first cruise